So many people are using smart phones for video recordings but the mic on a smartphone is still fairly low quality compared to even budget condenser mics or headsets.  If you vlog or do recordings from your phone a lot and you want to ensure your voice is loud and crystal clear then you really need a lav mic also known as a lapel mic and lav being short for lavalier.  Lav mics typically pin to your collar and are around 4-6″ from your mouth, wired lav mics are much less expensive than wireless ones and you need to consider cord length when choosing a lav mic so that you make sure it will suit your purposes.
MAONO sent us their latest lav mic that not only works with smartphones but is also compatible with cameras with a 3.5mm mic input, but one thing I didn't have available was a camera that accepted mic inputs so I could only test the MAONO lapel mic with a smartphone.
Unboxing the MAONO Lav Mic
What makes the Lavalier microphone from Maono different than other brands is that they not only have an extremely long cable that can cross a whole room, but you also get a control box and can switch the mic from Smartphone to Camera or Off to conserve battery. They even toss in a spare pack of batteries separate from the already included and installed batteries.  The control box has a -10dB switch option for dampening all input which can cut out background sound but requires that you have your mouth closer to the mic or else it also reduces your own volume as well.  It isn't noise cancellation it is completely input dampening.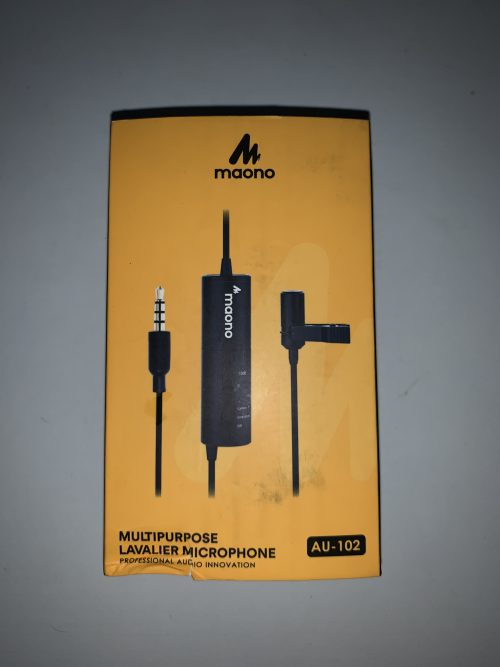 I took this mic in the yard with me to test it with some wind and more background noise than inside my house and computer room.
Testing the MAONO AU-102 Lapel Microphone
In Summary the fact they include an adapter, 2 clips, and the mic performs so incredibly well it makes for a great option if you have your phone or compatible camera on a tripod about 4-10′ away from you and you need to have your voice loud and clear on recording.  There is a lot of cord to hide, but you can make it run through your clothing with ease just takes some initial setup.  The mic did a good job picking up my voice and it was crystal clear when using it.  It does not include a lightning adapter, so you will have to own or purchase your own separate lightning to 3.5mm adapter if you want to use it with your newer iPhone which is one thing to point out and mention.