We are influencers and brand affiliates.  This post contains affiliate links, most which go to Amazon and are Geo-Affiliate links to nearest Amazon store.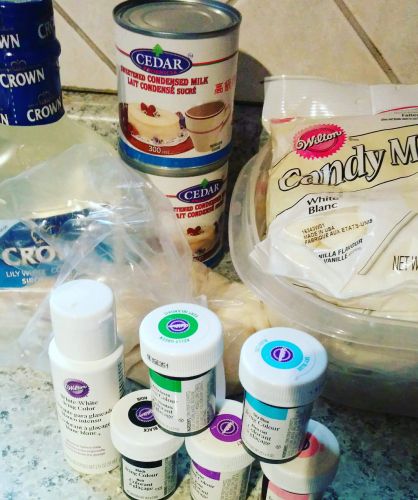 My daughter's birthday is coming up and has asked for me to make her a galaxy mirror cake. As this is something I have not tried before, I thought it best to do a trial cake to make sure I can pull this off.  To make this you will need ;
(2) 6" Round Vanilla Cakes
8 Ounces White Melting Chocolate 
1 Cup white granulated sugar
1/2 Cup of cold water
1/4 Cup of water
1/2 Cup of Light Corn Syrup
1/2 Cup of  Sweetened Condensed Milk 
5 Teaspoons of Powdered Gelatin
1 Container of Vanilla Buttercream Frosting
Food Coloring. Colors I used are;
Black, Pink, Sky Blue, White and Purple
Black and white sanding sugar (optional)
To start you will need to make your cakes. For this trial cake, I made vanilla from the box.  You can use what ever flavor or brand you like. Make sure to level the cakes. Add in your middle with buttercream or any filling you like. Next, you will ice the outside of the cake. For this first attempt I did not make sure it was all very smooth, but I will for the actual cake.  Once it is smooth, you will need to chill it in the fridge for at least 2 hours. I left mine in over night which made for a nice surface. Also, cake a cake board the size of your cake to place under the cake. This will make it easier for when you have to move the cake from one surface to another. I didn't have one at the moment so I used my cake pan and measured one side of a box, cut it out and covered it with cling wrap.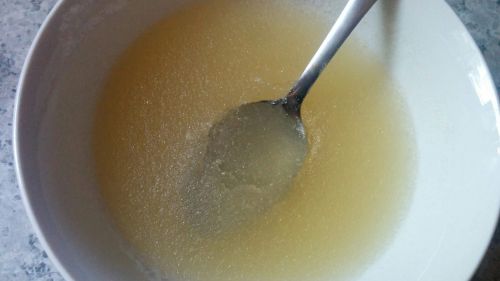 When the cake is ready to decorate you will need to bloom the gelatin. To do this add the 5 teaspoons of gelatin to 1/2 cup of cold water. Stir it until it looks like applesauce and set it aside for 10 minutes to finish blooming.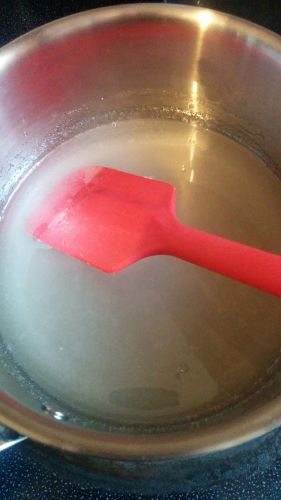 In a sauce pan, you will add 1/4 cup of water, 1/2 cup of light corn syrup and 1 cup of sugar. Put this on the stove over a medium-low heat for about 7-8 minutes until the sugar is dissolved. This will bring it to a slow boil. Once the mixture is boiling and sugar is dissolved take it off the heat. Add the bloomed gelatin and whisk. Then add the 1/2 cup of sweetened condensed milk and whisk again.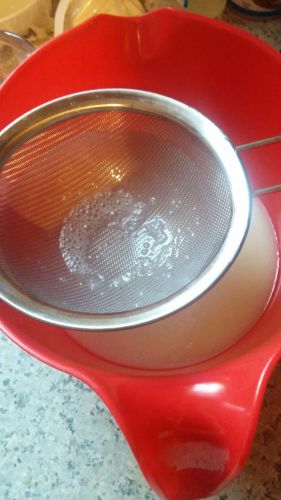 Next, you will want to run this mixture through a strainer to remove any possible lumps or air bubbles that have formed. You want a nice glassy finish so the less air in the glaze the better.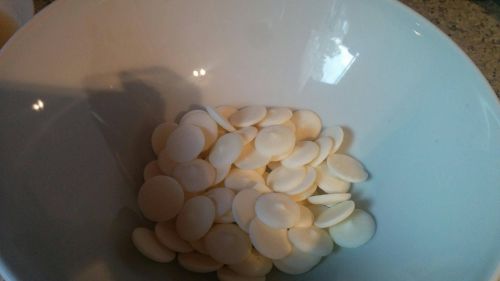 Pour the glaze into a bowl with 8 oz (1 cup) of white melting chocolate and let it sit for 3 minutes. This will help to soften the chocolate discs. Once it is softened, you need to mix it. I used an immersion blender but a hand mixer or stand mixer will work as well. If you use a hand mixer might add more air and you may need to strain it again.  From this point you need to work a little quick as the temperature in the glaze will start to drop.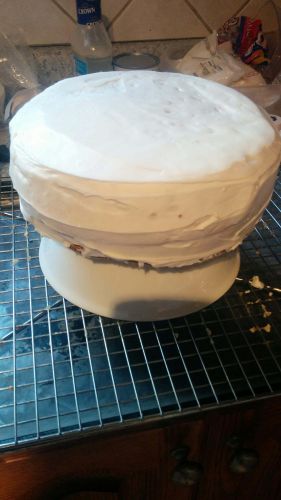 Get a lined cookie sheet. This will make clean up a lot easier. Take the cake out of the fridge. I used a cereal bowl upside down to left the cake so the glaze will be able to run off.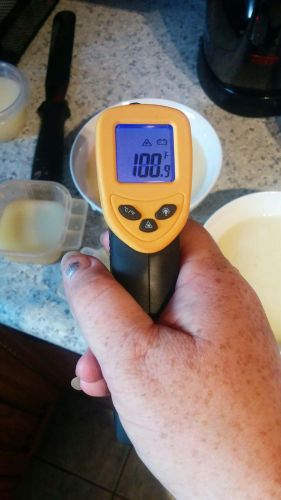 You need to separate the mixture into separate bowls. How many will depend on how many different colors you are trying to make, but I used 5.  I do not own a proper candy thermometer but I did review this laser thermometer a couple years ago and use it all the time and is very accurate for doing this as well.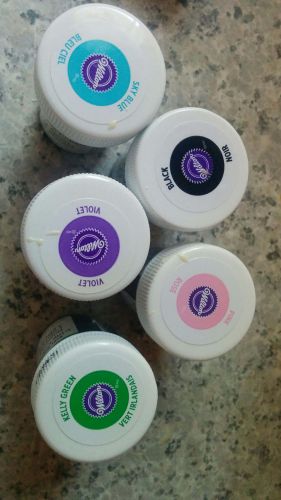 Once separated its time to add the color. Ignore the green that will be for another cake I will be trying for Game of Thrones.  These are very strong colors and a little will go a long way so add slowly until you get the color you are looking for. Since I don't have a dark blue, I used the sky blue and added a touch of the black.  I wasn't quite happy with my shade of pink so I added a couple drops of white to it to brighten it up.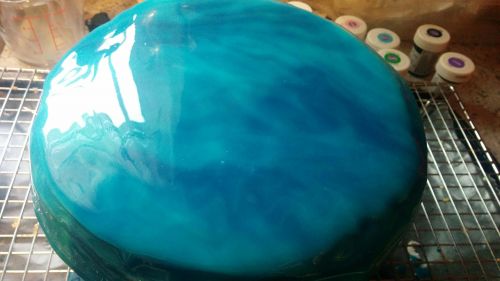 For the first colors, I poured the dark blue into my sky blue and then gave it a gentle swirl.  Not too much as you don't want the colors to fully mix. Check the temperature and once it was at 90 degrees, I poured it over the cake. If the glaze is too hot will be too thin and run off the cake. If it is too cold, it will be clumpy and not run enough. If at any time your glaze becomes cool, just pop it in the microwave for a couple seconds and stir.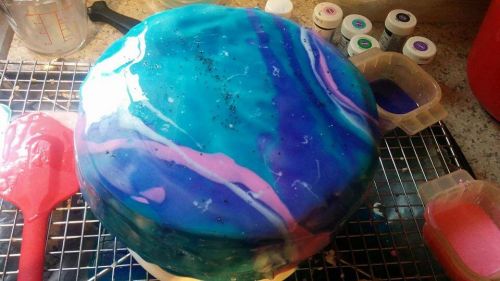 Here is my finished product. Real happy with my first attempt. This sounded hard to do and made me nervous but it wasn't that hard once I got started.  I will change a few things on the next one. Maybe try to make an even darker blue to blend into the sky blue. And might also try the same with the purple into the pink. I did add some sanding dust to add a bit of texture and make it look like stars in the background.  You can also use an offset spatula and gently go over the top to blend it a bit more. Just be careful to not push down too hard or you will show the icing underneath.
This Idea is great for birthday parties if you have a Guardians of the Galaxy theme or Star Wars theme.
All photos are my own. I was not paid to make this post. All products used were bought and paid for by me.
We are influencers and brand affiliates.  This post contains affiliate links, most which go to Amazon and are Geo-Affiliate links to nearest Amazon store.
I am a stay at home mom of 3 crazy kids. I love Game of Thrones, Harry Potter, Lord of the rings, marvel movies etc..