Bluetooth headphones are out in force these days.  The last few Bluetooth wireless headphones I reviewed were in ear headphones and all of the weight of the headphones were on the ear piece. The Mixcder® Basso Wireless Earphones uses an over the ear piece and smaller ear piece to reduce the weight hanging off of the ear piece in your ear.  This increases comfort and wear-ability.  I also really like the carrying case included protecting the headphones.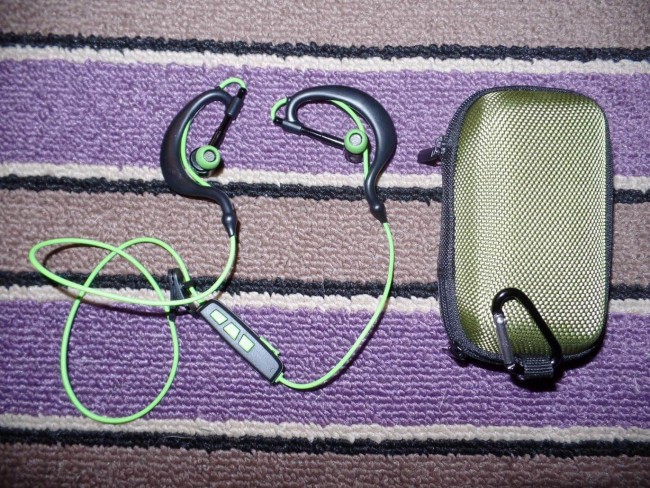 Mixcder® Basso Wireless Earphones
Bluetooth 4.1
Built in Mic
CVC 6.0 Noise Canceling
HiFi Stereo Sound
Cool little carrying case
Pairing is pretty quick and easy.  Once the headphones are turned on, there is an audible verification by a voice indicating "power on" and once on you hold the multi-function button for a few seconds and begin the pairing process.  With these I did have success pairing with my iPhone 5s and Nexus 7 and they would stay paired together.  Something I have not had much success with recently with Bluetooth headphones.
                               
You have three buttons to manipulate the the sound coming from your connected device.  There are volume up and down, forward and back buttons.  This allows for full volume control along with the ability to skip forward and back pretty easily and consistently.  The center multi function button controls power on and off, again with an audible confirmation.  The multi function button also works as you answer/hang up for phone calls received via Bluetooth connected phone calls.   All three buttons work as expected with consistent response.
The over the ear provides comfort and stability to the Mixcder® Basso Wireless Earphones.  It helps keep the ear buds in your ear even when moving around radically while working out or running.  Even though they do go around your ear they are comfortable.  The plastic doesn't irritate your skin even when sweating during a workout.
Mixcder® Basso Wireless Earphones
The headphones are charged via micro SD cable within a couple of hours from completely dead.  It is tough to get them to completely dead due to the audible reminder that the battery is low.  As for listening time, I got 4 hours 15 minutes listening to music/watching videos on my tablet before getting the battery low warning.  Just using the headphones for answering and placing phone calls I got through almost two days without hearing the battery low reminder.  That was around 4 hours of talk time collectively.  I did turn them off at night in between days.
The range of Bluetooth connectivity is pretty much as expected.  Right about 30 feet.  That was even consistent through a couple of walls walking around my office listening to a podcast.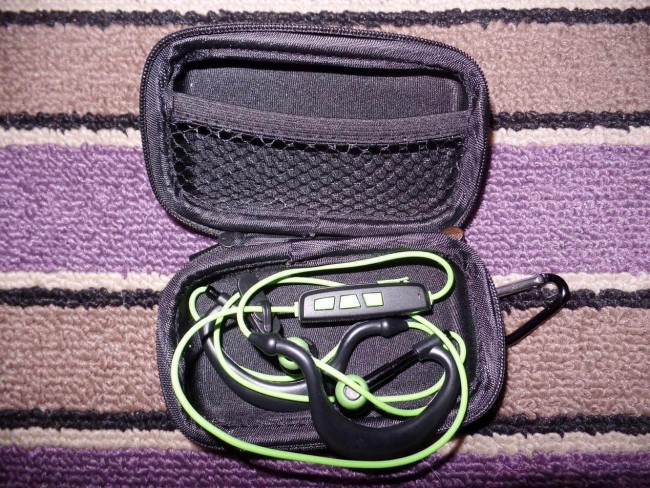 As with most in ear headphones sound quality can be all over the board.  The Mixcder® Basso Wireless Earphones are pretty solid as a whole.  Music and vocals are clear.  Low's are not as substantial as an over the ear set of headphones but that is to be expected.  Music with more low end sounds or bass is lacking but I think that only really effects those that only listen to that genre of music.
Calls come in clear,  as long as you have the mic fairly close to your mouth the caller can understand you well.   The button stick, where the buttons and mic are, does have a tendency to hang a little low on your right side just because it is the heaviest part of the headphones.  If you keep the button stick level phone calls are clear.  When it slid down, I did experience a little bit of an issue with the caller hearing me, but they do have a little clip to aid in keeping the button stick/mic in place.
Considering the price range these headphones are currently selling, $25-$35, they are very functional.  Build quality is decent and I think if you aren't too rough on them they should last a while.  The button stick isn't one of the better ones I have used, but it is maneuverable.
I am going to give these headphones 4 stars when considering similar headphones.  There are minor things that could make them better but they are solid and very functional for listening or placing calls.
I am just a geek getting older but keeping up.