When it comes to mobile devices these days people want to have a device that they can rely on that will give them the longest battery life possible. Nothing can be more frustrating than when we receive an important call, email or text and notice that our phone has only about  3-5% left on it making that important response back seem like a game of "Beat the Clock" However I was given the opportunity to try out a device from RavPower that takes those fears of a low battery away.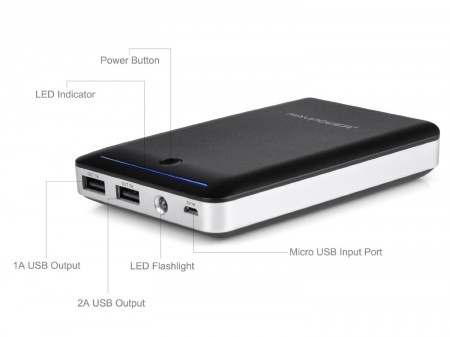 Features
From the moment you unbox the device you will notice that the device comes not only with the battery pack itself, but it also comes with a  small cloth style bag that contains several different types of connectors that can be used to plug in any iphone device as well as most smartphone devices. As you can see in the picture above the battery pack is a rather plain black style with a silver trim. On the bottom you will see there are two USB Output plugs. The USB Output on the left is a 1A USB Output which is what is used for a majority of smartphone devices however when I plugged in my Samsung Galaxy Note I found that I needed the second 2A USB Output which is used for tablets.
You will also notice that there is a flashlight on the bottom middle of the battery pack which can be turned on by simply holding down the power button on the front of the battery pack. On the right of the flashlight you will find a Micro USB Input Port which is used to charge the battery pack. RAVPower recommends you use a proper wall charger to charge the battery pack as it will take a long time depending on how much power is left in the battery pack itself. Unfortunately an AC Adapter is not included with the battery pack however I was able to use the charger for my Galaxy Note and it worked just fine.
In order to be able to tell how charged your battery back is there is a LED indicator light on the bottom that stretches across the width of the device that with a push of the button will light up to let you know how much power the device has. Charging your device with the battery pack is as simple as plugging in your device to the battery pack and pushing down the power button which is located just above the LED Power Indicator. Once on the LED indicator will stay lit to let you know how much power is left in the battery pack as well as automatically shut off the battery pack once your device has been fully charged. When I plugged in my Galaxy Note with it being at 5% the battery pack was able to charge my device in about 30-40 minutes however I will say that charge time will vary depending on your device.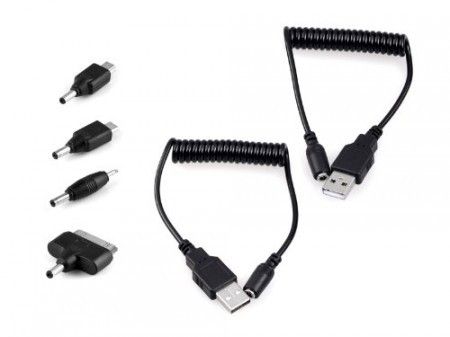 In all I will say that I am very pleased with the RAVPower 14000mAh External Battery Pack due to it being very portable and great for long trips or a great alternative to a car charger that you can leave in the glove compartment. If you are looking for something on the go that can save you time as well as something that you and other members in the family can use as a one stop charger for different devices then the RAVPower 14000mAh External Battery Pack is for you.
Specifications:
– Capacity: 14000 mAh
– Input: DC 5V / 1A
– Output 1: DC 5V / 1A
– Output 2: DC 5V / 2A
– Size: 4.92" x 3.15" x 0.79"
– Weight: 9.98 oz
– Overcurrent Protection Delay: 1S
– Short Circuit Protection Delay: 1S
– Working Temperature: 0-40°C
– Storage Temperature: -20-60°C
Package Includes:
– 1  RAVPower Power Bank (model: RP-PB13)
– 1  USB to DC cable
– 4  Charge Connectors(Mini USB*1, Micro USB*1, Nokia DC2.0*1, Samsung 30pin*1, Apple*1)
– 1  Free Bonus Flannel Bag
– 1  User Guide
Model: 65-80000-022
Input: DC 5V / 1A
Output – Output 1: DC 5V / 1A – Output 2: DC 5V / 2A
I've been writing and covering many forms of entertainment such as comedy shows, and arcade bars as well as reviewing video games and more for the past decade. I love to write and I am blessed to be able to have the opportunities that I have had in the entertainment and technology fields.