We are influencers and brand affiliates.  This post contains affiliate links, most which go to Amazon and are Geo-Affiliate links to nearest Amazon store.
Hey guys, back at it with RavPower and this time like the last they have sent me a quality product, with "blinding" excellence.  Once again they sent a perfect product to suit my needs; I am sure this one will for you as well.
Whenever you set your USB chargeable devices down to charge, without using a power strip how many different outlets do you need to run to get things charged, and how messy does it look?  The RAVPower 4-Port Wall Charger looks to stop that by allowing you to plug in your tablets, smart phones, fans and just about everything else in one spot, that's it.  Here are some of the features.
Features
4 Ports designed to charge tablets, phones and any just about any other USB powered device.  (2 x 2.1A for tablets and 2 x 1A for phones, batteries, etc…)
Compact unibody design to be easily concealed and portable.
AC 110-220V input voltage made for international travel and where ever you call home.
Detachable 3.84ft power cord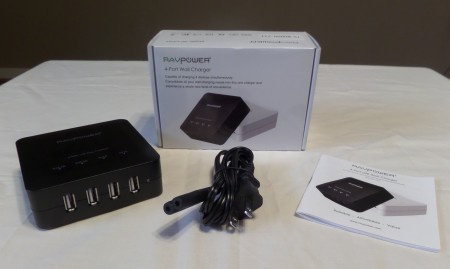 Check out everything it comes with in my unboxing video
Plain and simple device with no frills or thrills but it does exactly what it says it does, charge your USB devices.  It does not charge the Samsung Galaxy Tab or the Asus Transformers, but I don't have any to test with so I cannot comment.  Reading around I noticed that they will not charge with anything other than Samsung/Asus certified chargers, so I don't believe this to be a limitation of the RAVPower Device, only a limitation on Asus and Samsung's part.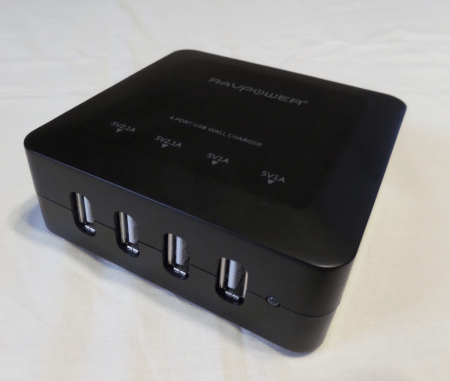 This first night I fell in love with this device at everything I could charge from it, so much so I still remembered its name the next morning.  It charged my EVGA Tegra Note7 and my iPhone 4S while also charging my wife's Asus Nexus 7 Rev1 and her iPhone 4 as well.  I also ran a USB fan, and also from RAVPower the Duo RP-PB16 portable battery and the Havit bluetooth speaker I reviewed.  I will say though one of the only things that I did not like, which is why I foreshadowed the "blinding" in the title is that a BRIGHT blue light emits from the front of this device while plugged in, a little annoying late at night.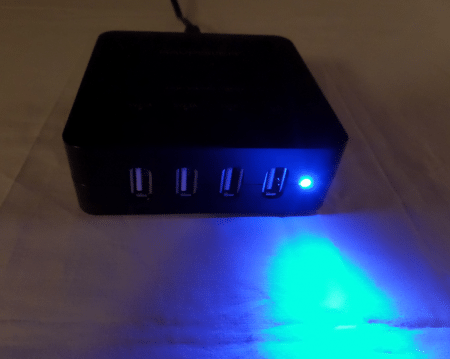 Check this video out so you can see just about everything you can do and my ways around this powerful light.
Reading out the model number in the review, I said 30W, instead of 30Watt, but I am sure you guys understood.
Another small thing that was not annoying but slightly inconvenient is that power cable to plug into the wall is only 3.84feet, not horrible just slightly inconvenient and easily overlooked once you see all of the benefits, not to mention the amazing price of $19.99.
So that you can see how clearly labeled this charger has everything, look at the picture below.  You can see both 2.1A ports and both 1A ports.  Even if you forget, you will not damage your iPhone by plugging it into a 2.1A port, it will just faster and if you plug you iPad into the 1A, it will just charge slower, a lot slower.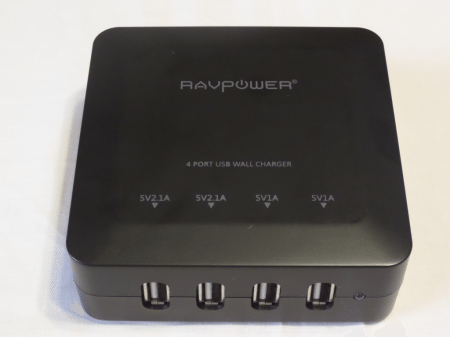 So that's pretty much it, short, sweet and to the point.  No frills in this one, but there really doesn't need to be, it does what it does and it does it extremely well.  I know this device was a great amazing for me to review because of how convenient it was but what would you use it for?
This device got so close to 5 stars, but the annoying light and inconveniently short power cable drove it down to 4, but the $19.99 price tag brought it up a bit.
We are influencers and brand affiliates.  This post contains affiliate links, most which go to Amazon and are Geo-Affiliate links to nearest Amazon store.
I have spent many years in the PC boutique name space as Product Development Engineer for Alienware and later Dell through Alienware's acquisition and finally Velocity Micro. During these years I spent my time developing new configurations, products and technologies with companies such as AMD, Asus, Intel, Microsoft, NVIDIA and more. The Arts, Gaming, New & Old technologies drive my interests and passion. Now as my day job, I am an IT Manager but doing reviews on my time and my dime.