We are influencers and brand affiliates.  This post contains affiliate links, most which go to Amazon and are Geo-Affiliate links to nearest Amazon store.
While we all have different types of music we listen to, we can all agree that we all like music. Out of the billions of places you go each day, now you can take your music with you and not subject your self to bad sound quality and being inundated in cables. Today I am introducing to you the HV-SK466BT Bluetooth Speaker from Havit. Here are some specs Specifications • Output Power 3W*2 • Impedance: 4 Ohm's • Bluetooth Version: 3.0+EDR • Frequency Response: 180 HZ-20KHZ • Signal to Noise Ratio: 80dB • Auto Shut-Off after 30 minutes of non-use • A2DP V1.2with Class II Support • AVRCP V1.4 Profiles • 10M of Working Distance • Works as a Cell phone Speaker and Microphone • 4 Colors to pick from, White, Black, Blue and Pink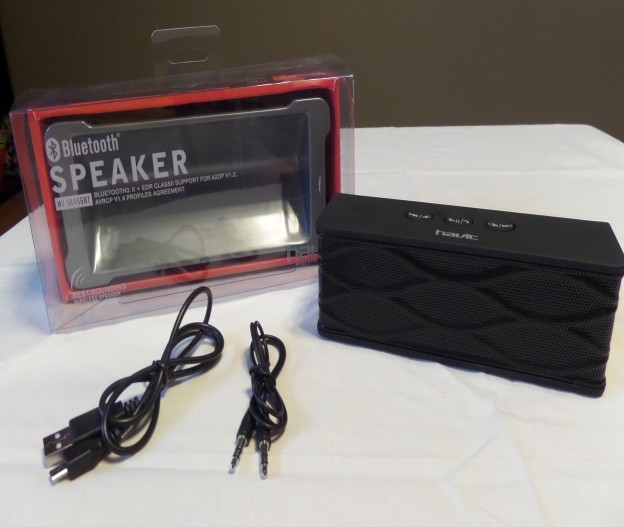 Check out my unboxing of this set
Honestly I was not 100% impressed taking this speaker system out of the box, while it did have a nice rubberized matte feel and was black, this is more left to a mouse than a speaker. It did have a nice set of controls (Rewind/Lower Volume, Play/Pause/Answer Call, Raise Volume/Fast Forward) and the features seemed a little high end for such a low priced speaker system.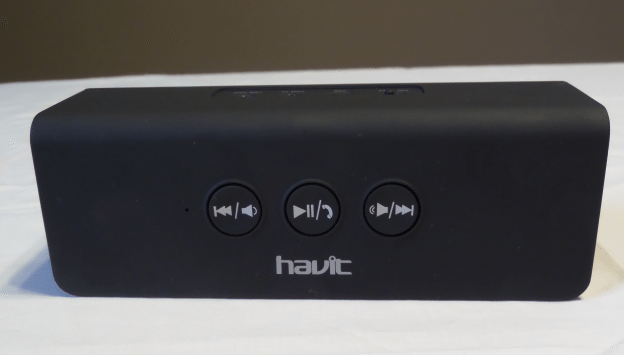 Such a high level of SNR at 80dB, seemed too good to be true, again at such a low price matching that with a 4 Ohm impedance, it looks like you are set for a good experience, but you can be the judge of that
Like all Bluetooth devices, you have to pair the speaker with whatever device you are connecting it to, so when you see "HV-SK466BT" on your tablet or phone, just tap on the listing and within a few seconds you will hear the connection tone. There is no code, which means that anyone that wants to connect to it can, I just don't see that happening too much though. If you pause on the speakers, it does not reflect on the tablet although it does pause, but if you press the pause button on the tablet, it un-pauses it, not a horrible thing, just something to mention that it does not keep the devices in sync visually. This was testing using iHeartRadio, where I tested rewind, which does not rewind because you cannot rewind in iHeartRadio but it does briefly pause it, play and pause of which I have already mentioned and fast-forward, which does not fast forward but skips the song, there is no function in iHeartRadio to fast forward of rewind so I would not expect the device to alter iHeartRadio's functions. You can control the volume level by pressing and holding the rewind button and it will slowly lower. To raise the audio, press and hold fast forward. Both alers you with an audible beep when you have raised or lowered the audio to its highest and when you have lowered it to its lowest settings. A nice feature to have to keep you from guessing when its all the way up or down. When the speaker system is on, a light will blink on then off every 5 seconds and when it is charging a sold red light appears. The light will still blink every 5 seconds while it is charging.

I tested the High's and the Low's and while the highs did amazingly well, the lows did pretty well too but when it goes way to low it did suffer some disconnects and vibration. This is a very light speaker, so I can see why the vibrations occur, to resolve those I just but a folded shirt under the speaker but I could not resolve the disconnects. Please understand, for people like me that listen to Metal, Rock, Ska, Punk, Symphony, Orchestra and Jazz they sound great and for those that listen to Hip-Hop, Trance, Techno, Drum and Bass, Country, Pop and many other types of music they will sound great as well. If you like to drive around having your license plate vibrating and all the nuts and bolts as well dropping your base so low, these might not be the speakers for you, you might want to stay in your car. Talking about cars, since my hearing was not good prior to this review, I decided to take matters into my own hands when my daughter was upset that I couldn't hear her. Check out this video on how Havit helped me get my hearing back and keep my daughter happy.
Now that I am back to the present and since you already know that this can connect to an iphone, android device and I am sure a windows phone and most any Bluetooth device, this can also receive call.  It is not a cell phone on its own, it does require a cell phone to receive calls, but once answered (of which you can do on the speaker itself) you can have the speakers project the callers voice and the speaker itself act as a microphone picking up what you say without the phone being around.
If you don't have an iphone, or any other tablet, but maybe have an older iPod (yeah, I have one), DVD player, a Nintendo DS or a Sony Vita that you want everyone to hear the game or anything along those line that might not have Bluetooth, a laptop on which you are presenting on but the speakers on the laptop are not that great, this speaker system can do it too. You can connect the 3.5mm connector to the laptop, iPod, DS, Vita or anything else then into line in and you are good, it will make everything work and everyone can hear it as you intended it to be.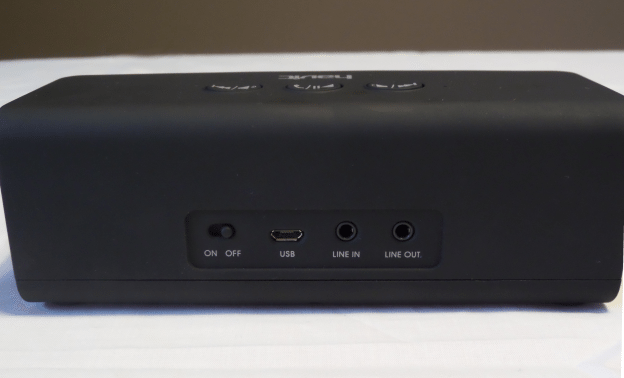 Continuing the trend, this does not bring an AC adapter to charge off of an outlet, but you can connect it to your laptop while its charging or the battery pack I reviewed not too long ago, it would be a match made in heaven. If it did come with the adapter though, you can imagine the price would go up some, so it might not be too bad, just make sure you charge it before you go out or carry the battery pack with you, though you might need to buy a Micro-USB to Micro-USB cable.  Check out my review of the  RavPower Duo portable battery pack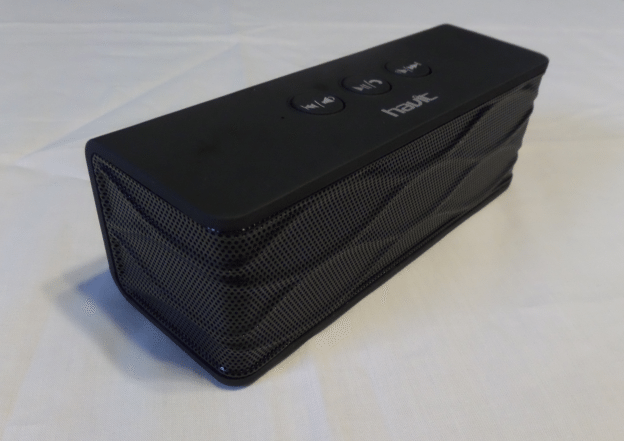 This device works great, has many great features at a great price and does so much more that it looks like it could. If it included the AC adapter and maybe had an input code when pairing so that everyone does not have full access to the speaker, it would have gotten 5 starts, but it gets really close coming in at 4.5 stars. They really build a great device here.
We are influencers and brand affiliates.  This post contains affiliate links, most which go to Amazon and are Geo-Affiliate links to nearest Amazon store.
I have spent many years in the PC boutique name space as Product Development Engineer for Alienware and later Dell through Alienware's acquisition and finally Velocity Micro. During these years I spent my time developing new configurations, products and technologies with companies such as AMD, Asus, Intel, Microsoft, NVIDIA and more. The Arts, Gaming, New & Old technologies drive my interests and passion. Now as my day job, I am an IT Manager but doing reviews on my time and my dime.