How many times have you gone somewhere and you wanted to take a picture, listen to music, or use your tablet only to find out that you are out of power or nearly out of power, I know it's happened to me a bunch of times.  Those times have now come to a screeching halt with the RAVPower Duo RP-PB16 7800mAh Portable Charger/ LED camping lantern. RAVPower Duo RP-PB16 has many of these external battery designs but this one in particular suites my needs.  In this 7800mAh charger they not only packed it with power but they have also included an LED lantern that uses little to no power. Check out some of the features Features
7800 mAh high capacity battery
8 LED lights acting as an outdoor camping or flashlight.
Camouflage pattern
Indicator lights for showing how much energy is left within the battery
Output: USB DC 5v 1.2A
Locking carabineer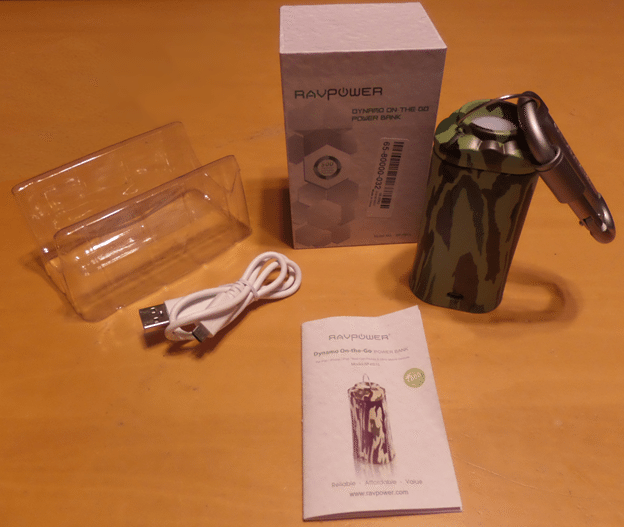 Check out my unboxing video The battery is capable of holding up to 7800 mAh of power, check out a few common devices (at least that I have laying around the house) to give you an understanding of what it can charge
EVGA Tegra Note 7 4100 mAh
iPhone 4S 1900 mAh
Asus Nexus 7 (First Gen) 4,325 mAh
Samsung WB250F Camera 1030 mAh
Amazon Kindle FireHD 4400 mAh
This means on a full battery the RAVPower RP-PB16 can power my Tegra Note 7, 1 and a half times, or power that and the iPhone and my Camera and have a bit left over.  Check out my video on its charging capabilities, I may not have charged it to 100%, maybe 90% but it still gives you a great idea on how quick and easy it is.  It took only 3 hours and 10 minutes to fully charge my EVGA Tegra Note 7 from 0% to 100% charge, it takes about that long to charge it connected to an outlet. Being that this is camouflage it makes it nice to take out camping, of which I am doing more lately since my son is in boy scouts.  I took a picture of it in between a few apples, take a look, I'll bet you can't find it.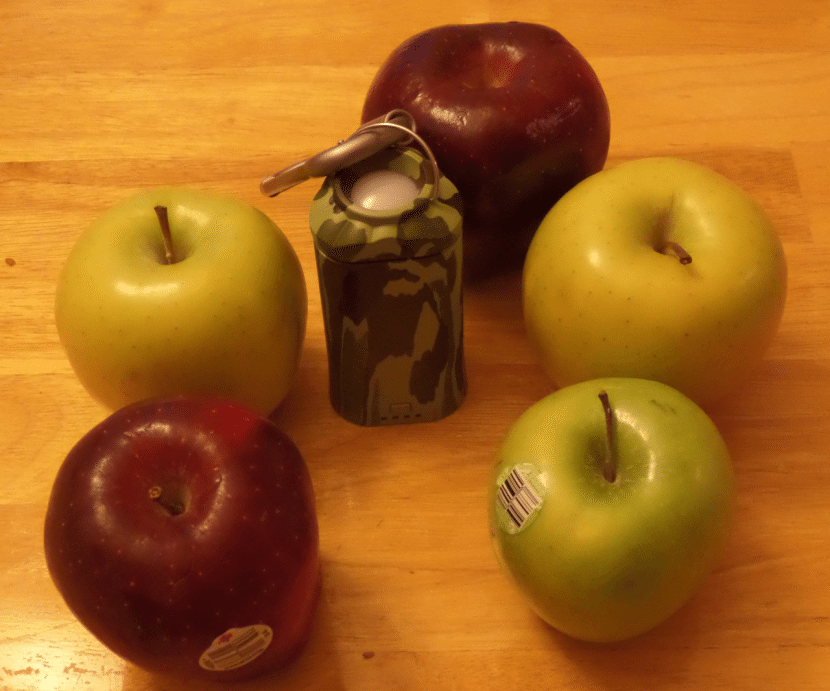 This is also great for adventures; check out my adventure trying to catch a dog that was eating my roses.  I was trying to work with my tablet checking the weather when it died, so I hooked it up to charge it but for some reason I could never find that dog. So in the video you will notice I used the lantern; it doubles as a flash light as well.  Check out how it looks in the dark, pitch dark on my dining table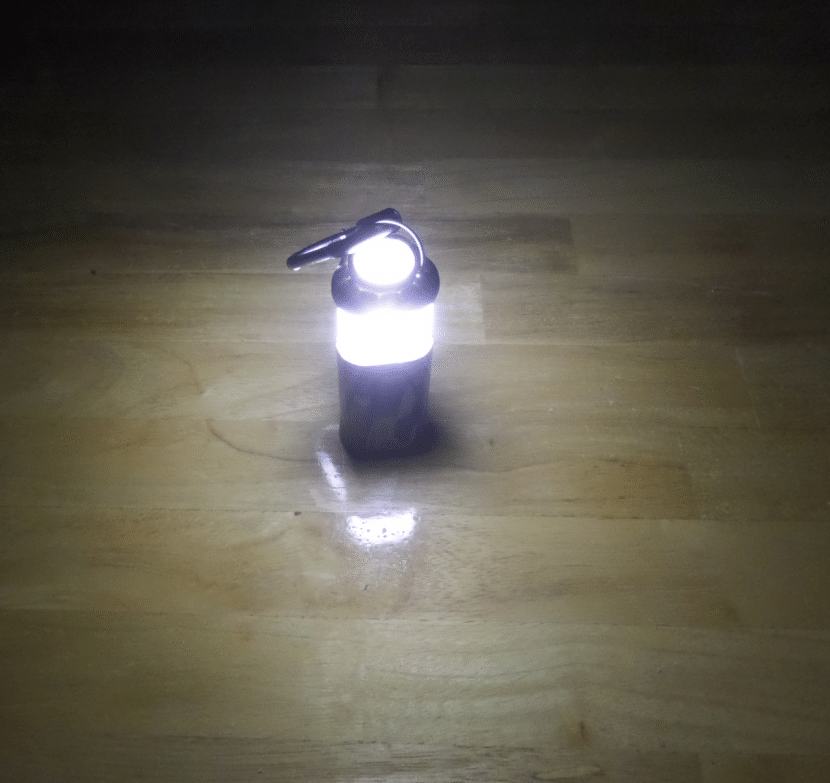 And this is how it looks like as a flash light In my dining room, not bad all, it does a great job for both and since it is a LED light, the light last for hours and barely affects the battery life.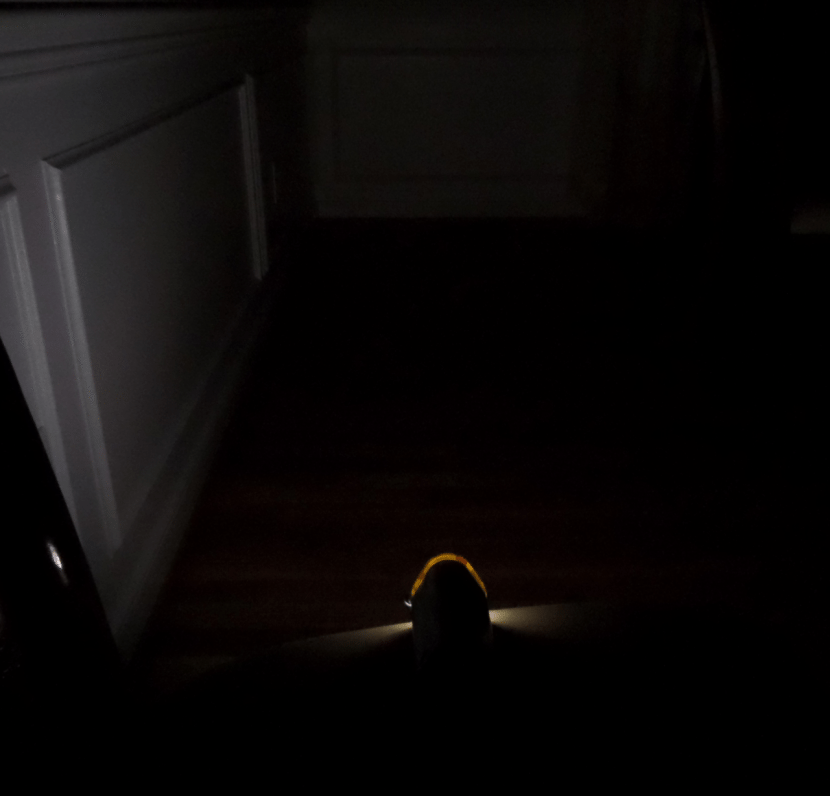 It brings a locking carabineer so you can attach it to the battery/lantern and then to your belt loop or any other area you wouldn't forget about it, remember its camouflage. It comes at a great price, but with what it brings you can only charge the unit through a USB port.  You can purchase separately a RAVPower Dual port car charger or the RAVPower RP-UC05 Wall charger, $8.99 and $10.99 respectively.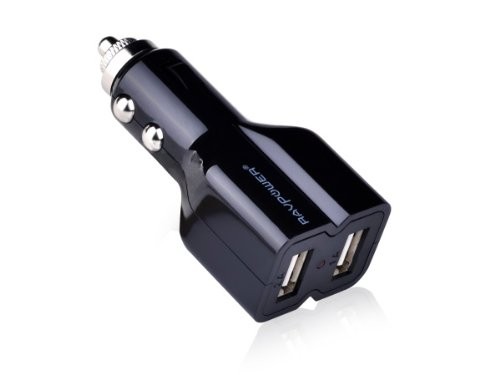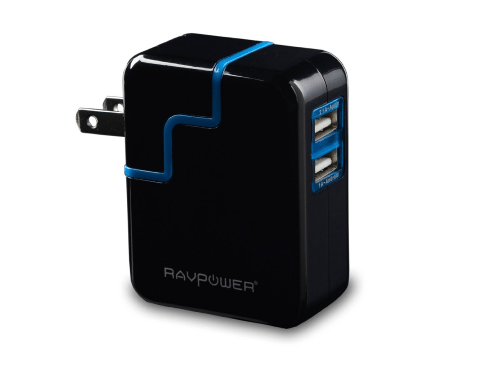 Images courtesy of Amazon Please don't mistaken this for a boy scouts device, this can be used for anything and anywhere.  At the beach, church, library (the place with books in it, book are things with many pieces of paper within the and lots of words, the original e-reader), the park, a date, the bedroom,… anywhere. So over all, I think this is a great little device that we should all have, it has so many uses at a great price.  It does bug me that it does not come with a charger, and because of that I cannot give it a 5, I will have to leave it at a 4.  I would thinking adding a plain simple looking wall charger can't be too expensive and it would benefit for it to be included.  Although the extra ones you can buy are not terribly expensive.
I have spent many years in the PC boutique name space as Product Development Engineer for Alienware and later Dell through Alienware's acquisition and finally Velocity Micro. During these years I spent my time developing new configurations, products and technologies with companies such as AMD, Asus, Intel, Microsoft, NVIDIA and more. The Arts, Gaming, New & Old technologies drive my interests and passion. Now as my day job, I am an IT Manager but doing reviews on my time and my dime.