With everyone into RGB lighting and nostalgia, Redragon decided to give you a throwback. They came out with a round keycap keyboard to give you that feeling of a typewriter.  This is their K556- R RBG mechanical keyboard. The package is small and show a normal keyboard but has a little yellow label that says round keycap. So don't be worried and think they sent you the wrong keyboard, I was confused at first.  Let me show you the box and the label I'm speaking of.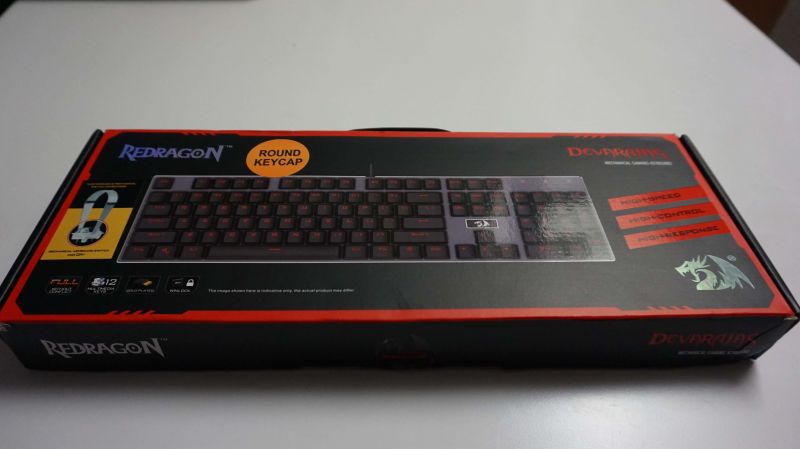 You can clearly see the sticker that says round keycap. In the package, you get the keyboard, keycap puller, key switch puller, user manual, 8 blue switches, driver DVD, and the keyboard itself.
Check Out My Unboxing Here!
The Redragon K556-R Keyboard!
The keyboard is 104 key and is a 100% anti-ghosting keyboard. It has brown switches but comes with 8 blue switched just in case you want to switch your gaming keys out. Let me show you the keyboard up close and the switches.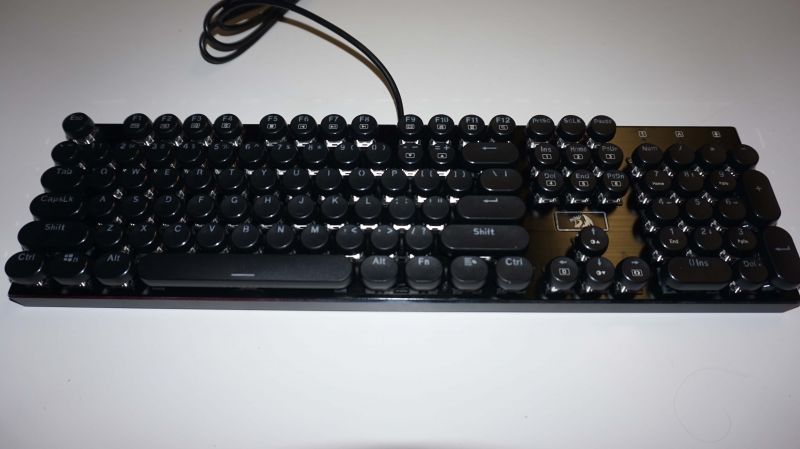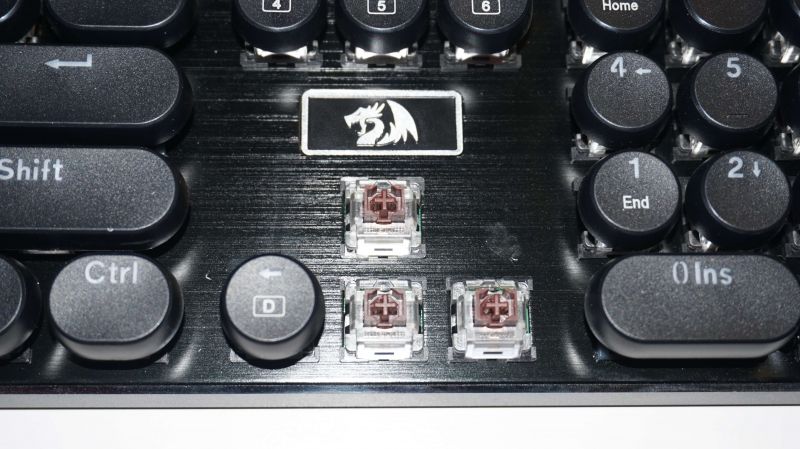 You can see I took some arrow keycaps off to show you the brown switches. To take this caps off you can use the included puller. Let me show you the pullers and the puller on the keyboard.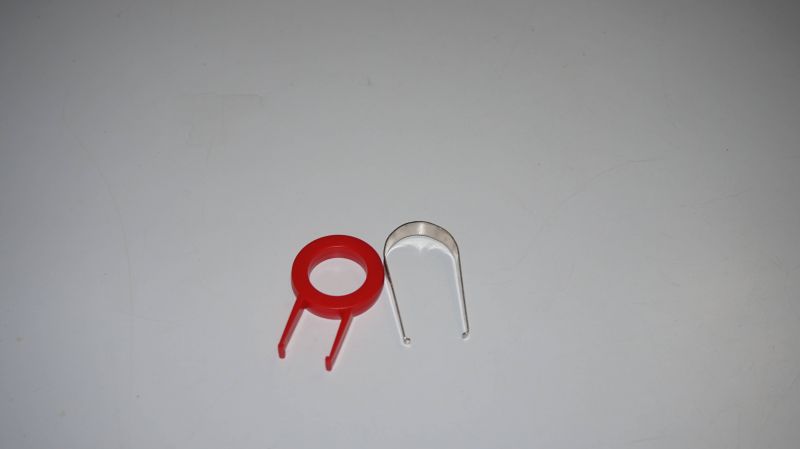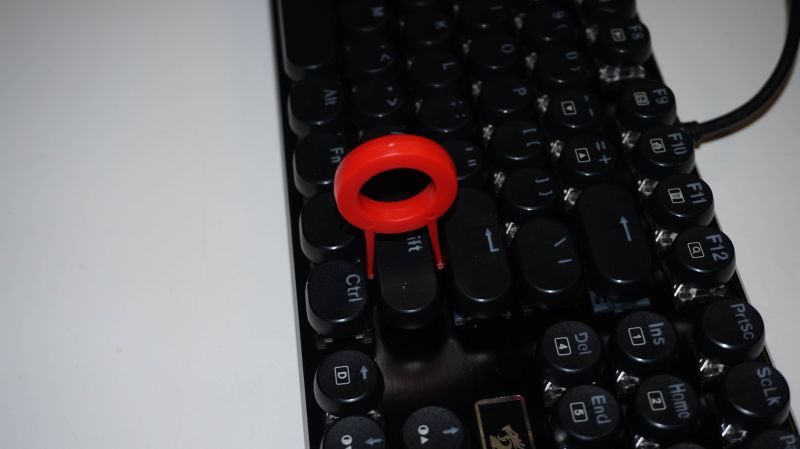 In the photos above you can see the pullers and how to use the keycap puller. Now the metal puller is for the switch removal. Let me show you the box of switches they include in case you want to change them.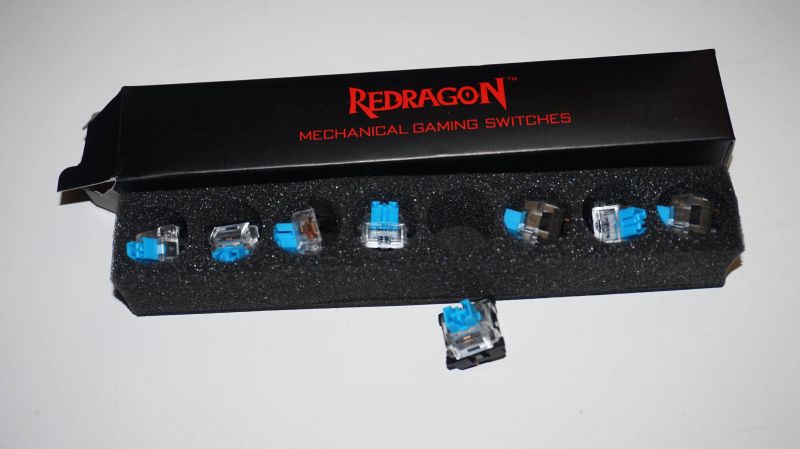 The brown switches have a nice feel and sound good. They are not that loud like the blue switches so keep that in mind. They do have nice feedback when typing. The Blue switches will be much louder. They will also have a different feedback when pushing. With the 100% anti-ghosting, you will be able to push many keys without any of them conflicting with each other. You also have several media keys included with the Redragon K556-R. These keys include music, play/pause, volume up, and volume down.
Check Out How To Swap The Redragon K556-R Brown Switches For Blue Here!
The Redragon K556-R keyboard is round key-caps style as I said.  You can swaps these caps out for others. Let me show you the key-caps up close with some other caps swapped out.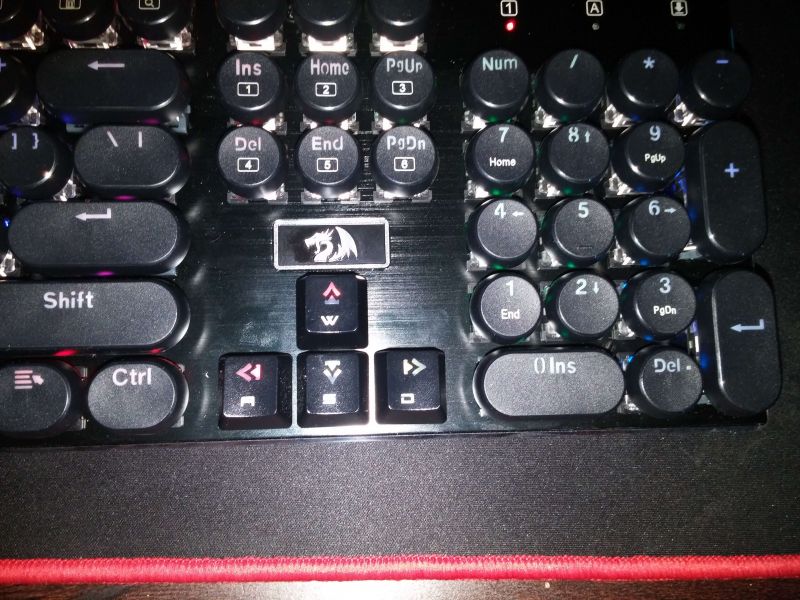 RGB Colors And Patterns!
Let's not forget that the Redragon K556-R keyboard is fully RGB.  It comes with many preset patterns and colors. You can go from red to blue to yellow with no issue. It has many patterns like fade, breath, flash, solid color, and much more. To achieve these patterns you will need to use the Function key with another key at the same time. These keys are arrow up and down. Also arrow side to side, ins, home, PgUp.PgDn, Del, and end.
Check Out My Redragon K556-R RGB Lighting Effect Video Here!
Final Thoughts on the Redragon K556-R!
When you get down to it the Redragon K556-R RGB LED backlit mechanical gaming keyboard is a nice addition to anyone who has a PC. It is sleek in design and very durable. The base is metal so I don't see any wear and tear for ages to come. With the round key-caps, you have a feeling of nostalgia. You can swap the switches out if you need and they threw those in which is the first keyboard I have ever seen to throw in different colored switches as alternates as this is something most company's don't add. Typing is easy and smooth once you get used to the old typewriter style keys. The LED's are bright and easy to use. The patterns are very vibrant and perfect for adding color to any desk. I think for the price it a nice keyboard that anyone would love to own.
Disclaimer: Redragon sent me the K556-R RGB Keyboard to test and review. All opinions are mine and mine alone!
Hi everyone I'm James Braga. I was born in Oregon and moved to New Hampshire a few years back. I love most things that have to do with video games and electronics, It doesn't matter if it for a car or a house, if it has electricity in it i will love it . I'm also in school for Information Systems Technology.