We are influencers and brand affiliates.  This post contains affiliate links, most which go to Amazon and are Geo-Affiliate links to nearest Amazon store.
Tablet Express is never happy with what they have made, they always work on bigger and better, but could this be it?  Today's review is of the Tablet Express Dragon Touch X10.  This is definitely bigger, but let's find out if it is better.
Before we can go any further, let's take a look at the specs.
Specifications
•10.1in IPS 1366×768 HD Display
•AllWinner A83T Octa Core processor running up to 2.0Ghz on all 8 cores
•PowerVR SGX 544MP
•1Gig DDR3 RAM
•16Gig NAND Flash
•Android 4.4.4 (KitKat) (Updated as of 12/1/2015 to 5.1)
•Dual Camera 5.0MP Rear /2.0MP Front
•Wireless N (802.11 b/g/n)
•Bluetooth 4.0
•Ports: Mini HDMI, 3.5mm Headphone Jack, TF/MicroSD card slot, MicroUSB and Standard USB
•Battery: 7200mAH
The specs sound great, but don't get ahead of the review just yet, let's do this in order.  Check out the unboxing.
So I myself kind of jumped the gun a little, I was excited so I not only did an unboxing, but I also did a setup too.  If you skipped that video and are interested in the setup, you might want to go back and check it out.
I know that you are kind of stuck on the 8 core part of the tablet, and I won't tease you (like I normally do) and I will get right into that part. Check out what CPU-Z says about the processor.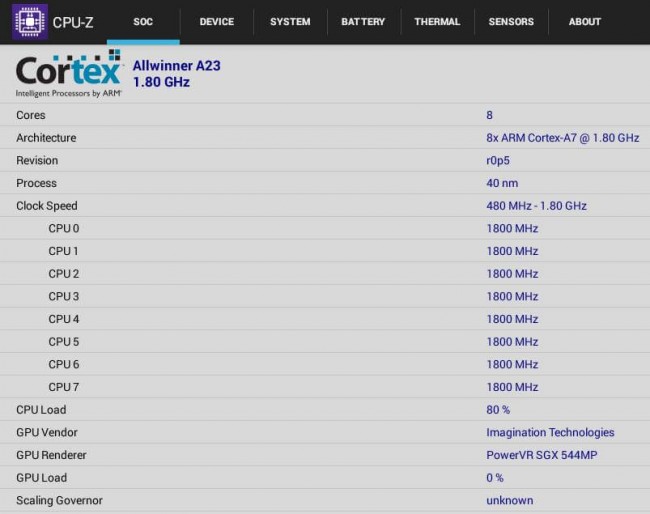 Mind you, the cores are not always running, most of the time this looks like this. Always trying to save some power when not in use.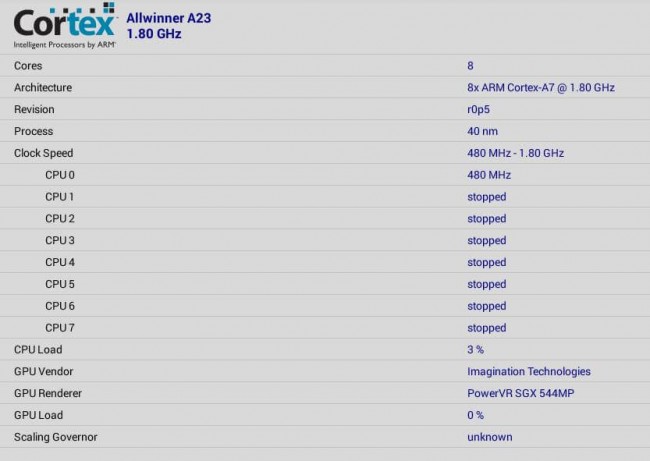 So what does all of this processor and graphical power mean for games, well let check it out.
We will start off with FutureMarks 3DMark: Ice Storm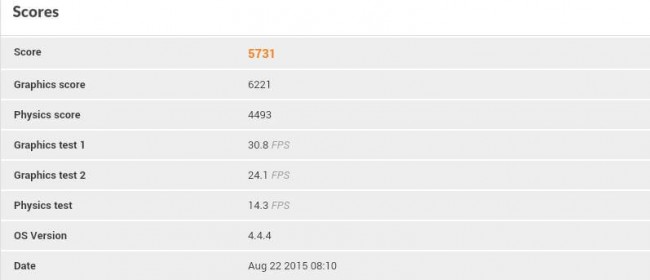 And Ice Storm Extreme
That's some pretty decent performance, looks nice for 10.6″ gaming wouldn't you think?  We will get to that in a second, but let's check out what Antutu says about the performance.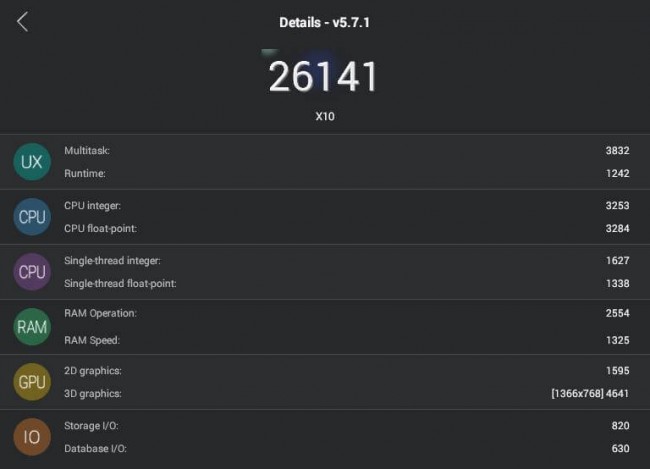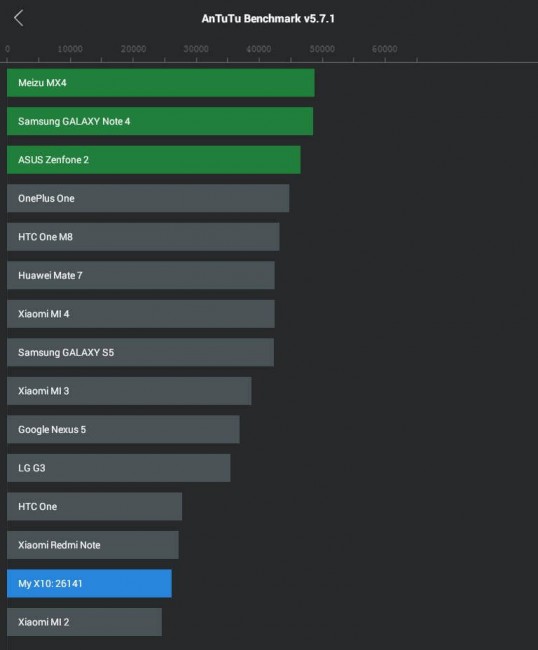 We are getting some good performance out of this tablet.  The Xiamo MI 2 while a Quad core, has 2 Gigs of RAM, this tablet only has 1Gig.  I know the Xiaomi MI 2 is a phone, but it is actually more expensive than this tablet and does not perform as well, has a Quad core processor with a lower Mhz rating, a 4.3" screen and even a lower resolution but hey, it can make phone calls…
After the performance test's, I will fill you in on a secret that may make you like this tablet a little more.
So above focused on the GPU and CPU only, we will gauge the performance overall using FutureMarks PCMark.


These are some great numbers and my secret towards the end will help you understand why these numbers are so great.
Talking about great numbers, forget the benches now and lets focus on some gaming,… that's what I use them for, what about you?
Not too bad at all, Dead Trigger 2, Asphalt 8, Order & Chaos, Sim City BuildIt, Angry Birds 2, 8 Ball Pool and Hearthstone, what more could you want?
Ok ok, here's some more

In this video, I show playing Injustice: Gods Among Us then Real Racing 3,… but wait, did you catch what I did in this video?  I used a mouse from my computer, a standard USB mouse on a tablet; yeah it has a full sized port and a Micro USB port as well.
I also paired a set of Creative Sound Blaster JAM Bluetooth headphones and a pair of Havit Bluetooth speakers, but using them I show you how the show Super Natural sounds, Jobs, Freebirds, Madagascar Happy Holidays and how iHeartRadio sounds.
With all these games, applications, benchmarks, pictures and all the updates I still had plenty of space left.  Here is not only a picture, but a breakdown of everything.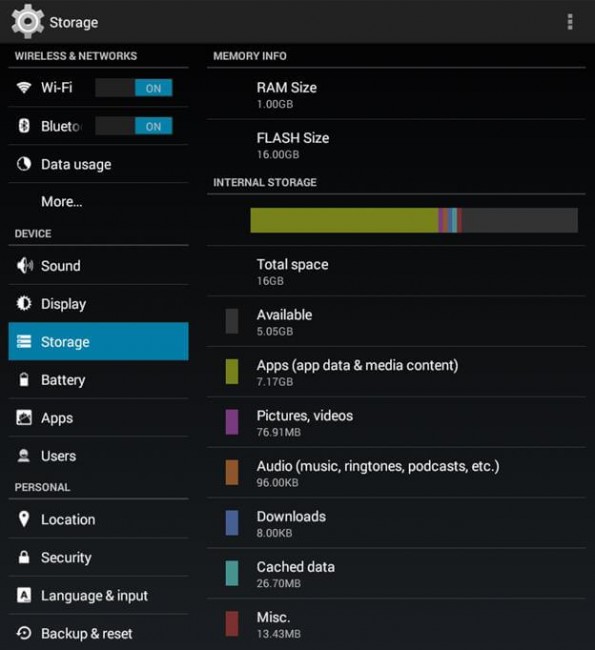 Performance is nothing without a foundation, you're on the road, waiting in a doctor's office, on a flight or somewhere too far from an outlet and if the battery isn't up to snuff, you are out of luck.  Well, check out how the battery did.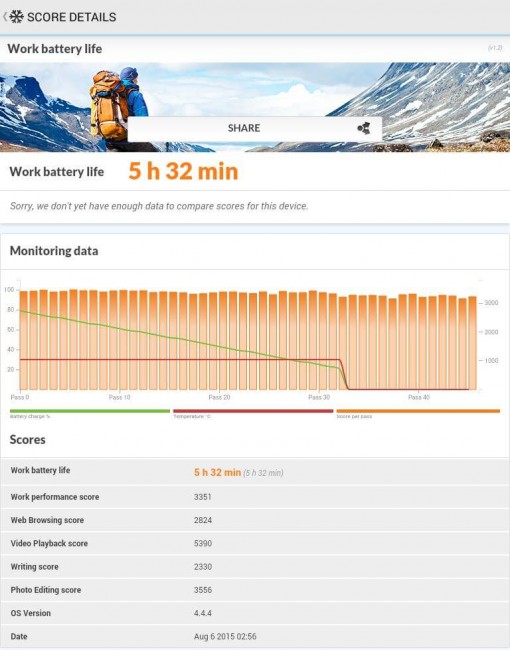 5 hours and 32 Minutes, out of any Tablet Express tablet I have ever tested, this has an amazing battery life and great performance as well.  I am very surprised.  Now to the secret I had, in receiving this tablet. Tablet Express tells me to compare it directly against the A1X, because this is actually the replacement to the A1X and if you look at all of the scores, number of cores, battery life, resolution, display and features you will see why.  I won't list the A1X review here, but you can follow it here https://www.dragonblogger.com/tabletexpress-dragontouch-a1x-review/
See what I mean, amazing scores comparatively and features.
Ok, so there are more features to go over, let's check out the cameras.
This is from the Tablet Express Dragon Touch X10 rear 5MP camera, lots of color here and a very sharp picture though it still is only 5 mega pixels; one of the only area's Tablet Express suffers on.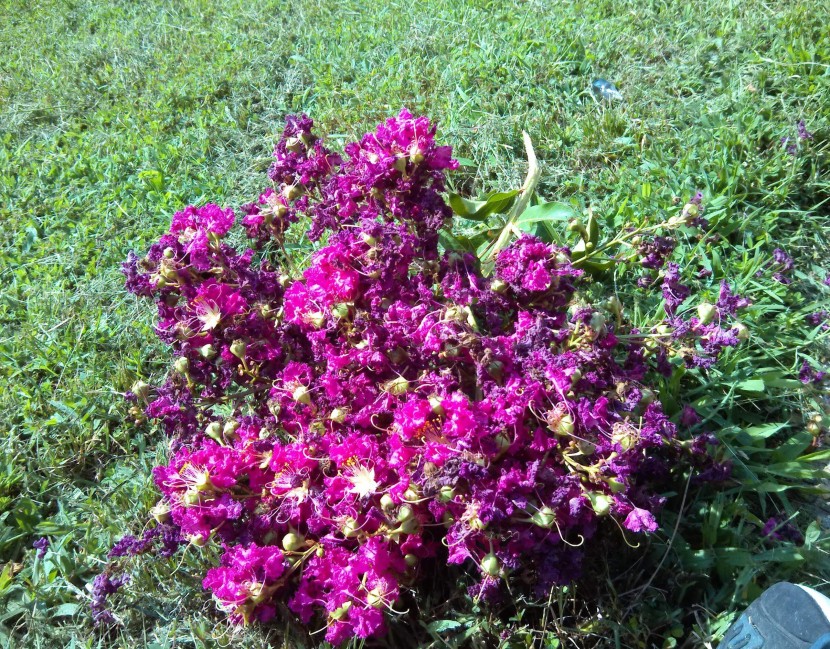 This is from a tree I have in my front yard, a piece fell of onto my lawn, and you can see the bottom of the my shoe there.  So with the front camera I took this picture below.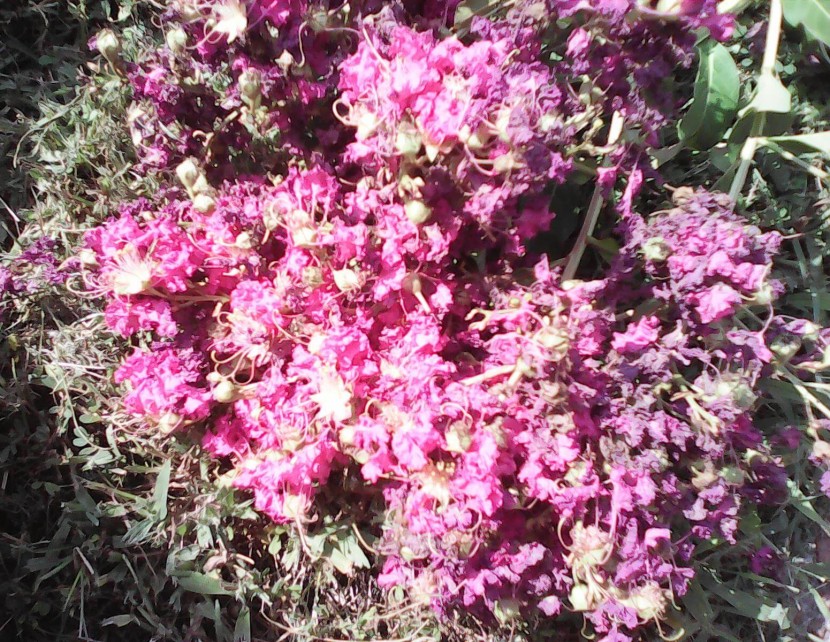 Not as nice, a little washed out and not as bright but it does look pretty decent for a 2 mega pixel camera.  It was very hard to take this pic, I had to lay on the ground for it. Now, I know 2 Mega Pixels sounds bad, it really does but the front camera is for Skype and programs of that nature so that you stream your face to your friend, family and more.  You want to keep the packets small to make sure the video is much more fluid.  Let's see what the quality looks like with the front camera in Skype.
Sorry I had to make you look at my mug for long but it's the only one I have and the only way I could show you Skype.
Kind of stylish looking, here is how the rear camera looks like.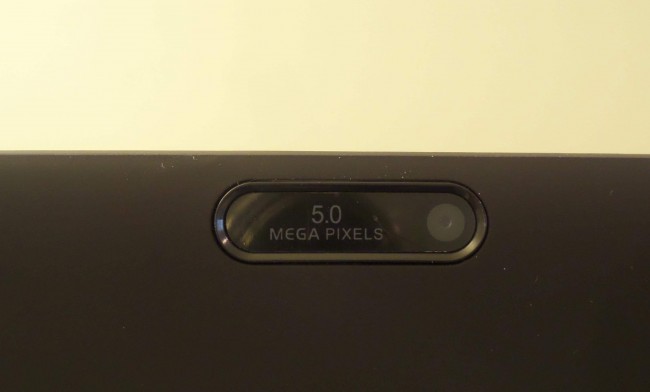 Here are the ports on the left side of the tablet. Covered Micro SD, Micro USB, mini HDMI Full sized Standard USB, DC for charging and 3.5mm for headphones.  Yeah, a full sized USB port, if you noticed in the video above, I connected a mouse to it and even a 12Gig thumb drive and I transferred data from the tablet to the thumb, that's a very useful feature to have.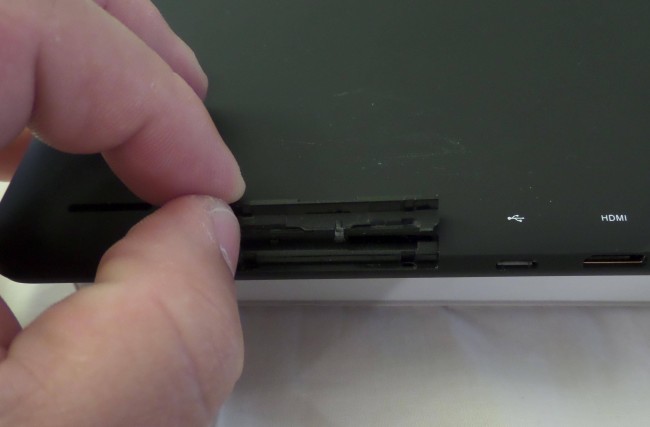 Very odd looking, but the micro SD slot is covered. I mean it's good for dust protection and maybe to keep kids from putting things in there, but it seems very awkward.
The back of the tablet has a left and right speaker and 2 speaker holes,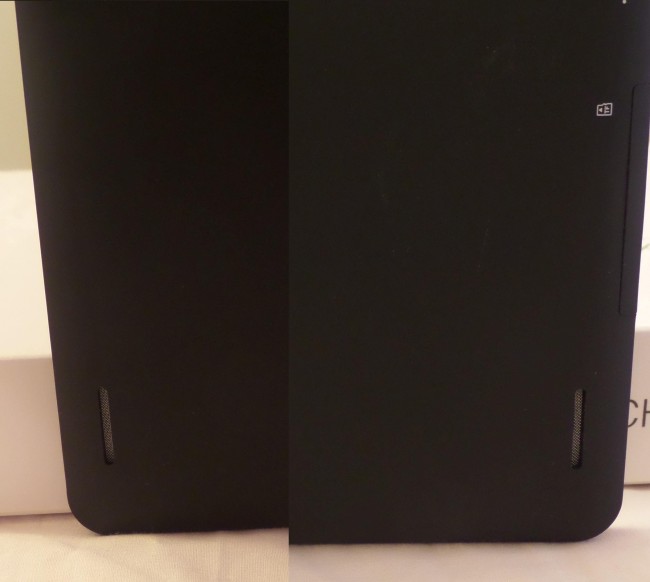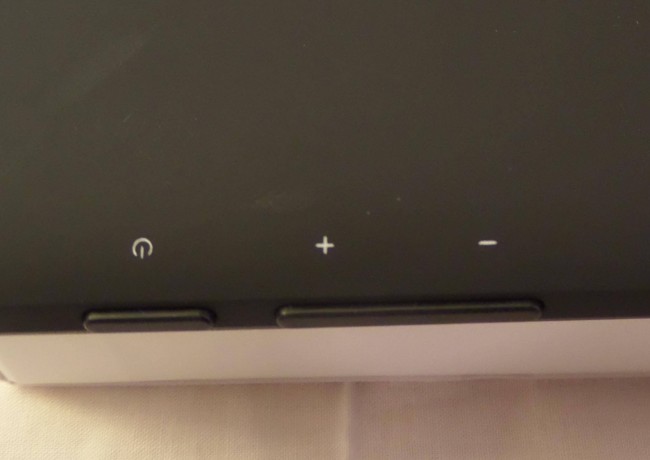 Along the left side on the top of the tablet, you will find the power button and the Volume up and volume Down button.
So let me show you how the HDMI works out.
This one wasn't 100% automatic, as you can see in the video at first I got purple lines.  Turns out that the default was 1080p, but my TV is actually 720p, but it was easy enough to adjust.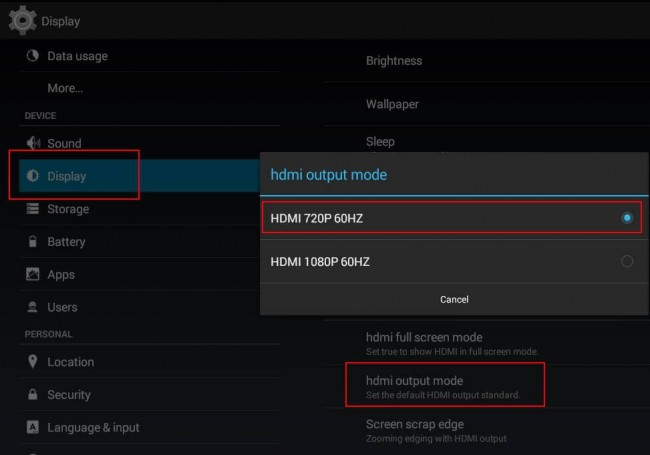 To change the settings, all I did was tap the control panel, then setup, Display, HDMI Output Mode and finally, I changed the standard 1080P to 720P and it worked fine.
Now, a 10.6" tablet is not a common size so it might be a little rough but they got you covered.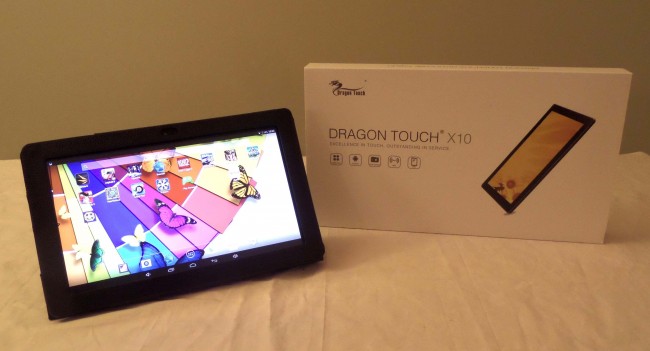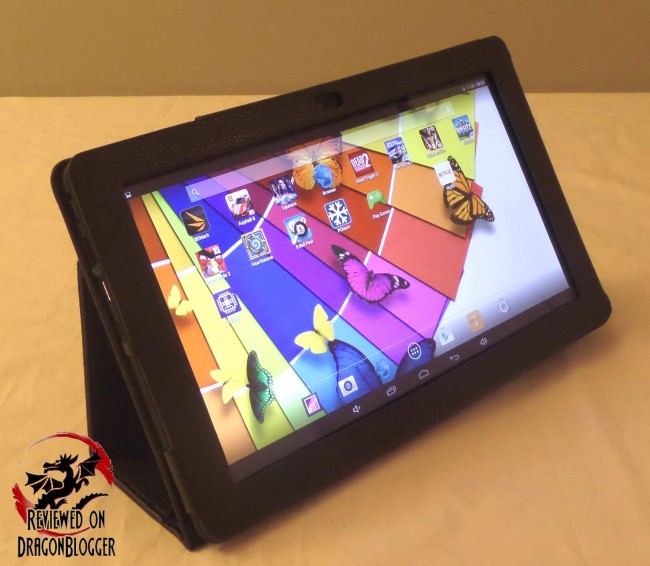 The case doubles as a stand.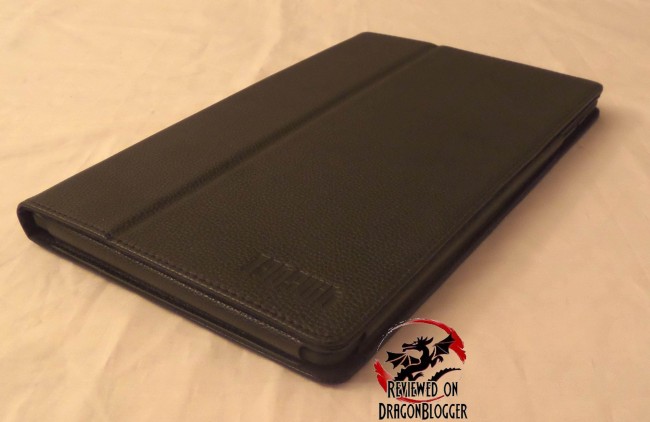 I think this is a very sleek and stylish case, and it is leather, that part doesn't do anything for me though I am sure many others will like it.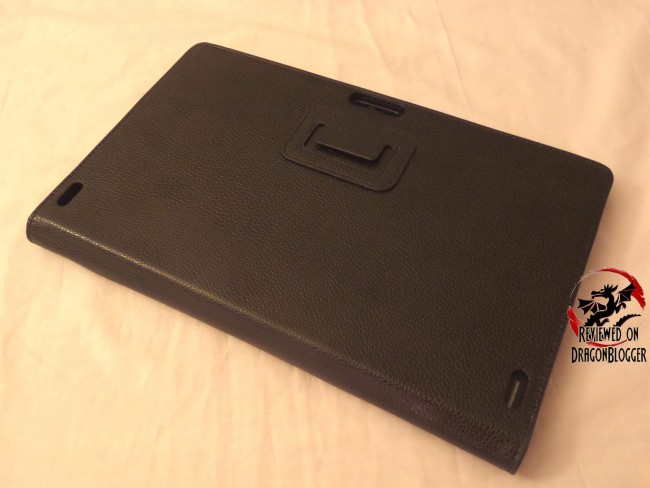 So you can see on each side of the case, there are holes for the speakers and the top of the case has a hole for the camera.  No, it's not a Chanel logo, that's actually the latch that the stand holds into.  Let me show you.
Even though this is a brand new tablet, there are even screen guards from TabSuite.  A case and screen protection, right off the bat it has very nice add-ons.  Many times manufacturers launch tablets without any sort of accessories and just wait for others to make them, a very sad fact, that's not the case here.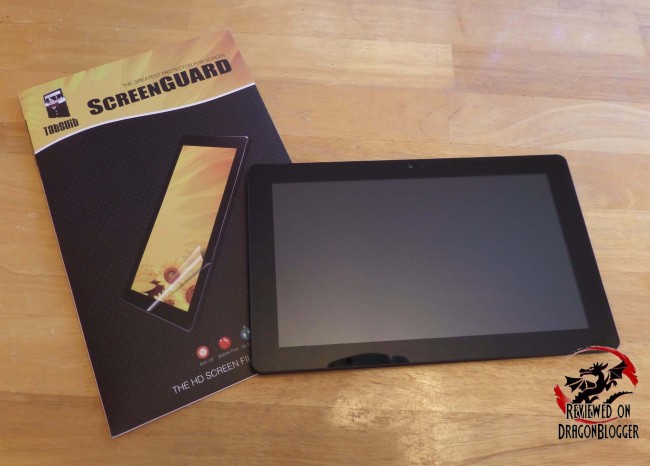 Oh, and I almost forgot to mention, the package includes an AC charger and a micro USB cable along with a user's guide and Tablet Express' "STOP Need Help? Call US!" pamphlet where it lists websites, emails and numbers to call in case you are having issue.
Here's the AC Adapter.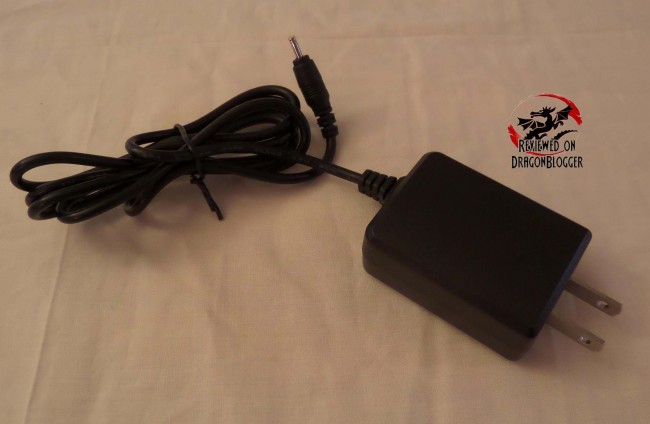 And the micro USB cable.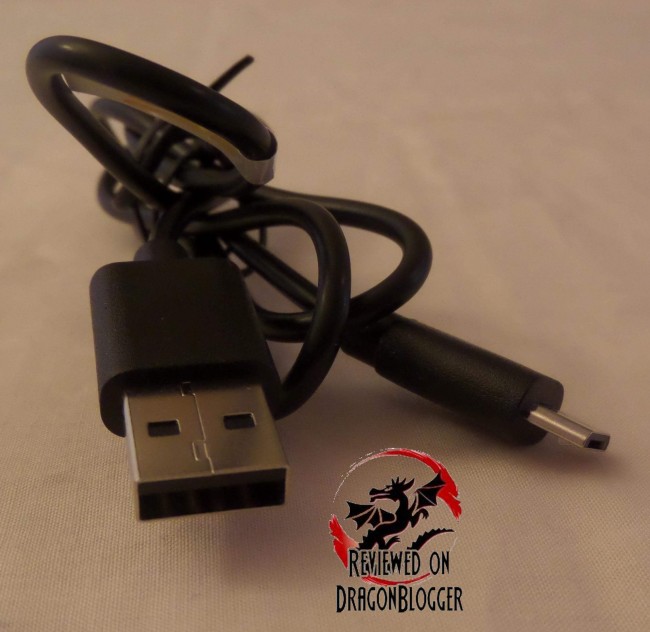 Another features I like a lot about this tablet is the fact that the updates are downloadable, you don't have to deal with horrible firmware updating procedures.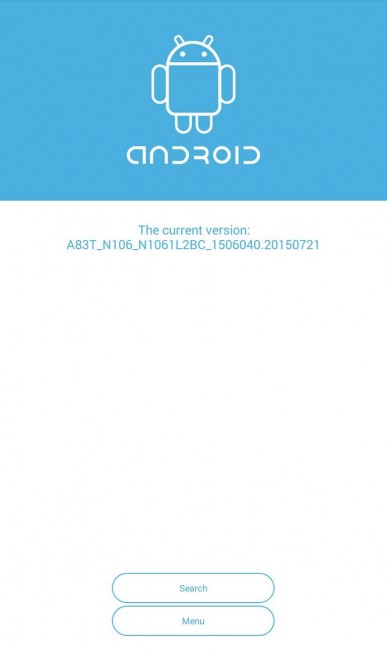 Just click "Search" and it searches for updates, no updates yet though.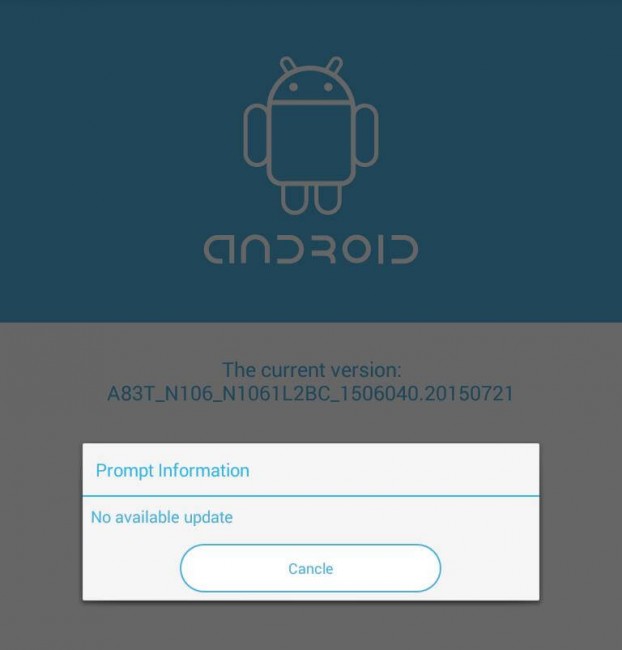 This has been an amazing tablet, much better than its predecessor the A1X, but it feels like it has a little work to do before it can be as good as it can.  I feel like it might not be taking 100% advantage of those 8 cores.
Playing with the "Background process limit" settings, raising it to "At most 4 processes" I was able to slightly get better performance without dismissing the battery life.  I have let Tablet Express know about this and they are working on it which gives me even more hope for this easy firmware update feature.  Even though this feature is more for cached background processes, I am sure they can figure something
out.
It has a minuscule amount of work to be put into it before I can give it a 5 star rating, the only thing holding it back is the fact that it does not seem to access all 8 cores efficiently, even though CPU-Z clearly shows it does.  This could be potentially an Android limitation, but when it is corrected and I notice an improvement I will raise my score from 4.5 to 5, even though the performance and price are amazing.  So for now, I give the Dragon Touch X10 Octacore tablet a 4.5 out of 5 star rating.
Update 9/3/2015
It did not work originally, but with the latest version of Kingo (or brute force) I was also able to root the X10.  I will mention that this "IS NOT SUPPORTED BY TABLET EXPRESS.  ROOTING YOUR TABLET WILL VOID THE WARRANTY, NO QUESTIONS ABOUT IT".  Rooting a tablet is great and provides extra capabilities to a tablet, but also provides more possibilities to ruin the tablet, if you root this tablet you are voiding the warranty.  The first time I tried to root the X10 it failed, I tried a few more times and it failed so I uninstalled Kingo, a few weeks later I downloaded it again and tried to root and I thought it was going to fail because it stayed at 90% for about 5 minutes but finally it succeeded and it achieved root status.
You can read about Kingo and download it from here: https://www.kingoapp.com/
Rooting your tablet will void your warranty, just reminding you.
———————————–
Review was originally completed on Android 4.4.4, since then (12/1/2015) Tablet Express has updated the OS to 5.1
———————————–
Update 2/23/2016
While the KingoRoot app will not work using the APK, you can still root this tablet running 5.1 if you use the KingoRoot for Windows, super sweet.  I just did it and it works like a charm.
Check it out on Amazon
https://geni.us/6NAIJBN?uWv27q
We are influencers and brand affiliates.  This post contains affiliate links, most which go to Amazon and are Geo-Affiliate links to nearest Amazon store.
I have spent many years in the PC boutique name space as Product Development Engineer for Alienware and later Dell through Alienware's acquisition and finally Velocity Micro. During these years I spent my time developing new configurations, products and technologies with companies such as AMD, Asus, Intel, Microsoft, NVIDIA and more. The Arts, Gaming, New & Old technologies drive my interests and passion. Now as my day job, I am an IT Manager but doing reviews on my time and my dime.