We are influencers and brand affiliates.  This post contains affiliate links, most which go to Amazon and are Geo-Affiliate links to nearest Amazon store.
Hey guys, how many USB devices do we need to charge every night before we go to sleep?  Take it a step further, how many devices do you need to charge when you are out camping, hiking or on a trip?  Myself, usually 2 devices, my tablet and my cellphone, 2 of the things I use the most.   Well, I think Patriot might have made the perfect device for you and myself, no matter what or where you need to charge.
Today we are taking a look at Patriot FUEL 9000mAh 2Port USB Charger.  This is so much more than a USB Charger, this is an external battery/power bank and even an LED light and while it might sound HUGE, its actually pocket sized. Let's check out the specs of this transportable power plant.
Features and Specifications
Rechargeable Battery Capacity: 9000mAh
Input: 5V / 1.3A (1.5Amp max)
Output: 5V / 1A & 2.1A (3Amp Max)
2 USB Ports

USB Port 1: 2.1 Amps
USB Port 2: 1 Amp

Long lasting LED Flashlight
Included MicroUSB Charging cable
Circuit protection against under-charge/over-charge, over-current, over-temperature and short-circuit.
Ok, let's check out an unboxing and see what comes inside.
A pretty simple looking little device.  Like I showed in the video, it comes fully charged so if you received it in the mail and had to leave that day, you can just grab it, toss it in your pocket and know that it is already charged.
Again, it is a very simple device, so much so that it only houses 2 x USB ports to charge with.  2 ports to me at first seems like nothing really, but just wait a second and think about what this is.  This is a portable charger, capable of charging devices on the go, do you want to carry a huge brick around in your pocket, purse or your backpack?
First off, here is how big the charger is compared to my cell phone, and what better way to compare is to have the charger right on top of my phone.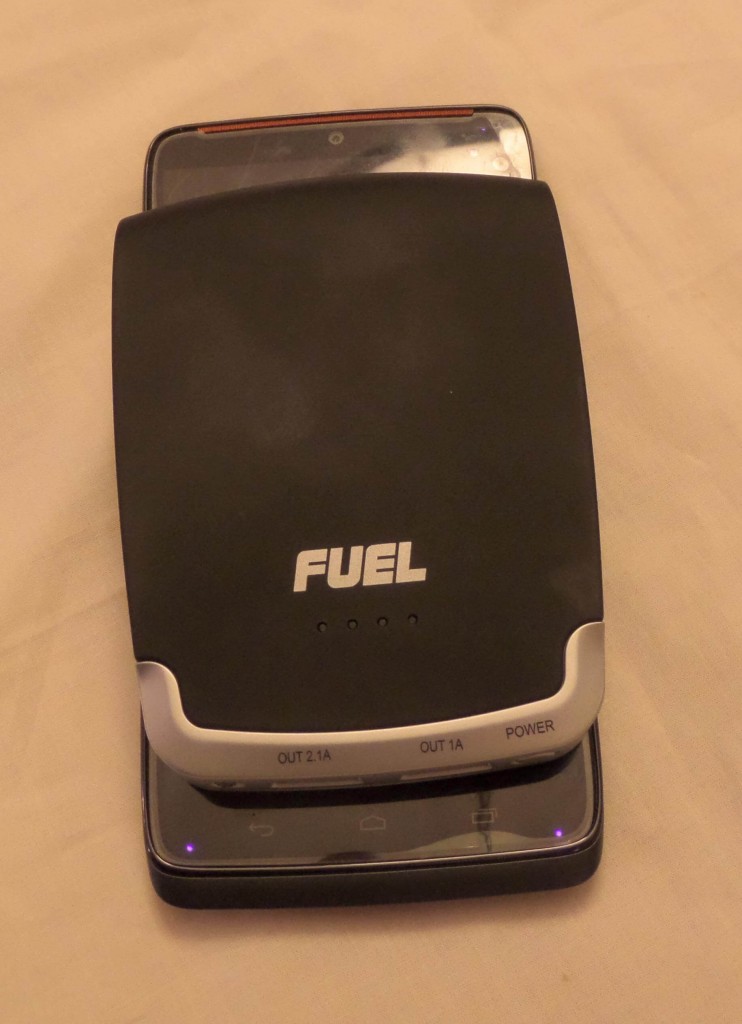 The top does look a little bigger, but it is the angle, it is almost exactly as wide as my phone and shorter.  The down fall is that it is a bit wider, almost 3 times as wide but it still fits perfectly fine in my pocket, thinner than my wallet.  4 inches long, 3 inches wide and .7 inches deep, not even an inch deep.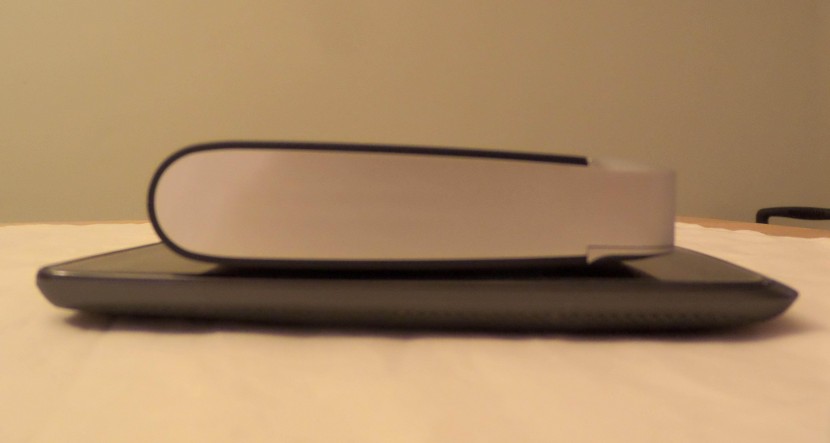 While it only a little thinner than my Motorola Droid Maxx Turbo, but it could power it 2.3 times over. The Motorola Droid Maxx Turbo has a 3900mAh battery and the FUEL has a 9000mAh battery, so I can charge this phone and my wife's iPhone 5C (1500mAh) and still have battery left over to charge a few other things.
So it has plenty of power, but how fast does it charge?  I tested charging while my Tablet Express M10X was completely dead, it has a 5800mAh battery.  I started charging it at 7:05AM and it finished about 4 hours later at 11:00AM, from 0% to 100% in 4 hours and to top it off, this was not a charge from a wall, this was from a battery.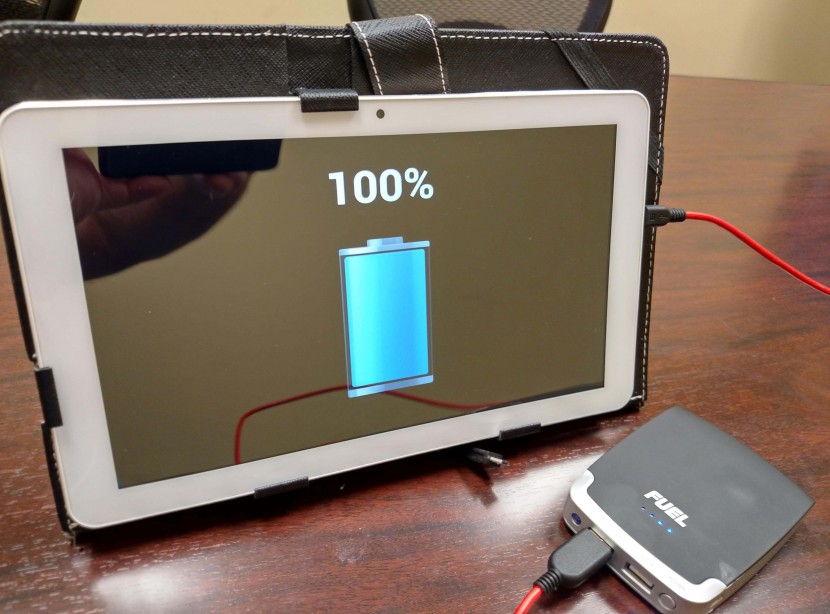 As the charge goes down, the lights on the device turn off, so the FUEL after charging the M10X had 1.5 lights on.  The 3rd light was partially lit and the last light was completely on.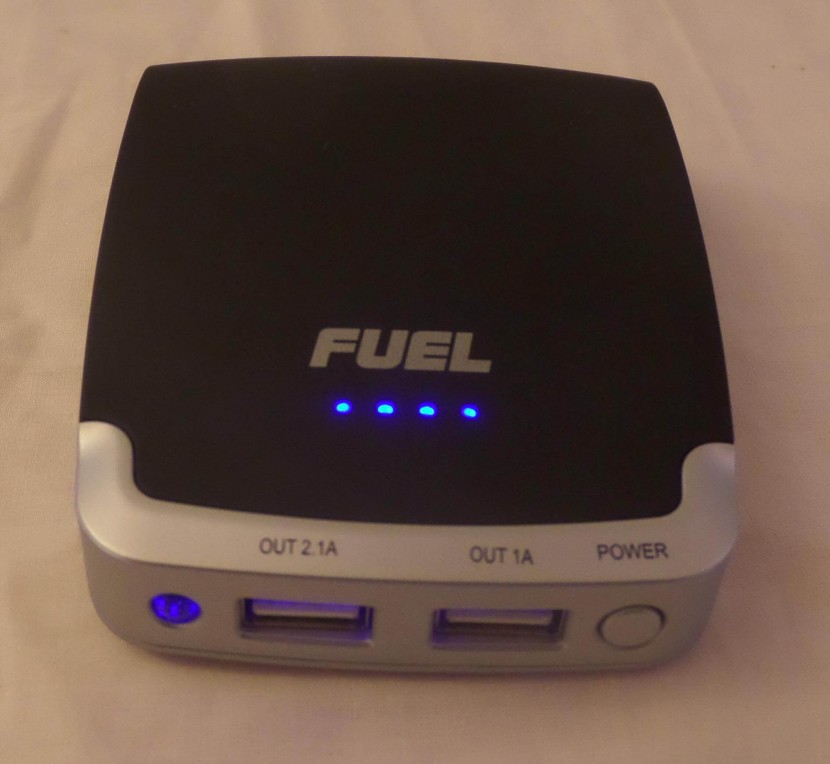 When the charger is off and not charging the lights are completely off.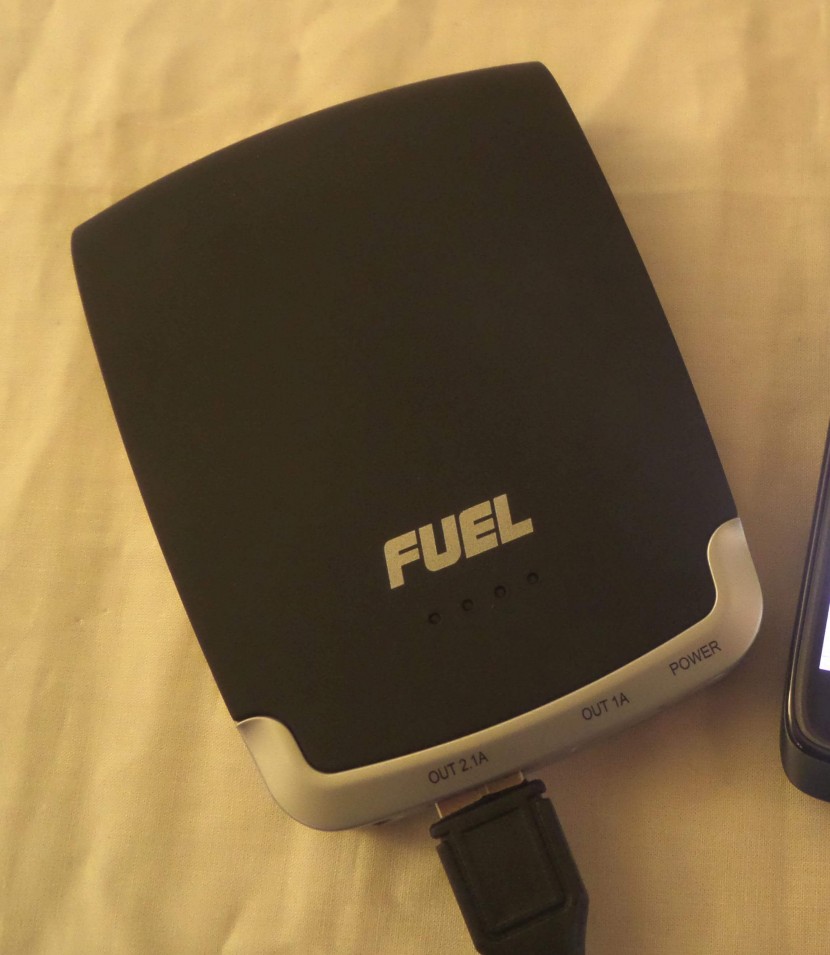 The charger also displays no lights when it is completely dead, but when it was completely dead, it  seems that it had a little bit of a charge because I was able to turn on the LED light.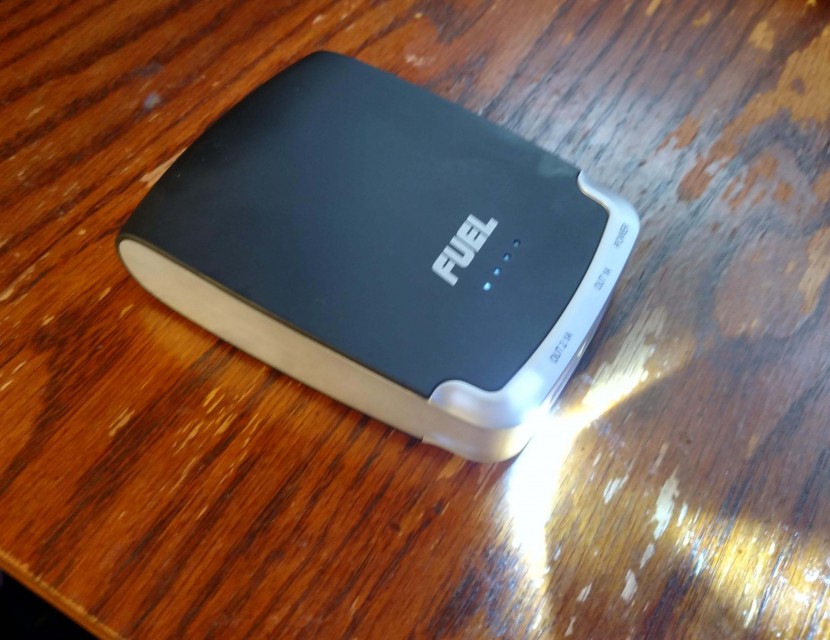 I also expected the light to only stay on for about an hour, 2 hours later I got too tired and went off to bed leaving the light on.  I woke up the next morning and went to check out the battery and the light was still on, the LED takes little to no wattage and can stay on all night, a great little device for camping with the kids and for finding out where those scary noises came from.
My son uses this little charger a lot because he hears things at night and likes to see where the noises are coming from.  He left it with me one night and now I heard noises, maybe the noises follow the device.  So I look under my bed,…. and what do I find?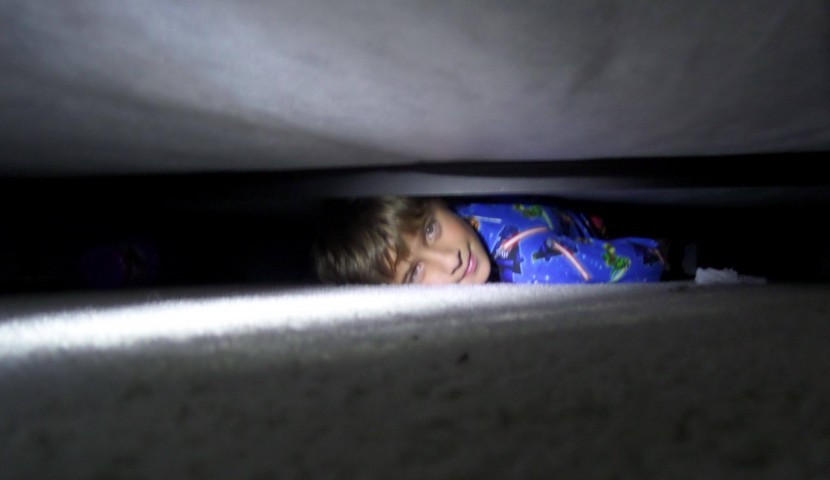 So yeah, I did get a little scared to see my son creeping on me under my bed.  So I take him back to his bed and a few hours later across the room I hear another sound, so I turn on the light and flash it across the room.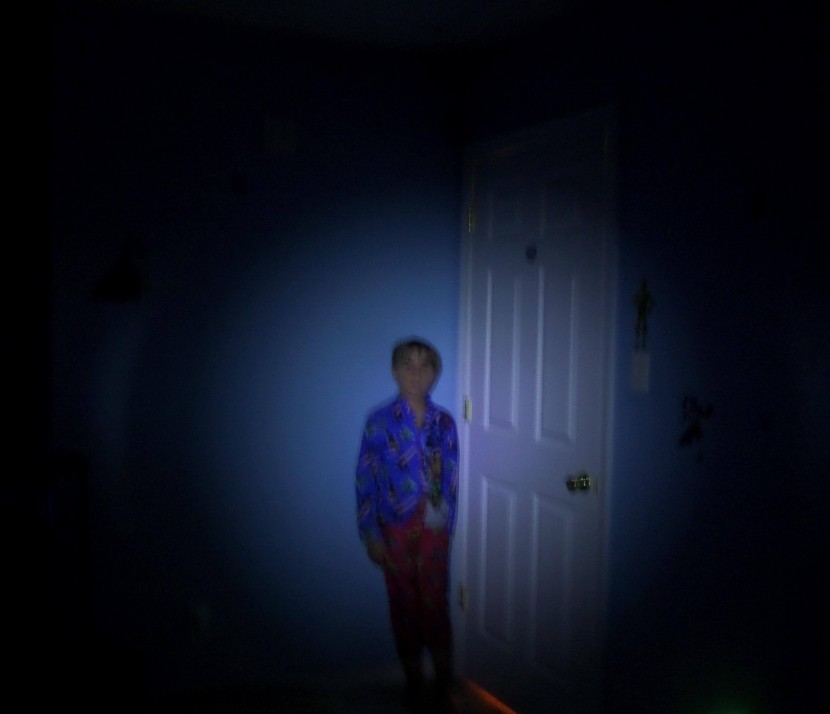 He won't leave…. Well,… it's not my room I got a little scared so I slept in his room with him but I took up most of the bed so he was waiting by the door, it's OK for a grown man to be scared.  This light is powerful enough to shine straight across the room.
A downfall in my opinion is that it can only be charged though a USB port, it connects with a MicroUSB port to a full sized USB port.  It would have been great if it could charge connected to an outlet and/or a USB port, but if it would have surely the price would have been higher, so there is a little give and take.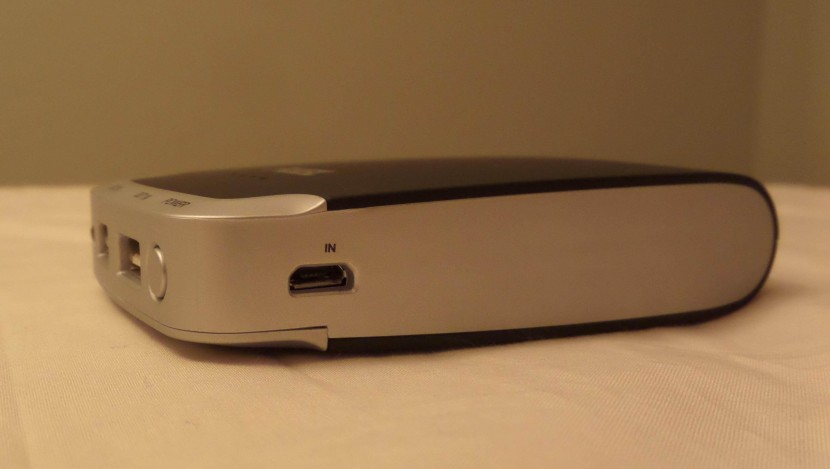 Another thing that makes the price so low is that both ports are not 2.1Amps, 1 port is 2.1Amps and the other port is 1Amp.  The 1Amp port is meant for charging lower powered devices such as cell phones or other smaller devices.  It will also charge devices as well as the 2.1Amp port, but much slower and it is best to keep the device you are charging off so that it would actually be able to charge the device.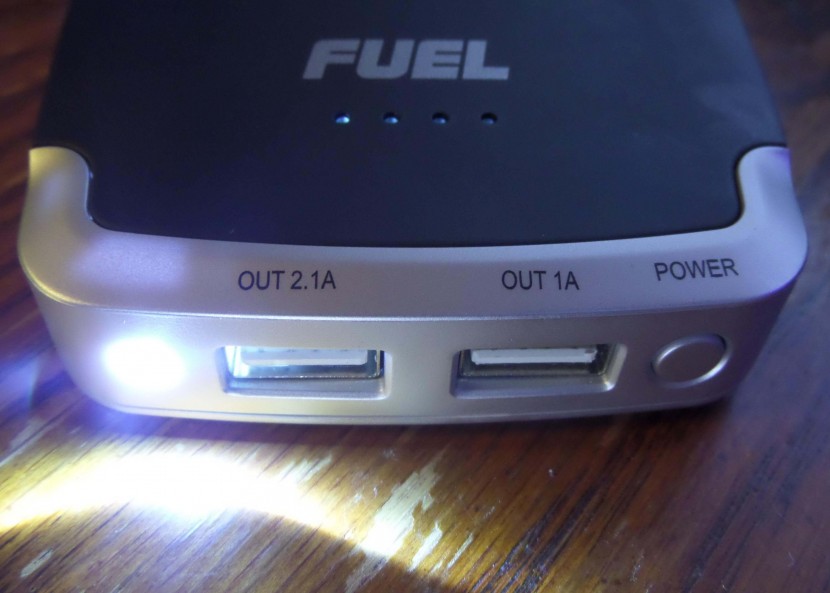 Here you can see the 2 USB ports and the LED light on.  The light turns on by holding the power button for about 2 seconds and turns off the same way.  You can also read how much charge is left on the FUEL by a single tap of the power button, even if the light is on.
Aside from the fact that it is great for finding the origins of scary noises at night, it is amazing for finding the MicroUSB ports to charge devices at night.
If you're like me, you come in late at night to bed and plug in your devices.  Problem is my wife is sleeping and the last thing I want to do is turn on the light and face her wrath.  I have spent tons of time in the middle of the night trying to plug my phone or tablet in since I had no light, with the FUEL, that problem is gone.  You may not be able to tell, but I took this picture with the lights off in my closet, no light what so ever aside from the light emitted from the Patriot FUEL.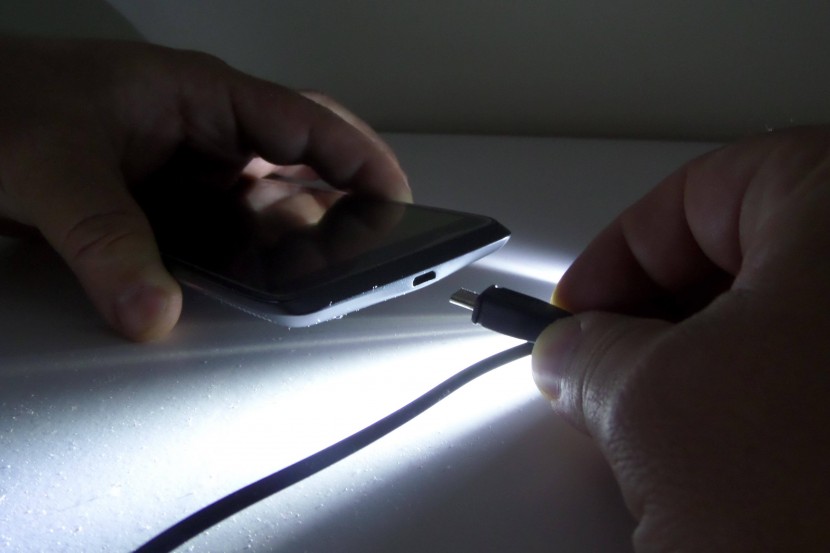 This is great for charging any tablet, phone, battery pack or anything really you need to charge.
One thing I really liked about the device is that the majority of the device has rubberized coating, so it feels great in your hands and also helps to not be slippery.
It would be great if this device had more USB ports to charge devices, but then it would be a little larger and not portable.  As it is, it fits perfectly in my pocket.  The rubberized coating made this unit not only feel great but made it feel solid.  The 4 lights on the top of the unit show you how much power it has left and the light is such as great addition.
It works incredibly well, feels great to the touch, has great amazing features but has 2 things that make giving this a perfect rating difficult, but correcting these 2 things could potentially have brought down as well.
The 2 bad things were that both ports were not 2.1Amp's and it does not have an option to connect directly to the wall.  Problem with adding both of these features is that it would have made the device a little bigger and more costly.  That would have also driven down the overall rating.
For price and feature set I have to give the Patriot FUEL 9000mAh 2Port USB Charger a 5 Star review.
Check it out also on Amazon: www.amazon.com/dp/B00X8SVTG0?tag=iggyc-20
It was not an easy rating, but I want to hear what you think?
Disclaimer: Patriot provided us with the FUEL USB Charger so we could do a showcase and share thoughts on the product. All opinions are 100% authors and authors alone.
We are influencers and brand affiliates.  This post contains affiliate links, most which go to Amazon and are Geo-Affiliate links to nearest Amazon store.
I have spent many years in the PC boutique name space as Product Development Engineer for Alienware and later Dell through Alienware's acquisition and finally Velocity Micro. During these years I spent my time developing new configurations, products and technologies with companies such as AMD, Asus, Intel, Microsoft, NVIDIA and more. The Arts, Gaming, New & Old technologies drive my interests and passion. Now as my day job, I am an IT Manager but doing reviews on my time and my dime.