We are influencers and brand affiliates.  This post contains affiliate links, most which go to Amazon and are Geo-Affiliate links to nearest Amazon store.
In 2011, Adolfo Dorta, Bill Philputt and Rick Lara, started what would become one of the biggest Horror-genre conventions in the United States- Days of the Dead. The convention had its first show in Indianapolis, Indiana, and took off from there, having dates in other cities such as Chicago, Los Angeles, Louisville, and even Las Vegas. The convention has brought in some rather big names such as Tobin Bell (Saw franchise), Richard Dreyfuss (Jaws), Lisa and Louise Burns (The Shining twins), and KISS member Gene Simmons. I had the pleasure of covering the 2018 Indianapolis Days of the Dead convention which fittingly, is the last year that partners Adolfo Dorta and Rick Lara were active promoters and partners for the convention. Later that year, both Dorta and Lara decided to sell their stock in the company and officially depart ways with the convention. This is where our story really begins and we see a whole new side to this show, where things end up truly not being the same for this beloved convention. I reached out to Adolfo Dorta, but he respectfully declined to comment on this piece stating he had "left the show two years ago due to being dissatisfied with the direction the show was going in as well as ongoing differences of opinion of my partners and would prefer not to revisit anything related to this former business venture."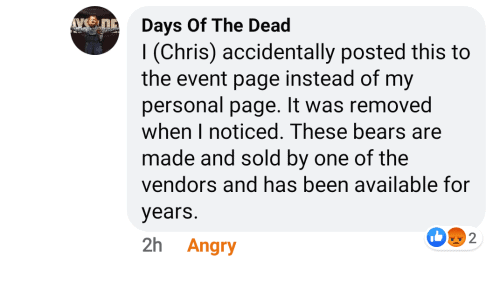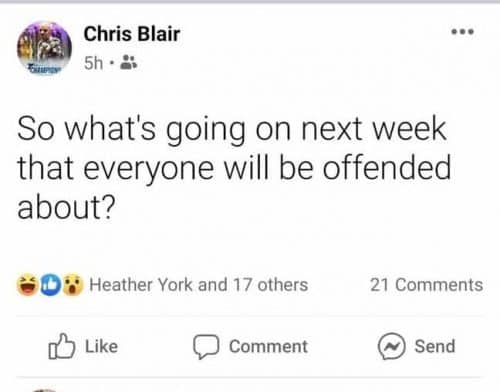 After speaking with several former vendors; staff; and now-former attendees; there is one thing that seems to be a trend amongst everyone that I have spoken with: Days of the Dead simply hasn't been the same ever since Dorta and Lara left the convention- especially in the hands of the only remaining and now current owner, Bill Philputt. I tried reaching out to Philputt for comment, but he refused to answer any of the questions I sent his way. Matter of fact, Philputt simply decided to be upset due to my not reaching out to him for comment in regard to my previous article about the rather disturbing and disgusting teddy bear photo that was taken at the recent Indianapolis Days of the Dead convention. At the time this article is being written, neither Philputt nor Days of the Dead have issued an official or formal statement in regards to this incident, nor have they publicly apologized to the creator and vendor of the teddy bear, Patrick Hart, by letting their fans know that the bear he created does not come with a shirt of any kind. I also reached out to the Days of the Dead staff member responsible for taking the photo and posting it to the Indianapolis Days of the Dead Facebook event page, Chris Blair. When asked for his side of the story, Blair said, "My side was posted in the apology after I accidentally posted the pic on the event page." I also asked Blair why, in his rather insincere apology, he did not also apologize to Hart, in which Blair replied, "(I) Didn't pay attention to the shirt when the pic was taken. Every time I have seen that bear that is owned by a friend it has had some sort of shirt, glasses or hat on." I will say that after Blair posted his "apology", he decided to make a status on his personal Facebook page that read, "So what's going on next week that everyone will be offended about?"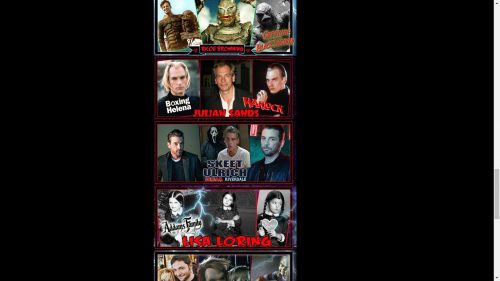 Besides the rather disturbing picture shown during the convention in Indianapolis, there was another concern I had to begin with, long before the photo was even shown. Currently, there is a very real pandemic going on in the United States and a majority of conventions nationwide have canceled: San Diego Comic-Con, Gen Con, Horrorhound, and many more local conventions to Indianapolis such as Popcon Indy. When I found out Days of the Dead was still going on, this is what really brought my attention to them a few weeks ago. I had been following their situation and seeing numerous people asking if the convention was still happening with Days of the Dead continuously updating their fans and letting them know that the show will continue. However, I found it quite odd that several celebrities were canceling, including Richard Dreyfuss, who appeared to be their headlining celebrity. Most attendees did not find out about certain guests canceling, such as Skeet Ulrich, until the very Friday of the show. In turn, many attendees and fans of the actor became upset, having traveled pretty far from other states just to meet him. I even checked the event page as late as Monday, well after the show was over, to still see Skeet Ulrich still on their guest list as attending. Several vendors expressed being upset over the show not canceling due to COVID-19, and some wondered what safety precautions the event would be taking. There was a thread someone made on the same event page asking about the virus and when I went to discuss it, I noticed quite immediately whoever was moderating the event page was actually hiding my comments. I eventually ended up being blocked from being able to post at all. I also received numerous reports from others who noticed that anytime they wanted to show their concerns over the virus or question the staff about even having the convention, they too, were being silenced.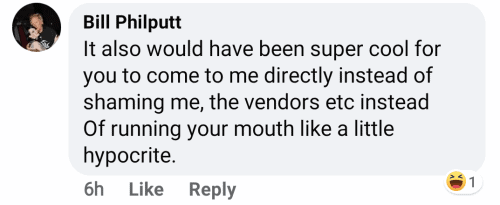 I am curious as to why Days of the Dead would do something like this. Why would you not want your fans to voice concerns and ask questions about the virus? After receiving no comment from Philputt, I asked several other staff members as well and one of them stated they wanted to reduce the number of spam posts; but I firmly believe inquiring about the safety or concerns of the convention running during the middle of a global pandemic is absolutely justifiable. Many of the people I spoke with this week seem to agree that Bill Philputt puts profits over people and will do "whatever it takes", as one person put it, to make every single dollar he can get his hands on. One vendor in particular, who wishes to remain anonymous, opened up to me about a string of sexism involved in this convention. This vendor told me that Philputt and his crew have "always made me feel uncomfortable over the years mostly because of the rampant sexism and toxic male attitudes." When I asked this vendor to go into more detail about the abundance of sexism, the vendor replied, "Over the 8 years I have been a vendor with them (Days of the Dead) I repeatedly was made uncomfortable by members of staff and mostly during the after-parties". This same vendor also made sure to take note this mostly was from Philputt himself stating, "Bill Philputt never speaks to me directly and always refers to me as 'the woman'". It was apparent this particular person felt uncomfortable by the way in which she spoke about Philputt. Sadly, this seems to be the case from quite a lot of others I spoke with as well. Additional female vendors also came forward to agree Philputt never really makes them feel comfortable nor does he ever speak to them directly, but instead decides to speak to whoever the male is at the booth as if they are not equal. This particular vendor stated that after the events this weekend she will no longer be working with Days of the Dead and expressed that things have been going on pretty recently since Philputt took charge. "At least the last year that we have been conducting business with him. Before the switch in management with the people. After the switch, it has been a garbage fire."
However, the problems vendors have had with Bill do not end here. Mike Ram, a former vendor at Days of the Dead, reached out to me to discuss his treatment from the company. He was very quick to tell me that "I've heard since a newer person took the con over, it went to crap." When asked about issues from his time as a vendor at Days of the Dead he told me, "I was scheduled to do their Vegas show back in March, the early stages of the virus. It just turned into a huge headache. I've dealt with a lot of celebrities thru signings, none have anything good to say about Bill so I assume he (Bill) is the issue." I asked Ram to give me specific details with how the Vegas show went down and this was his response: "How he (Bill) handled the cancellation of the Vegas show was the most unprofessional way possible. I contacted him thru email regarding the show 5 days before the start of the show, I had to travel in on Wed, so wanted to make sure it was a go. He assured me the show was going to happen and he was with the hotel staff working on the floor plan as we spoke. Heard nothing more until Tuesday (the day before I was leaving) he updated his website with a new show date. No email, no phone call, no reaching out to anybody doing the show. If I hadn't gone on the website and seen the date change I would've never known" (sic).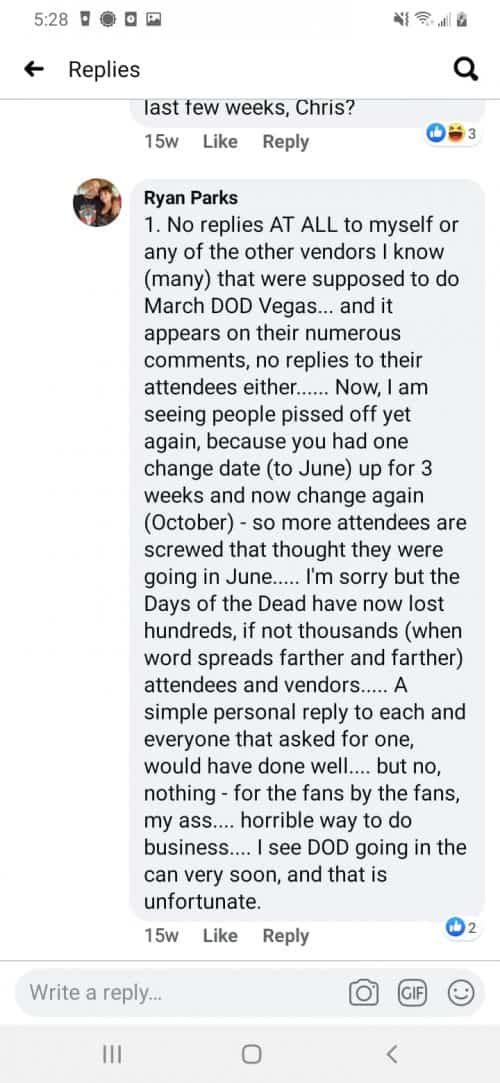 Ram further went on to discuss how guests also canceled in a similar fashion to Indy with some guests canceling and Days of the Dead not even updating their website on which guests were confirmed as attending. Ram and a fellow vendor, Ryan Parks, went after Days of the Dead and even attempted to get refunded their booth fees. Ram stated, "Took me 2 months after I filed a CC chargeback that it was refunded. They (Days of the Dead) personally didn't refund me, they fought it hard" (sic).  As much as I wish I could say these were the only issues with Days of the Dead, it does not end here. I spoke with a former staff member of Days of the Dead who wishes to remain anonymous. I am not going to mention the gender of this person for identifiable reasons, however, I feel that their story is very important. When I asked for this person to share their story, this is what they had to say: "I confided in them (Days of the Dead) about my sexual abuse as a kid and it turned into a big joke with them. Not so much the ones who are no longer involved, but for sure the ones who are still left as staff. It was brought up and joked about on an almost daily basis. Even made memes. They terrorized anyone who has any kind of negative feedback about the show". This person also told me about a DJ hired by Days of the Dead who goes by the name "DJ Tre" and stated "There was a rumor about him and underage drinking and hanging out in his room. Turns out….he's a convicted sex offender." Update: As of the posting of this article, no concrete evidence has been presented to me in regard to whether or not this person is in fact a sex offender.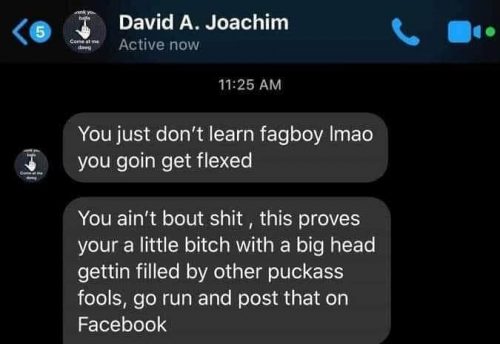 Another former staff member also reached out to me wishing to remain anonymous deciding to start the conversation off by speaking about some rather homophobic language used by former security for Days of the Dead, David Joachim. The former staff member said, "A former vendor was attacking Days and he (David Joachim) puffed up his chest and fought online, then switch to Messenger. It (the conversation) was acknowledged publicly and people were told he was let go February 2019…but then I found pics from other shows after that….and then they changed their story to say he was let go November 2019. He was called out for using the fake account of Maria Gonzales to insult Sean Clark, Bill's former business partner, who was calling out Days practices."
I spoke with one other former member of Days of the Dead staff who wishes to keep their identity anonymous and for identifiable reasons I will be also withholding their position in the company. When reached for a statement this is what they shared, "I was surprised to hear that Days of the Dead was going to open amidst a global pandemic. Chiefly because I've been to many DOTD events over the years and know that it is a party convention. Alcohol lowers inhibition and cognition and that feels very risky at a time like this. On top of that, any convention goer can tell you that hygiene at any con is spotty at best. I saw some staff in friends photos walking around without masks on and that concerns me deeply. My hope is that everyone remains healthy but you have to wonder why a convention would decide to operate at a time like this. It seems foolish when most every other con has canceled and over 140,000 Americans are dead."
Of the many others I discussed the convention with, they share a few common sentiments: most consider the time that Dorta and Lara were part of the convention, between 2011-2018 "the Golden years" as that is when the convention was truly at its best. Another sentiment that is common among those that were vendors, former staff, and even attendees, is that Days of the Dead has simply not been the same since 2019. I myself even noticed this when I attended the event in Indianapolis back in 2019 as the show felt smaller, less organized, and just not as much fun. I hope with this look into what really goes on behind the scenes, that some change comes of this. As more and more people reached out of their own accord to talk with me, I felt compelled to share their stories and make certain that Philputt as well as staff are held accountable for their actions. I noticed a trend of why so many wished to be anonymous, simply due to the very real fear of this business as a whole and how much power they hold as a convention. With an owner the likes of Philputt at the helm, people are afraid of him going after their businesses and even some stating to me that they are afraid of having their businesses being review bombed by his staff. Conventions should always feel like a place anyone can come to and be able to sell their products or even be able to work for and not feel nervous or worried or even feel prejudice. A convention is supposed to feel like you're at home and with your family. It deeply saddens me this is not the case with the current state of Days of the Dead. Instead, it feels like an exclusive club, where if your feelings don't match up with theirs, you don't matter as shown with how some of the staff members responded to when I broke the news of the bear photo. Gatekeeping this convention or anything for that matter isn't inclusive at all, and these are the very types of communities that most, stay away from.
We are influencers and brand affiliates.  This post contains affiliate links, most which go to Amazon and are Geo-Affiliate links to nearest Amazon store.
I've been writing and covering many forms of entertainment such as comedy shows, and arcade bars as well as reviewing video games and more for the past decade. I love to write and I am blessed to be able to have the opportunities that I have had in the entertainment and technology fields.