We are influencers and brand affiliates.  This post contains affiliate links, most which go to Amazon and are Geo-Affiliate links to nearest Amazon store.
iTunes is a popular digital media player used to play and organize video and music files. You can download iTunes at apple.com and purchase your favorite digital music in style. iTunes is arguably the world's most popular music management industry and has become an icon in the entertainment industry. It plays a great role these days as it is the major gateway to various iOS devices such as iPad and iPhone. Syncing music to your iOS device using iTunes comes with ample benefits including:
· Good integration with most iOS devices: The fact that iTunes integrates perfectly well with most iOS devices has made it an iconic program in the music industry. There is certainly no doubt that iTunes is rated among the best program platforms that easily integrate with iOS on the market. This makes it an obvious option for most people as they can effectively use it with their iPads, iPhones and iPod Touches. You will not just sync music with iTunes but will also help you manage apps in your device as much as possible.
· Cost: Using iTunes is completely free and this makes it the best option for anyone who wants to get the most out of the music industry without having to pay a fortune for it. So, when you are in the marketplace for music sync apps and you are mindful about your budget, this is a great option to consider.
· With iTunes, you can easily purchase videos and music at any time you feel like of iTunes store.
· Besides buying the music, iTunes helps to keep your media files well organized in your device in just one program.
· You can also download CDs to your iTunes library, mix CDs and even create playlists to keep your music well organized within your library.
Why you need iTunes alternative
Just because you have an iPhone, iPad or iPod doesn't mean that you must buy your digital music by using iTunes. In fact, iTunes has a share of disadvantages that makes you want to reconsider using it. For starters, the reputation of iTunes is tainted with its well known slow performance on many computers especially Windows software and the fact that it consumes a lot of your system RAM. This can be quite problematic. iTunes must be computer powered unlike CDs and formatting files has always proved to be quite an issue. Most users of iTunes also complain of its tendency to slow down other functionalities of the computer. While this app is great for music, movies are usually condensed to a certain size when being viewed and this could be problematic for some people as well. If you are having some issues with iTunes or you are thinking about a fancy change, there are various iTunes alternatives on the marketplace that can do an equal or much better job than iTunes
Here is a list of top 5 iTunes alternatives that you should consider for Apple's range of devices.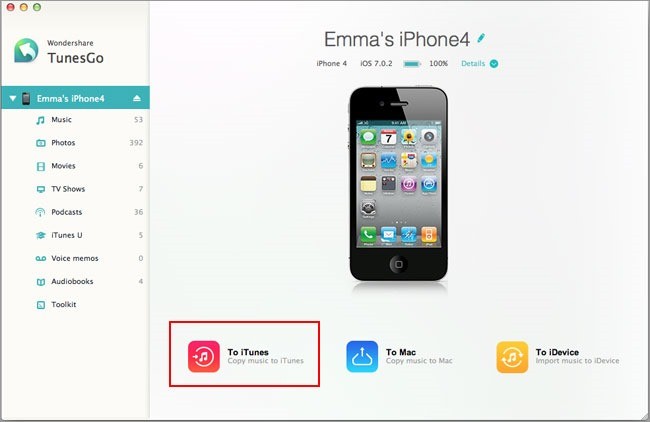 Wondershare TunesGo makes transferring music, videos, playlists, photos, contacts and other media files from your iPod, iPad and iPhone to your computer a breeze. But this app doesn't just stop as you can also do automatic media file conversions to formats that are compatible with your device with any transfers. You can even copy photos between your device and computer and you can easily share them or print them. With Wondershare TunesGo, you will also be able to manage all your contacts completely which includes importing, editing, removing duplications and so much more.
Wondershare TunesGo also allows users to directly transfer files between any of their Apple devices. This includes transfer of your photos, contacts, text messages, music and much more with the Apple device. In short, it enables you to manage all types of media on iPhone, iPod and iPad. You can even move media from your Apple device into your iTunes and also back as well as adding media including iTunes and Podcasts to your device without having to use iTunes. This is in fact rated as the best iTunes alternative on the market and you should try it out.
2. Media Monkey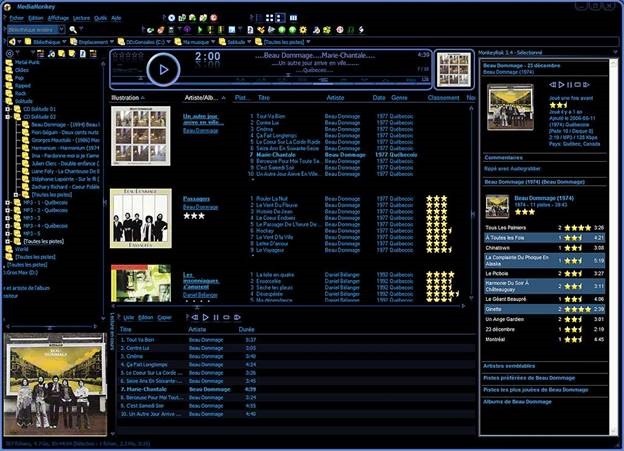 Media Monkey is a popular jukebox and music manager designed primarily for iPod users and serious music collectors. The app effectively catalogs your OGG, CDs, MPC, WMA, WAV, MP3 and APE audio files. It comes with a highly intelligent tag editor that determinately looks up for missing track information and Album Art via the web and Freedb. In addition to this, the app offers an automated directory and file re-namer that you can use to keep your music library well organized. Media Monkey has an intuitive, powerful media interface that helps to organize your edit tags and music in your device's audio library.
With Media Monkey, you will be able to look up and tag metadata like Album Art automatically and makes it possible to manage more than 50, 000 files of music collection effectively without bogging down. You can also use this app to play various audio formats particularly MP3s without having to worry about the issue of varying volume at all. As if this isn't enough, Media Monkey enables you to easily and quickly create music mixes and playlists to fit any occasion and style that you want. These are just some top benefits of Media Monkey that makes it an outstanding iTunes alternative.
3. DoubleTwist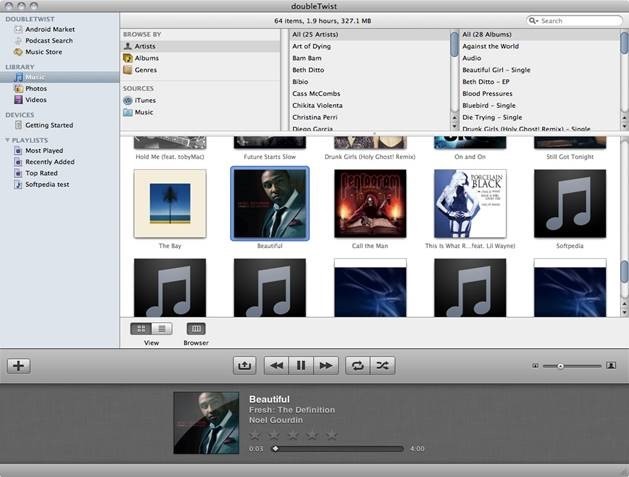 If you find yourself being tired of having to use multiple apps to sync and listen to music, podcasts and radio, DoubleTwist might provide you with the much needed solution and a much better alternative. When you download the DoubleTwist player online, you will be able to get the best and all in one podcast, radio, music and sync app. In fact, the app enables you to easily sync music including your iTunes playlists into your phone directly from your laptop/ PC over USD and Air Sync over Wi-Fi.
With DoubleTwist, you will be able to download high quality, legal album artwork and other metadata for your music. There are also smart playlists that allows you quick access to your most played and top rated songs. You can even subscribe to podcasts via DoubleTwist and get all the new episodes automatically over Wi-Fi or 3G. You can also easily stream music, photos and videos to the PS3, Sonos and Xbox 360. DoubleTwist is ideally a free download app but comes with an optional of upgrading to the DoubleTwist Pro which unlocks Airplay, Air Sync to Apple TV, EQ, and album art search and podcast management.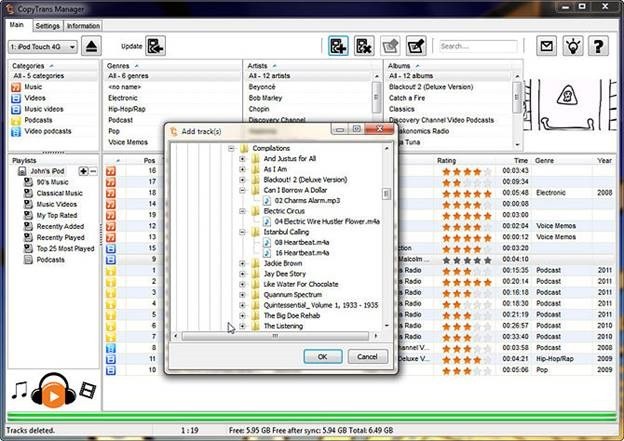 Copytrans Manager provides a much better alternative of easily managing iPhone without iTunes. This is among the most recommended free iTunes alternative that helps you manage iPad, iPhone and iPod and gives you full control and management over your iPhone. Easily add music to your device on the go. This app, allows users to simply drag and drop videos and music from their PC to Apple devices directly. Copytrans Manager is an awesome, lightweight alternative to iTunes. In addition, it is also possible to use Copytrans Manager effectively on multiple PCs and transfer ringtones and apps to other iOS including iPhone without having to use iTunes sync.
Copytrans Manager is highly recommended when you are looking for an iTunes alternative with an easy and quick interface, easy setup and navigation. This program is compatible with all models of iPod, iPhone and iPad and is designed to support Windows 7, 8, XP and Vista. It is a well renowned app that is stable, secure and free from malware, spy and ads. Get to add iPhone music, films, videos, podcasts and ringtones.
5. iFunbox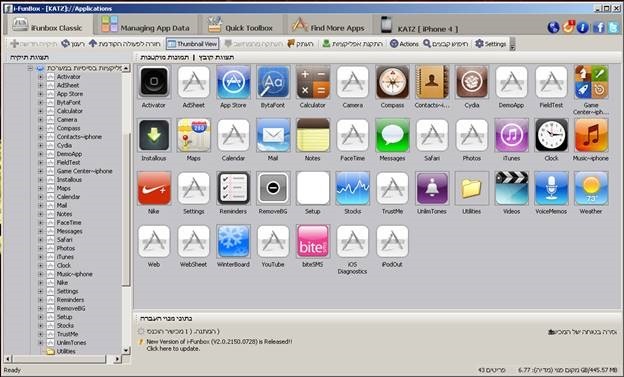 iFunbox is an effective tool which allows users to easily manage their iPhone's content and that of other Apple gadgets in a very convenient way, even much better than what iTunes does. This program makes it possible to back up all the apps in your device. This is an incredibly powerful file management program for iPhones and iPod Touch. It enables the user to easily browse their Apple's device content as it is just a removable drive which is simply attached to the PC. And the good thing is that iFunbox requires no special hack to work which makes it an awesome iTunes alternative.
iFunbox comes with ample advantages such as no installation required and providing you with an easy access to the contents of your iPhone. It also has a drag and drop feature that makes content management even much easier. It enables you to get the most out of your iPod Touch or iPhone by offering you a full featured content/ file browser which makes it easier to transfer data between your computer and Apple device. In addition, iFunbox enables you to back up all your video and music files and you can even convert any image and upload it as wallpaper for your iPhone but this function does require jailbreak.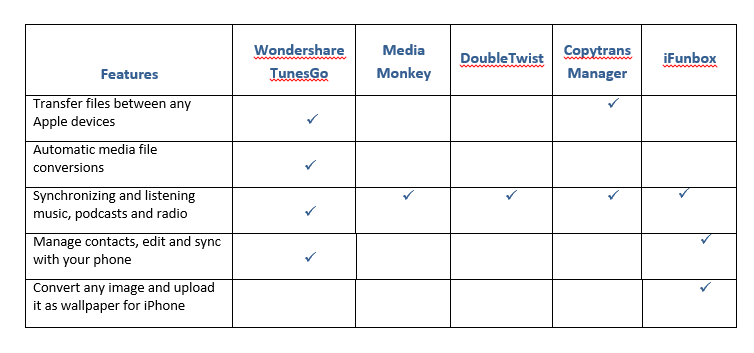 We are influencers and brand affiliates.  This post contains affiliate links, most which go to Amazon and are Geo-Affiliate links to nearest Amazon store.
Thomas Jones is one of the senior web editors from wondershare.com. Mr. Jones has a good knowledge of all kinds of mobile devices, especially iOS and android products. He mainly writes some articles on the topic of smartphones management and offers useful tips for users, such as such as how to download and convert video for mobile phones, how to transfer media files to mobile phones for enjoyment and so on.