We are influencers and brand affiliates.  This post contains affiliate links, most which go to Amazon and are Geo-Affiliate links to nearest Amazon store.
I have said recently in another article that Bluetooth speakers come in all shapes and sizes, but this is the first time I have ever seen one in the shape of a popular food item. I want to introduce the Vinstar Taco. Yes, you read that right, Taco.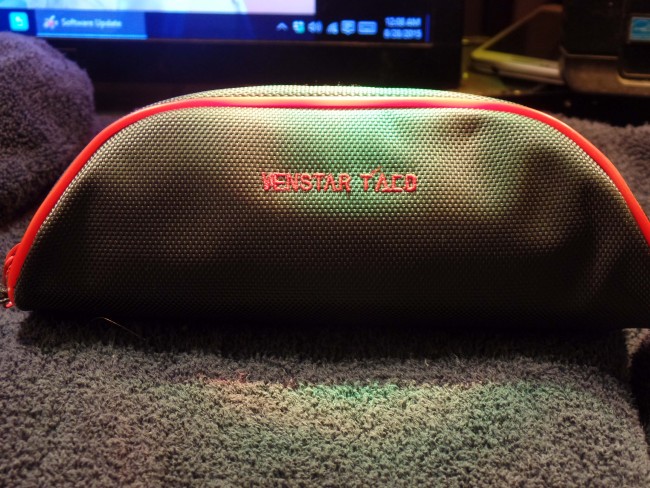 Venstar Taco Unboxing Video
When I first took a look at it,  I honestly expected a gimmick. It is not too big, and the shape along with the name just almost makes it sound more like a novelty item rather than a serious contender in the ever growing speaker market. But this Taco is any but novelty. It is a powerhouse of sound and energy.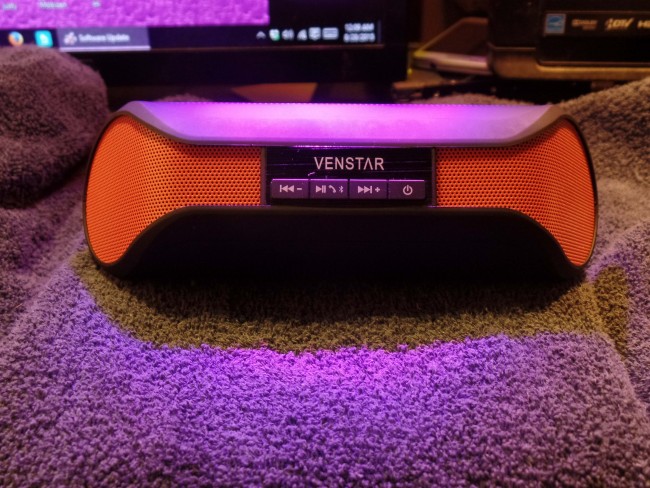 The buttons on this speaker are fairly standard. Dual function volume up and down/ next song and previous, Pause/play/answer phone, along with Bluetooth pairing, and lastly, the on/off button. On the underside is the aux connection as well as the charging port. Of all the parts of this device, this area, (the bottom) is my least favorite.
On the underbelly of the Taco is a rubber cover that conceals the aux port and charging port. The trouble I have is that it is very difficult to open with just my fingers. I have nothing for fingernails, and the small little opening that gives any access to the ports is so small I cannot manage it. I have tried my fingers, my wife's, my daughters, (they hope I will one day give them back), a ball point pen, and no go. I did use the thin blade of an Exacto knife that did manage to provide me with access.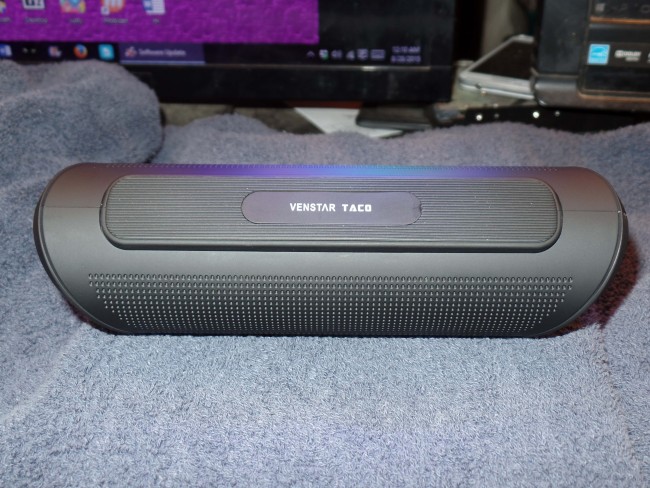 Once opened I found that using the speaker while charging is possible but the surface that is used to set the speaker down on it now occupied by a charging cord or the aux cable. Now, while this is an inconvenience and not aesthetically pleasing, it in no way diminishes the sound quality coming from this speaker.
Before I get to the sound quality I want to mention one other issue I have that is really nothing since it would not be wise to place the speaker where I like to. I tend to put my Bluetooth speakers inside my car in the front window area. Most that I have tested stay put just fine, but due to the shape of this one, it rolls. Ok, first of all, this is only something I do to test the sound on the road. The window amplifies the sound output. This was not needed with the Taco. It does not need a window to improve the sound output. (I do not recommend driving with a speaker in the window for any reason).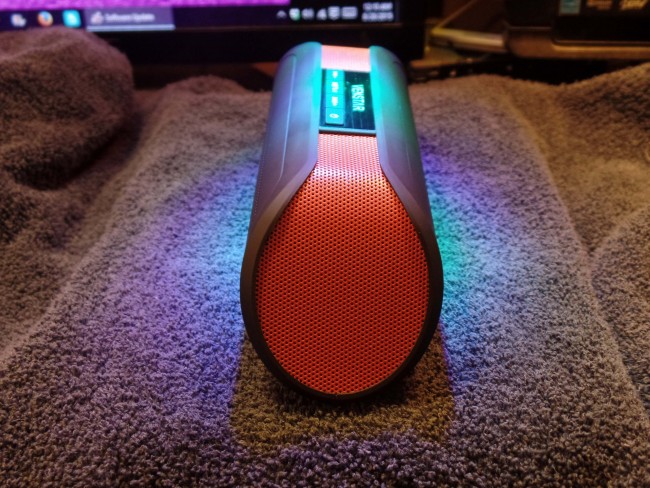 Ok, so it looks nice, but how does it sound when in use. I have one word for you. Amazing.
That's it, simply amazing. I could honestly end the review right here, but I won't.
The sound has more than enough bass to drive the music in to a party and the trebles are crisp and pronounced. It is definitely the best sounding Bluetooth speaker I have ever tested. I cannot see any way to improve upon this.
Many speakers, especially dual speaker devices, have the speakers positioned, and the unit designed, so the sound comes out the ends, and nowhere else. The Taco is the exception to the norm and has sound output on the ends, the sides, the top, just about 360 all the way around. This is simply amazing.
I cannot forget the fact that the Taco comes with a zip up bag as well. The bag has a clip on it which allows you to zip it, clip it and go. But wouldn't the speaker sound be adversely effected by the bag? Not here. I tested it in and out of the bag and, what's that word? Amazing.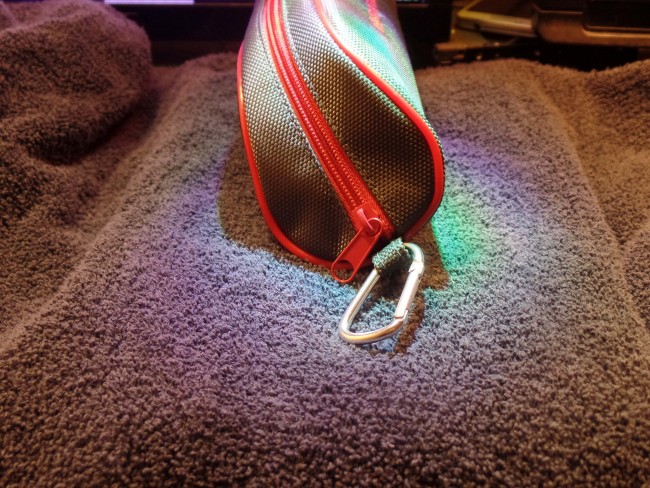 Every other speaker I have owned, I could not put into my laptop/tablet bag, which it just big enough to squeeze two 10 inch tablets into, maybe a wireless mouse, my cell, and my 20000mAh charger, and maybe a small keyboard, but a speaker of any size simply will not fit. The clip means it does not have to. I can use it just as well clipped to my belt loop as I can on a desktop. And in the car, this means I can clip it and not worry about it flying around anywhere.
Ok, so if it is not obvious by now, I simply love this speaker. Its shape, the colors, the sound, especially the sound. This last bit sells the Taco where I am concerned. If you want a Bluetooth speaker that has everything you need, the Taco is the only choice you need to make.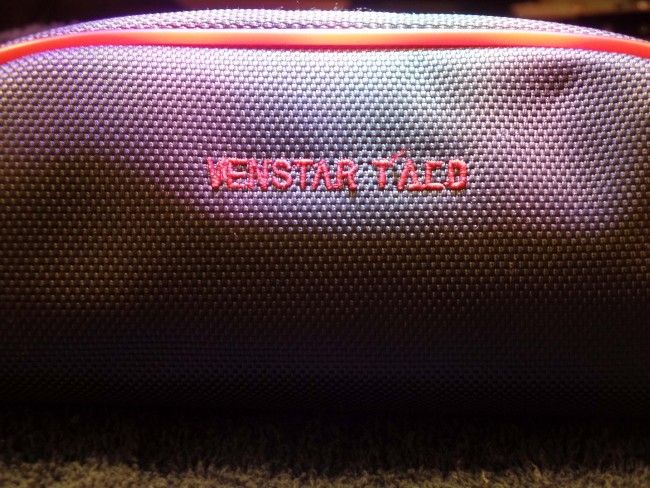 Watch the full video review with sound test
The opinions expressed here are mine and mine alone. They do not necessarily reflect the views of Dragonblogger.com or that of the brand that provided the product that I reviewed.
We are influencers and brand affiliates.  This post contains affiliate links, most which go to Amazon and are Geo-Affiliate links to nearest Amazon store.
I have worked in and around many different types of computers. In the Navy, I used a magtape drive computer that was a step down from pen and paper. I later worked for a big computer company and after that, taught computer class's nation wide. I had the privilege of teaching 14,000 students in a 2 years period of time. Afterwards, I owned a small computer training and repair shop for a few years. I have owned C-64's, Pc's of various types, Amiga's, and even Mac's. I now have included the android to my collection. At any time, I have close to 15-20 computers or combinations of computers and game systems in the house. I look forward to more.