We are influencers and brand affiliates.  This post contains affiliate links, most which go to Amazon and are Geo-Affiliate links to nearest Amazon store.
In this digital world, there are lots of online software programs that have been created to make our working life a little bit easier.  One of the things that all business owners need to take into consideration is how effective and efficient their processes are, as this can have an overall effect on how successful their company is in general.  There are 2 main tools that are used for this which is Kanban and Scrum.  Here, we thought we'd outline some of the benefits of these software options to give you an idea as to how they can be used to improve your productivity.
Scrum Board vs Kanban Board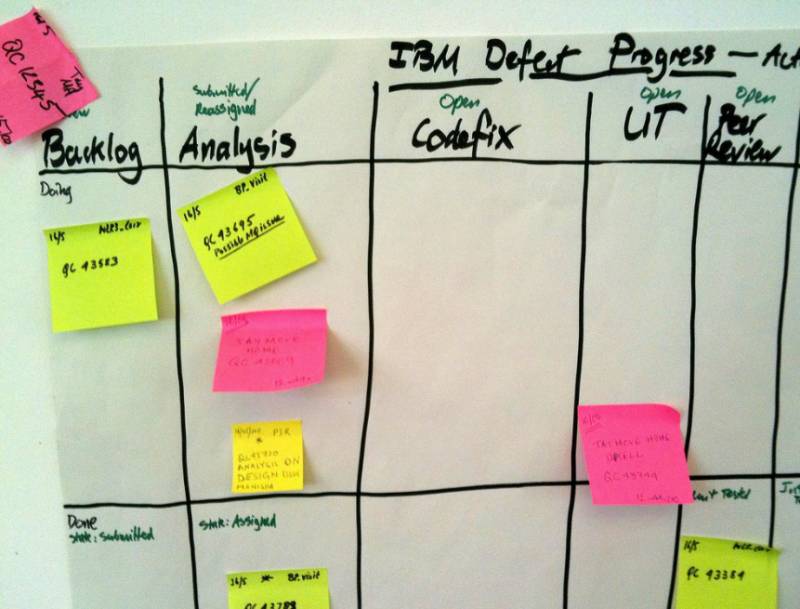 Unless you already have a Scrum Certification sometimes people can get confused between Scrum and Kanban.  This is understandable, however there are some big differences between the 2 which could affect your decision as to which one you would choose.  Some of these main differences include:
For Kanban, you don't have predefined roles.  So, although you may have a project manager – the idea is that it's more a collaboration and everyone chips in should any issues arise during the project.  With Scrum, everyone has a role – and there is one owner who defines how the work is completed.
Kanban uses what is known as a pull system which means as soon as a task is complete, another is pulled through.  With Scrum, although a pull system is used – it's a whole batch of tasks that get pulled through which isn't quite as flexible.
Kanban is much more flexible in that it allows for changes during the project or process.  With scrum, they advise that you don't make changes.
Which should you use?
In terms of the projects where you would use Kanban board vs scrum board – you should do this if you have projects that are likely to have varying priorities or are likely to change at some point due to change of business or client requirements.  Scrum would be perfect for companies, such as IT for example as all of the activities would roughly stay the same.  But, if you are a marketing agency – you may be better off using Kanban.
Why Kanban Could Work for your Company
In the Scrum vs Kanban board debate, many people opt to use Kanban for the main benefits listed below:
It has the element of flexibility that we mentioned previously in the article.  You don't need to assign roles or project times – as the focus is mainly on the continuous delivery.  The idea is that putting everything in a time box, means that you would need to wait until the end of the project to make improvements, whereas with Kanban you can do this continuously.
There is also the focus on lack of waste.  One of the main principles of Kanban is to not overproduce or to complete any unnecessary tasks.  Kanban can help you to eliminate work that doesn't need to be done, or any time that has been spent doing the wrong type of work.  More importantly, it will help you identify any work that is being completed that isn't correct.
One of the biggest benefits of using Kanban is that there is a great collaborative approach.  Although there may be certain teams, and all assigned different tasks – if there is one team that you can see is struggling with workload, not only can this be improved on future projects – but it means that others can chip in in the meantime.  This means that there will be better communication between teams after all.
Challenges of Kanban
There aren't too many challenges when it comes to using Kanban, the only thing you do need to be careful of is ensuring it's implemented correctly.  It needs to be communicated effectively with the team that this will be something that you are creating in terms of a project management process to answer any queries.
The implementation itself is fairly straightforward.  What you do need to do however, is make sure that you are outlining the tasks and subtasks in as much detail as possible, if one of the aims is to uncover any bottlenecks within procedures.  To make any real and positive change – you should also make sure that you spend time monitoring it, so you can evaluate the existing processes.
If you are looking to improve upon your existing processes and procedures, then you might need to look at kanban boards vs scrum boards as an option.  Making your business as productive as possible should be on the top of your list to allow for great business growth.
Image Credit: Flickr Creative Commons
We are influencers and brand affiliates.  This post contains affiliate links, most which go to Amazon and are Geo-Affiliate links to nearest Amazon store.
I am interested in all things technology, especially automation, robotics and tech that helps change how society will live in the future.