Quite contrary to the situation with Windows Vista and Windows 7 in 2008, Microsoft faces the challenge of promoting Windows 8 for its fast approaching commercial release while not affecting the rising sales of Windows 7, its most successful OS till date in terms of sheer volume. While it was tough enough getting people to try and switch over to Windows 7 after the disappointing experience with Vista, it is expected to be even tougher for Microsoft to promote the new OS while not making the older one seem out-dated!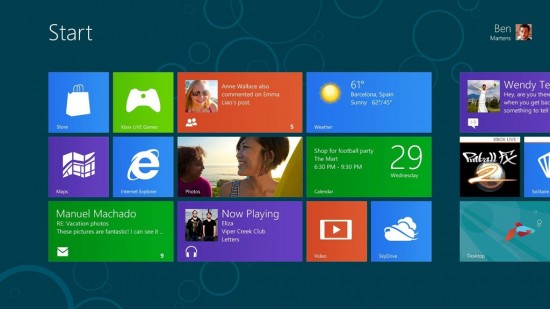 In recent promotional events, Microsoft representatives have been praising Windows 8 as the most evolved and versatile OS in the market, stating clearly that Windows 7 doesn't offer the latest of several technological advancements. According to a formal statement, Windows 7 is the latest and last of the Windows 95 type OSes, which are essentially for desktop computers with lower power efficiency and primarily local storage of files and applications.
Windows 8 on the other hand has been shaped keeping in mind the recent shift to cloud computing and mobile computing, with primarily web-based applications and thus requiring highly economized power consumption for battery-operated devices.
At the same time, Microsoft has never stopped encouraging the switch from Windows XP to Windows 7 in enterprises. As announced, support for XP runs out in 2014, consequently Windows 7 would be the preferable option for reliable yet advanced usage for the next few years while Windows 8 would be the preferred option for cross-device computing in an enterprise as per Microsoft's recommendation. Thus, a co-existence of both the operating systems can be expected in the near future.
So far as the technical aspect is concerned, PC hardware configuration required by Windows 8 wouldn't be much different from that required by Windows 7, thus making the transition far less expensive than that from XP to Windows 7. It has been promised by Microsoft that all Windows 7 applications would be supported by the new OS, which would run on both Intel and AMD x86 processors.
Popularity-wise Microsoft has received negative feedback on the Metro-styled Windows 8 interface, especially regarding navigational inconvenience when using conventional input devices like keyboards and mice instead of touchscreen devices. It remains to be seen whether Windows 8 could be the OS of choice for Tablet PCs.
I'm a Generalist Researcher working on a Theory of Reality, Horticulturist, Blogger, Natural Systems Analyst and Amateur Architect