Over the past few months, I have been posting articles about the merits, demerits and rumors surrounding Microsoft's latest OS – Windows 8. While its failure to gain instant traction in the OS market will not eliminate or even seriously threaten Microsoft's hold on it, Windows 8 marks a drastic departure from the traditional Windows interface.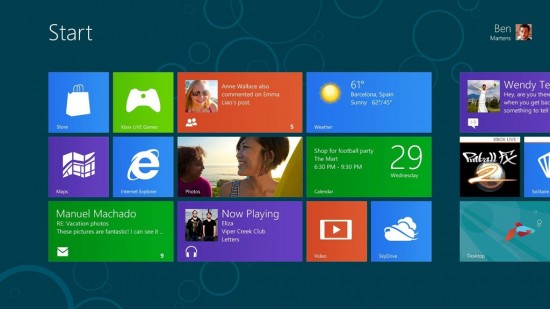 Changes in Windows 8's Modern UI
While several cosmetic changes had been introduced in Vista and Windows 7, the Start Menu, Search, Taskbar, Log-on screen and method etc. had remained largely similar. Windows 8 heralds a shift to more focused, space-efficient, fluid and cross-platform computing. Whether the changes will be a deterrent or an exciting adventure for PC users remains to be seen. The October 26th release of Windows 8 is being keenly awaited by Microsoft, current Windows users – personal and enterprise, competitors and hardware vendors. So, what do you think will decide its fate?
Though dozens of UI changes can be seen even at a single glance, in my opinion, by far the most important factor for users switching from earlier Windows versions will be the availability and user-friendliness of the much-talked-about Metro style apps. It's not just their independent usability, but the extent to which these apps can exhibit the prowess of Windows 8's core changes in terms of speed, responsiveness, design, graphics quality, resource efficiency and to some extent improved data security.
Current Metro Apps in Windows Store
The Metro Apps currently available in the Windows Store are visually fine, but none seemed to possess the enticing and addictive qualities that early adopters of Windows 8 will be hoping for. Hugely popular games like Angry Birds and Fruit Ninja will make the 11 out of 40 casual games not developed by Microsoft to be first available on October 26th. While enhanced control over the apps offered to Windows 8 users by Microsoft will reinforce data security, third-party app developers will face more hurdles, thus slowing the rate of game development and availability to end-users.
Unless Windows 8 apps can offer un-experienced and enthralling features, why would anyone want to play the same games like Angry Birds as on other interfaces? Web-apps, 3-D games and made-for-Windows 8 apps made using JavaScript and HTML5 will probably have to be offered in plenty if Microsoft expects high-volume sales before the year runs out. New Windows users will probably want to go for the latest offering, but old-timers and especially enterprise users will need a lot of convincing to re-learn interacting with their PCs.
What do you expect from the Windows 8 Metro apps?