We are influencers and brand affiliates.  This post contains affiliate links, most which go to Amazon and are Geo-Affiliate links to nearest Amazon store.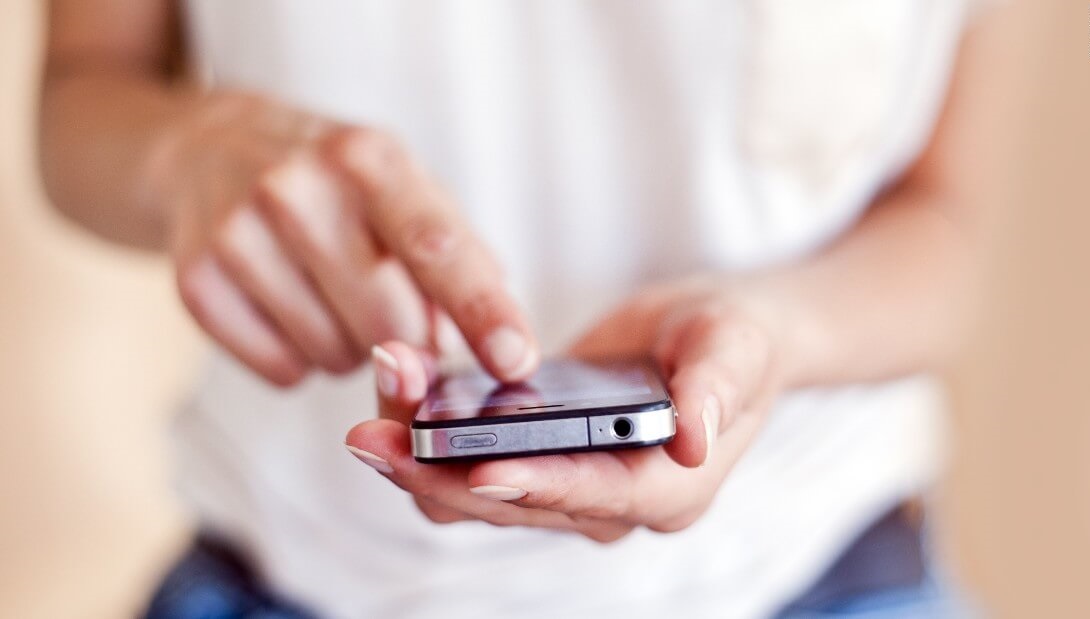 Mobile monitoring, in other words, spying has become increasingly popular now. Because of that, lots of vendors are selling spying apps with different features. One of these apps is Xnspy. It has become a market leader with over 100,000 active paid users worldwide.
Spying on another phone was extremely difficult but Xnspy has made it easier. It is a comprehensive spying app that gives you all the information you need at your fingertips. You can track call logs, text messages, social media chats, web browsing history, emails, location and a lot more by just installing it on the target device.
Features of Xnspy
Xnspy is packed with the right set of features to spy on someone. As you subscribe to this app, you will have access to the following features:
View call logs: You can access incoming, outgoing, and missed calls on the target phone.
View text messages: You will be able to read all the sent and received text messages on the phone.
Track GPS location: Xnspy has the ability to act as a GPS tracker. You can check someone's location history, current location and also apply geofencing on them to restrict their entry in or out of certain zones.
Read emails: You can read emails from the monitored phone's default mailbox.
Monitor browsing history: You will be able to spy on the browsing history of the monitored user, check their bookmarked websites, and find out the sites they access the most.
Spy on Instant Messenger chats: With Xnspy, you can read the instant messenger chats on Facebook Messenger, WhatsApp, Line, Viber, Instagram, Kik Messenger, Tinder messages, and even Skype. Apart from the chats, you can also access the photos and videos shared via these instant messengers.
Record phone calls: All the calls on the target device are automatically recorded and uploaded on the Xnspy dashboard. You can listen to them whenever you want.
Ambient recording: This feature lets you eavesdrop on the phone's surrounding. You simply have to send a remote command and Xnspy gains access to the microphone of the target device, turns it on and records the surroundings. These recordings are automatically uploaded to the dashboard which you can download and listen to later on.
Keylogger: Xnspy's keylogger lets you can monitor keystrokes on Facebook, Facebook Messenger, WhatsApp, Viber, and Skype.
View photos, videos and calendar entries: You can use this spying app to access the phone's gallery and view photos and videos saved there. Other than this, you can also view calendar entries.
Check Wi-Fi logs: This feature lets you see the Wi-Fi history log of the target phone along with the time, date and location for each login.
Set Alerts: You can set alerts on different words, locations, contacts and even if the target device changes their SIM card.
Remotely control the device: With Xnspy's remote control feature, you can lock the target device, check the list of apps installed on the phone, block any app you want, take screenshots and erase the entire phone's data.
Xnspy's control Panel
The control panel is the interface from where you will be spying on the target phone remotely. You can access that either by entering "https://cp.xnspy.com/' on your computer's browser or by downloading the Xnspy dashboard app.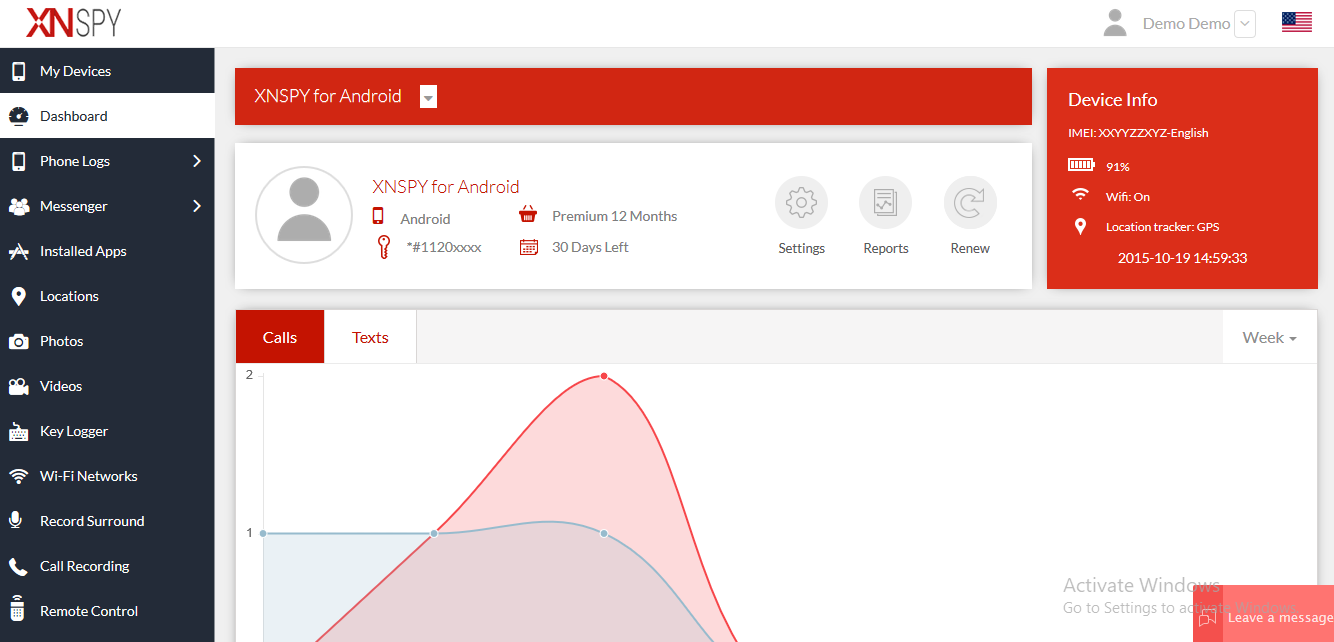 As you enter your login details, you will reach the app's online dashboard screen. In order to see the intended data, you just have to click on the desired option from the menu.
The app has a modern design. Everything there is well-structured. You will find all the information in one place. Even though there are lots of reasons to use Xnspy, but its design simplicity is one of the factors that attract people to prefer this app regardless of their expertise in technology.
Stealth mode tracking
You can hide the icon of Xnspy after installing it on the target device. Once the stealth mode is active, no one will ever know this app is running in the background. It does not interfere with the activities of the user, it just records everything and sends everything to the Xnspy dashboard.
Cross-platform compatibility
Apart from having the best features, the great quality of Xnspy is that it has been developed for modern mobile devices. It supports not just Android phones but tablets, iPads and iPhones.
If you wish to spy on an iPhone, you can do that without jailbreaking it. Most of spying apps only work on an iPhone if it's jailbroken but this is not a problem with Xnspy. In order to spy on an iPhone, you just need to know a person's iCloud credentials; there is no installation required to use Xnspy. On the other hand, if the iPhone you wish to spy on is already jailbroken, then you will need Xnspy Jailbreak Edition which of course, requires installation.
Xnspy has cross-platform compatibility. You can pick from the following versions depending on the OS of your phone. Plus, it's compatible with even the newest OS. Have a look at its compatibility:
| | | |
| --- | --- | --- |
| Android | IPhone (Jailbreak) | IPhone (No Jailbreak) |
| 4.x, 5.x, 6.x, 7.x & 8.x | 6.x, 7.x, 8. up to 9.0.2 | 6.x, 7.x, 8.x up to 12.0.1 |
Xnspy Customer support
There are two ways to contact Xnspy's support team.
You can send them an email at support@xnspy.com. Explain your problem in detail and you will get a response within 24 hours.
If you need a quick response, then you can reach out to any of their team members via the live chat support. They are available 24/7 to answer your queries.
Xnspy Pricing
Xnspy varies in pricing depending on the subscription you want to purchase. The app is being sold in two editions – Basic and Premium. The cost of the Basic Edition is $8.33 per month and that of the Premium Edition is $12.49 a month. You can choose from quarterly and annual subscriptions too and that totally depends on what you can afford.
Advantages and disadvantages of using Xnspy
Advantages:
The app is simple to install. You just need access to the target device for 10 minutes to download, install, and configure everything.
You will find video tutorials and comprehensive how-to guides explaining all the features of Xnspy, including the installation procedure for each OS. There is no other spying app that's offering this level of support to its users.
Xnspy is highly compatible. You can use this app on almost every Android or iOS device.
It's the best-priced spying app available so far that's a mix of basic and advanced spying features.
Monitoring is always non-disruptive to the user of the target device.
Disadvantages:
Although Xnspy say its offers money back guarantee, you will have to go through a lot of trouble to get a refund.
https://www.youtube.com/watch?time_continue=305&v=4oU4JEg4YmA
What do users have to say about Xnspy?
People are using Xnspy for different spying reasons. Some want to protect their kids; some want to keep tabs on their employees, while others want to know what their spouses are up to. Most of these users are happy with Xnspy. Read the reviews from real users who have actually used this app if you are skeptical.
Verdict on Xnspy
Xnspy is a good value for money. It works fine and you can rely on this app to get whatever information you want from the target device. On the basis of its features, compatibility, price and after-sales, Xnspy deserves a 5-star review.
We are influencers and brand affiliates.  This post contains affiliate links, most which go to Amazon and are Geo-Affiliate links to nearest Amazon store.
I am interested in all things technology, especially automation, robotics and tech that helps change how society will live in the future.