We are influencers and brand affiliates.  This post contains affiliate links, most which go to Amazon and are Geo-Affiliate links to nearest Amazon store.
If you're looking for an unbiased, in-depth GetResponse review (even though I personally love GetResponse), you've come to the right place. I even solicited assistance in ensuring that this review is unbiased, in spite of what I have already said (in favor of GetResponse) in these two other Dragon Blogger articles:
The thing about the articles above is that they focused on the email marketing aspect. In this review, we add something new (something new by GetResponse, that is). More information on that, in a moment.
Whether you are a seasoned blogger or just starting out, surely you know that an email list is one of the primary sources of income for most professional bloggers who make their living online. When there are exceptions to this rule, it is because the blogger(s) has found another source of income and way of monetizing their blog. For example, here on dragonblogger.com, there are a lot of very reliable and valuable reviews and affiliate income, as a result. However, for many other bloggers who do not have a well established affiliate income review site, they rely on that email list. One of the best reasons to develop an email list is so you can have a group of people who are genuinely interested in your product and are ready to buy.
GetResponse is widely used and quite affordable, even in its capacity as an email marketing tool. Its simplistic functionality allows users to:
Create email lists;
Hold webinars to boost their email lists; and
Easily develop landing pages; and
Much more…
Affordability Factor
One of the primary reasons to give GetResponse a try is because of its affordable pricing. Users have access to all of the premium features like analytics, tracking, and split testing for about $15 (up to 1000 subscribers). And, users can start for free and discontinue if they are not satisfied… no money lost! Another added perk is that users can send an unlimited number of emails to their subscribers at no extra cost. (Some other providers add fees for this service.) Some of the most notable features that GetResponse presents include:
Split testing;
Blog-to-email functionality;
Fantastic mobile apps;
Quality analytics;
Expansive segmentation options; and
Excellent autoresponder service and features.
Autorepsonders in GetResponse
GetResponse has optimal autoresponder functionality. Users can trigger autoresponders by action (for instance, when someone clicks a link on an existing email, they are automatically added to a specific set of autoresponders) or data (for example, if someone changes their address in your list). GetResponse also offers a set of triggers that you can choose from such as subscriptions to lists, clicks, opens, URLs visited, and purchases made. All of these can be used to jumpstart an autoresponder cycle. GetResponse adds a personal touch by allowing you to trigger an autoresponder on a subscriber's birthday. Is that cool, or what?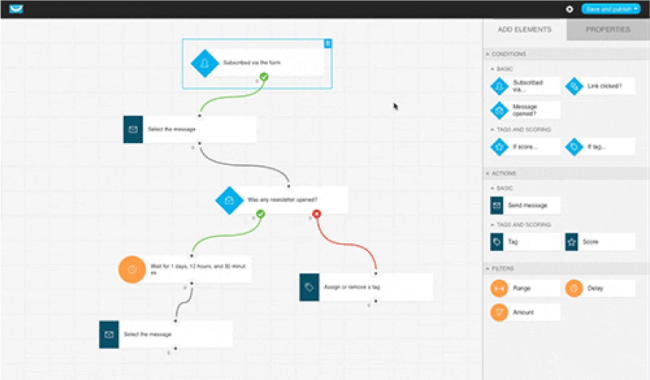 Marketing Automation Feature
Ok, I promised you something that was really cool, going beyond just the email marketing (although that aspect is really cool, too!), right? Here we go…
There are cool things happening with the GetResponse marketing automation feature, which is definitely worth trying out for yourself. It allows you to create user journeys based on flowcharts and autoresponder cycles. It is like taking email marketing to the next level, exponentially. And, it is a closer comparison to some that HubSpot or Marketo would offer, but priced for the small business.

A/B Testing Made Simple
One of the best ways to increase conversion rates is to perform A/B testing on multiple pages. Also known as split testing, this allows you to create better email newsletters that lead to higher conversion rates. Also, you have the ability to analyze simultaneously, test, and optimize any element of your emails. You can perform split testing on your subject line, CTA (call to action), and the best time of day to send out your emails. Now, imagine adding the marketing automation aspect to the established email automation!
Bonus Points
If your emails are not responsive, you are missing out on a lot of possible conversions. Whether it's a smartphone, iPad, or another tablet, GetResponse allows your subscribers to read your emails without problems. This feature alone makes GetResponse stand out above its competitors. According to a recent study performed by GetResponse, you can reach 42 percent of new readers and close even more sales if your emails are responsive. So, GetResponse has you covered there! (And, don't forget to check out some of the reviews of those devices mentioned, here on dragonblogger.com!)
Final Thoughts
Maximizing the effectiveness of your email campaign is what converts leads to returning customers. GetResponse allows savvy digital marketers to make smart decisions in minutes. So what are your thoughts on GetResponse? Don't forget, we are not limited to only the email marketing aspect, now the marketing automation helps to track the customer on your site and helps you to be your personable self, turning them into a subscriber/long-time customer, with GetResponse's marketing automation help. So, again, what do you think?
We are influencers and brand affiliates.  This post contains affiliate links, most which go to Amazon and are Geo-Affiliate links to nearest Amazon store.
Deborah wears many hats, from professional sound engineer, to marrying a professional sound engineer and recording a Jazz album that put her and kept her on the RN Jazz charts in Los Angeles, for a year. From that experience, she learned how to make it work with social media marketing. She traded in her position as Chief Technology Officer in the financial industry to help small businesses to realize their success online.