We are influencers and brand affiliates.  This post contains affiliate links, most which go to Amazon and are Geo-Affiliate links to nearest Amazon store.
Those of us who spend much of our time in the Internet marketing world, realize the importance of an email list. We also realize the challenges that that can sometimes present. Whether we are full-time Internet marketers who work on behalf of our clients, with their lists, or we are using email marketing for ourselves, the challenges exist. This is why it is so important to find the right fit when it comes to a selection of an email marketing solution.
A few months ago, I reviewed GetResponse, right here on dragonblogger.com. At the time, I had been using MailChimp, and I was just making that move to GetResponse as a result of the review. You can read that article here on dragonblogger.com. Now, I'm not here to say one is better than the other. That is a personal choice. Whatever solution you choose, it is helpful if you understand why it is that that choice is the right choice for you. That goes beyond the selection of an email marketing solution and is just a general life tip.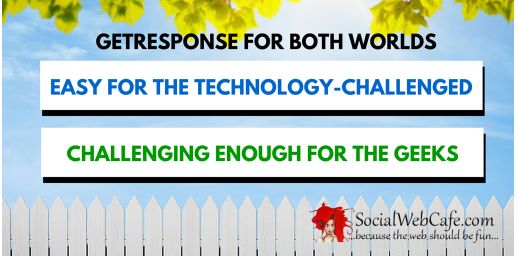 For example, I liked MailChimp because of the fun templates. I mean, the templates were cute. That was the reason that I switched to MailChimp in the first place. And, if I am only evaluating the templates, that was the right decision for me, at the time. I had also tried Aweber, and while I don't have any complaints, it just didn't "click" for me. However, I have friends who successfully use Aweber, like my friend Ileane Smith. As I understand, Justin (owner of dragonblogger) uses SendinBlue.com, according to his articles on this blog. You need to check out his extremely well-written review of SendinBlue in Part 1 and Part 2. You should also read Justin's earlier review of SimplyCast (what he used before SendinBlue) if you are interested in that service.

Fortunately, there is no requirement that we "marry" any one particular email marketing solution for life and with most companies offering a monthly option, you can switch at any time. The only real obstacle to that is the possibility of losing subscribers during that switch. However, as someone once reminded me, if you lose them, they were not really your subscriber in the first place. The true subscribers will come find you if they have lost their way.
As you can see, there are a lot of good companies out there, with similar features. There are also differences. You have some links to some providers, above, as some great reviews, to help you make your decision. Here is a basic infographic that I put together listing a few features to consider when making your choice. (Feel free to use it, if you like, on your own site/article. A link is always appreciated, but not required.)
There were a couple of reasons that I chose to go with GetResponse. One of them was the customer support, and specifically the helpfulness of Abby Hartz. I believe I have done three interviews with her now, and she never wavers in that kindness. The interview, below, is one of the most recent (even since the previous article on dragonblogger). Hey, anyone that puts up with my request for another interview deserves extra points! Because of the fact that I tend to feature tools, GetResponse comes up in the cycle of features, and she is always generous with her availability to be featured.
GetResponse Step-by-Step for Success (aka GR University)
The other reason that I chose GetResponse was because of their step-by-step help to reach and maintain success in your business. There are many sites out there, including email marketing service providers, which give you access to tutorials and helpful guides. I cannot speak to what all of them provide, but for GetResponse, they provide helpful blog posts, guides, support, and a university. But, the key thing is that they are continuously creating new content! I would have thought that a company would create the ultimate guide, be it modular or all-in-one and then stop at that, but GetResponse keeps creating new content to help their clients to be more successful. I know this because when I was attempting to schedule Abby for the interviews, I got a glimpse into her busy schedule with filming and the production of these videos.
While the easiest thing to do, if you want to get a glimpse into that GetResponse University, is to start with your own free trial, I'm going to share some of the highlights. That way, if you don't want to do it at this moment, you have a feel for what to expect.
First, before the university, there is the "3 Steps to Success" pop-up that greets you after logging into your account, even for the free trial. I mentioned it in the GR Review, here on dragonblogger and it looks like this: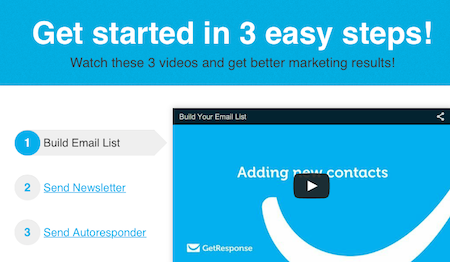 I would feel like I was sharing proprietary information, but all of these how-to videos are also available on youtube, without having an account with GetResponse, so here they are:
Build Your Email List
Create Newsletter
GetResponse Autoresponders 2.0
On to the University…
Ok, I've been naughty. First, I haven't kept up with my university classes. Fortunately, that is forgivable and GetResponse just simply keeps that reminder in the upper right corner of my dashboard letting me know that I am xxx lessons behind. When I looked at it, I was thinking, "Oh, it is probably 30 basic lessons that are really helpful." No, this university is 180 days! Granted, some of those are "leisure days," which I imagine are days off to catch up on your studies.
The second area where I am about to be naughty is showing you a glimpse. I want to respect any proprietary aspect of GetResponse, but I was so impressed by the topics that are shared that I had to give you a screenshot. By the way, I have obtained permission to share what is shared in this article. Please help me respect GetResponse by not including these resources in any other article(s), without express permission from them to do so.
Do you see that? Public speaking, Facebook contests. This isn't just a list building 30-day basic course; this is a full fledged six-month marketing course! And, there is no extra charge for this training. It is included in your monthly fee.
And, speaking of pricing, here is a snapshot of that pricing:
Back to the University, here are some additional highlights. I wouldn't have permission to give you everything, but I can point you to some of the youtubes that are included in the course:
How to create an irresistible lead magnet
Create Your First Video
How to Optimize Your About Page for Sign-Ups
How to Develop a List of Major Content Themes
Ok, that is all I can share, as these are special videos only linked through the university. So, to get all 180, you will want to consider GetResponse and signing up for the free university that comes with the GetResponse subscription. See you there ;)
We are influencers and brand affiliates.  This post contains affiliate links, most which go to Amazon and are Geo-Affiliate links to nearest Amazon store.
Deborah wears many hats, from professional sound engineer, to marrying a professional sound engineer and recording a Jazz album that put her and kept her on the RN Jazz charts in Los Angeles, for a year. From that experience, she learned how to make it work with social media marketing. She traded in her position as Chief Technology Officer in the financial industry to help small businesses to realize their success online.