After I realized the InCase Convertible Book Jacket didn't support the rear camera, I wound up returning it and getting the Targus Versavu 360 Degrees Rotating Stand Case instead and can honestly say this is a better iPad 2 case anyway.
The Targus Rotating iPad 2 case is very light weight but has a felt like inner lining to keep the iPad 2 very safe and secure.  The iPad 2 snaps into the case and the jacket cover folds over the iPad and you can fit the strap around the cover to keep it snugly closed.
When inside the Targus Versavu 360 Degrees Rotating Stand Case the iPad 2 is easy to handle and hold, the case is very light and thin but still provides enough support to hold your iPad 2 like a book.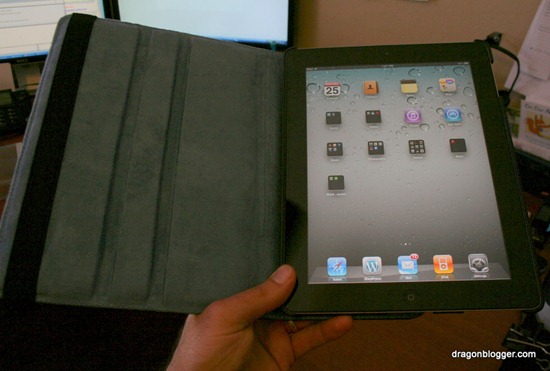 By far the best part of the case though is that it folds into a various configuration of stands both horizontal and vertical.  And the rear facing camera works just fine as there is a hole cutout so that all of the iPad2 features work while it is in the case.
The case even folds flat so you can use it notebook style in your lap while sitting in a chair.  It really makes it feel like you are carrying a light book with you when you are traveling with your iPad 2.
Overall the Targus Versavu 360 Degrees Rotating Stand Case is the best of the cases I have tested for the iPad 2 so far, though it is meant to be a book jacket and is very thin and light.  It doesn't have thick cushioned support so won't protect your iPad 2 from accidental drops as well as some iPad 2 cases would like the OtterBox Defender Series Hybrid Case for iPad 2 which isn't a jacket or book case but has shock absorption and extra padding.
If you have a favorite iPad 2 jacket or case that you would like to mention, feel free to share it here so other readers can also see what is recommended.
-Dragon Blogger
[easyazon_block asin="B004N62HZI,B004TGRB8A"]