Good day folks, and welcome back to Dragonblogger. On today's menu, per the title above, we have for you the WinXDVD YouTube Downloader app, from Digiarty Software. It's a free application, available directly from their website, and the download file is a meager 10.5MB. Upon installation, it takes up only a tiny 32.9MB of hard drive space. The newest version available is Version 3.1.9, and was released on May 6th, 2014.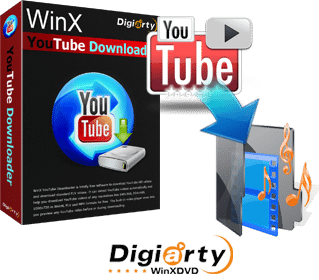 Before you read the remainder of this article, here's a brief video to introduce you to this rather easy-to-use software, including a bit of a how-to/instructional walk-through.
From the official site:
Your Must-have Free YouTube Downloader, Download & Convert Online YouTube Videos
WinX YouTube Downloader is totally free software to download any video from YouTube, be it a 1080p HD video, 4K UHD video, 3D video or standard video in FLV/MP4/WebM format. This 4K video downloader can help you auto detect YouTube videos and free download YouTube music video songs of any resolutions including 4096×2160, 3840×2160, 1080×720 and 640×360. The built-in video player even lets you preview any YouTube video before or during downloading.
After fast downloading, you can playback YouTube videos on common media players, burn YouTube videos from WebM FLV MP4 to DVD with WinX DVD Author, and convert YouTube videos to AVI, MPEG, WMV, MOV, iPad, iPhone, Android, PSP, etc with video converter. YouTube video editing and sharing are also made possible in case of personal enjoyment. Without any worries about network connection, signals or video formats, you can enjoy YouTube videos smoothly anytime anywhere. It is totally free and clean containing no adware, spyware, malware or virus at all.
Digiarty provide you 2 download options:
Cnet Downloads, however given their track record of download cleanliness over the past few years, I do not recommend this method whatsoever. While the file that Digiarty has provided to Cnet's servers for the download may be clean itself, Cnet's download servers took a drastic downward spiral a few years ago and every time you get a file from them you risk serious virus and malware infections from nasties that attach themselves to the files after the Cnet servers receive them. Believe me when I say that I speak not just from word-of-mouth or online records, but personal experience especially (that's a subject for another discussion, and another time).

The Digiarty Local Server. I always recommend to people, if you can get it directly from them, then use that method first and foremost. Even on my very slow 3Mbps download connection, this app was 100% on my hard drive in a matter of seconds, and clean as a whistle.
Installation is practically a breeze, and there is nothing hidden inside of the installer either (I used the direct server link and the file really is 100% clean, I won't even chance the Cnet Downloads link). Though the software is very lightweight and easy to use, my experience with it wasn't 100% satisfactory (and rarely is when I'm dealing with software, honestly). There weren't any major issues, but the following are what I did run into:
The app crashed when I attempted to play, then stop, a preview of the video to be downloaded, prior to downloading. It gave no error code, no warning, the app simply just closed suddenly. Clicking the Play button did nothing but turn it into a Stop button, clicking the Pause button did nothing, but clicking the Stop button caused the app to crash and close.

Hovering over icons doesn't tell you anything about them, no title, no description, nothing. To find out this information, one has to move the cursor over the icon/button and left-click it once. There is no integrated Help Center, no tutorial included, and even the website has no resources for it either. These are changes that I highly suggest be fixed asap.
Using the software is easy enough, there isn't much to it, and it downloads the YouTube video files to a default of .MP4 format, though when you go to the settings, there is no default selected, and the same goes for the resolution. The added integration with Digiarty's other software applications is an intelligent and useful touch as well. If they can manage to fix the key issues I noted above, and keep the rest as-is, they may very well have one of the best, if not the best, YouTube video downloader applications on the market. Given that, for the time being at least, it's free (something I don't suggest changing, given that there are some awesome competitor apps out there, which are also free and the best ones have their EULAs stating they'll never charge for them), it increases the attractiveness by quite a large degree.
All-in-all, it's a generally-great software, with a few flaws which should be easy to fix, and it has great potential. I see no reason as to why you shouldn't try it out, so long as the purpose of it is something of interest to you. Until next time, I'm Ronald "DMNKLR" Smith, and I want to know what you want to know about.
This is the Dragon Blogger Guest Bloggers account for author's who want to submit articles and only have credit in the post instead of having to manage their own WordPress profile.