We are influencers and brand affiliates.  This post contains affiliate links, most which go to Amazon and are Geo-Affiliate links to nearest Amazon store.
Creative has been around for some time bringing us audio that dominates in all aspects.  They usually stayed in the game and professional audio scene but more and more have been spreading their wings into the complete sound scape.  Adding to their lineup, Creative has brought in the Sound Blaster JAM to bring in a wider audience.  This headset tries to fill gaps in a space that they might not have hit just yet; does it fill that space or just take up space?
Let's start off by check out the specifications
Specifications
32mm Neodymium drivers
Bluetooth 4.1

Codecs: SBC, FastStream
Profiles: A2DP, AVRCP, HFP
Operating Range: 15 Meters/50 Feet

NFC Support
Built-in Remote Control: Play, Pause, Volume, Answer Call
One-tap Bass Enhancement
USB audio streaming from PC and Mac with SBX Pro Studio
Lithium Ion Battery 3.7V 200 mAh
Up to 12hours of Playtime
Ultra light weight with soft ear cushions
And what comes in the packaging?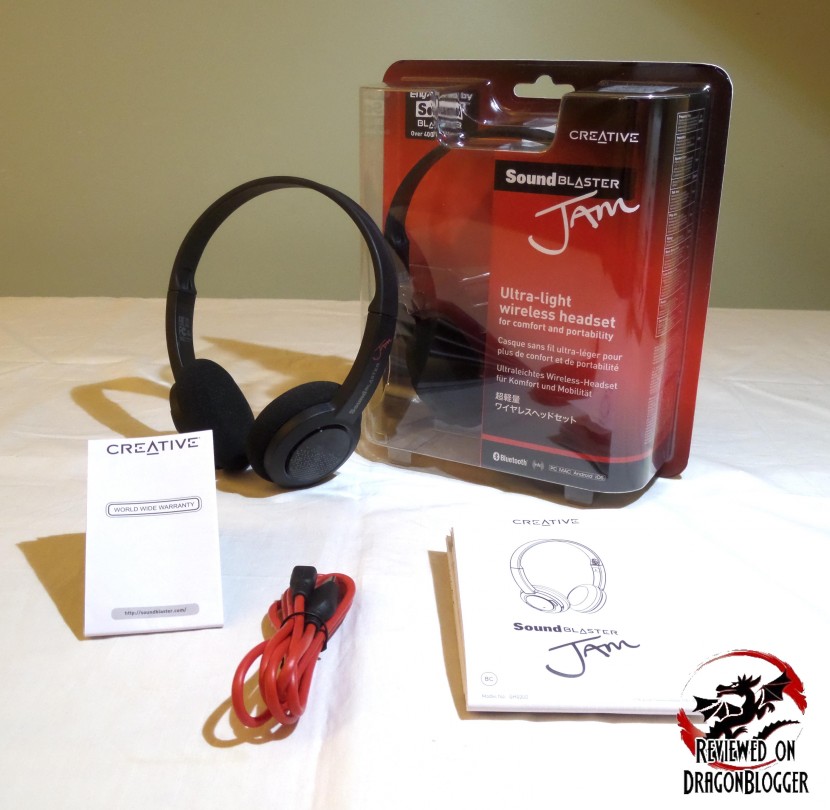 Seems like an average pair of headphones, but where's the cable and 3.5mm jack to plug it in?  Well there are none, these will connect through a USB port to either your PC or Mac, or through Bluetooth to your Cell Phone, Laptop, Tablet and/or most portable devices that can take Bluetooth.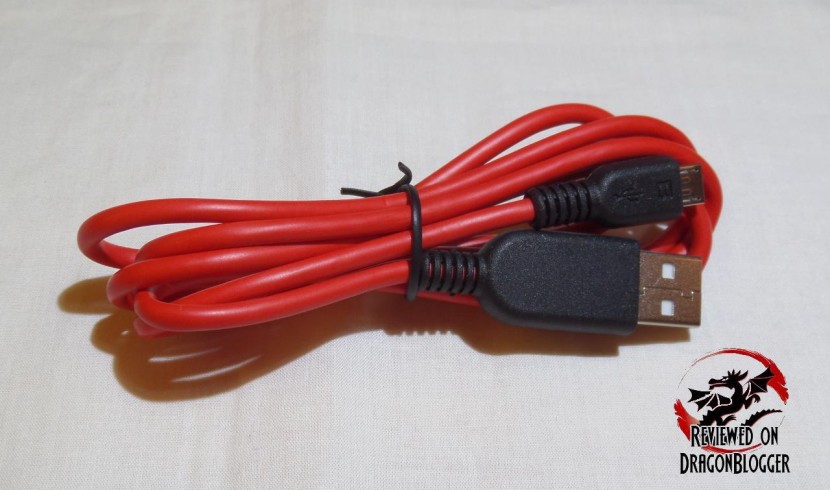 Here is the red USB cable that comes with the headset.  It measures 1 Meter / 3.30 Feet and is a micro USB to full size USB.  The micro USB potion of the cable goes connected to the headphones and of course the full size USB goes connected to the PC or Mac.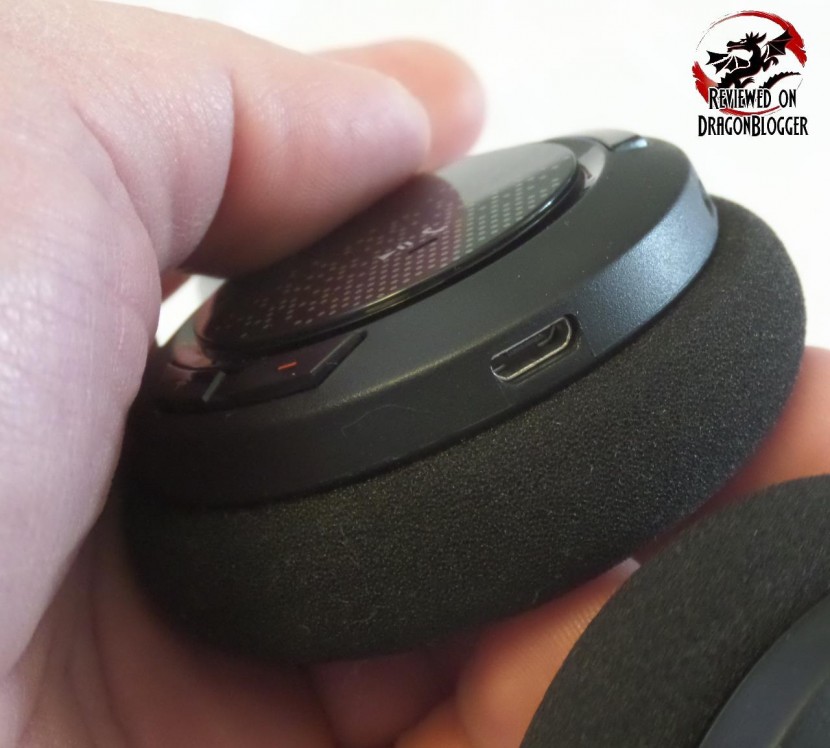 These are great for the gym or for a nice jog or walk as they give you a nice tight fit.  No, not horribly tight that you have to take them off because you feel like your ears are pinned, but tight so that they don't fall off.  The thick foam ear cushions help to get rid of that pinned feeling and after a few minutes aside from the audio, you forget they are on.
I do mention that they are great for the gym, a job or a walk and of course to get the audio you will need a Bluetooth device to listen through, so the device of choice for me is a cell phone.  While you are listening to your music through the headset, connected through Bluetooth to your cell phone, you can also receive calls through the JAM by pressing the play button.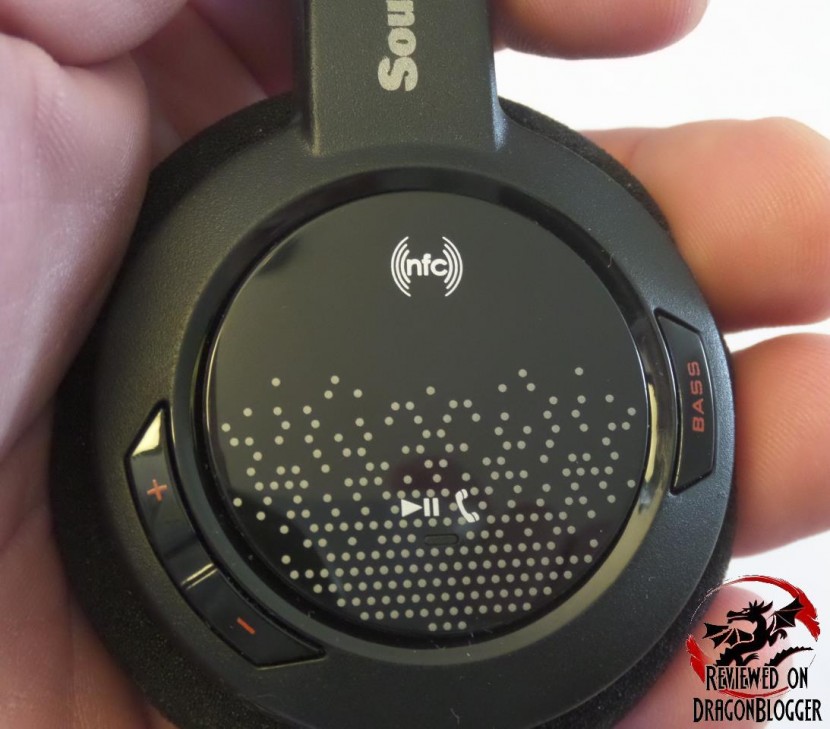 They do not just work to transmit audio but it has a built in microphone that allows you to use it to not only answer the call and listen to it through the ear phones, but you can chat too.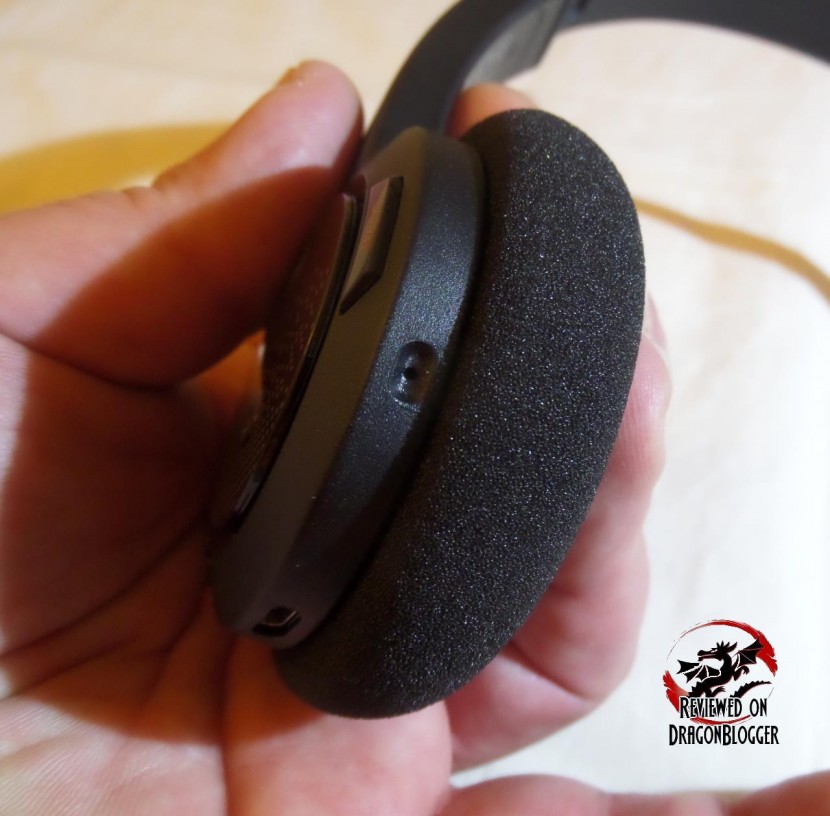 And it might go without saying, but they are adjustable so they can fit just about anyone's head.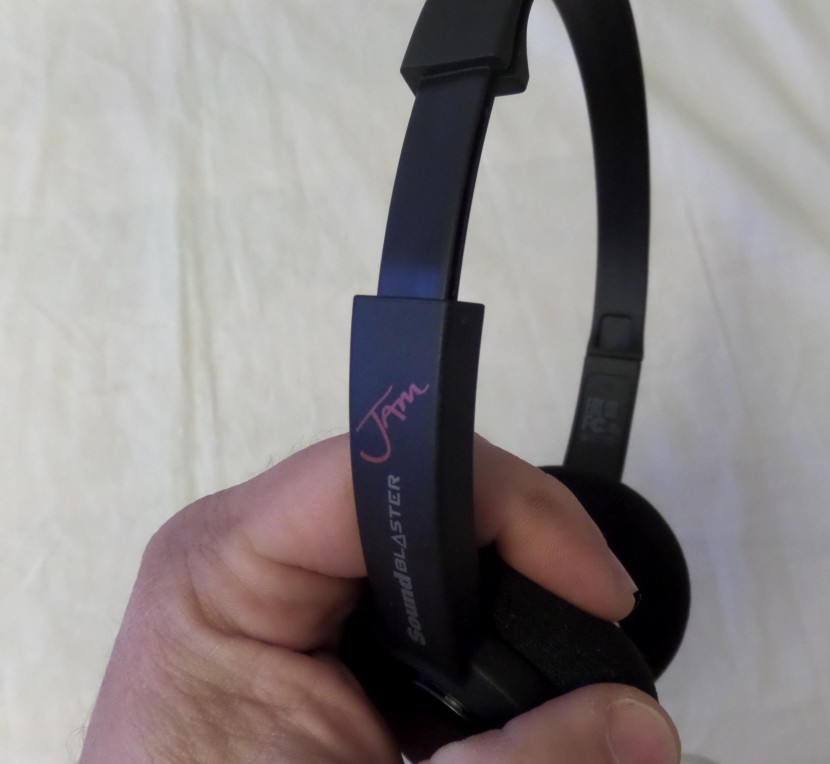 So, take a walk with me to see how they work out.
That was connected to my Motorola Droid Maxx.  The audio sounded great, as I expected from a Creative product and I was able to raise and lower the volume and also use the Bass button.
Then stepping away from Android just a minute, we go back to what made Creative and their Sound Blaster line what it is today, the PC.  You can listen to Music, Movie and Games either connected through USB or through Bluetooth if your Desktop or Laptop are Bluetooth enabled.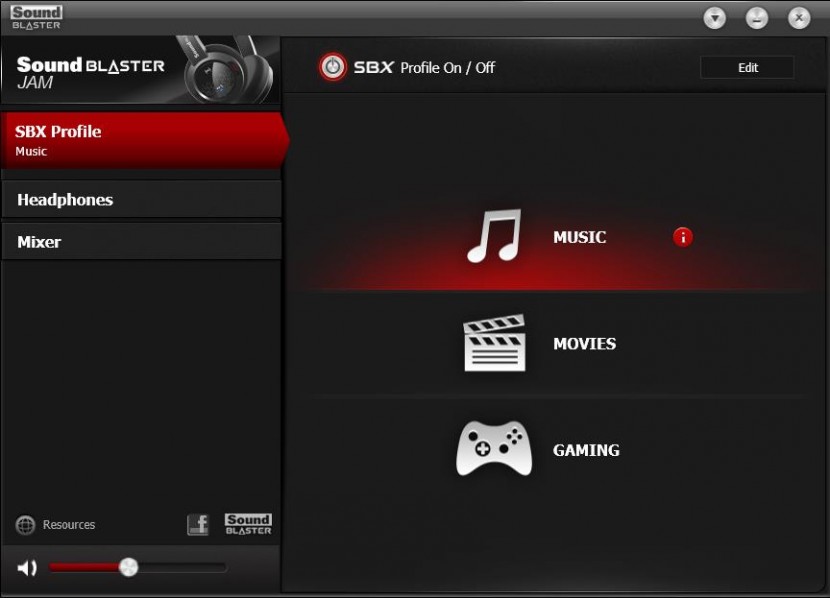 You can edit each profile too.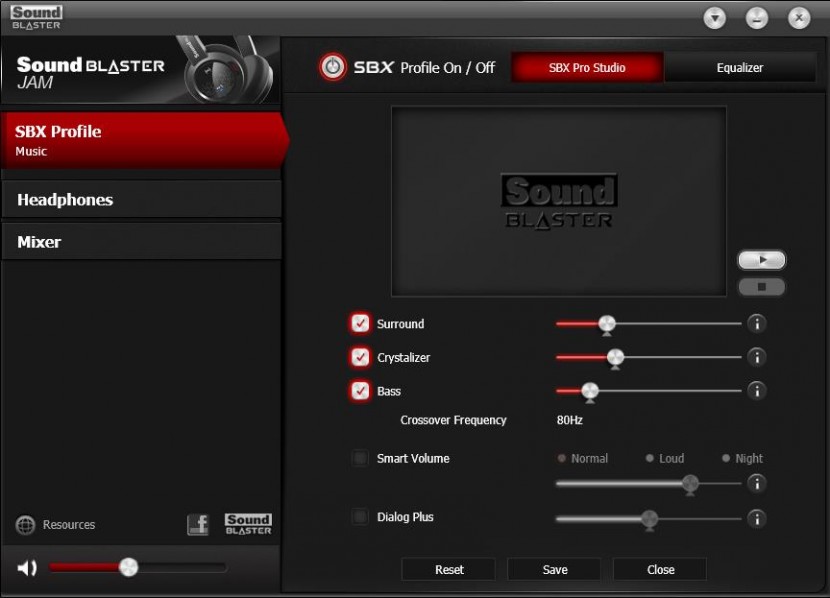 And from there, even play with the equalizer.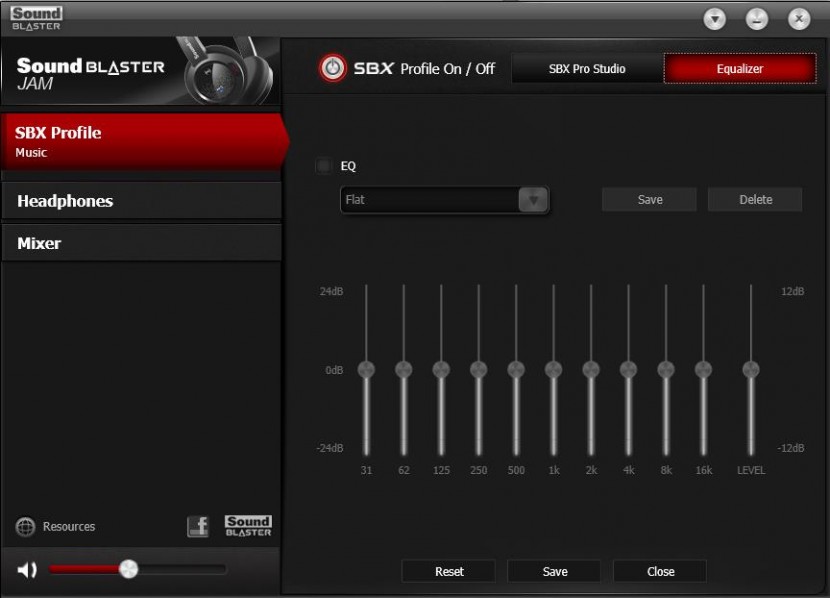 Of course, when you are done and are happy with what you have created, you can save each profile.
So in this video, I show you how to install the Creative Sound Blaster JAM software suite and how to use it a bit.  The drivers are not included in the packaging, which for me is a great thing since I never use them.  I always download the latest and the greatest and the drivers not being included in the packaging just makes things a little cheaper for us and better for mother nature.
At night, when you are all done working out, listening to music, playing games and watching movies with these, its bed time and the audio experience has to end.  That may not be the case.
Take it from me, its not good to lay in bed with your significant other and play games, music or watch movies with your tablet blasting at 100% audio… its also not good to be filming a video and talking loud either with the lights on.  If you do these things, I cant help you with the lights and talking, but the Creative Sound Blaster JAM can help you with the audio.
Check out how the NFC function works.
The audio was amazing coming from the tablet when I was playing Chaos and Order then of course a less enthralling audio experience with 8 Ball Pool and Words with Friends.  I am not saying less enthralling because the sound was bad, but they don't really have a great sound track, though I was able to hear more than I could before.
I was able to hear more because I had it at close to 100% and I could hear the cue stick slapping the cue ball then slamming the other balls and all the thudding against the pool tables walls.  With that I could hear each coin chinging when I won the game and collected the coins.  Words with friends though, well,.. there was not much there but you get my drift, you can listen to things now in bed without having to tangle yourself in cables or bother anyone else.
During my testing, I used the headphones for about 3 weeks to film these videos then overnight playing some games and listening to some Jams and I had not connected them other than the initial charge the first day I unboxed them.  The battery life is great.  To match the batteries, the audio sounds amazing and the price matches the entire package.
There is nothing I can find wrong with this set of headphones aside from the fact that they don't do surround sound, it does everything they are advertised to do and they are a great stereo solution for people on the go.  Movies, Games, Music all on the go, while you are at work, working out or resting at the end of a long day in bed catching up on a showing, listening to music or playing a game on your tablet they can do it all and keep you from spending too much.  They are not the best at gaming since they are only stereo, but they do still sound great.
I try not to do it often as not every product deserves it, but I have to give these a 5 out of 5.  These guys do it all, and even though I hate batteries with a passion, the batteries on these make me hate batteries a little less.  Creative did an amazing job with these, and I still can't get over the price.
We are influencers and brand affiliates.  This post contains affiliate links, most which go to Amazon and are Geo-Affiliate links to nearest Amazon store.
I have spent many years in the PC boutique name space as Product Development Engineer for Alienware and later Dell through Alienware's acquisition and finally Velocity Micro. During these years I spent my time developing new configurations, products and technologies with companies such as AMD, Asus, Intel, Microsoft, NVIDIA and more. The Arts, Gaming, New & Old technologies drive my interests and passion. Now as my day job, I am an IT Manager but doing reviews on my time and my dime.