We are influencers and brand affiliates.  This post contains affiliate links, most which go to Amazon and are Geo-Affiliate links to nearest Amazon store.
Thermaltake again takes its aim at performance with the Suppressor F51 E-ATX Mid-Tower case. The stock case alone provides just about everything needed, but we are never happy with stock, and neither is Thermaltake.  Let's take a look at the features and spec's.
ThermalTake Suppressor F51 Windowed Specs and features
Motherboard Support: Micro-ITX, Micro ATX, ATX, Extended ATX (E-ATX)
Mid Tower
Maximum GPU Length without HDD Cage: 18.3 inches / 465mm
Maximum GPU Length with HDD Cage: 12.2 inches / 310mm
Maximum PSU Length: 8.66 inches / 220mm
Solid or Windowed Side panel (This review was the windowed side panel version)
8 Expansion slots
Drive Bays:

6 x Combo 3.5in and/or 2.5in

2 x optional 3.5in and/or 2.5in rear mounted drives

2 x 5.25in

5.25in drive bays can be used for 2 x SSD's each or 2 additional 3.5in drives

External Connections

2 x USB 3.0
2 x USB 2.0
1 x Headphone Port
1 x Microphone Port

Fan Mount Location and Sizes

Front:

1 x 200mm (Included)
2 x 140mm
3 x 120mm

Top:

3 x 140mm
3 x 120mm
2 x 200mm

Rear:

1 x 140mm (Included)
2 x 120mm

Bottom:

3 Year Warranty
Weight: 28lbs (12.70kg)
Dimensions: H:20.60″ x W:9.10″ x D:22.50″
I could go on a little more about the specifications, but it might be best if I showed you. Check out my unboxing.

That's pretty much it, did you build yours already?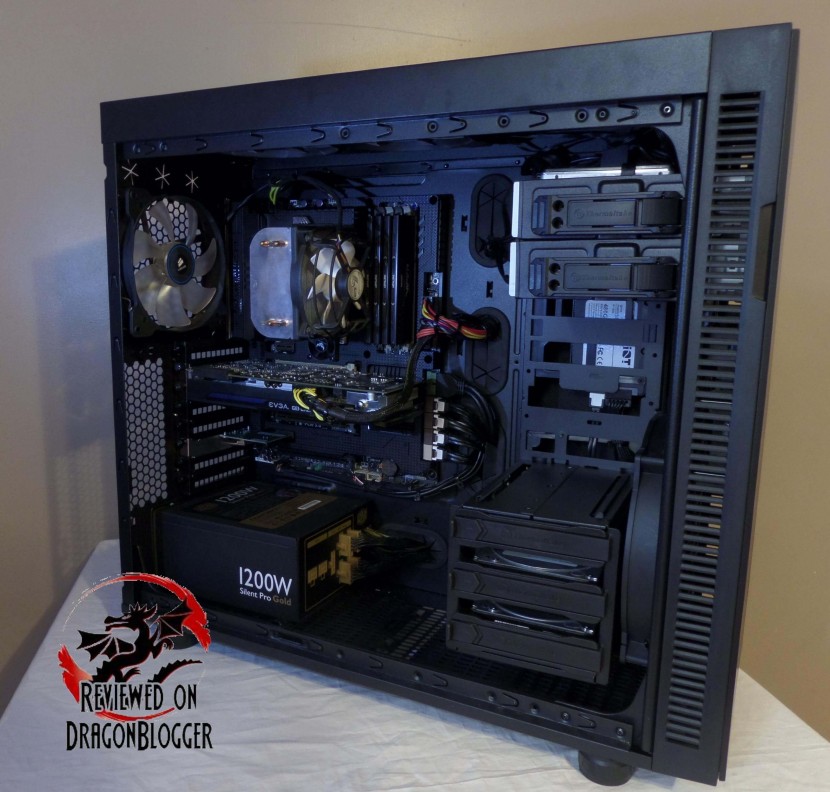 Oh, maybe I got a little ahead of myself; want to know how I got to this fully built PC? Let me show you from the ground up how I built this PC and it might help you out.
I will start off at the basics for those of us that may not know how to build a computer. I start in this video showing you how to install the CPU, Thermal Paste, CPU Heatsink, and Memory onto a Asus Sabertooth Z87.

Even though I hate manual's, now is a good time to look inside of this manual and study the bag of screws the case came with.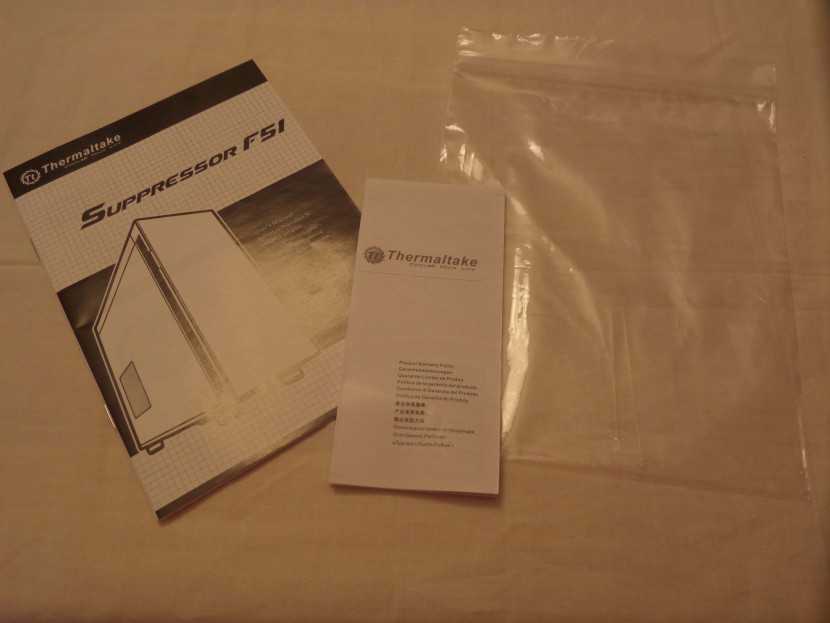 Here is the bad boy we will start working without the windowed side panel on.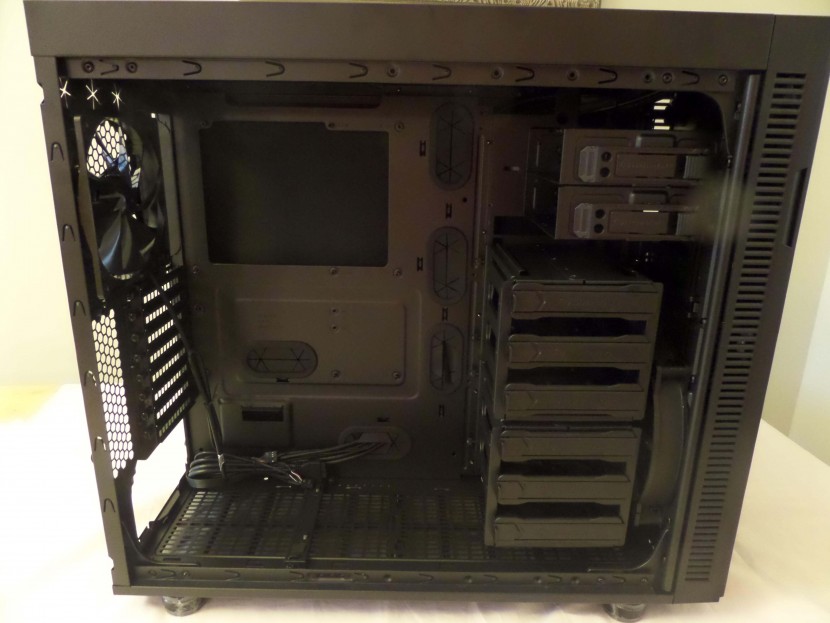 Before we can build inside of the case and with everything this case can house, there has to be a ton of screws, Thermaltake may not have included them all but they did include a ton.
• 4 x Extra Stand-off Screws (The case already has 9 on the motherboard tray)
• 4 x Power supply Screws
• 10 x HDD Screws
• 20 x Motherboard/ODD (Optical Disc Drive) Screws
• 20 x 2.5" Screws
• 4 x Case fan Screws
The screws all came in black thankfully to go with the case. Aside from the screws, it brings a few more things that are very handy.
First off, the Nut setter bit. On the image below, it looks like a simple thumb screw with the threading broken off.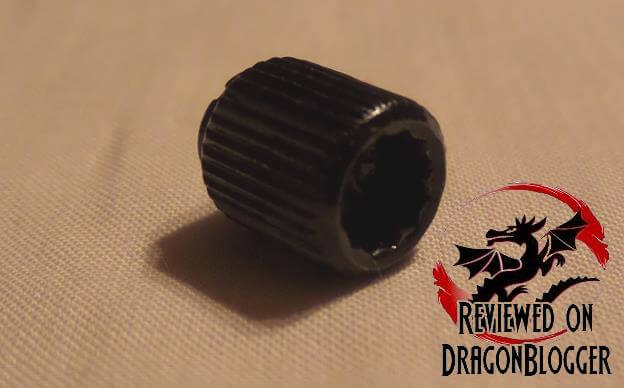 This little bit can be used to attach those stand-offs with your favorite Philips head screw driver. It's easier if you have a magnetic tipped screw driver.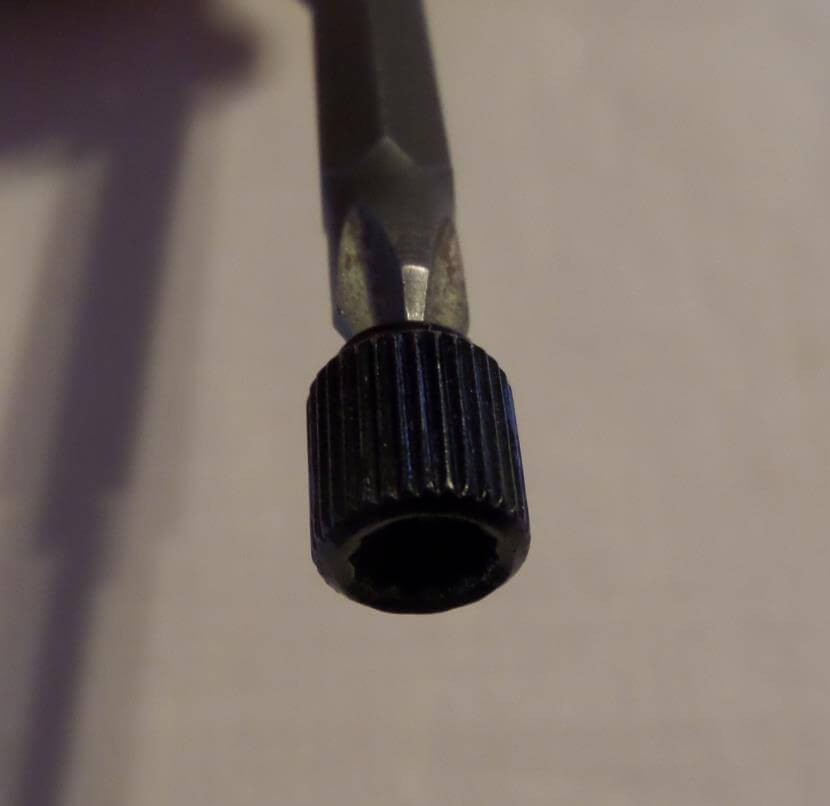 And with this, you can screw in or remove stand offs into the Suppressor F51, but at least for myself all of the stand-offs that were installed were perfect. If you had a different board that had less stand-offs or more, this little tool makes life so much easier. This Nut Setter is a bit to keep in your tool box for sure.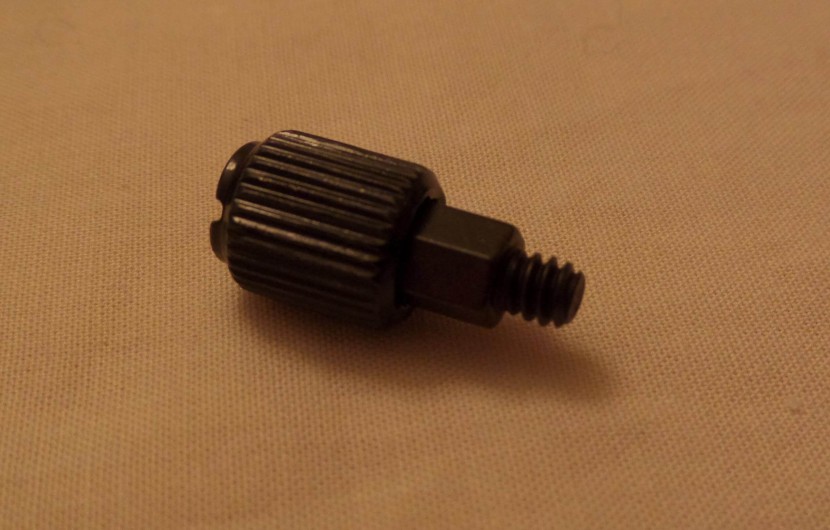 If you don't have a bunch of zip ties lying around to help your build, Thermaltake includes a few cables ties for cable management. I myself use 1 million per build but this will help you get started.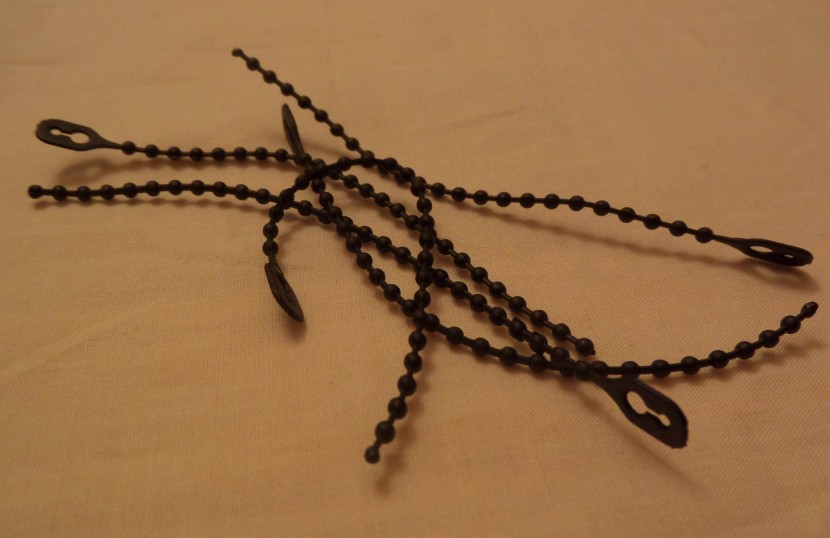 This is another valuable tool that you never need… till you need it and when you do you will go insane if you don't have it.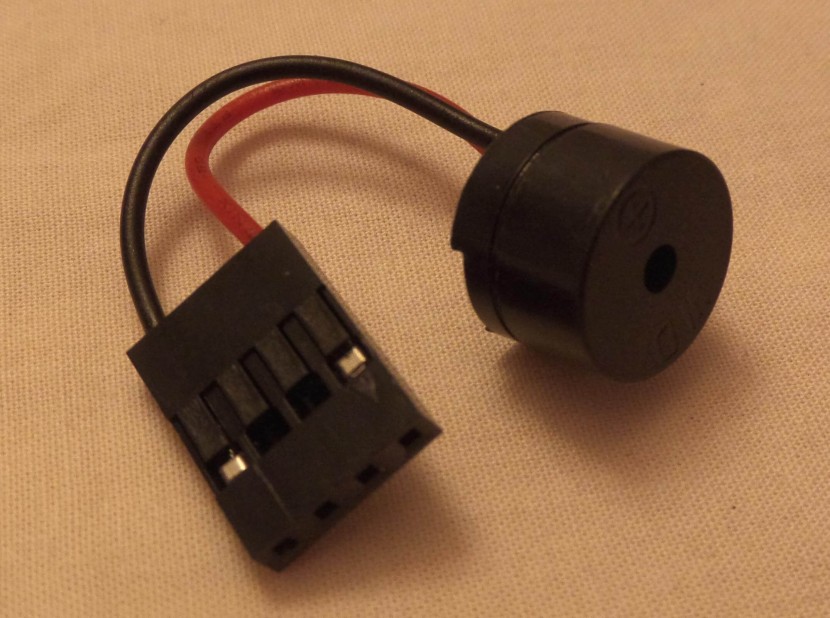 Some of you may laugh, but if your motherboard does not have it and you are having a problem with memory, CPU, video or more, this PC speaker can help you figure it out quickly. Another great addition to your toolkit after you built up your PC. Here is how it looks like plugged into a motherboard.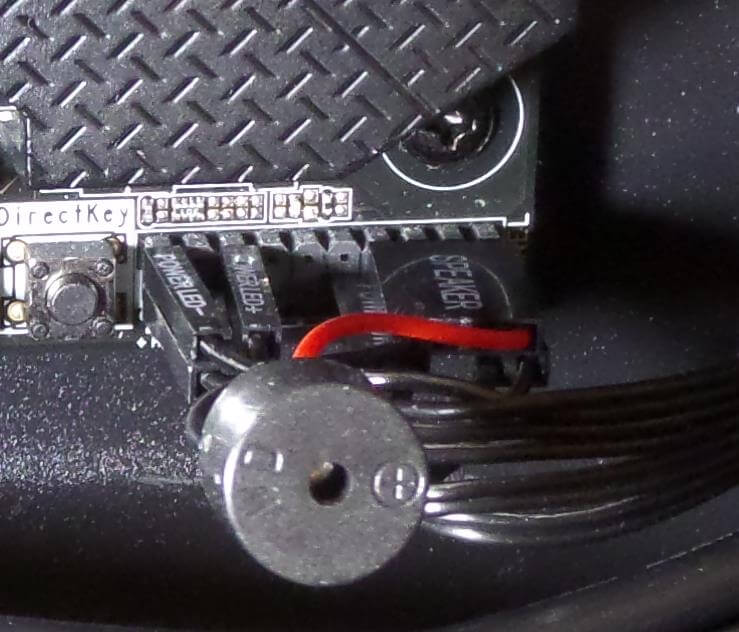 Now that you have learned how to install everything onto a motherboard, you need to learn how to put everything into a case; I have made a few videos showing you how I built mine.
In this video you saw how we can remove the upper portion of the hard drive bays, removing 3 3.5mm drive trays out of the 6 available. Removing these trays provides the case with more airflow and the ability for longer cards but it can hold cards 12.2inches with the cage, it may work for you with the cage installed. Without the cage it can hold cards up to 18.3 inches, that's a huge card, though I don't think there is anything that will take up that much space anyway. Removing these bays, we have the ability to install only 3 drives, so I went over that as well, even an SSD.
Here are both drive cages still in the unbuilt machine, but 2 drive trays outside of the cage so that you can see what they look like.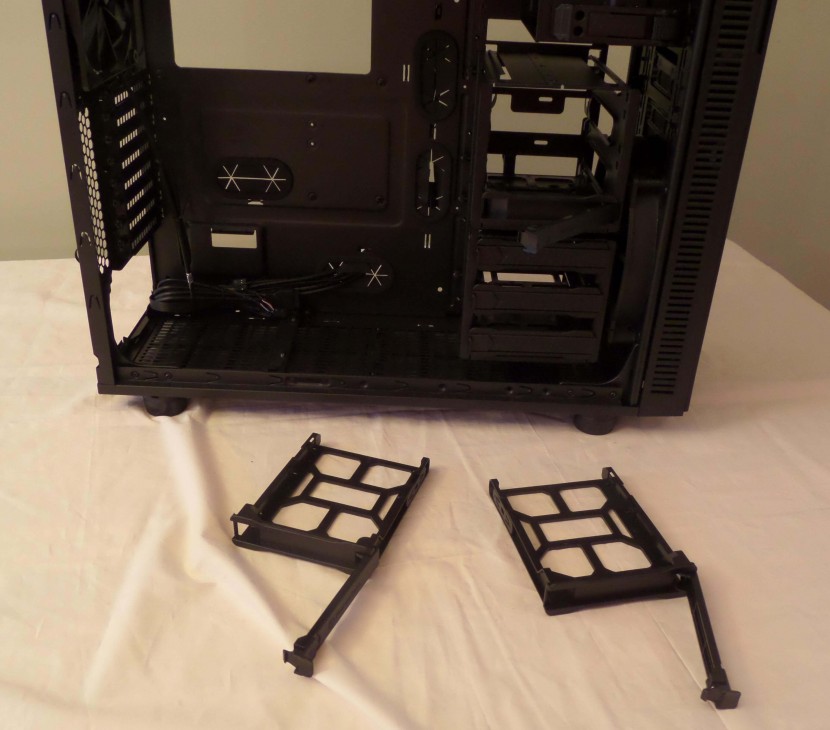 Here is that cage I removed. I left one of the drive trays slid in and locked. The middle tray I have slid out a little and the locking mechanism extended a bit.
You can even use the 5.25 bays for extra 3.5 in or 2.5 in drives like this. This is great for people who don't use opticals but want lots of drives. There are 2 x 5.25 drive bays, each can fit 2 x 2.5 in drives in each, or 1 x 3.5 drive in each, so you could potentially have 4 more SSD's or 2 more 3.5 in drives or just 2 more 35 inch drives, lots of possibilities.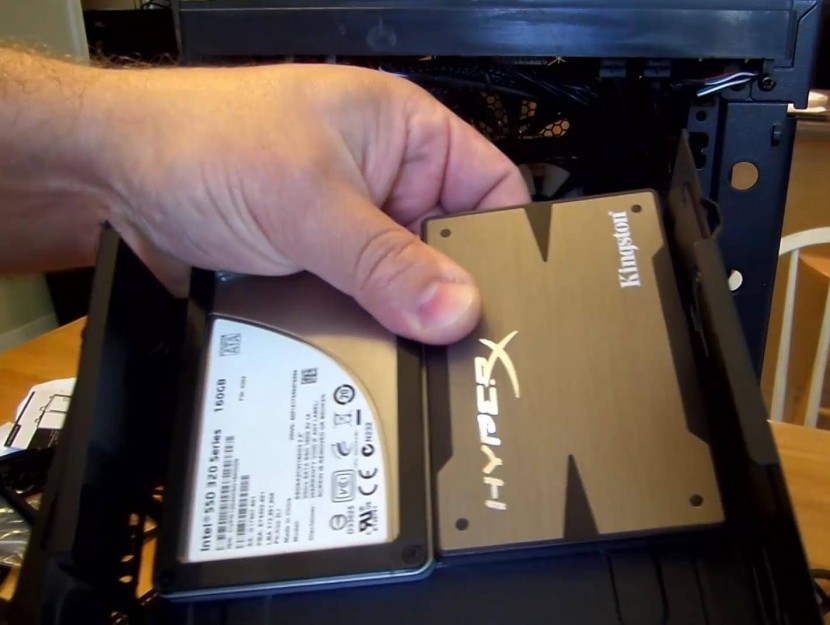 I broke the PC building portion down to 2 videos, so you can stop in between grab a drink, look at your machine and love where you are at so far. OK, part 2.
In that video I showed you how to install optical drives (ducks for cover with the loads of hate coming his way) and how to install a NIC and a video card. Now you have all of the hardware installed, Power supply, opticals, hard drives and SSD's. I connected the 24Pin power cable from the power supply to the motherboard, but the next videos goes a bit deeper and shows you how to connect everything else.
Here is the 2nd part
I also went over the noise dampening pads located on the ceiling of the case, they really help with acoustics. The rear side panel, as well as the front door and again the ceiling of the case comes with this noise dampening material. The front door and rear side panel have this built in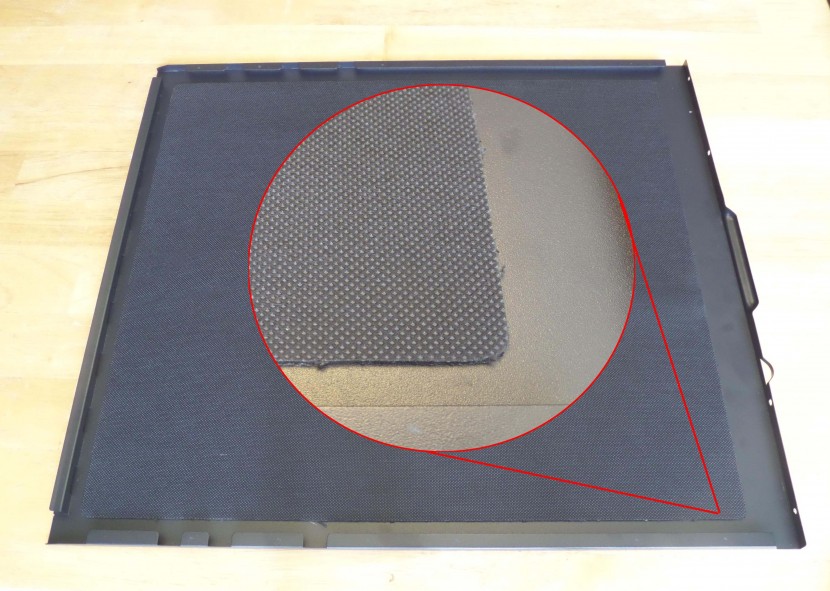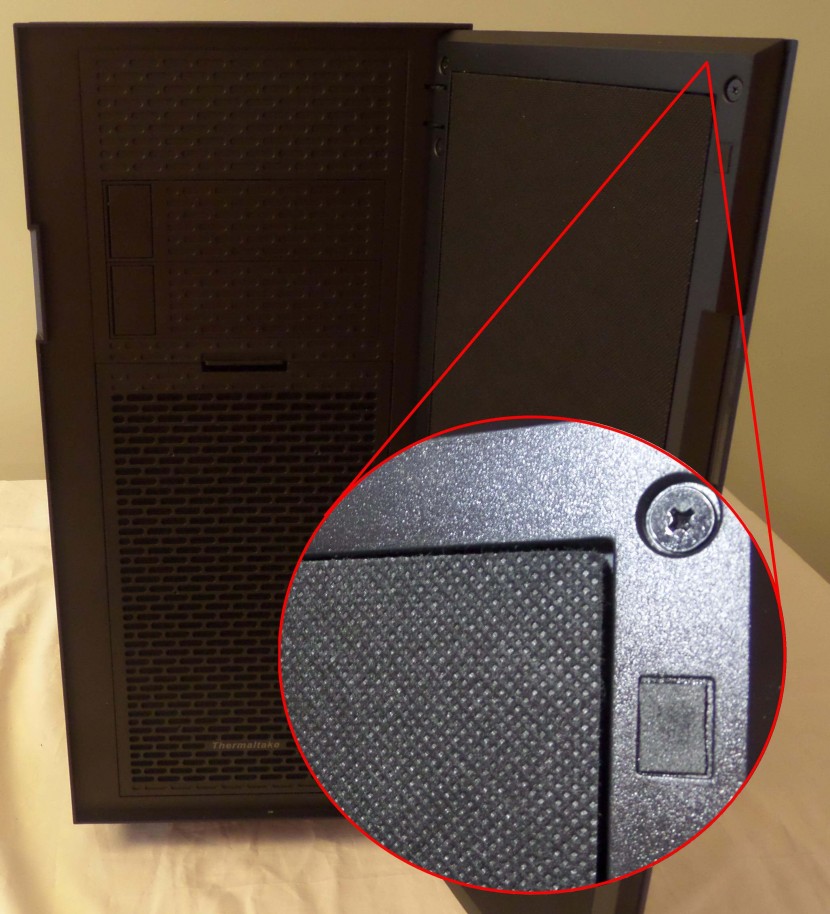 The ceiling of the case has 3 of these pads. The one on the right is the same as the one on the left, but I wanted to show you what it looked like on the other side. I want to show you that it was a foamy material.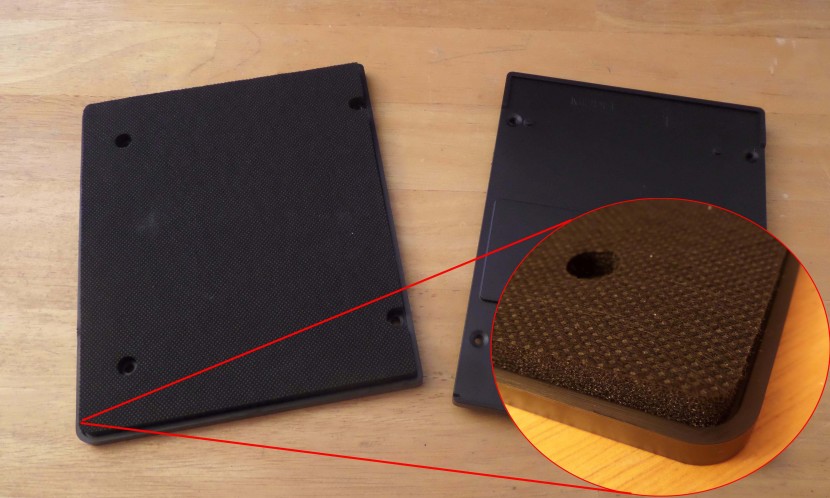 Here is what it looks like from the top of the case. This is with the dust cover removed.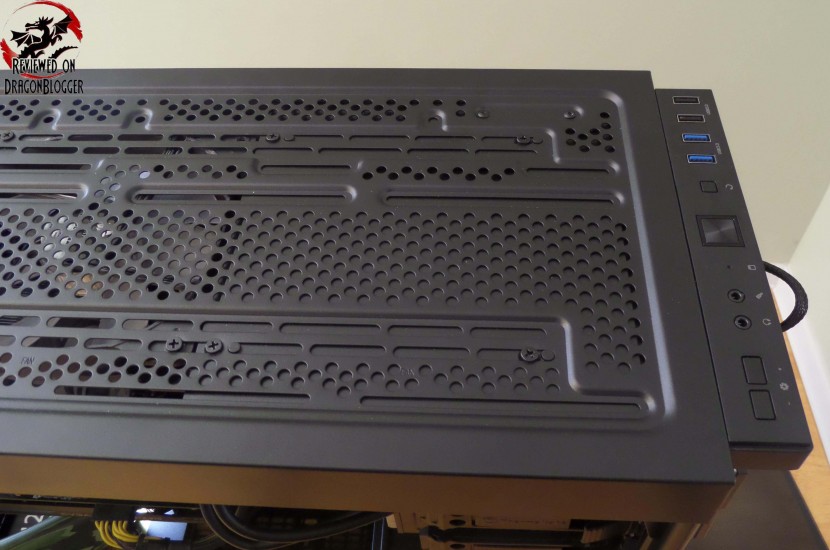 Now with the dust cover back on. With the dust cover on, you cannot see any of the screws or larger holes.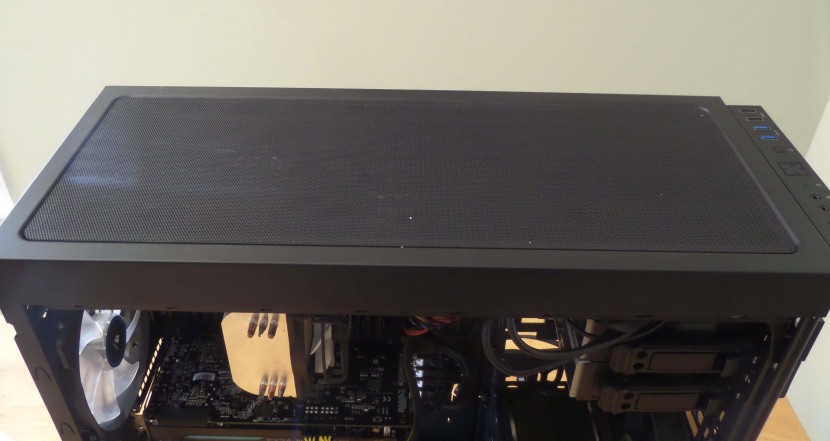 I also wanted to mention that in these pictures I had the front panel pulled off, but let me show you what the case looks like with the front panel on. It will also give me the perfect opportunity to show you what the I/O ports, buttons and Fan Speed Control look like.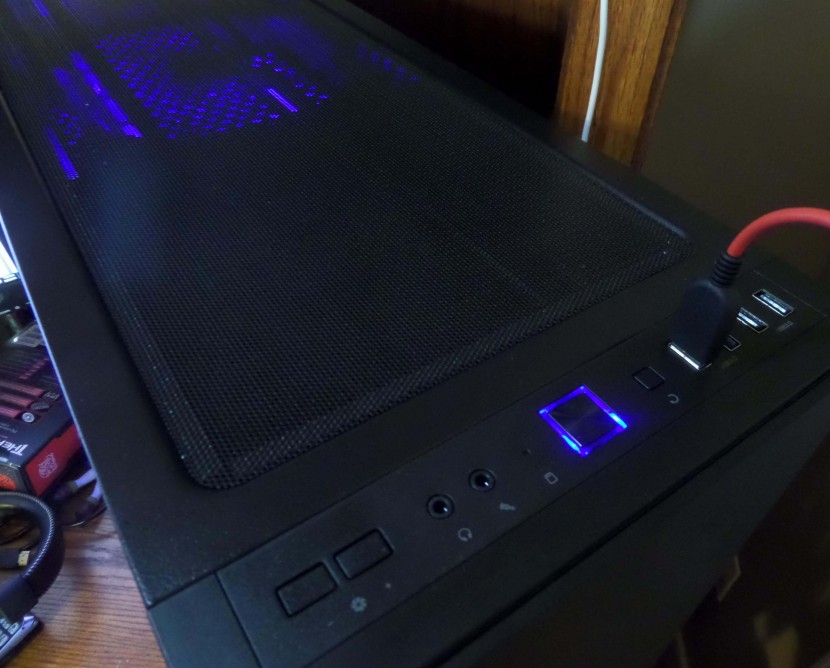 Those 2 buttons on the left are the fan speed control; it only has 2 speeds, low and high. To the right of the fan speed control is the HD audio for headphones and Microphone and then the HD LED indicator and the power button. The power button is frame with an awesome blue light to let you know what it's on. To the right of the power button is the reset button and to the right of the reset button are the USB ports. 2 x USB 2.0 Ports and 2 x USB 3.0 Ports. I had my camera plugged in so that you can see the USB ports in action.
You might have noticed the rear of the case had some lighting, the case itself does not bring anything lit and I love my blue accents, the power button was great but I wanted more. I will lead into the lighting, but I wanted to show you the acoustics of the case.
In this video I show you how a fully built system sounds like.

Amazingly quiet right, I know. Now, I miss having my blue lighting so in this next video I show you just how it sounds like and looks like with some blue lighting.
I know it sounded off when I said "I show you just how it sounds like and looks like with some blue lighting.". Why would it sound any different with blue lighting, well it sounded different because I removed 2 of the 3 noise dampening pads from the ceiling of the case and replaced them with 2 x 140mm blue lit fans and I replaced the rear 140mm fan with a 140mm blue lit fan. You might want to go back and watch it again just in case you missed that.
Here is how she looks like without the side window and the system on with all the fans going. Makes me happy.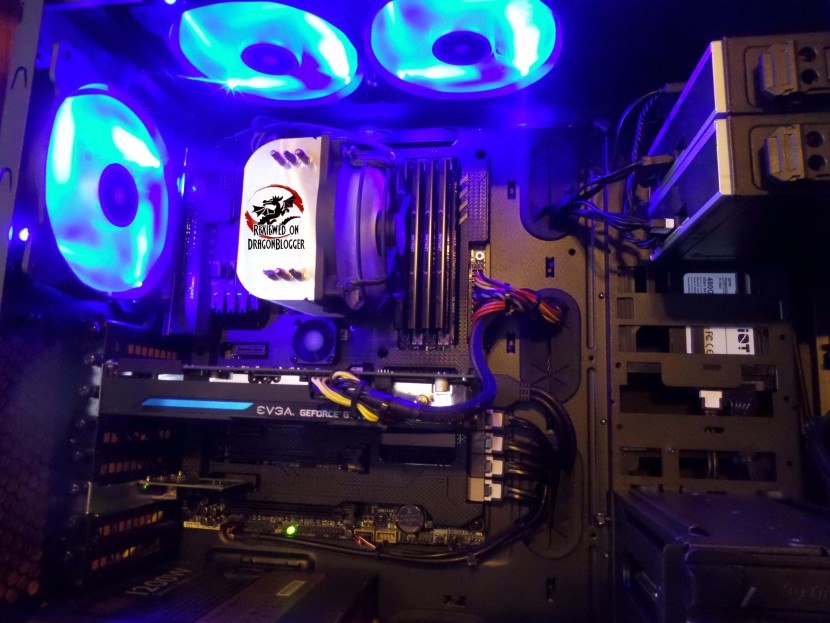 And here she is in the complete darkness of night.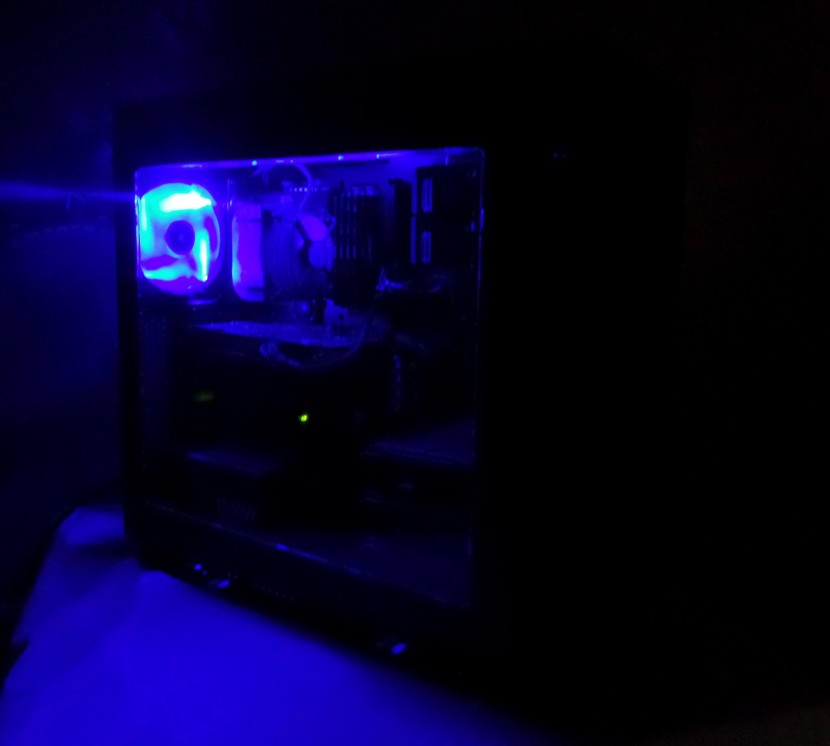 The reason I installed the lighting is because this is how it would look like with the lights off, no LED lighting and the computer on. I love the lighting and I love to be able to look at my work and even better, it helps illuminate my desk making it easier to find things late at night.
Another great feature that I touched on, but did not focus on are the dust filters. Not only are they included on the top of the case, but they are included on the front of the case and the bottom.
Here is the bottom of the case with both dust filters removed. These filters are great and when dusty can just be put under a faucet with running water to be cleaned, but make sure they are fully dried before putting back in your system. While it may be obvious to most, if you put your dust filters back in your system when they are wet you risk shorting your computer, burning down your house or worse.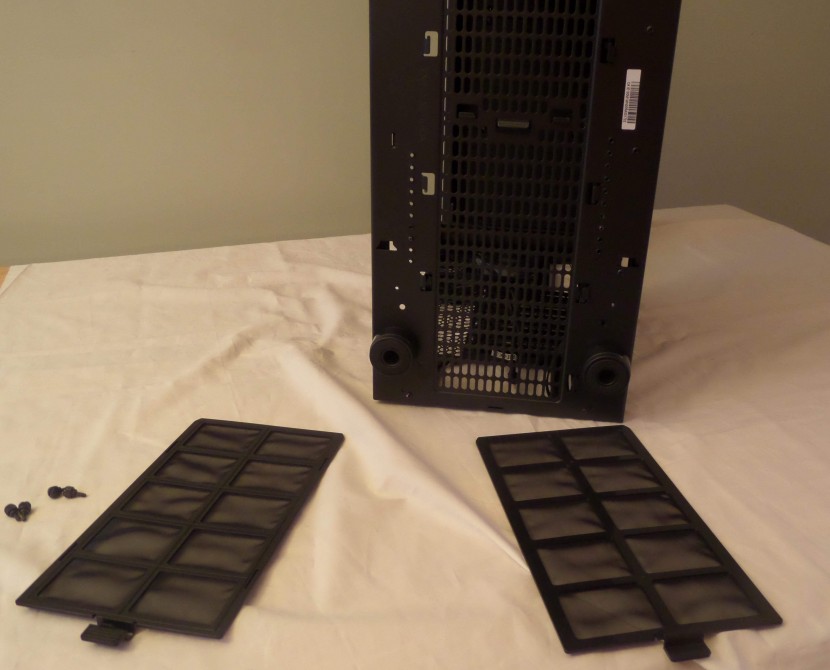 Here is the bottom of the case with the filters on.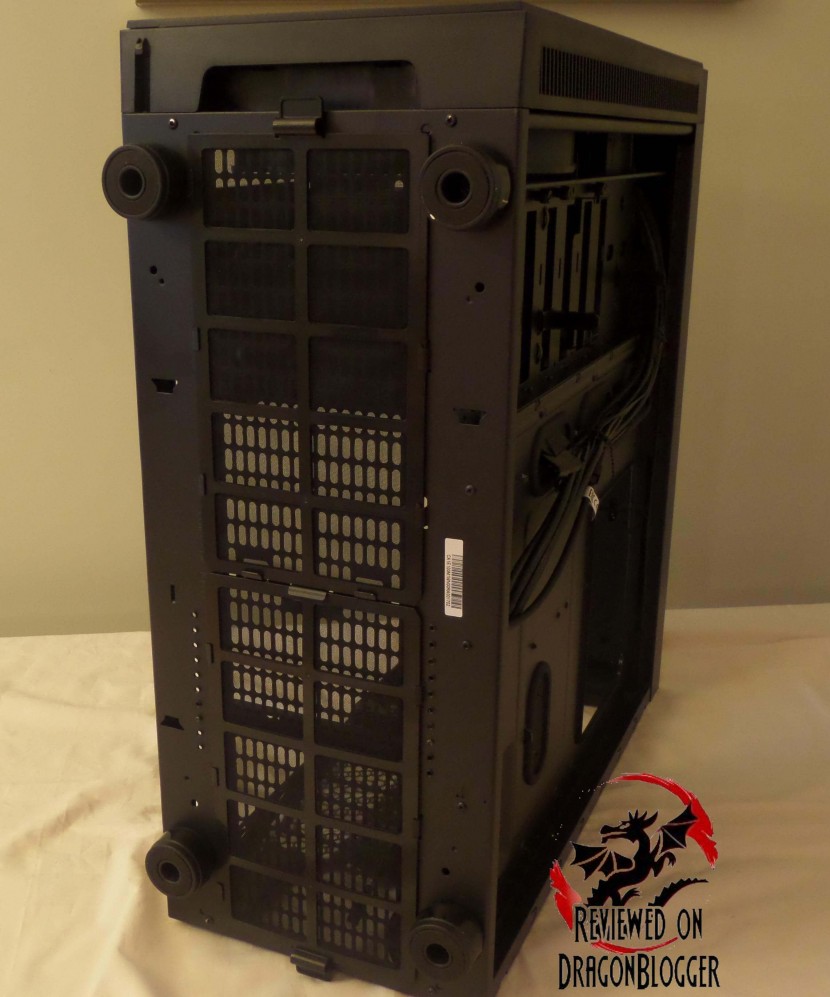 And the front of the case with the front door opened and the filter lowered, kind of like a draw bridge.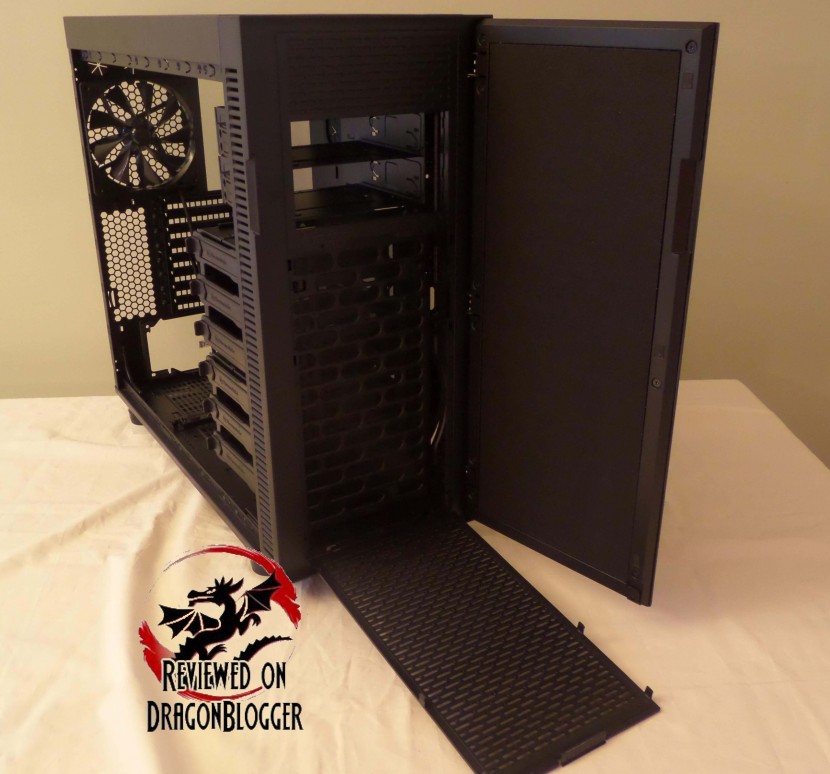 Going back to the hard drives and SSD's, since I have removed the upper portion of the drive cages, I can only install 3 hard drives, but actually I have more SSD's to install. Thermaltake put some thought into this and actually made a spot for those drive cages, they are not wasted.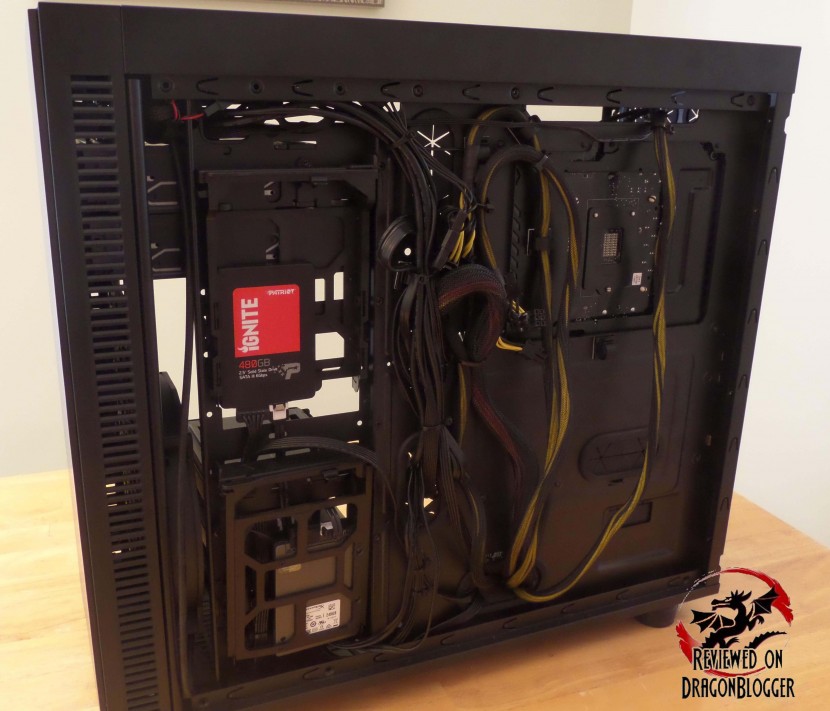 Here you can see I have 2 SSD's on their sides, they are inside their drive cages since you are not using them, a good way to not have anything go to waste. The way it was designed though was interesting. The bottom drive if you will notice is reverse, I had to do that because of the way I had the mechanical drives cabled, the bulge was too large to get the SSD the correct way, so I flipped it around and it worked well. Very nice the way it was made so that it does not have to be 100%. You can find the way I installed this in the video, it is not mentioned in the manual.
While I don't have any sort of liquid cooling in my system, don't worry this case is liquid cool friendly. Not only is it friendly, it has tons of zones so that you can liquid cool everything.
The Suppressor F51 allows you to put liquid cooling units in the front, top, rear, bottom and even the front of the case. Thermaltake actually even provides a compatibility list of their Water 3.0 liquid cooling units. The case is compatible with the Ultimate, Extreme, Extreme S, Pro, Performer and Performer C series units.
I will break it down as well
• Water 3.0 Ultimate: Top
• Extreme / Extreme S: Top
• Pro: Top and Rear
• Performer / Performer C: Top and Rear
Oddly enough, while the case can use liquid cooling units in the front and the bottom, ThermalTake does not provide a unit for them.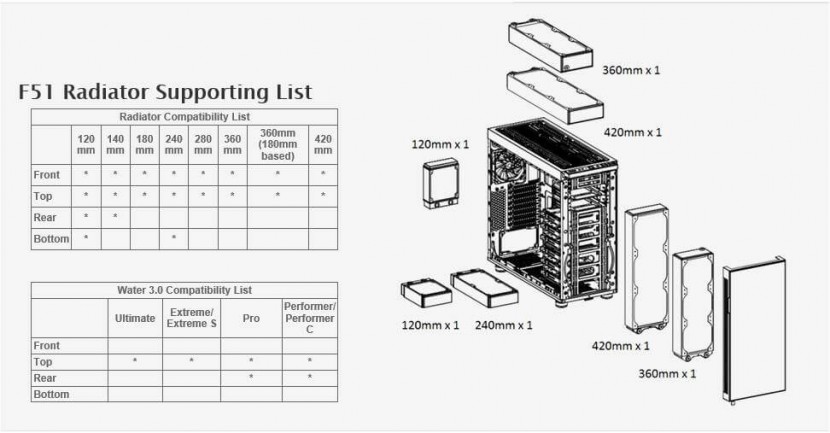 Then you can use a bunch of fans, 120mm, 140mm and 200mm fans to be exact. Here is Thermaltake's list of compatible fan series as well as my own list.
• Pure Fan Series: 120mm, 140mm, 200mm
• Luna Fan Series: 120mm, 140mm, 200mm
• Odin Fan Series: 120mm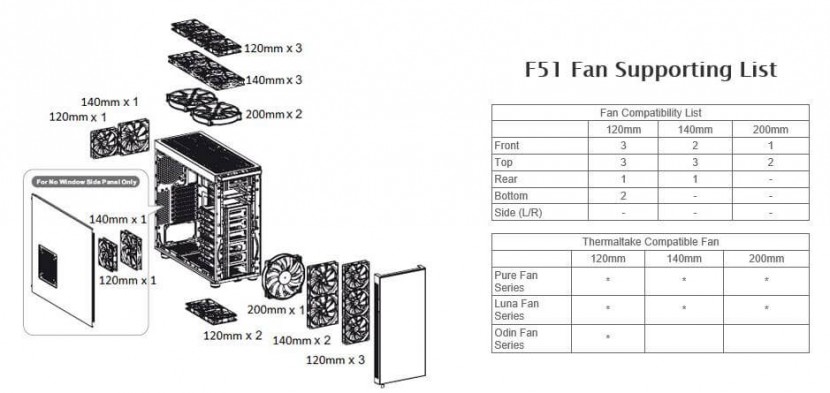 I know there are some of you that don't like a windowed case, and that's fine… I guess but Thermaltake sells this case without a window as well.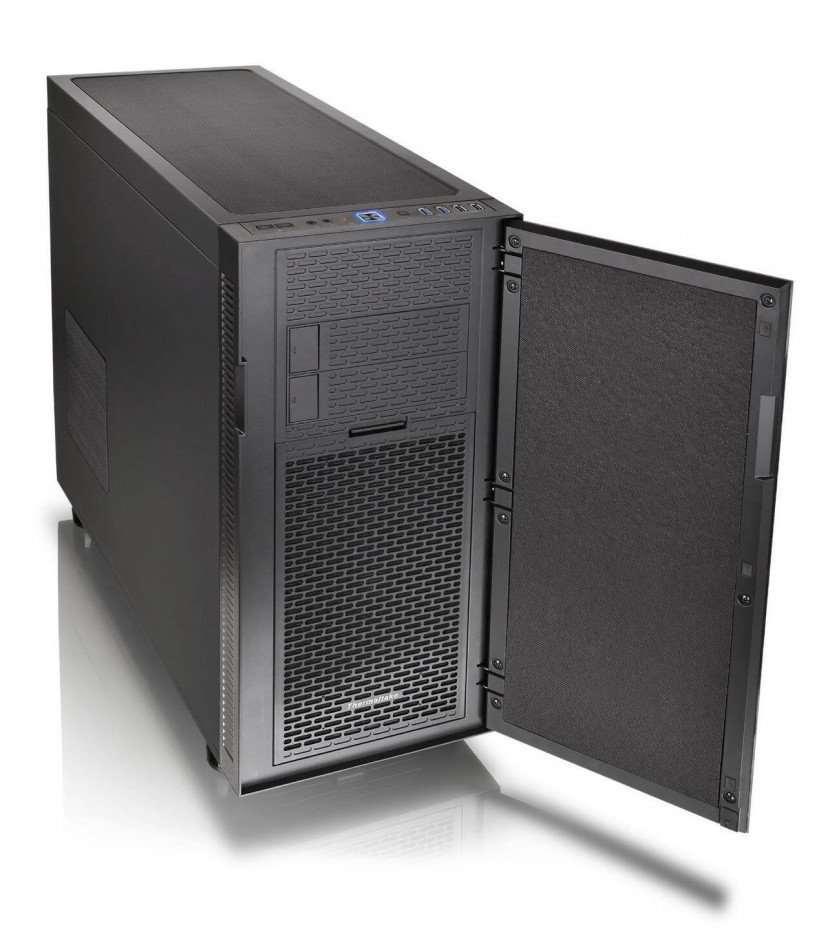 One thing I like about the case without the windowed side panel is going on Thermaltakes theme on not wasting space. The side panel of the case where the window would have been has a cutout that allows air to come into the case or exhaust when needed depending on how the air pressure is setup within the case. Like the top of the case, the air filter is magnetic and comes off just by simply pulling it off, no screws or mess. You are also able to place a fan on this side panel as well.
The side fans supported come in either 120 or 140mm, and you can use the Pure, Luna or Odin series fans as well, listed and linked above.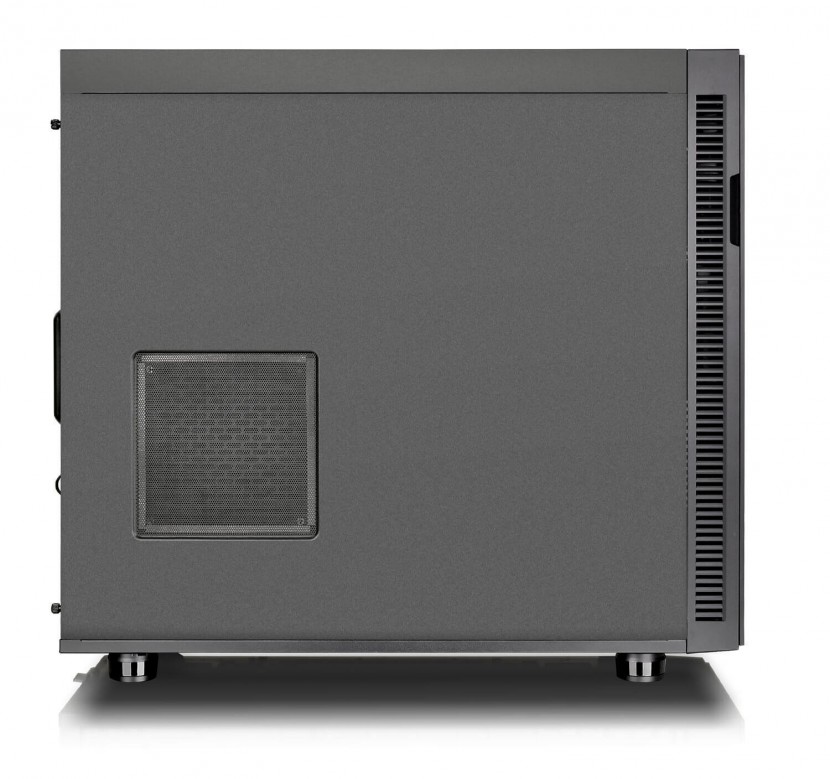 Lastly, I would like to mention that in most cases, when the front panel is closed if there are no vents, no air is getting in and the fans rise in volume because they have to work harder. In this case, on both sides there are little vents on the sides of the door that allow air to enter or be exhausted through depending on the pressure in the system, so your fan's will not only stay at the same noise level, they will also not have to work harder when the case is close.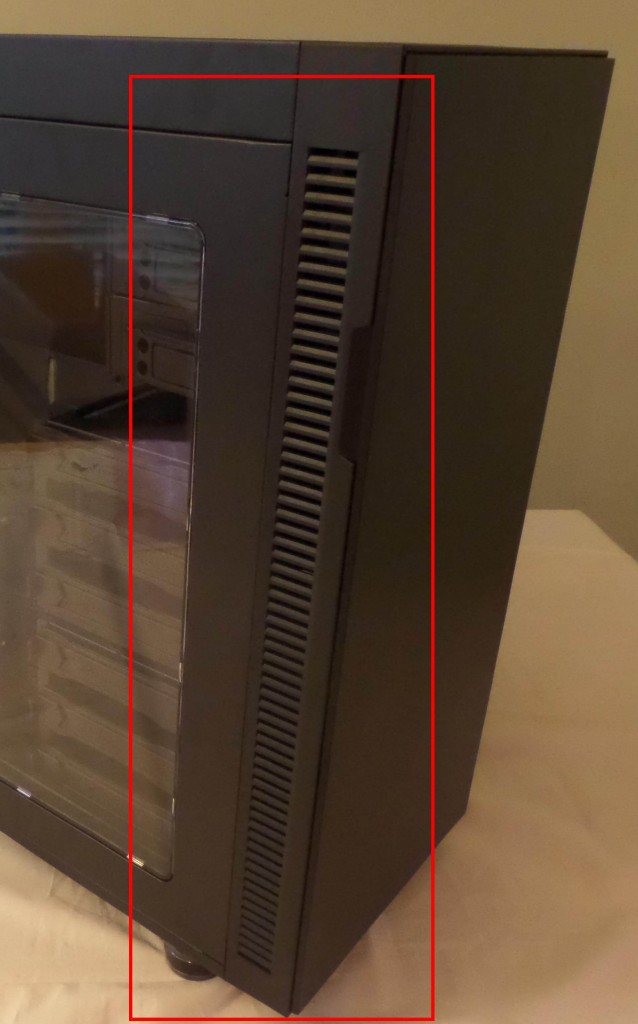 I tried hard to find something wrong, but I can't. I will say the SSD's on the side of the case, really do feel like an afterthought the way it was implemented, but because of the way it was implemented allows for more flexibility. The case should bring some lighting, but not everyone likes the lighting, they do however sell fans that can do that and even offer a non-windowed side panels for those that don't care to look at the inside of their systems. You can even purchase LED strips in case you don't want to purchase extra fans and keep that extra silent case.
The case could be a little wider to allow for easier cabling along the back of the case, for less bulge, but that's me grasping at straws to find an issue.
It's easier to find things I love about this case though. I love how large the side window is, you can see everything, yeah even if you mess up cabling, do it right. The case is amazingly quiet, but it's all in the name. The implementation of the obvious drive trays is great and way that the optical drives toolessly install. I just can't find anything wrong about this case, it's getting 5 stars.
What do you guys think, what do you find wrong, what do you find right?
Check it out here on Amazon: http://www.amazon.com/dp/B00YCX0XMQ?tag=iggyc-20
We are influencers and brand affiliates.  This post contains affiliate links, most which go to Amazon and are Geo-Affiliate links to nearest Amazon store.
I have spent many years in the PC boutique name space as Product Development Engineer for Alienware and later Dell through Alienware's acquisition and finally Velocity Micro. During these years I spent my time developing new configurations, products and technologies with companies such as AMD, Asus, Intel, Microsoft, NVIDIA and more. The Arts, Gaming, New & Old technologies drive my interests and passion. Now as my day job, I am an IT Manager but doing reviews on my time and my dime.