We are influencers and brand affiliates.  This post contains affiliate links, most which go to Amazon and are Geo-Affiliate links to nearest Amazon store.
In the ever changing dreamscape of audio and genres, many manufactures try to capture your attention with the latest and greatest, but how many of them are really great?  Today I have the pleasure of introducing you to Creative's attempt at Bluetooth audio, but it's not just a Bluetooth speaker.  The SR20A Roar brings to you Bluetooth 3.0 audio enhanced with dual amplifiers, NFC to pair with devices that don't have Bluetooth, MicroSD card slot for those instances that you don't have Bluetooth available, an integrated voice recorder utilizing that MicroSD card and then finally an AUX connection for when you are rocking it old school.
Here are the features
Bluetooth 3.0 Support
2 performance amplifiers
TeraBass
MegaStereo
Dual purpose 6000mAh Li-ion battery bank
Bedtime listening mode
Siren
MicroSD slot
Voice Recorder
NFC Connectivity
AAC and aptX High definition Audio codec support
MP3 Player
Speakerphone
Link Security Modes
ROAR Audio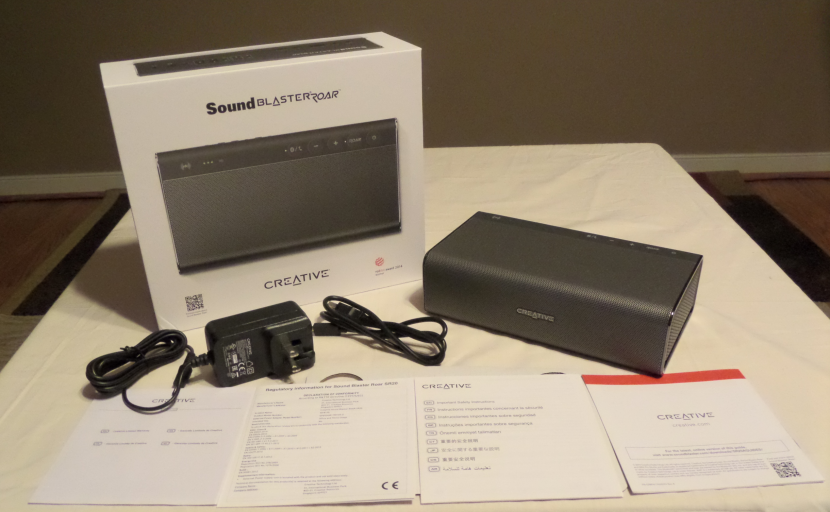 I will get a little deeper into these features and then when you are content with that, I will throw a few more at you, but first, let's get into a little unboxing.
So I give you a little description both in the video and above, about the speakers and the amplifiers, so here's a little more detail.  Powering the bass, it has the top 2.5 Active driver pumping out bass upwards instead of downwards like most of the other speaker systems.  This allows it to push the speaker down, stabilizing it so you don't hear all the vibration that many other little speaker systems give you.
The front of this little bad boy has dual 1.5" drivers designed for far field high-frequency dispersion.  This presented Kirk Hammett's guitar solos as well as the high wails of Louis Armstrong's trumpet all sounded amazing, much fuller than its competitors.  I was very surprised at the highs and mids this produced.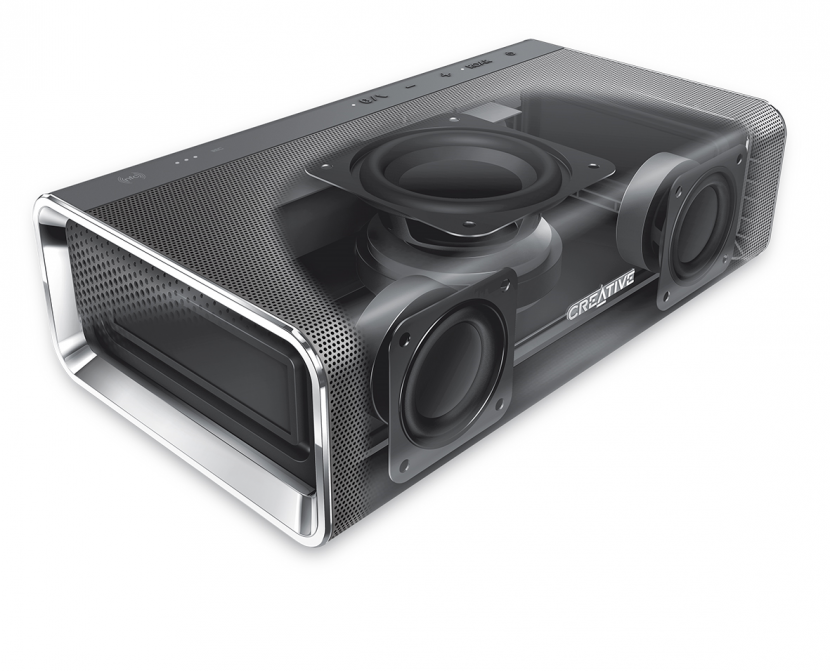 There's more though, to help fill out the bass and help fill a room with beautiful music, the left and the rights also have a speaker on each side to help pump a little more base.  A one stop shop here to get all your High, Mids and Lows, this is great no matter what kind of music you like.
Here's another pic that help describe what each speaker does.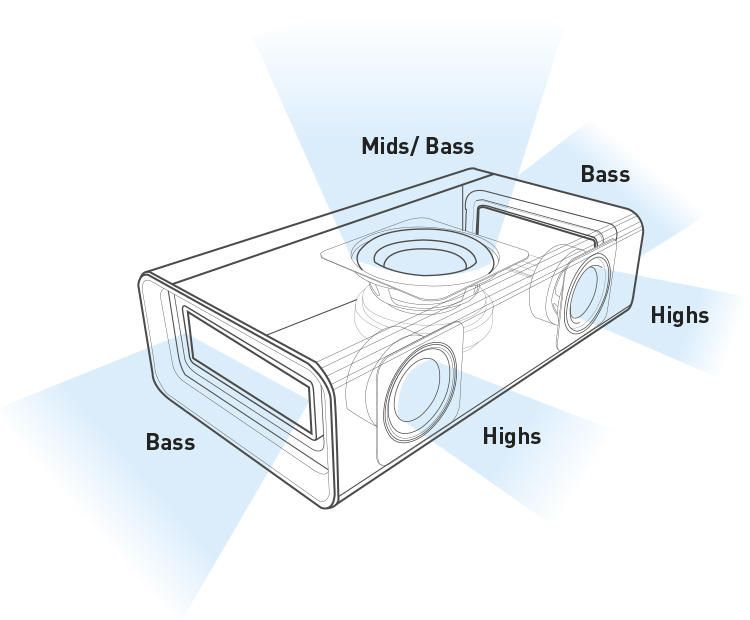 Talking about music, take a look at this video so that you can hear what this sounds like.  I also give you some more examples of some of its features.
So you see how good that sounds?  This gives you a ton of options, and I went over them in this video.  I showed you playing some music off of the MicroSD card and then show you some of the range, no matter how far away it seems this little guy sounds amazing.  Then to show you how the Bluetooth works, I connected to Bluetooth and played a few songs and they sounded great and with that disabled Bluetooth to show you how NFC works.  I will say, this is the first time I have played with NFC and I found it so cool.
If you don't know what NFC is, NFC stands for Near Frequency Communication.  This cool technology allows you to tap a device to another device and transfer information.  In this case, you tap the device to the Roar and a second or 2 later it has made a connection through NFC.  This is cool for this device because you can start up iHeart Radio, Pandora and the likes on your phone and if your phone has NFC you can just tap it to the Roar and the music moves from the phone to the speaker using your phone only as a pass through for the music, a very cool feature the Creative Roar has.
Like you, when I first got this device, I thought Creative had forgotten about its roots in PC's.  I thought the only time you would ever introduce this to a PC was to transfer music to the MicroSD card, of which you can connect through the USB cable it brings but then doing a little reading in the manual I come to find out that you can actually connect this to the computer and have it act as a PC speaker.  I figured it would be a bit lame but I was a little surprised at what I found.
It helps your PC games sound great and while you are playing your games.  Aside from the PC, you can connect this to you TV or DVD/BlueRay player and listen to your movies through there.  If you noticed, while I was playing the game I plugged in my phone and it started charging.  You can do this while you listen to music, play games or however you use it because it has a 6000mAh battery, so you can even fully charge a tablet as well.  The battery will provide up to 8 hours of continuous audio playblack. But battery life will vary depending on what you connect and how you use it.
Here are some pics so you can check out some of what it has on the back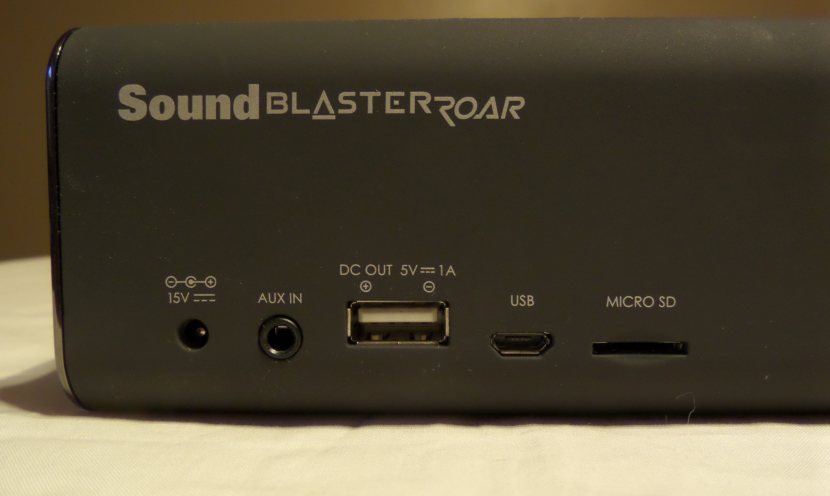 On this side, you can see the first plug is where you would charge this device if you were to connect it to the wall.  The Aux port to connect to your PC, TV, DVD/Bluray player, etc…, DC Out to charge your devices, micro USB to plug into your computer to transfer data from your PC (music, pictures, documents and more, although it will only play audio, you can take advantage of it essentially working as a media reader) and a MicroSD port for your MicroSD card.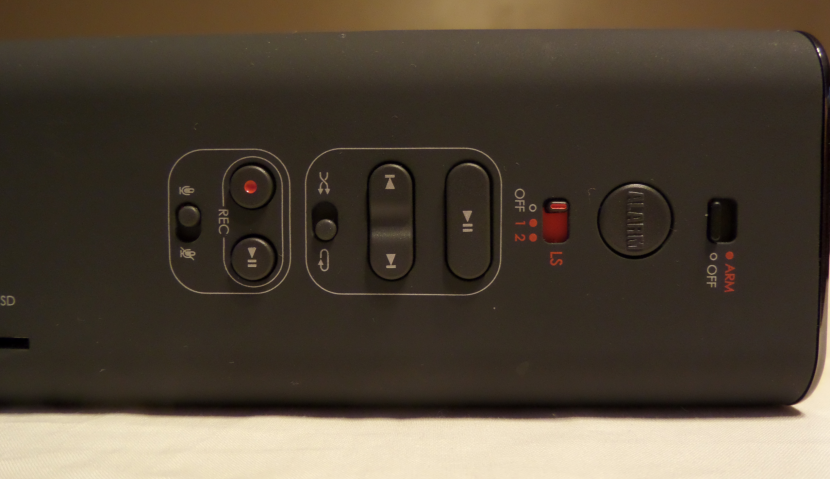 On this side, you have the switch to enable or mute the microphone, then record and playback and pause what you just recorded (requires a MicroSD card to be inserted.  For playback, it has shuffle and loop switch, back and forward button, play and pause for the music you are listening to through your MicroSD card or cellphone, tablet or PC.  Outside of the audio features, you have the security features.
The security features are for Bluetooth which enable full free access to the device all the way to locking it down to 1 device.  The options are Off, which allows anyone to connect to it, 1 allows devices that have previously connected to this unit to work again and 2, allows for 2 devices at the same time although only 1 of the 2 device can play audio.
The alarm button, as it implies allow a very loud alarm to emit from the speakers, kind of annoying but that's what an alarm is.  The switch next to it allows you to Arm the alarm or turn it off.  This alarm button when tapped also allows you to enable Creative Terabass technology allows you to play some of the lowest lows you can get.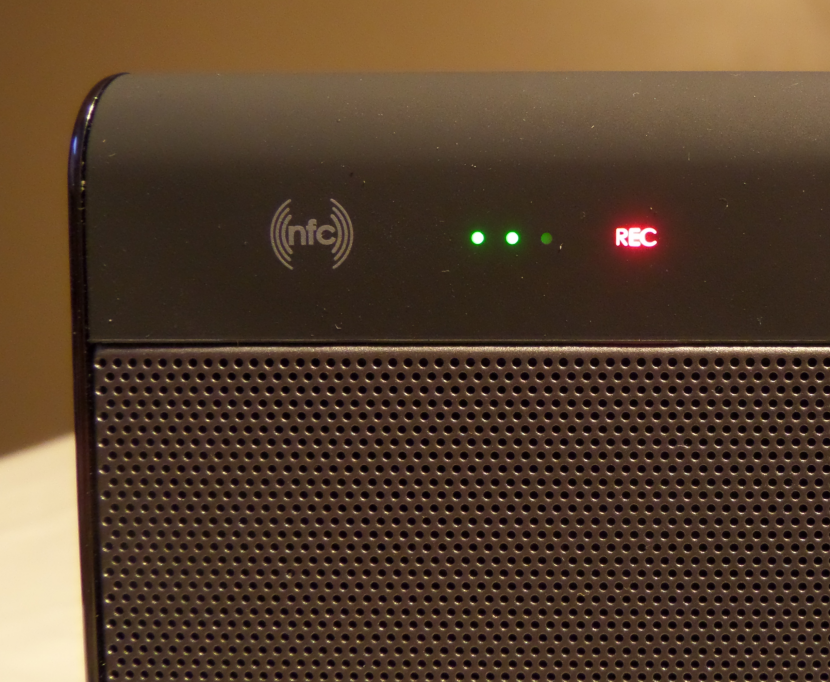 Now moving to the top of the Roar, you can see the NFC symbol, when you want to pair up NFC devices, you literally tap them to this logo.  Pairing my phone took a little more than a tap though; I had to lay it on top of the logo for a second or 2.  The 3 little dots shows you how much battery the device has left and the REC button (which is typically invisible, but I had it on) shows you it it recording when you press the Red record button on the back.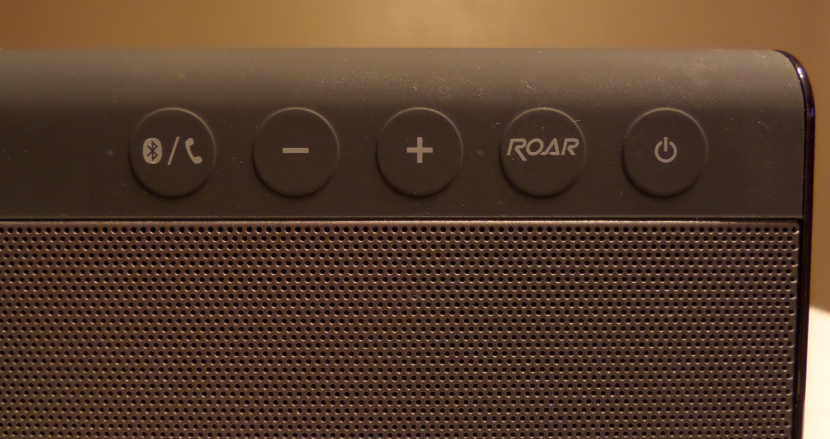 On the other side of this device, now starting from right to left (you will see why in a second) is the power button, hold this for 2 seconds to turn this on or off, then the ROAR button which enables a much more full and rich audio experience, not just amplifying the audio but dynamically adjusting all aspects of the audio, then the + and – to raise and lower the audio and finally the bluetooth and receiver symbol.  This Bluetooth portion of the button, allows you to begin to pair a device when you press the button for 2 seconds and the receiver portion of the button allows you to answer your phone from the speaker.  You read it right; you can make phone calls from here, no just hear the call but actually talk back through the microphone but of course you will still need to have your phone at least 30 feet or so away.
This is not only a great feature so that you don't have to break your neck holding the cell phone to the side of your head but also sets your free from listening to the horrible speaker most if not all phones have.  Aside from that, this makes things a little nicer for friends and families to all talk at once.  Check out this video of my kids and I talking to mommy while she was on her trip
The kids of course missed her and it made them feel great to all talk to her and hear her  at the same time, and made it good for her too since she was a little rushed.  Oh, and I missed her too ;)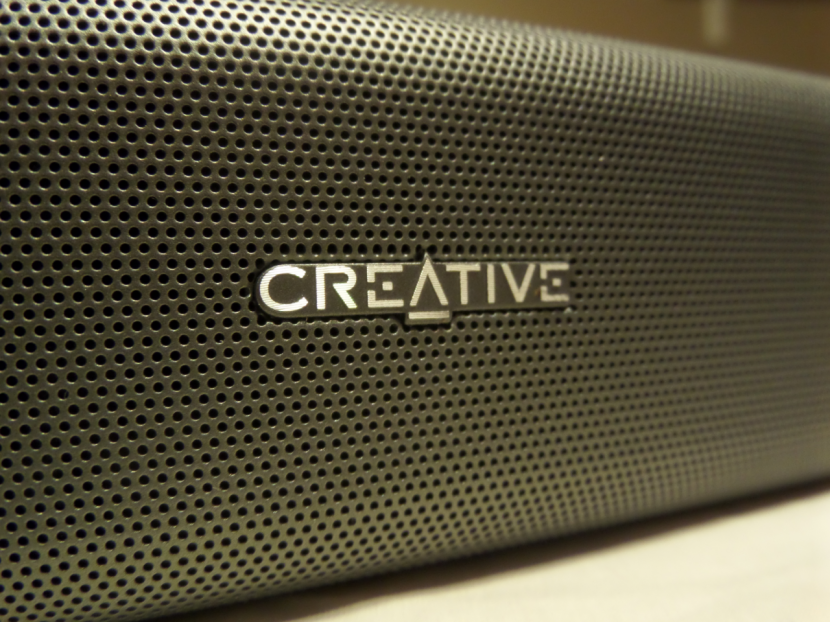 This great device can do mostly everything, it actually soothes the savage beast, yeah me.  I love my metal playing at all hours, but it's hard to have it playing at night because of course I have my wife with me and the kids in the next room but this does make it a little easier to work with.
The Roar has a nice little feature called sleep mode that allows you to play whatever you want from the MicroSD card, then after about 15 or 30 minutes the audio starts to slowly fade till it finally turns off.  This not only saves battery but can also save a marriage as well.
The last feature and a very cool one that unfortunately I was not able to test since I had only one device was MegaStereo.  As good as a single Roar was Creative gives you the ability to link up 2 Roars using a MegaStero Cable to create left and right channels for and even bigger and more powerful audio experience.

What this means is that when you connect 2 of these together, it doesn't only make it sound louder, it separates left and right audio per speaker intelligently to put all of your audio in more of a stereo mode.  The cable is sold separately though, don't quote me, but it looks like a regular AUX cable to me.  If you buy a Roar and are interested in the MegaStereo feature, it might be best to at least try a standard AUX cable before investing in the MegaStereo cable, though it is priced relatively low.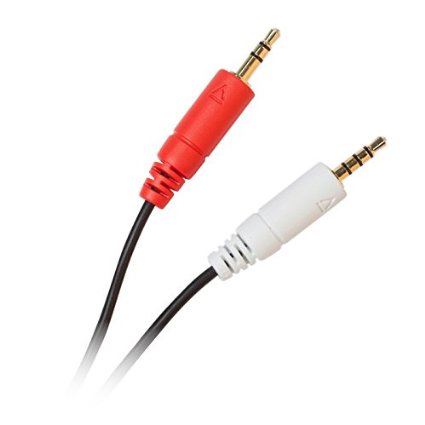 As another optional accessory, Creative does also sell a Roar carry bag for the Roar that they also sent me to review.  While the Roar itself is not too big, it won't fit in most pockets or small purses, so this carry bag might be a good addition.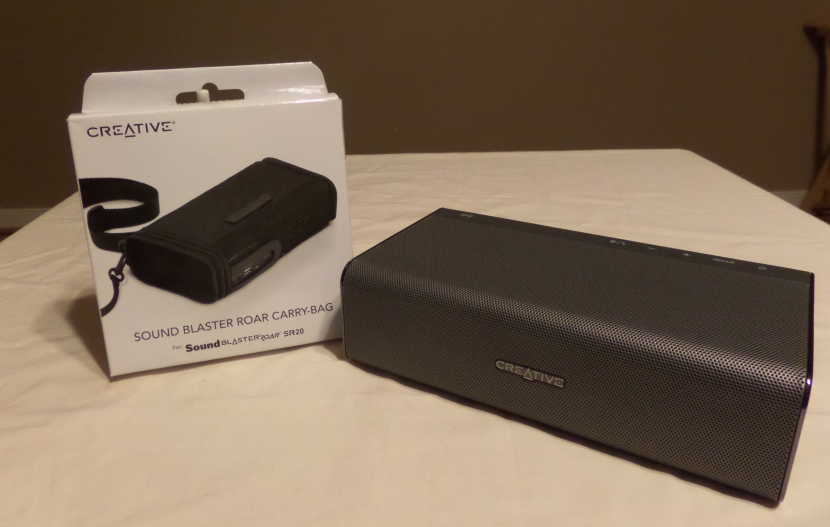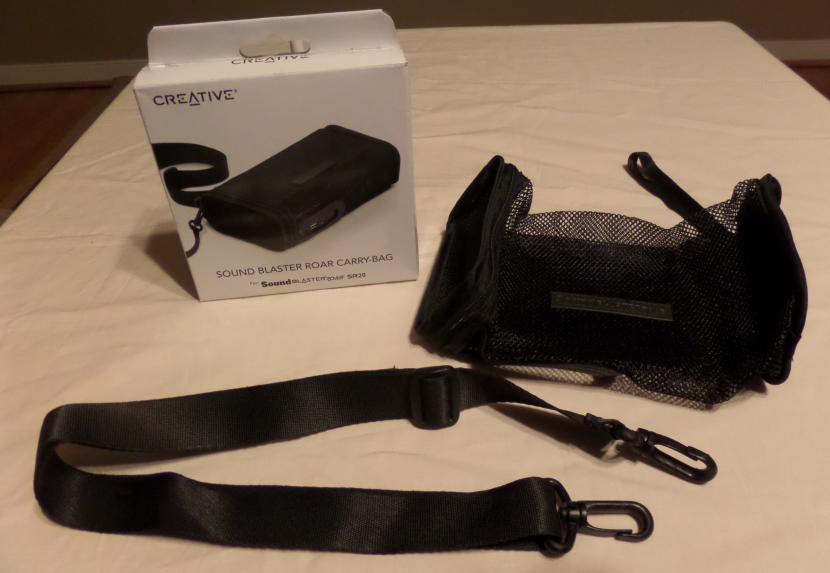 The box brings the carry bag itself which has a wrist strap attached to it and an adjustable shoulder strap.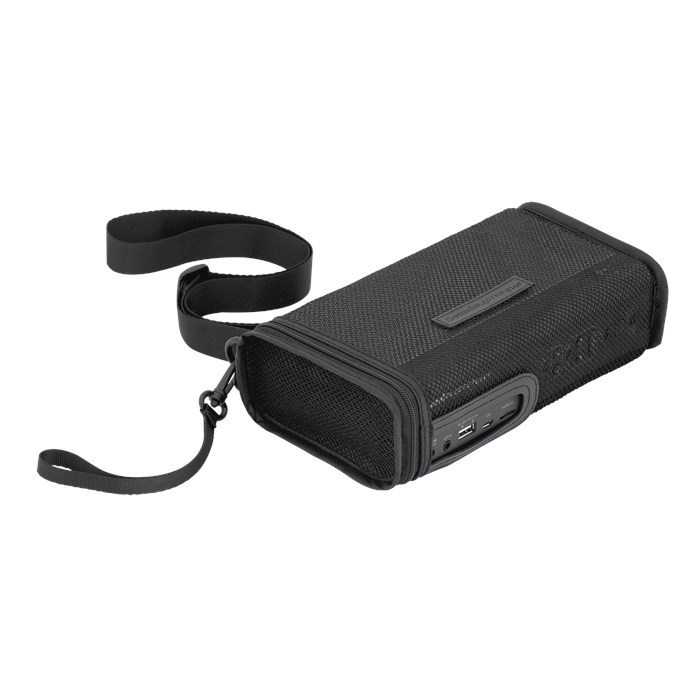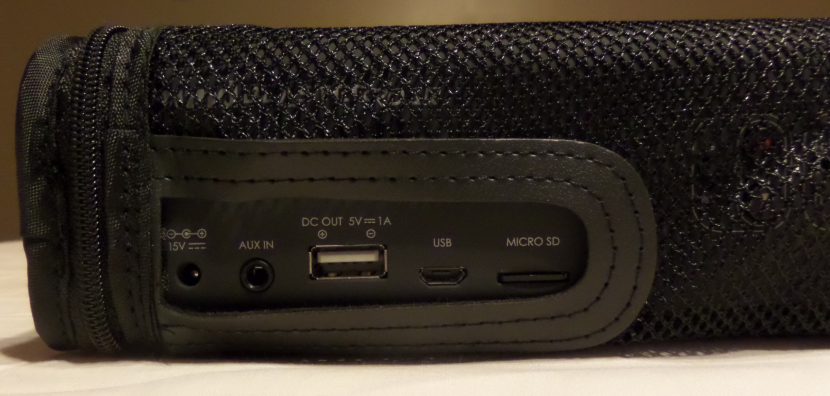 This bag obviously was designed with Roar in mind only as it perfectly fits the Roar and has a cut out to allow you to get to all of the ports.  As for the buttons, they do not have cut outs, but since the bag itself is made of a mesh like material, the buttons are easily visible.   Thankfully the bag is also very nicely priced.
That's about it then for my review.  In all nervousness, I have to say this has been the best multi-function audio device I have tested; it has just about every feature possible (I am sure someone will call out something it is missing) and the most important out of an audio device being that it sounds amazing.  I have tested other lower end ones that were great, but still cannot compare to the amazing audio the Roar can pump out.  With that said, comparing this to similar higher end bluetooth speakers, this one blows them out of the water in features and price but still, I would have wanted this to have included at least the MegaStereo cable and a description of what the cable is for and what it can do, this may entice more people to buy a second unit when they are financially prepared. I can say that I would recommend this to everyone and if I didn't have one, as frugal as I am, I would buy it myself.  I give this 5 out of 5 stars.
Let me know what you guys this, I would love some feedback.
We are influencers and brand affiliates.  This post contains affiliate links, most which go to Amazon and are Geo-Affiliate links to nearest Amazon store.
I have spent many years in the PC boutique name space as Product Development Engineer for Alienware and later Dell through Alienware's acquisition and finally Velocity Micro. During these years I spent my time developing new configurations, products and technologies with companies such as AMD, Asus, Intel, Microsoft, NVIDIA and more. The Arts, Gaming, New & Old technologies drive my interests and passion. Now as my day job, I am an IT Manager but doing reviews on my time and my dime.