Features, Specs and Performance
As I mentioned previously, it has an Intel SoFIA 3GR ATOM based processor, check how CPU-Z reports it.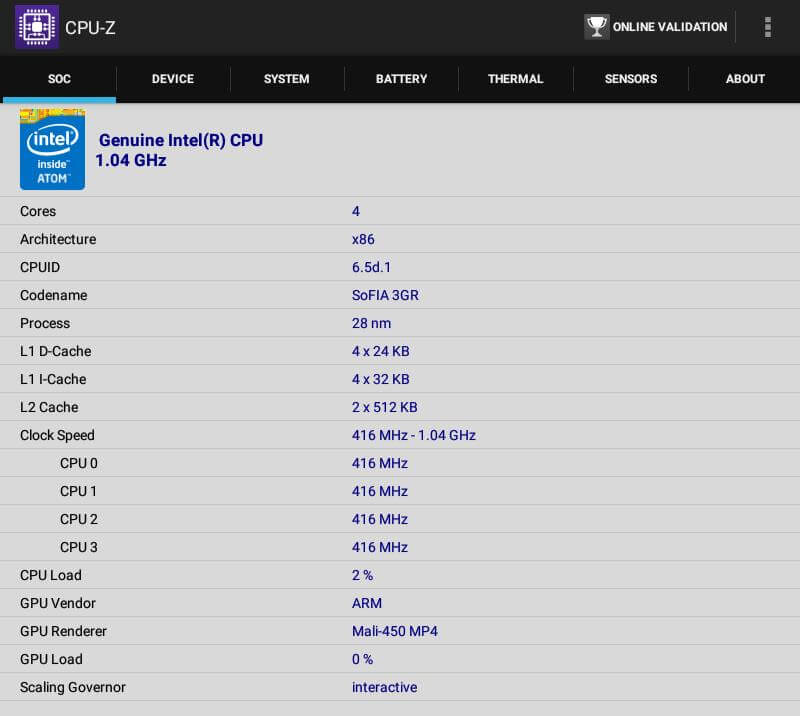 That is all 4 cores running at 416 MHz on idle.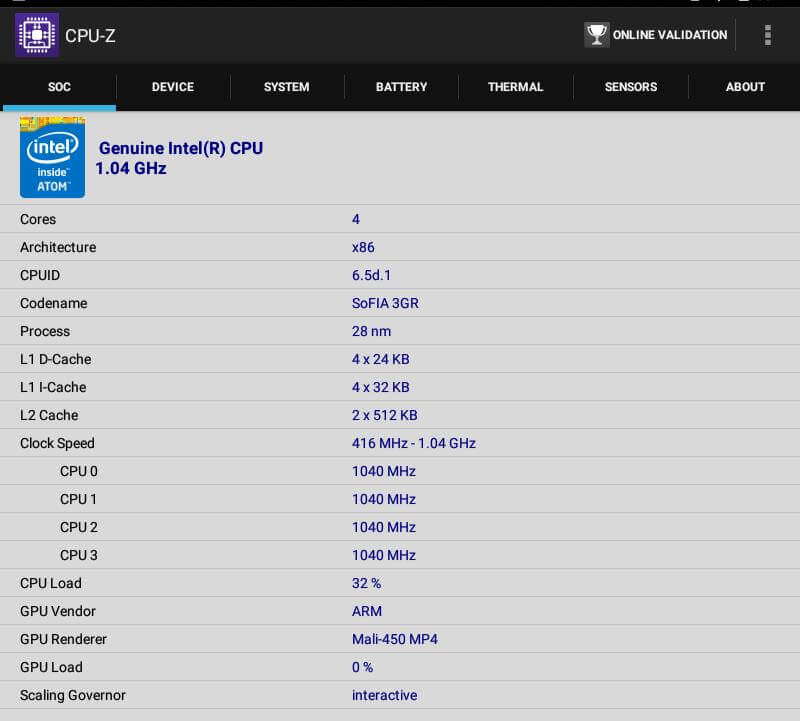 Now tapping the screen a few times we see the processor ramp up.
As I mentioned before, it does support 10 Point Multi-Touch, I verified using "multiTouch Tester" I downloaded off of the Google Play Store.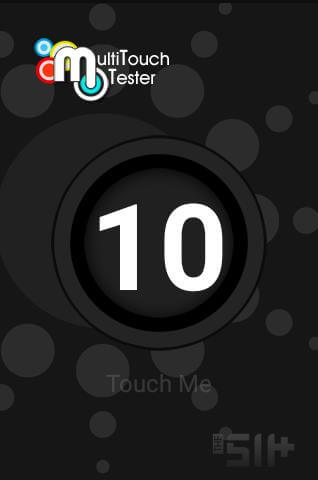 It does come with 1Gig of RAM and 16Gigs of FLASH storage space.  Though, there are a few things on that storage space as it is, but not much.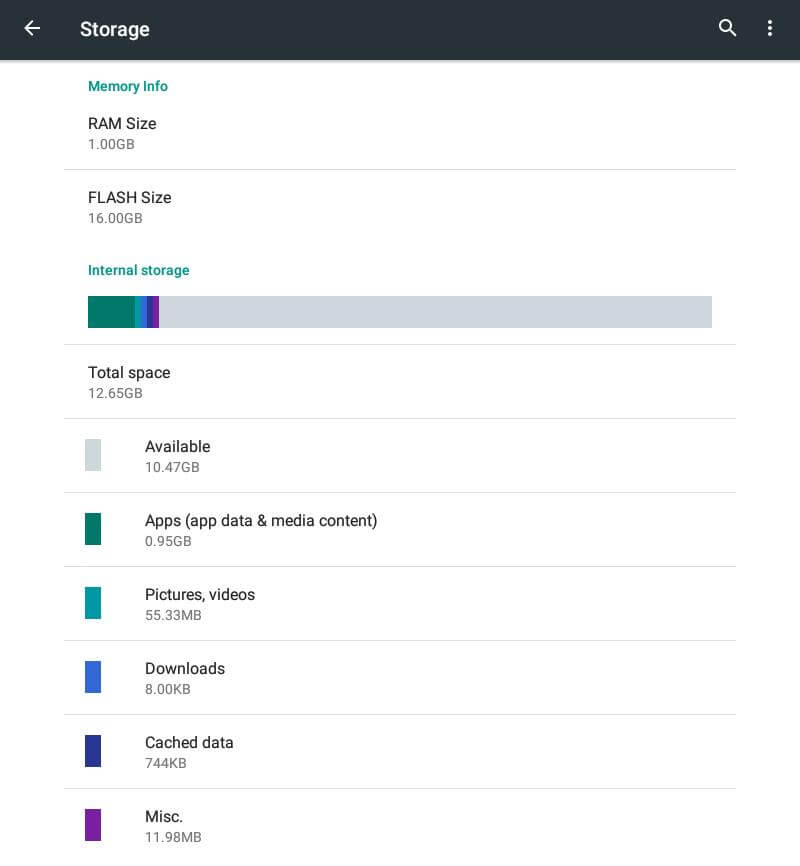 As it is you have almost 13Gigs free out of the box, so 3 gigs for the OS and basics.  Tablet Express does not fill the tablet with worthless OEM software, it's a fresh install of Android.  The tablet also has 1Gig of RAM.
Like most tablets this one does come with a Wireless N adapter supporting b/g/n but it does not have a 5 GHz band.  It also sports a Bluetooth 4.0 adapter.
As a gamer, it is important to mention this tablet does come with a Mali-450 MP4 GPU, while not the highest end GPU it is a pretty decent GPU. So with the CPU, RAM and GPU, let's see what this means for performance.
Let's start off the performance with the staple of performance, FutureMarks 3DMark.  First up is 3DMark's: Ice Storm

4668 is a decent score for a budget tablet.  Breaking the score down a bit, let's see how it was calculated.

Let's see what this tablet gets on Antutu, another staple on tablet performance.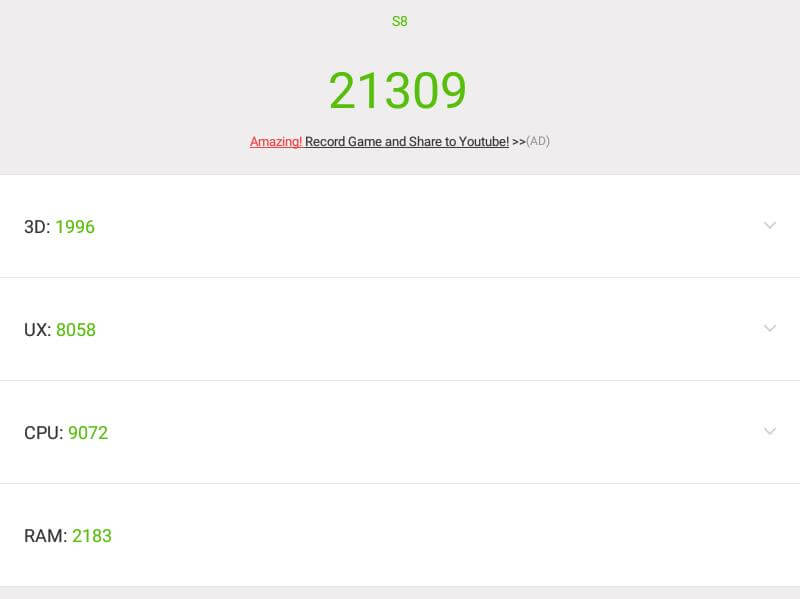 Breaking that down a bit again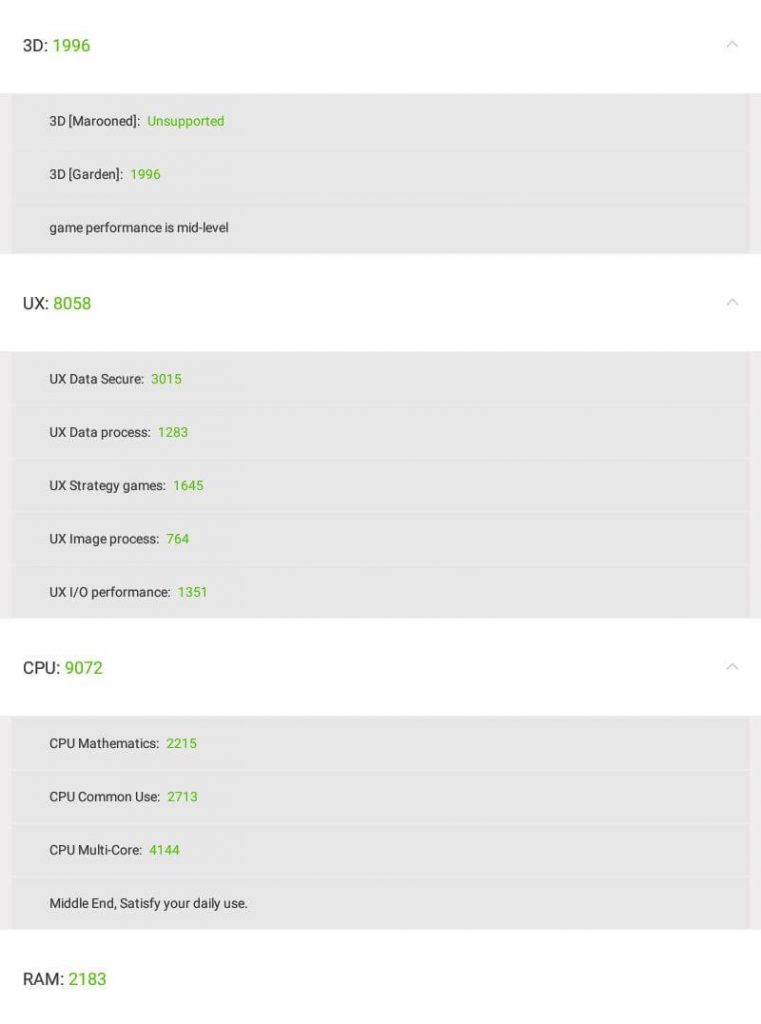 So gaming performance as per Antutu is mid-level on a budget tablet, that's pretty awesome.  Though you will notice it states that the "3D " test was unsupported, it plays games pretty well, but we will get into that a little later.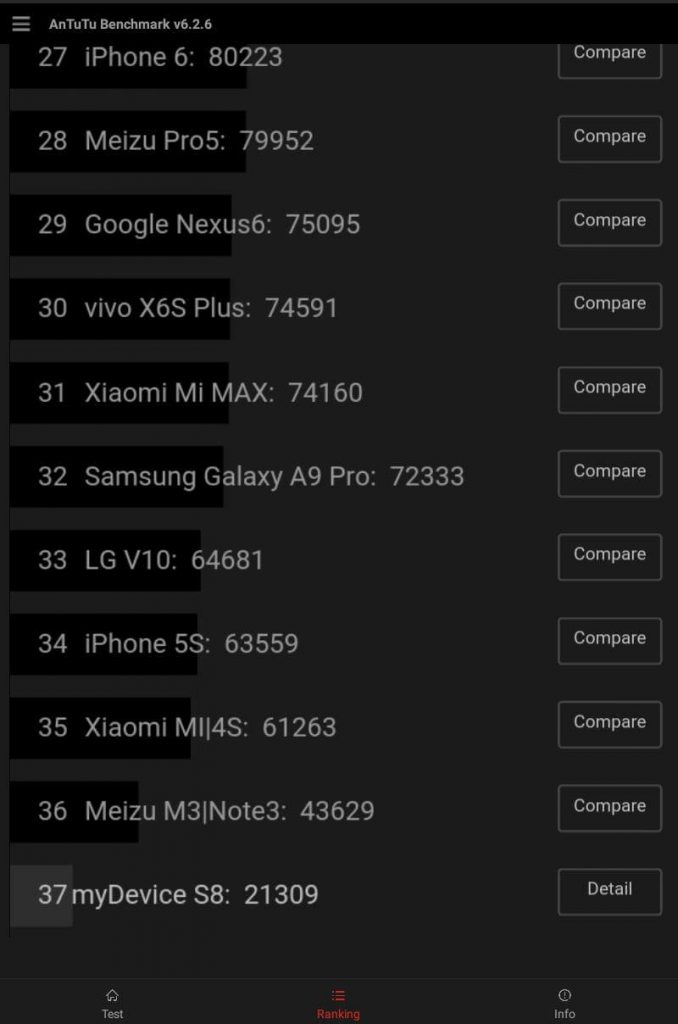 On its comparison chart, it performs half as well as the Meizu M3|Note3 which is a Quad Core tablet at 1.5Ghz, with 2GB of RAM and a 13 MegaPixel camera for more than double the price.  You can check it out here, CLICK HERE
One other thing to mention about the Meizu is that it is a phone with a tiny 5″ screen, and does not support an SD card  while the S8 has an 8″ screen and does support microSD cards.
The above was focused more on the GPU and CPU, now let's check out how everything works together here for overall system performance.  For this, we will use FutureMark's PCMark.


Like the rest of the scores, by far not the highest but nice performance for a budget tablet.
Benchmarks just show you raw numbers but they may not mean much to most without something to compare it to, so let's check out some gaming and some features.
So in that video I show you how to use Screencast through Miracast and WIDI and projecting on the big screen, I play for you Asphalt 8, Clash of Clans, Crisis Action and Final Fantasy Brave Exvius.  Here are some more games.
In that video I show you some gameplay with Hearthstone, Order & Chaos II, Starwars Galaxy of Heroes and Vain Glory.  These games of course don't just stress the CPU and GPU but I was also projecting the games on the big screen, that takes some performance.  Best of all, this was all done on battery.
Since that's being mentioned, battery life is very important on tablets,… they are portable of course.  PCMark actually has a test that benchmarks the Battery life of tablets, check out my results.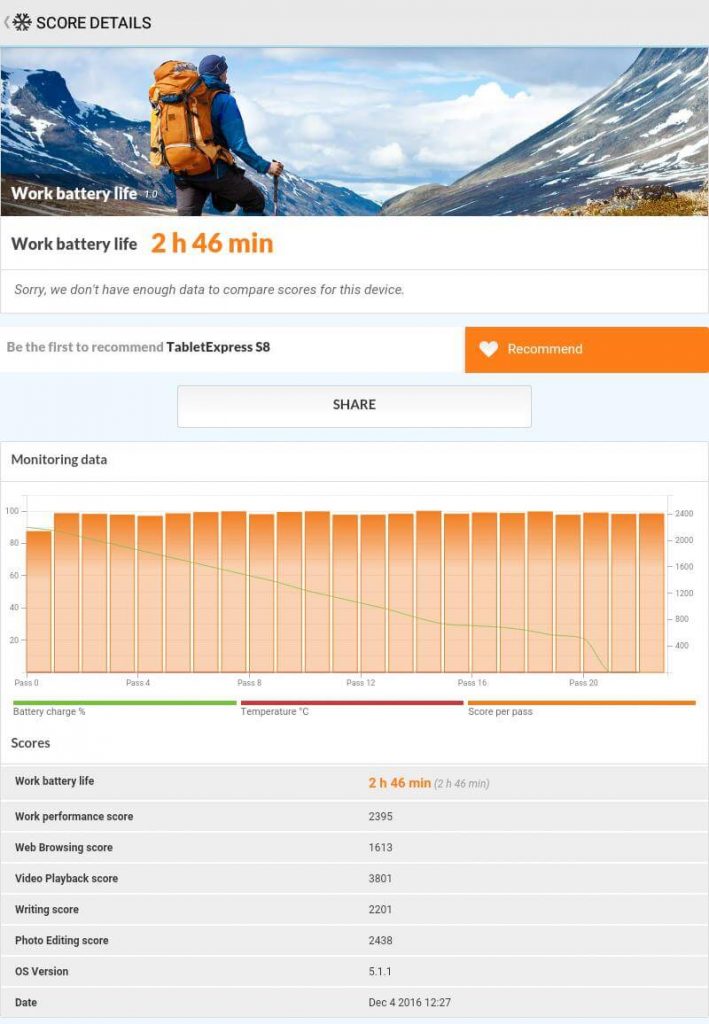 When manufactures tell you how long their batteries last, they mean with the screen on sitting idle.  PCMark runs a barrage of real work scenario's to give you a better idea of how long your battery will last.  These tests are web browsing, video play back, writing documents and video editing.  So with all that, the battery lasted 2 hours and 46 minutes and PCMark stops the test when there is 15% battery left, so it could have easily hit 3 hours.  The 3,600mAH battery kills it a bit.
During the test where I was using the projector, this was all done without charging the battery and I was working on the tablet for an hour or two trying to figure out an issue with Netflix.  It looks like Netflix will no longer allow screencasting from tablets.  It's worked before, so there must have been some sort of update that broke that, it didn't even work on my phone.  Aside from that, I ran a few other tests to show you some more features.
On that video I showed you how loud the speaker is, yes, it's a mono speaker.  For a mono speaker it is not too bad, but I also show you how it connects to my HAVIT HV-SK466BT Bluetooth speaker system, sounds good doesn't it?  One of the other features this tablet has is an FM Radio, a real FM Radio and the antenna is a 3.5mm connection, like that of a set of headphones or a cable like I used to connect the tablet to the Bluetooth speaker, you can even record from the FM Radio.
Half way though the video I play PokeMon XY and Young Justice through NetFlix to show you the video quality.  The display is 1280×800, so it's not amazing but it is decent for what it's worth.
Also, I wanted to show you the stand I used during the video's, it's a very affordable stand and pretty nice too.  It does not come with the tablet but I wanted to show it to you.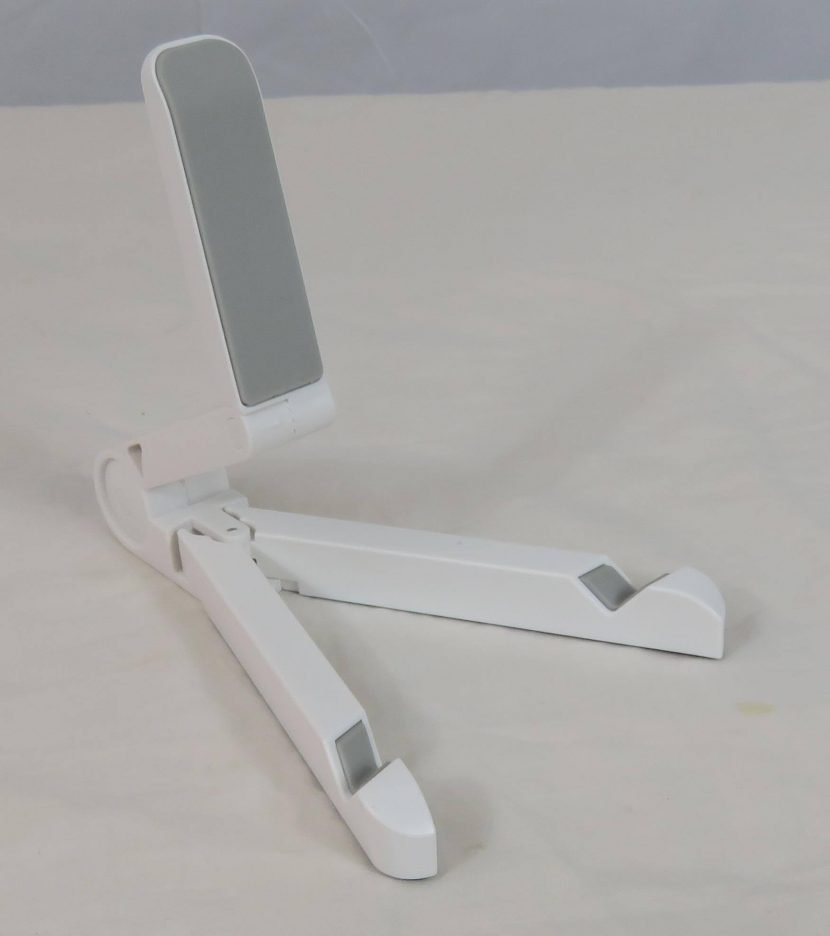 To show off the camera, I run Skype and have a chat with my son, Turns out I had the video on High, there is a low setting I found afterwards and it does video calling very smooth.
Talking about the camera's, check out how the rear camera takes pics.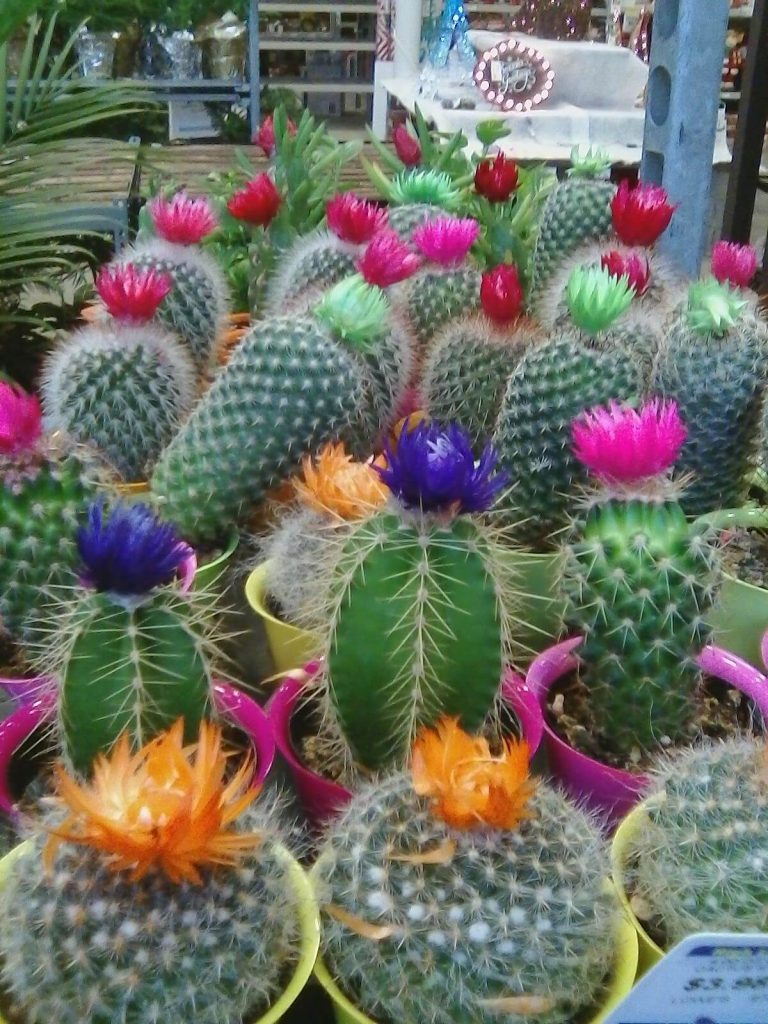 And this is how it looks like with the front camera, the one that usually faces you while you are using it.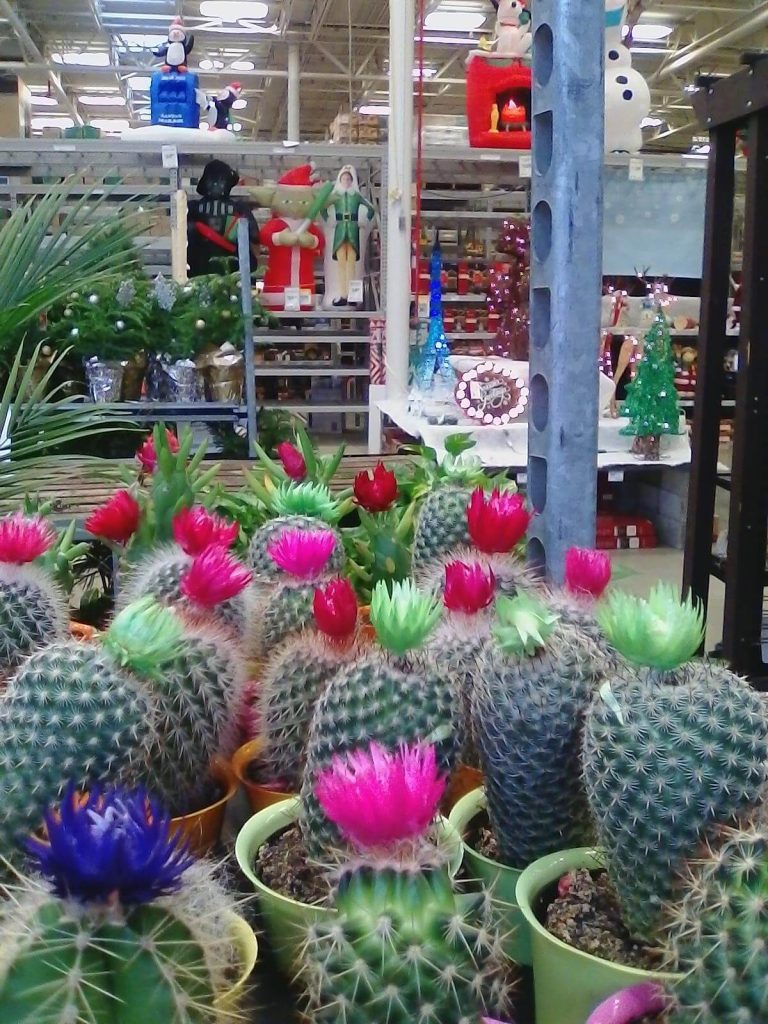 Its winter, so I had no flowers blooming and I wanted something to show off some vibrant colors, had to stop into a Lowes to grab these pics, not bad for a 2Megapixel camera right?
In mentioning the camera, I was reminded of the case.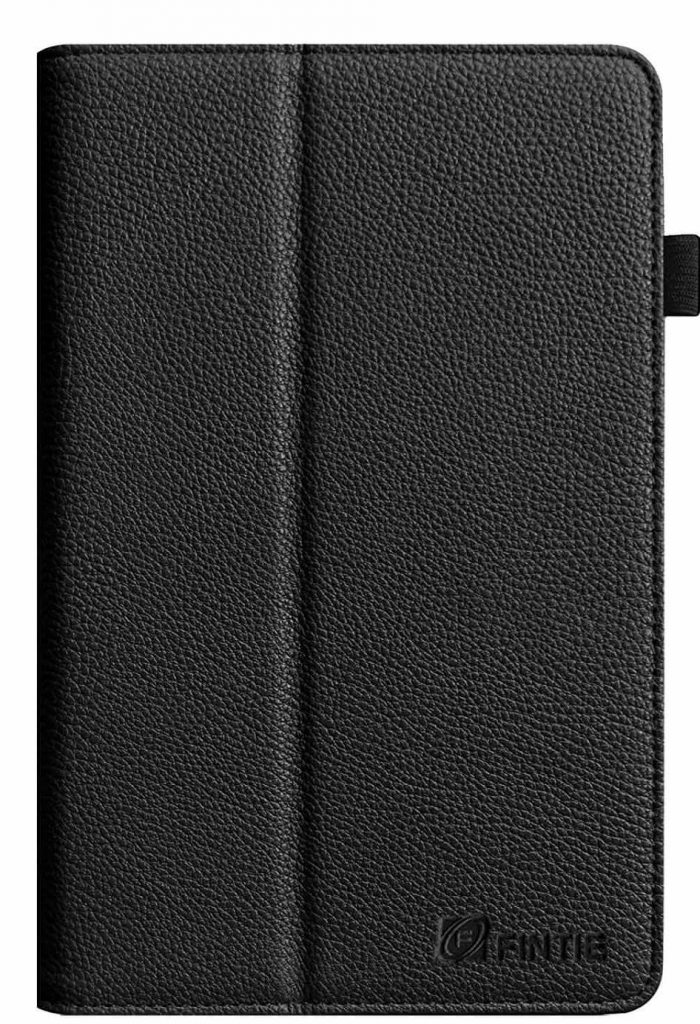 The Fintie Dragon Touch M8 Folio case and I know what you are thinking, the tablet is not an M8… but it has the same basic design as the M8.  At the moment Tablet Express does not have a case for the S8 but in the meantime this case does pretty well.  The downside though is the fact that the camera holes do not properly align, so if you wanted to take a picture you would need to remove the tablet, snap a pic and put it back.  Not an ideal situation, but a much better situation that having a broken tablet or scratching your screen.  To ease the pain a bit, the case also doubles as a stand.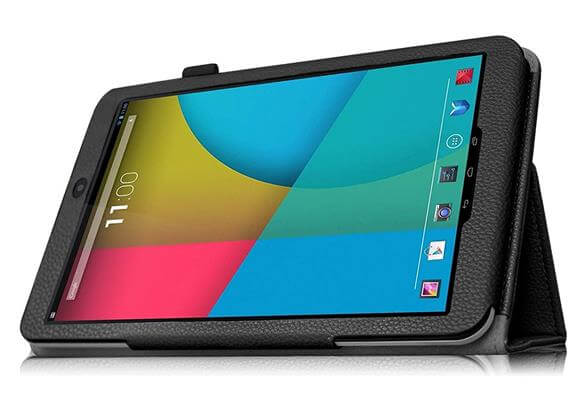 It does not come with the case, but it is a good add on and it relatively inexpensive.  You can wait till Tablet Express, Fintie or the likes creates a case… just tread lightly with the tablet.
The tablet comes installed with Android 5.1.1 sadly not Marshmallow yet, but Tablet Express states that they will release the update soon and when that is released I will create another video showing you guys how to update this tablet.
While we are on the topic of Android 5.1, sadly as well KingoRoot, one of the easier rooting pieces of software will not root this tablet.  Looking on the website I also found that Android 5.1 is not supported though I was able to root the X10 with Android 5.1.
On the next page I will gather my thoughts on this tablet, see if you agree with me.
Continue: Final Thoughts and Conclusions