We are influencers and brand affiliates.  This post contains affiliate links, most which go to Amazon and are Geo-Affiliate links to nearest Amazon store.
Everyone wants to get the right use of their hard-earned money. Whether you are out for dinner with your family, or on a hunt to shop some cool summer clothes, you want to get branded quality stuff within your range of budget. In the same ways for the pursuit of a laptop, you would like to use the same rule of thumb, finding the latest features equipped, quality laptop matching your purchasing power.
In the age we are living in, a convertible 2 in 1 laptop is considered the best and outshines traditional laptops in many ways. About every top brand is coming out with eye catching 2 in 1 laptop, as all brands have eyes on the latest trends.
Although you can have a good quality, superb-functioning laptop from $2000-$3000, the post is not for those laptops. In the post, we are going to make you familiarize with the top 2 in 1 laptop under $600 budget. These laptops, as I mentioned, are the latest trends and fills the bills for casual computing, you can carry them around, as they are light-weight.
I would have loved to describe the benefits of convertible 2 in 1 laptop over traditional laptops, but the post's length does not allow me to do so.
Let's discuss our core topic and cover our top picks, best 2 in1 laptops under 600 dollars.
1) Dell Inspiron 13 5000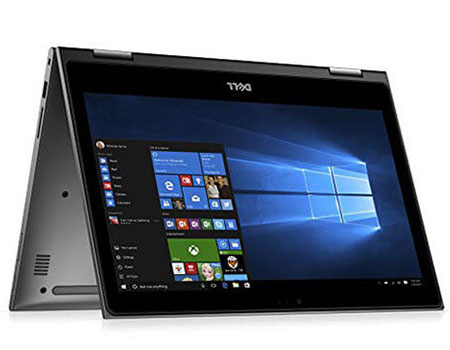 I must say, this is the laptop that I love to use for my personal computing. Though, the unit costs 50 bucks more than our actual price, these 50 bucks would not hurt you once you start using it. I will highly recommend shopping for this laptop in the budget mentioned; the laptop purchase would not let you down.
Dell's convertible 2 in 1 laptop features Intel's 8th generation core i5 processor. The processor is powerful enough to take care processing of any level without freezing or rendering. You can throw any amount of work at it without giving a second thought.
Not only the CPU, but Dell is very serious about the GPU of the model. With Intel UHD 620, you get smooth, undisturbed visual processing with the integrated graphics card. Though the level of the graphics card would not let you run video games, still, you handle entry-level video gaming over here.
As long as the storage section is concerned, the laptop is equipped with a 256GB SSD drive. The drive is faster in loading the latest files and lets you have boosted reading/writing results. With 8GB DDR4 RAM, the Inspiron 13 is promised to sky-rocket your multitasking and get you everything sorted out. The laptop comes with extra space to expand the memory size; you can have it extended up to 32GB, whenever you find it right.
The Dell Inspiron 13 comes with a 13.3 inches IPS panel's integrated FHD touchscreen laptop to display everything bright and vibrant. Though the screen features extra-large bezels, the excellent balance of brightness and wide viewing angles offers you a great visual display.
You know the level of the build quality of products produced and manufactured by one of the biggest laptop manufacturing company, Dell. The mentioned laptop has no exception; you get a pretty solid build, as though the body is of plastic, but sturdy plastic.
The weight of the laptop lies around 3.6lbs, which is reasonably portable in my view. The keyboard is backlit integrated, and you can use it for typing in low light conditions.
The battery of the laptop, on the other hand, has a good runtime. You can have it for low to the average type of works, not heavy tasks likes playing video games or running heavy apps.
2) Acer Spin 3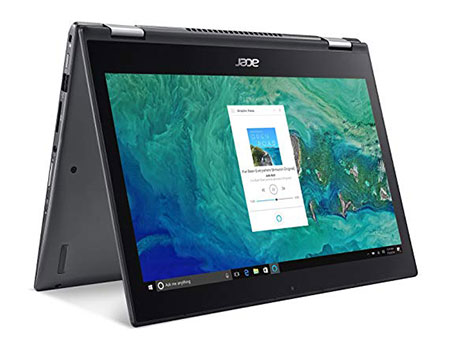 If you are after a 2 in 1 laptop with improved battery life, out of the box performance and top of all storage, do not run around and have your hands on Acer Spin 3.
The laptop renders incredible edge to edge FHD display with a touch-screen of the size 15.6 inches. The integrated IPS panels and wide viewing angles definitely improve your visual experience. The laptop boasts an elegant, slim and eye-catching look, and you will love to watch movies, play games and do your assignments on a bigger and clear screen.
The Acer Spin 3 comes with an Intel 7th generation core i5-7200U. The processing power of the laptop will let you have smooth, turbulence-free processing at sky-rocketing speed. With 256GB SSD storage, you got your hands on a pretty good-sized storage at the price mentioned. If in the future, you wish to extend the space and wanted to have 1TB HDD drive, the extra slot has already been given.
Moreover, 12 GB DDR4 dual-channels RAM is enough to take care of your multi-tasking. You can have more than one application running, without freezing, rendering or any other hiccup.
This is a 360-degree hinge 2 in 1 convertible laptop; you can have it used as a tablet as well as a traditional laptop. The laptop features a full-fledge backlit enabled keyboard to write down using the keyboard onboard.
The laptop is extremely lightweight, slim and designed to be carried around. The weight of the unit lies around 4.7 pounds, which is not that much compared to the other 2 in 1 convertible laptop.
As long as the battery department is concerned, the laptop can render performance for 8-hours for casual computing. If you are wished to play video games, or other heavy tasks, obviously, the battery run time will lower down.
In a nutshell, the laptop offers super-fast performance, checks all the boxes right in the configuration section, and renders impeccable performance in battery runtime as well. As guruverdict also says about this laptop that you cannot get a better laptop than this, under the mentioned budget.
3) Asus VivoBook Flip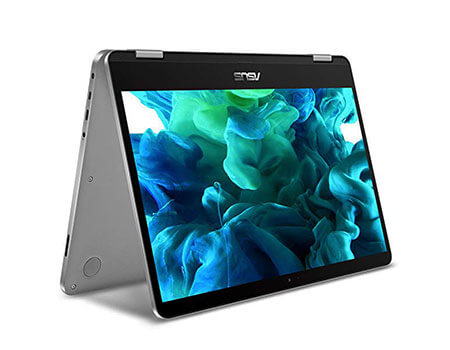 Asus VivoBook Flip is another affordable laptop to buy in 600 dollars. The laptop is a downright steal under the price bracket, and it would never let you down with its performance and quality. The laptop offers a 14-inch fully display, a large screen size compare to the other added on the list. The size of the display is considered good, particularly in 2 in 1 convertible laptop.
ASUS VivoBook Flip is powered with Intel Celeron N5000 Dual-Core Processor, which can give you clock speed up to 2.6 GHz.
The memory size is good enough to let you go process anything you desire. The VivoBook features a 4GB DDR4 RAM to skyrocket your multi-tasking and never freeze when you open dozens of tabs simultaneously.
Though, the added 64GB eMMC storage is not enough and does not fill the bill for even casual computing. Still, with an integrated SD card, you can have an abundance of space, and add the desired size of storage to your laptop. The laptop offers SD Card reader port, do not worry you will have a good size of storage option to store your files and folder without any issue.
The 14-inches FHD touchscreen with integrated IPS panels and Nano Edge wide viewing angles optimize the beast for entertainment stuff. You will enjoy watching your favorite movies, serial, games and much more in the row.
To note down anything comes to your mind anytime, the brand has given you an ASUS Stylus pen which helps you anything you desire on the screen. The screen has an amazing level of sensitivity, will react even with a slight tap.
The VivoBook weighs 3.3 pounds, a fairly portable laptop you are going to have, can have it around while traveling. As long as the battery section is worried, you are going to get 4 long consecutive hours battery runtime, not bad at all.
4) Newest ASUS 14.0-inch 2-in-1 touchscreen laptop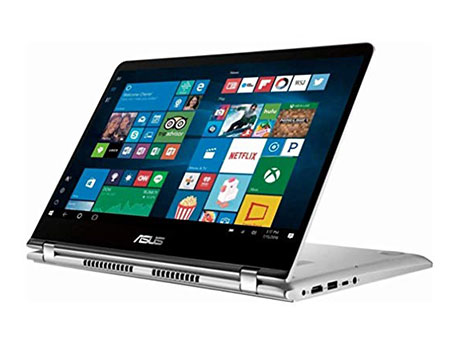 With ASUS's newest entry, you get a pretty amazing laptop under the 600 dollars price bracket. The screen size of the laptop is 14-inches, another 14-inches entry on the list.
The sober-looking latest model has a solid appearance with a plastic casing to keep the model safe. It's the bottom case and back of the display lids are silver-grey, the black textured keyboard with silver-grey back of the display offers amazing contrast.
The laptop boasts 14-inches FHD touchscreen with IPS panels integrated. Though the display reviews are unimpressive and you will have to manage the average brightness level with the model. The resolution size as per the brand claims is 1,920×1,080 pixels.
The newest ASUS laptop is powered with an 8th generation Intel core i5-8250U processor with a clock speed of 3.4 GHz. The processor is enough powerful to take heavy loads processing and renders seamless performance with zero delays. The laptop has enough power to run office applications, surf web, play entry-level games and do much more.
With the laptop, you also get an integrated graphics card 520 which ensures your apps run without any turbulence.
Furthermore, you get your hands on 8GB SDRAM and 1TB HDD storage. Both the memories make you have a seamless computing experience in drawing, editing, navigating and other chores related to your studies.
Though the brand claims the laptop can run entry-level games with HD quality, the configuration laptop come equipped with does not support the statement.
As long as the battery department is talked, the laptop is equipped with a strong battery which can help you go through any level of the job for at least 5-hours.
5) Lenovo Flex 14 2-in-1 Laptop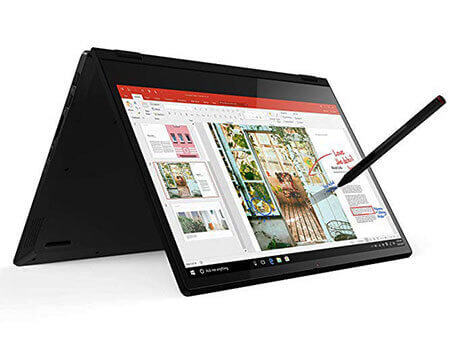 Lenovo Flex 14 is another incredible machine on the list of top best convertible 2 in 1 laptop under the budget bracket of 600 bucks. The laptop hits the right chord and great in overall computing experience, worth mentioning under the category.
Talking about the design and build, you know Lenovo; the brand stands heads and shoulders above the rest when it comes to building quality. The laptop is entirely made of aluminum, and from the looks, you feel it like a premium laptop that could not be purchased under the budget in hands.
The laptop houses a 14-inches Full HD touchscreen resolution along with wide viewing angles and IPS panels. The hinges provide conversion; you can convert it anytime into a tablet or a traditional laptop.
The laptop has a standard 720P webcam, and a microphone, with amazing video calling experience on Skype.
Talking about the configurations of the laptop, the machine is powered with AMD Ryzen 5 3500U Quad-Core processor with Turbo Speed up to 3.7 GHz. The kind of processor laptop houses can get you to go through any load of processing. With 8GB of added RAM in it, you will have a smooth computing experience with zero delays and turbulence.
The laptop is also well managed with 256GB SSD storage the storage is fast and provides a decent amount of storage space. You can save heavy files and will not have to look upon your space while saving files you need.
As per the battery run time is talked, the laptop can provide power for at least 8-hours, kind of good range of battery runtime at the price and configuration on-board. The laptop runs Windows 10 operating system with all bells and whistles.
The laptop is portable, with 3.3 pounds of weight, you will not feel the weight of it at all, can carry it around.
So, if you are looking for a powerful, versatile 2 in 1 laptop, Lenovo Flex 14 is one of the best laptops under the $600 price bracket.
Related: Best laptops For Students
Conclusion:
In the end, we can assure you that, all enlisted laptops are amazing and one can pick any of them to get the best replica of their money. All laptops as per the price are concerned, come equipped with a good range of configuration, functionality, and portability. All of them can be converted and used as a tab or a laptop, renders freedom you are looking for.
I think the guide will help you choose the best machine as per your budget needs and other requirements. Do not rush, take your time, and check the laptop which falls right on your criterion. Do not fall for ascetics, rather keep in mind your work requirements and type of work.
We are influencers and brand affiliates.  This post contains affiliate links, most which go to Amazon and are Geo-Affiliate links to nearest Amazon store.
I am interested in all things technology, especially automation, robotics and tech that helps change how society will live in the future.