Final Thoughts and Conclusion
Everyone is making chairs just to get their name into the segment, all with the same basic racing theme, but none is more fitting to have a racing theme than Maingear.  There are tons of highlights on this chair and only a few downfalls.  Let's get into the Pros and Cons and see what this is all about.
Pros
Synthetic Suede and Leatherette and are easy to clean
Seat and back rest are so very comfortable
Micro fleece Head and Lumbar Pillow are very cushy and feel nice
4D Adjustable Arm Rest adds to the comfort
A sturdy 165° Recline
Package includes everything needed to build the chair
High quality components
Aluminum Allow Base
Rocking mechanism actually works
Can hold a decent amount of weight
5 Year Warranty that is VERY convenient.
Cons
Stitching is not all around the seat, the rear sides are zippers with no head
Headrest pillow feels like an afterthought, does not hold well on to the backrest
Lumbar Pillow does not have a means to attach to the chair.
Let's break down the Pros and Cons a bit.
I mention the Suede and Leatherette material because they feel great against your skin, don't make you sweat and are easy to clean.  The comfort level is tops to any seat I have reviewed previously.  At my day job, I am an IT Manager and I sit mostly all day while I remote into peoples machines or servers and switches, unless I have to go help with some machines, the network or other such things and I have a cushy office chair.  The office chair is great for a while, but then starts to flatten, this has not happened as of yet with the Maingear and shows no sign of potential for it.
The Micro fleece headrest and lumbar pillow are so very cushy and comfortable but the problem is they don't feel like they belong.  The headrest pillow does not stay fitted to the backrest, it could be because of my height (I am 5'6) which means that in order for it to stay strapped in better, you would need to be a little shorter.  I ended up removing this pillow.
The lumbar pillow feels great when it is propped up where you want it to be, but don't move because you will have to adjust it again.  There are no straps or ways to keep it where you want it, it is a free-floating pillow.  Not completely a bad thing, because it literally means you can put it where ever you like but I found myself removing this pillow as well.
I am a big guy, so not only do the cushions on the seats really mater, the sturdiness is also a biggy.  The aluminum base is really important because it adds to that sturdiness and the fact that it can hold up to 330 pounds, I am 265. The 165° recline actually lets you recline in it and lay down if you wanted too, I did not feel like I was going to fall down, the weight is distributed evenly across the seat and base.   The chrome look and racing stripe just make it sexy.
The 4D arm rest for some can be a big thing, the main part I liked about it was the fact that you are able to adjust the height.  I like to sit in a chair and have my elbows touch the arm rest and my arms laying on it without having to arch my back, or sit oddly, I can adjust it just the way I like.  The forward, side to side and twisting are not for me, but they may be for you, it's all about you here and Maingear gets that.
The cons to me, are not big issues since I don't see myself needing to add more cushion to this seat.  The headrest and lumbar pillow, while comfy, I don't use them in any of my chairs.  I use them at first but then I feel like they get in my way, but they may be important to you.  What do you think, if you already have a Gaming chair, do you find these pillows comfortable and use them or do they just get in the way?
With all the said, I am proud to give the Maingear Forma R Gaming Chair, Dragonbloggers 9.5 Editors Choice award.  Awesome job Maingear, I can't wait to see what's next.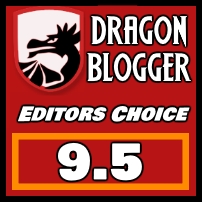 I sit in chairs all day long, at work, at lunch, driving to and from work then when I get home and write these reviews and test, sometimes I find time to game too.  My main review area now has the Maingear Forma R gaming chair and my other area has the E-win chair I reviewed previously… I don't like to go over there much anymore, haha.  The E-win is nice, but the difference is almost night and day and to think, to me the E-win was the most comfortable chair out of the bunch.
Let me go over a detailed comparison between the two in this video and why the Maingear took the crown.
I almost forget to mention this, and this is HUGE.  Maingear's warranty is an unheard of 5 years.  Anything goes wrong with the chair, you call Maingear and they take care of you, but it gets better.  If you have a Micro Center near you, you can go in and check them out in person.  Now the problem is, and it's not Maingear fault (and it could be my local Micro Center) is that all of the chairs, not only Maingear chairs are not out for you to sit on, but they are on display but they do have a 30-day return policy in case you don't like it you can bring it back.
So you can get the Maingear Forma R at www.maingear.com, a local Micro Center (or online) and also at Amazon, so they made it easy for you.  The warranty also allows you to take it to a Micro Center and return it there, if they have it in stock and if they don't you can have them ship the chair to your home or pick it up once it arrives.  The same goes for the accessories, including the pillows, VERY convenient.  It might be easier to call them first of course.
You can check out the Forma Series here at Maingear: https://maingear.com/custom/gaming-chairs/forma/index.php
You can also find them here at Micro Center: https://www.microcenter.com/search/search_results.aspx?Ntt=maingear+forma
Lastly, you can also find the Maingear Forma R Limited Edition here on Amazon: http://geni.us/LOU6
[P_REVIEW post_id=1082115 visual='full']