We are influencers and brand affiliates.  This post contains affiliate links, most which go to Amazon and are Geo-Affiliate links to nearest Amazon store.
We all want a bigger and better monitor and sometimes a standard monitor just can't fit the bill.  You're unlike the rest, and don't want to be held back by plastic frames, and I don't blame you but what can you do?  Well, you can get something along the lines of Brilens LS1280 Laser DLP Projector.  So let's check out some of the specs first.
Features and Specs
Laser and LED Hybrid Projection System

3 Lenses

OSRAM Laser Texas Instruments 0.45" DLP
2 x LED Hybrid Lamp
Manual Focus

50,000:1 Contrast Ratio
Native Resolution: 1280×800 HD 720P
Aspect Ratio: 16:10 WXGA
DLP Display Technology
3800 Lumens
Supported Video Modes: 480p, 480i , 575i, 720p, 1080i, 1080p
3D Modes: 3D Ready Shutter

Includes a pair of 3D Shutter Glasses

Throw Distance between 4 and 40 feet
Image Size between 25.1 and 301.1 inches
Input/Output Support

2 x HDMI
Ethernet
WIFI
WIDI
Miracast
Audio Out/Audio In
CVBS
TF
2 x USB 2.0
VGA
Supports a battery but brings a 150Watt Power brick
Supports security through Kensington Security Lock Slot

Supports 23 Different Languages for the Menu
1 year warranty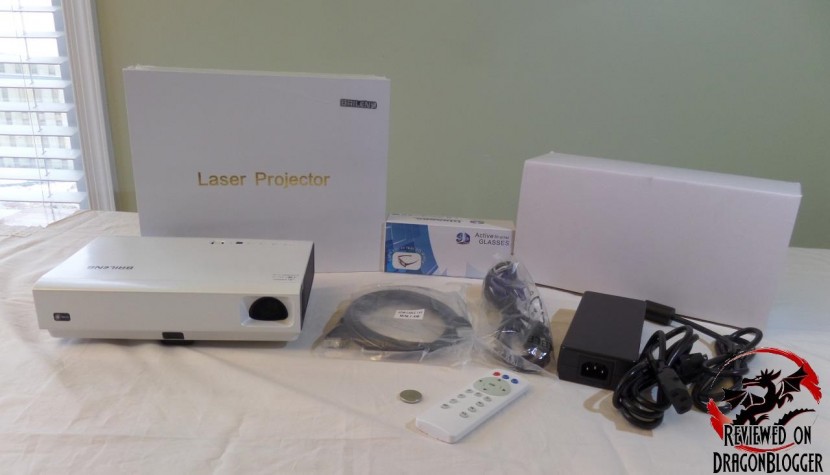 A bunch of stuff included in this package, so let's take a look at an unboxing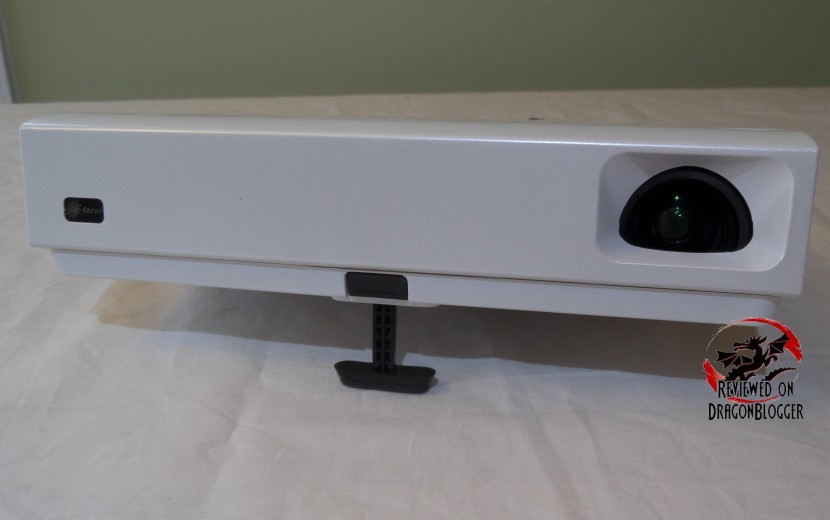 OK, so this looks cool and everything and includes some very nice things that many, if not most would like.  This includes an HDMI cable, a VGA cable, 3D Shutter lenses with wipes to clean it and even a little pouch to carry them around, but where are the videos?  Check out this next video to help you get a better understanding of how this works with a few pieces of media.
That looks pretty sweet huh, pretty quiet too and all while keeping the heat low.  You can really see how the 3800 lumens bulb comes into play, super bright even when there is a little sunlight, you will see a little more about that later.  The menu has a TON of features and even allows you to change how the projector displays, hanging from the ceiling, from behind the projector screen and of course from the front.  Keystone configuration, manual or Auto and even 3D display using the 3D shutter lenses they included in the package.  It can support updates as well, which is nice if they come out with some new or updated features.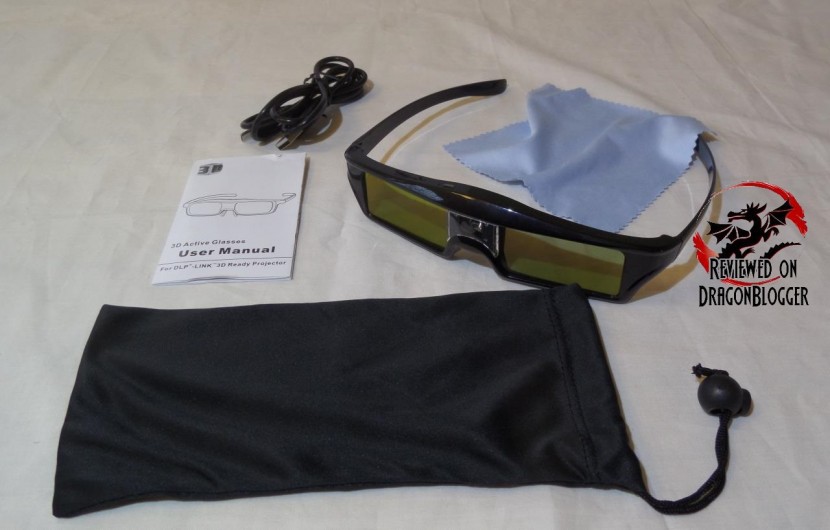 If you noticed in the video, I played a movie I ripped into MP4 and it played it with no problem.  It turned out that the projector did have a built in speaker, not a very high quality speaker but still not bad.  The movie was played off of a thumb drive plugged into 1 of 2 USB ports but I also played on my Playstation 4 through HDMI and also used a set of my Creative Roar speakers through the AUX in just to amplify the speakers a ton more over the included speaker.  Of course you can plug in just about any console through one of its many input methods, check it out.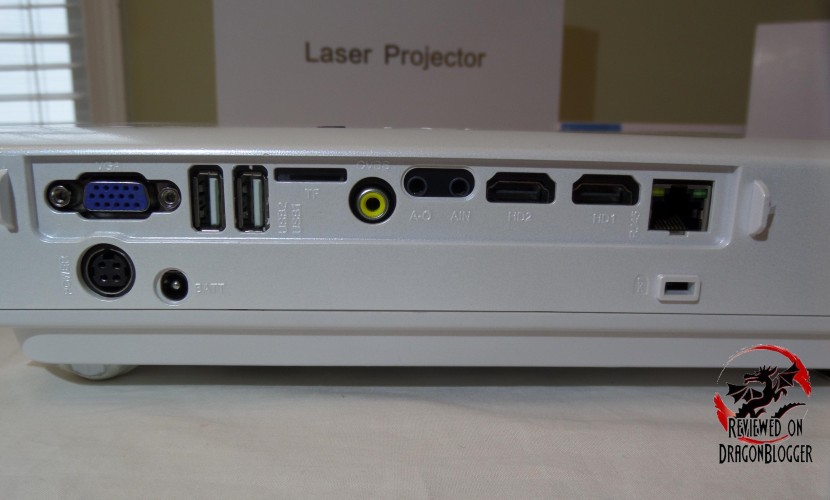 That was through HDMI and I won't bother you with VGA but on this video below I show you how Spider-Man plays on a 104 inch screen.
I didn't hit the full 104 inches because the movie was not a Wide Screen movie, but it's about 80 or 90 inches so it gives you a good idea of how it would look, though I had a lot of light coming through those windows and there you could see where that 3800 lumens came into play again, that was very powerful..  I also give you a little example of how WIDI works.  Seems like there was a bit of a lag between the Notebook and the Projector through WIDI, but the audio passed at the same time as the display so there was no issue there.
Some of you didn't like 50 inches but liked the 104 but there are some of you that want just a bit more.  It's hard to find something that could play 200 inches much less a clear wall that large, but I think this might work for you.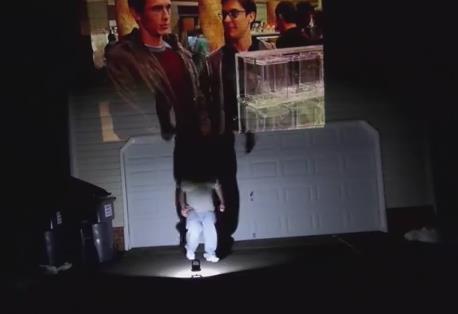 So that was 200 inches there, I would say a little larger than 200 inches.  200 inches was the size of the garage door on the side of my house, this was larger than my garage in height and it also could have been in width.  Yeah, the closest thing I would find was the side of my house, and yeah, I am that neighbor.  Some of my neighbors drove by looking at me as if I was in need of special care, I am used to that.  I also stood by the projected image so that you can compare, and you can see that it was much bigger than I am so that is very cool, not that I am incredibly tall or anything.  This is great for when there's a game on TV (Football, Soccer, Baseball, Basketball, Hockey, whatever) and you want a ton of friends to come over, you can invite them all and they would all have a great seat.
The projector through the menu has a ton of features, that of course you will need the remote to scour through so of course they included a remote and the battery.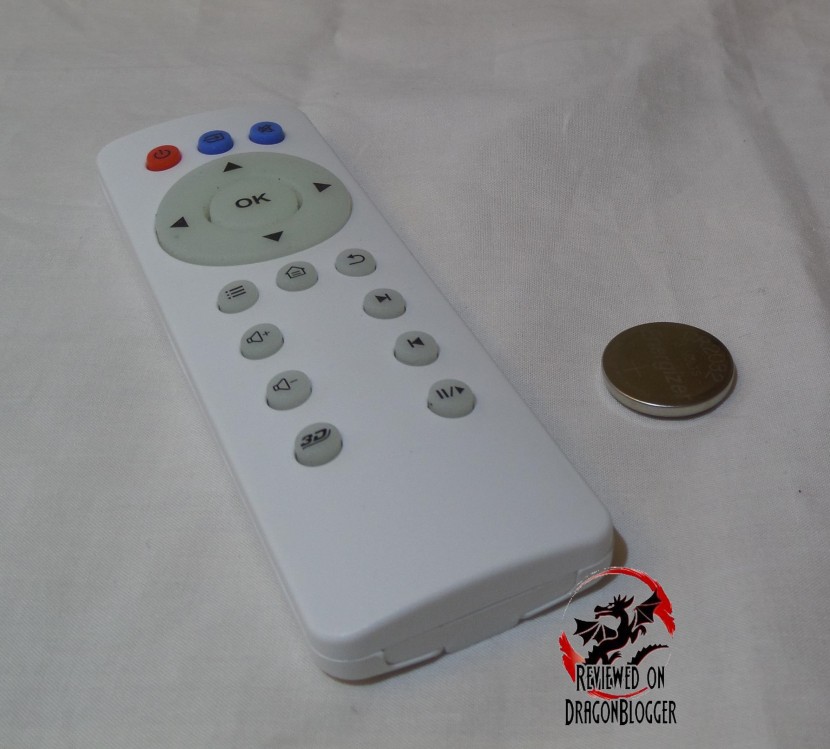 I will say though that since this is an IR remote, it relies on direct line of sight and you cannot get too far, but that's not a horrible thing.
What if you lost the remote though? If you did lose the remote, which happens all of the time, you are not stuck with an expensive paper weight.  You can access all of the features of the LS1280 through the controls on top of the projector, so you are good.

Also, in case the auto focus doesn't work, you can manually focus using the slider on the side of the projector.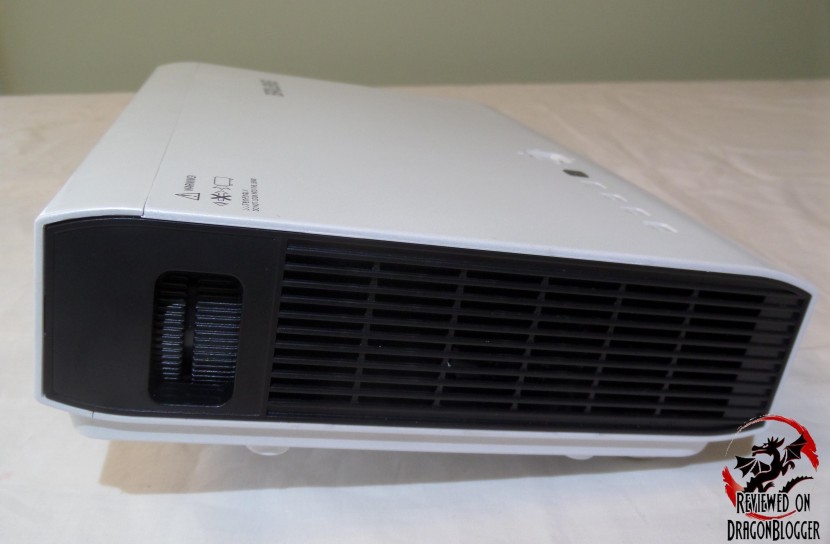 This is a 5.5pound projector, so it is very light, very quiet and is powered through this power brick.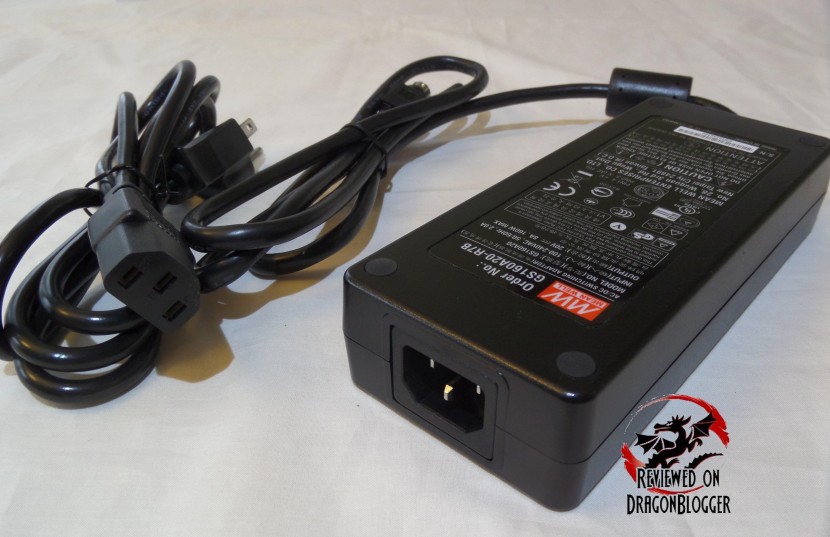 I mentioned the weight though so that you understood it was very light, but what's light without a battery and no projector has a battery, but you are wrong.  This projector is portable and while it does not include a battery (I chatted with them for a few days to get this perfectly clear) you can purchase one separately.  I would have photographed it, but it was not included for me to review.  The back of this unit provides a port to plug an external power source as well, which is an awesome feature.
With a battery or a different way to plug it in aside from in your home, you can take this anywhere and use just about any type of way of getting media into it, a great design.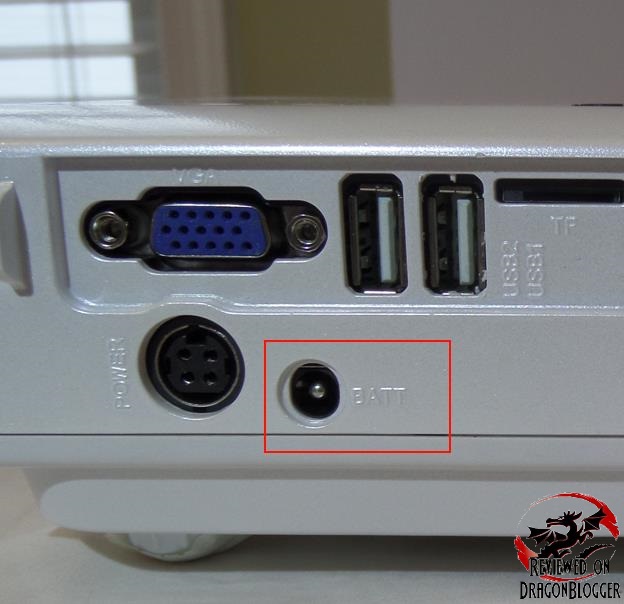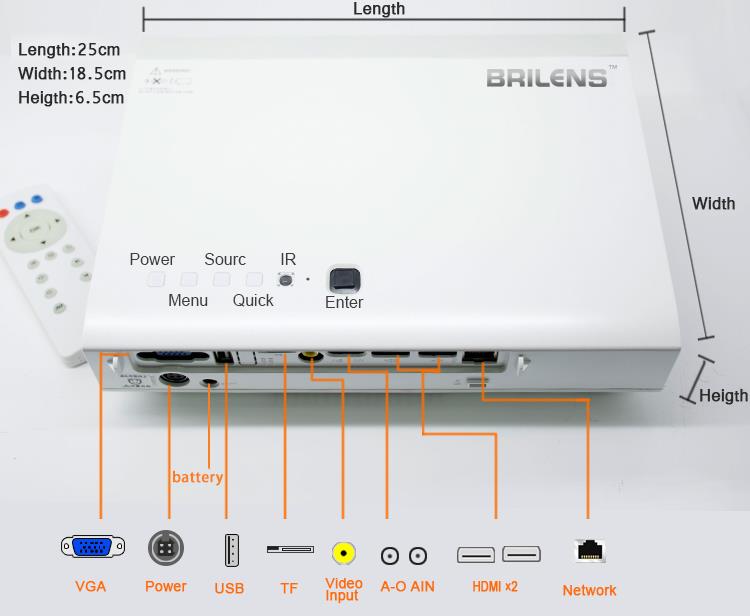 Here is one of their stock images, just so that you get a better understanding of the measurements.
So that's about it, the LS1280 has a ton of features.
11 different input methods

2 x USB, TF, CVBS, AIN, 2 x HDMI, Ethernet, WIDI, Miracast, WIFI

Very light weight
Super powerful 38000 lumens
Very long lamp life 50,000 hours (more than some TV's)
HUGE Display possibilities
3D Display and includes the glass
Optional Battery pack, so it is portable
This came very close to getting a 5 out of 5, but it needs to include the battery pack, I don't think it would have hurt the price to include the battery pack, but still a great deal.
So what do you guys think about this projector?
You can also check them out at their official site http://www.brilens.com/
We are influencers and brand affiliates.  This post contains affiliate links, most which go to Amazon and are Geo-Affiliate links to nearest Amazon store.
I have spent many years in the PC boutique name space as Product Development Engineer for Alienware and later Dell through Alienware's acquisition and finally Velocity Micro. During these years I spent my time developing new configurations, products and technologies with companies such as AMD, Asus, Intel, Microsoft, NVIDIA and more. The Arts, Gaming, New & Old technologies drive my interests and passion. Now as my day job, I am an IT Manager but doing reviews on my time and my dime.