Drive Comparison
So that you have it for reference, here are the results of the 500 Gig WD Blue drive, I reviewed previously, you can click here to check out the review.  The drive by itself is a pretty decent drive, not the fastest, but comparatively on price, it is a great option.  Comparing it to an NVMe drive,… well that might be a different story.
I will not go into detail of the 500 Gig WD Blue drives results as I did in this review, but I will compare them.  Let's start off with ATTO.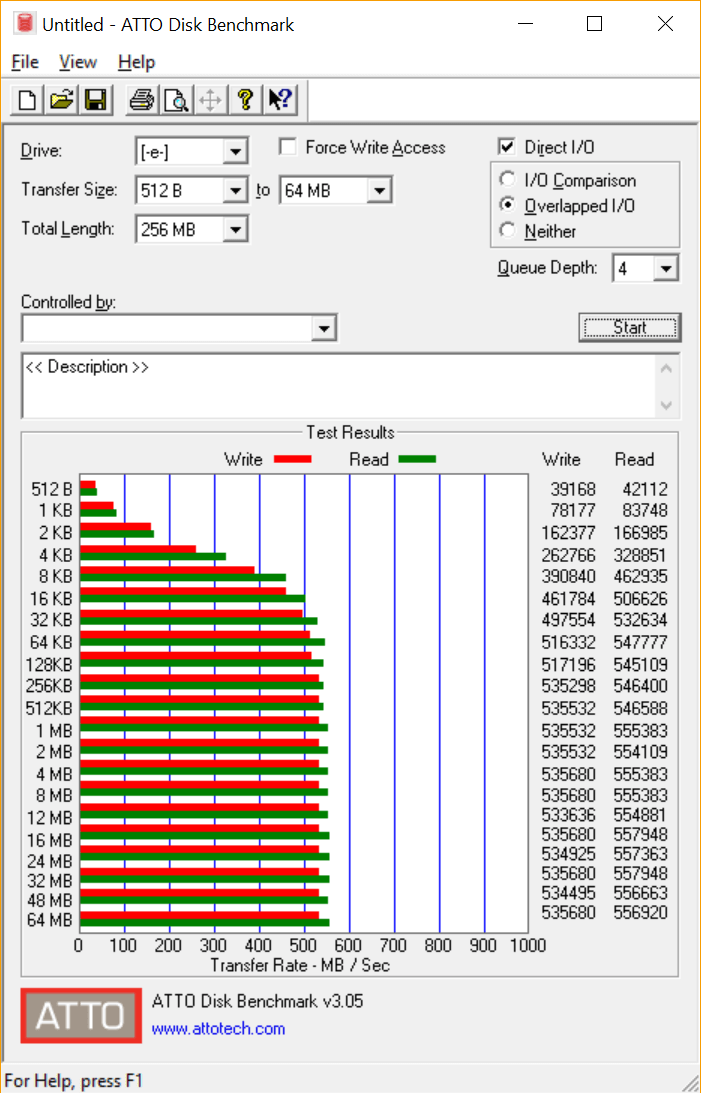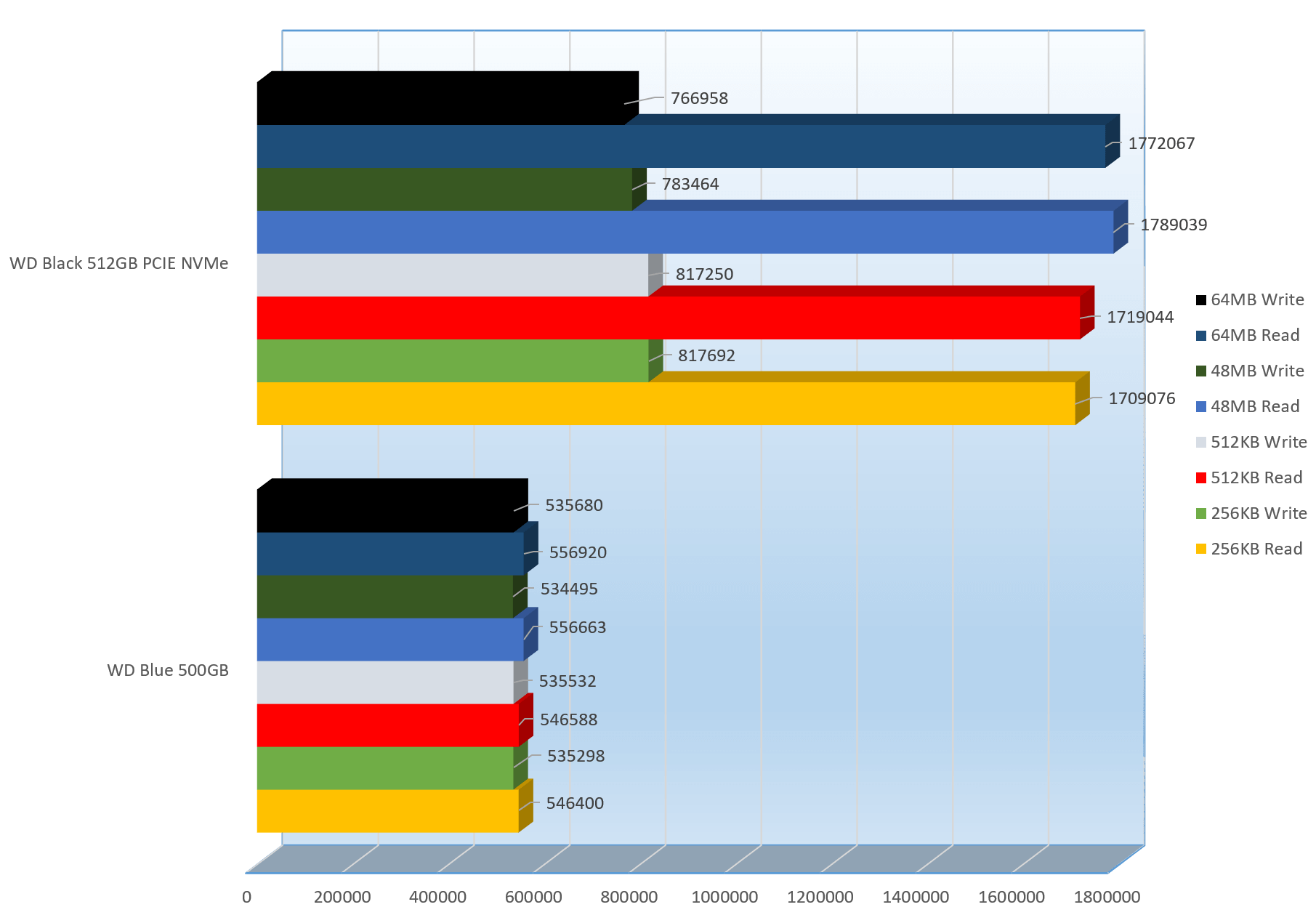 To keep a good comparison, I tried to pull the parts of the benchmark that had the best results for everything, and well,… the WD Blue 500GB shows that in fact it is not an NVMe drive, but we all knew that.  I stated that to show you that an NVMe drive brings so much more to the table in performance.
On 256KB read, the NVMe drive performed 68.03% better, more than double the performance.  On 256 Write, the NVMe had a performance increase of 34.54%.  512KB read, again the NVMe trumps the Blue by 68.20% and on 512KB again it performs higher at 34.47%.
Kicking it up a notch, we come to 48MB.  At 48MB Read, the performance again is in favor of the NVMe drive, performing 68.88% better.  At write, the NVMe comes ahead by 31.78%.
At 64MB read, the NVMe towers above the Blue by 68.57% and on write by 30.16%.  It kind of feels like when a 6th grader picks a play fight with a kindergartner.  The 6th grader is of course much taller and stronger and does not want to fight the kindergartner and pulls out his hand and puts it over the smaller foes head while the little guy swings with all his might, not landing a single punch, but he did try hard.  The comparison is very similar.
The NVMe drive is a better class drive and has so much more performance, but the WD Blue SSD keeps pushing ahead no matter what.
OK, enough with all of the bullying, we do not tolerate it but let's move on to CrystalDiskMark performance differences.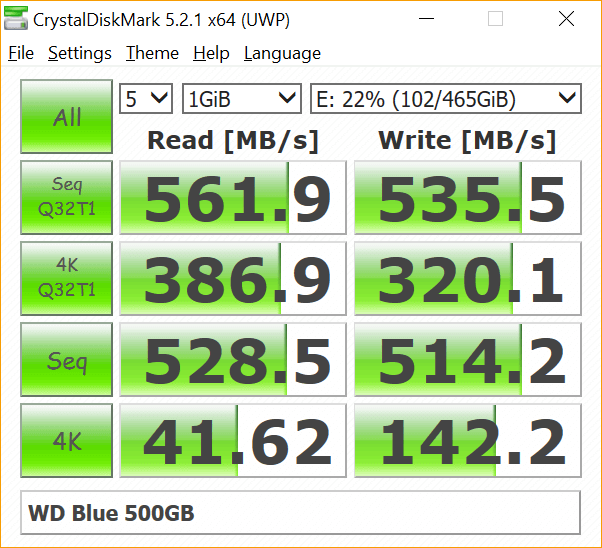 Again, pasting the WD Blue results here for reference.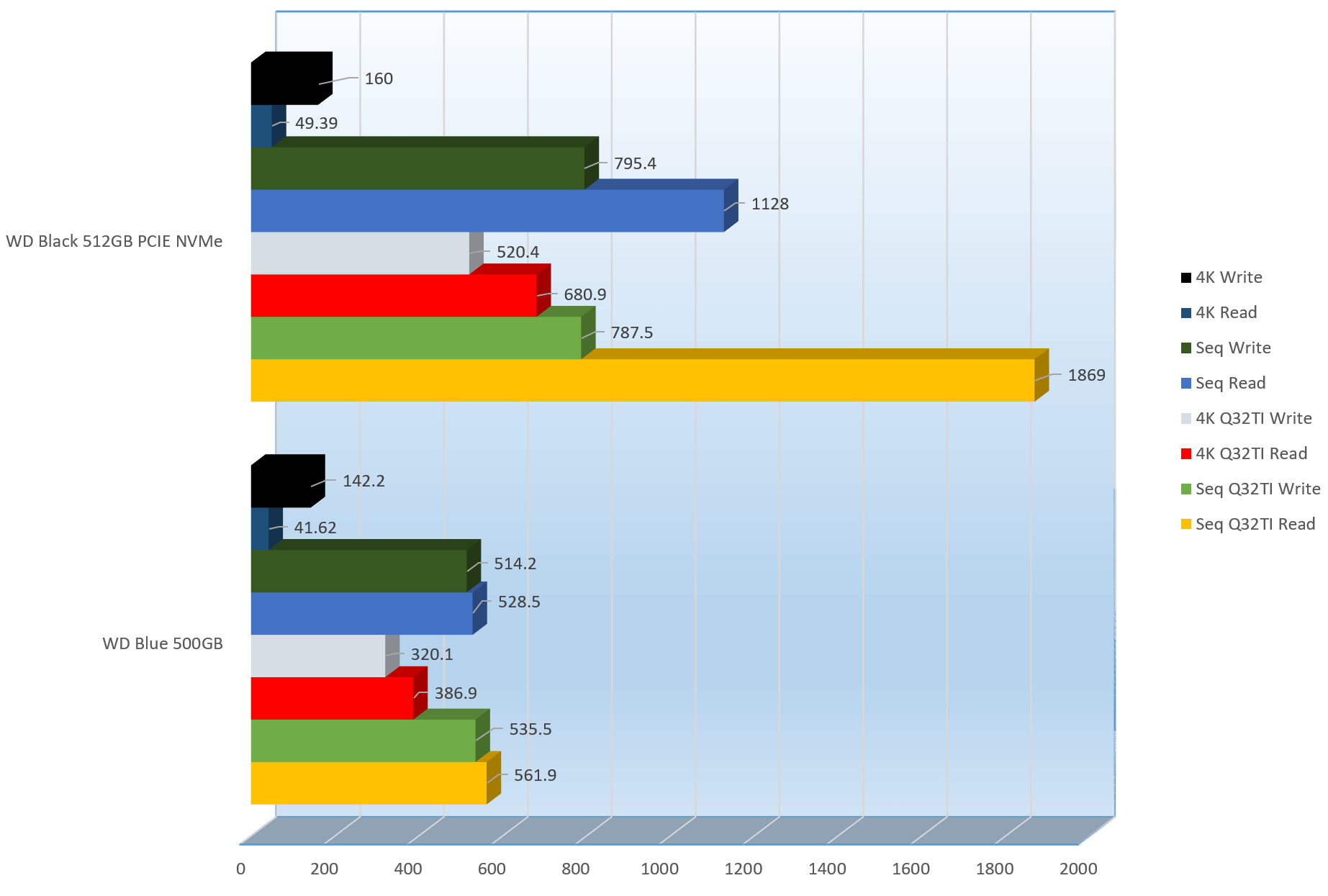 The results are clear as day here, everything is in favor of the Black NVMe drive.  On Sequential Q32T1 Read we find a 69.94 % increase in performance over the WD Blue, that's more than double the performance, that is incredible.
In Sequential Write however things slow down a bit, though still higher than the Blue drive, it is only a 32% increase.  On 4K Q32T1 Read, there is a healthy 43.18% improvement in performance on the Black versus the Blue and on Write a smaller yet valiant 38.49% increase.
Sequential read, we can see the NVMe Black drive continues to power on at a more than double the performance of the Blue at 53.15%.  The write again lags a little behind but still above at 35.35%.
And finally, the 4K read again is in favor of the NVMe Black drive coming in at a tiny 15.73% and the write, trying to pick up the slack comes in again ahead on the black at 11.13%.
The NVMe Black, once again completely wins the board here in performance, though you can see in a few spots where the WD Blue was the little train that could and tried its hardest and came very close to equaling the performance of the black.
Now let's get into a little more real world performance with PCMark 8.
Like you have seen previously, for reference, here are the results from a run on the WD Blue 500GB.

And now let's compare.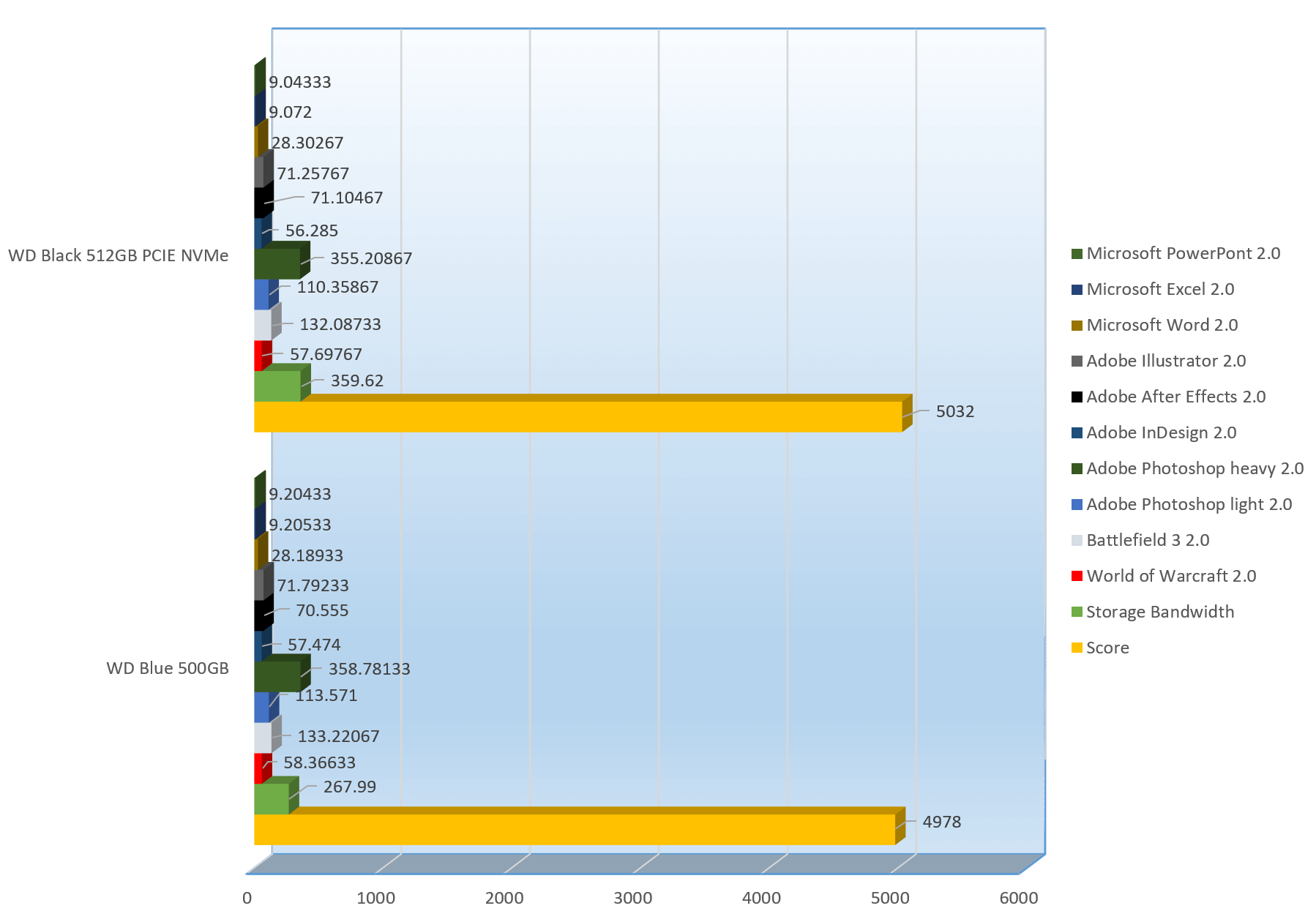 This one is a little harder to spot the differences, but I will point them out.  On the overall score, on the NVMe Black drive we receive a score of 5032, and on the Blue we get a 4978, so the Black drive performed only 1.073% better.  Digging into the scores above we can see why.
On the Storage Bandwidth test, another basic overall score, the Black outperformed the Blue by a decent 25.48%.
For gaming, The World of Warcraft test showed that it loaded 0.66866 second/s faster on the Black drive versus the Blue drive.  On Battlefield 3 loaded 1.13334 seconds faster on the Black drive again.  While 1.1 loading on a game, is not a huge improvement, it does help but I am a bit surprised.  Let's see the improvement on the Adobe Suite.
For Creativity, The Adobe Photoshop light 2.0 loads 3.21233 seconds faster on the NVMe Black, so there is a bigger benefit it seems for production.  On Adobe Photoshop heavy 2.0, we see that the NVMe Black loads 3.57266 seconds faster than the Blue drive, for professional's time is money, so it's looking good.  For Adobe InDesign 2.0, while there is an improvement we only see it loading 1.189 seconds faster.  Adobe After Effects 2.0 actually loads 0.54967 seconds slower on the NVMe Black, faster in favor of the Blue drive.  Lastly, on the Creative Suite we have Adobe Illustrator, here there is an increase on the NVMe Black drive of a measly 0.53466, it's not much but there is an improvement.
On to the Productivity with Microsoft Office.  One Word, we can see the NVMe Black drive actually loads 0.11334 seconds slower than the Blue drive.  Just as I was losing hope, the Black comes back on loading Excel, 0.13333 seconds faster and in PowerPoint 0.161 faster than the Blue.
On PCMark, while still synthetic, is a little more realistic in its approach using applications we would use daily to show how the performance is from drive to drive.  PCMark does show there is a performance improvement, but maybe I am thinking the improvement should be more, what do you think?
Another indication of performance is boot time, so let's do some comparison with BootRacer.
BootRacer
Here are the results from the WD Blue for comparison.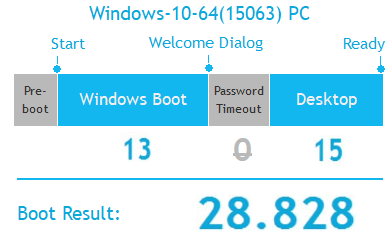 The Blue itself had decent results, but how do they compare to the Black NVMe drive?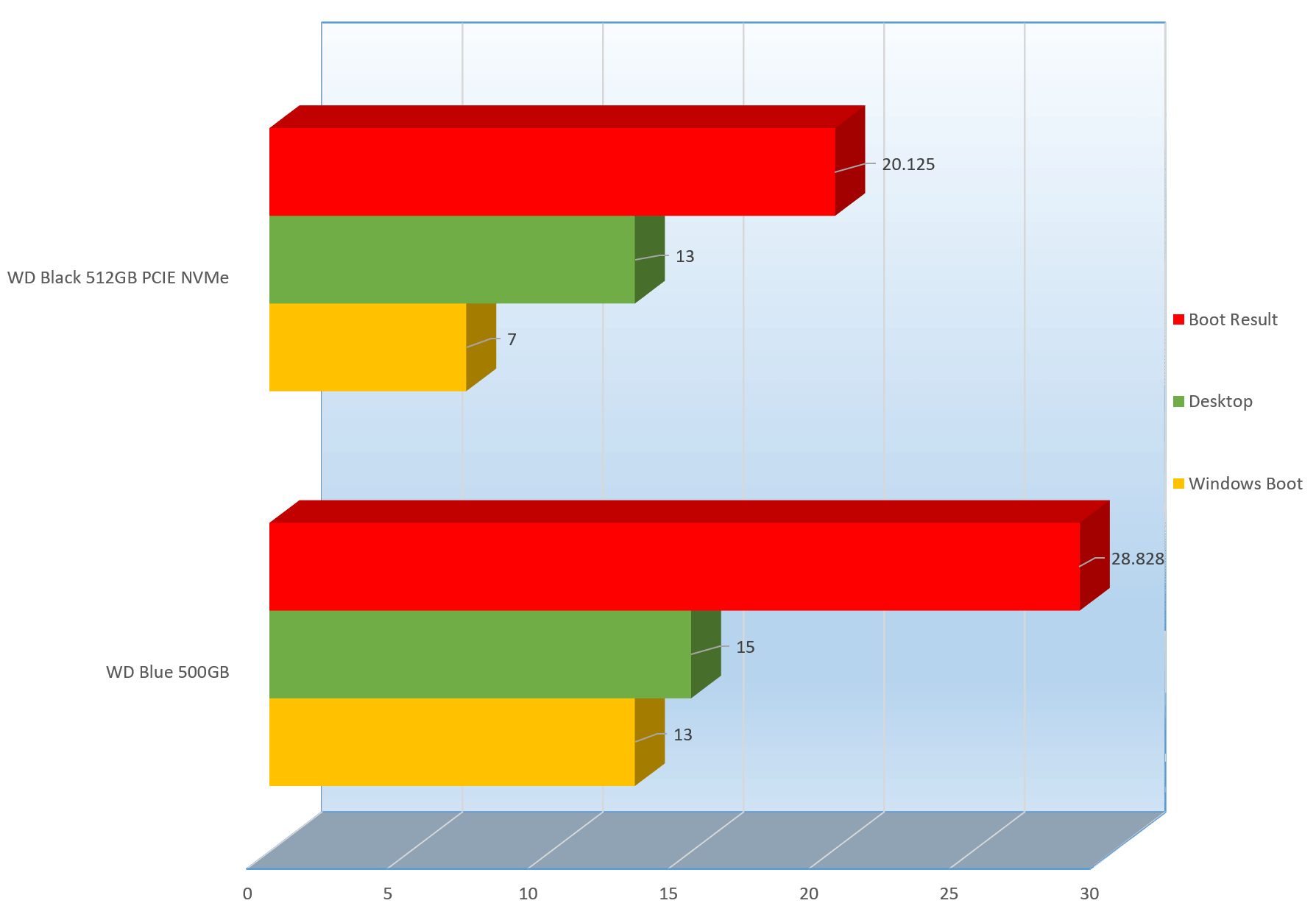 Impressive, the Black NVMe drive performed best across the board.  On boot, from POST to Windows, the Black drive performs 46.15% faster than the Blue drive coming in at 7 seconds over the Blue Drives 13 seconds.  From boot, to an idle state in Windows, the Black drive had a 13.33% improvement from the Blue drives 15 seconds to the Black drives 15 seconds.  In total time, the Black booted up 30.19% faster than the Blue drive from 28.828 seconds on the Blue to the Blacks 20.125 seconds.
Boot times for all are incredibly important as no one wants to watch the Windows boot screen and no one wants to wait to be able to start using Windows once in windows with a ton of lag.
Aside from performance, Western Digital goes a little further from providing a drive alone, they include WD SSD Dash Board and Acronis True Image.  They do not come in the package, you need to download them separately.  Let's check out both real quick though.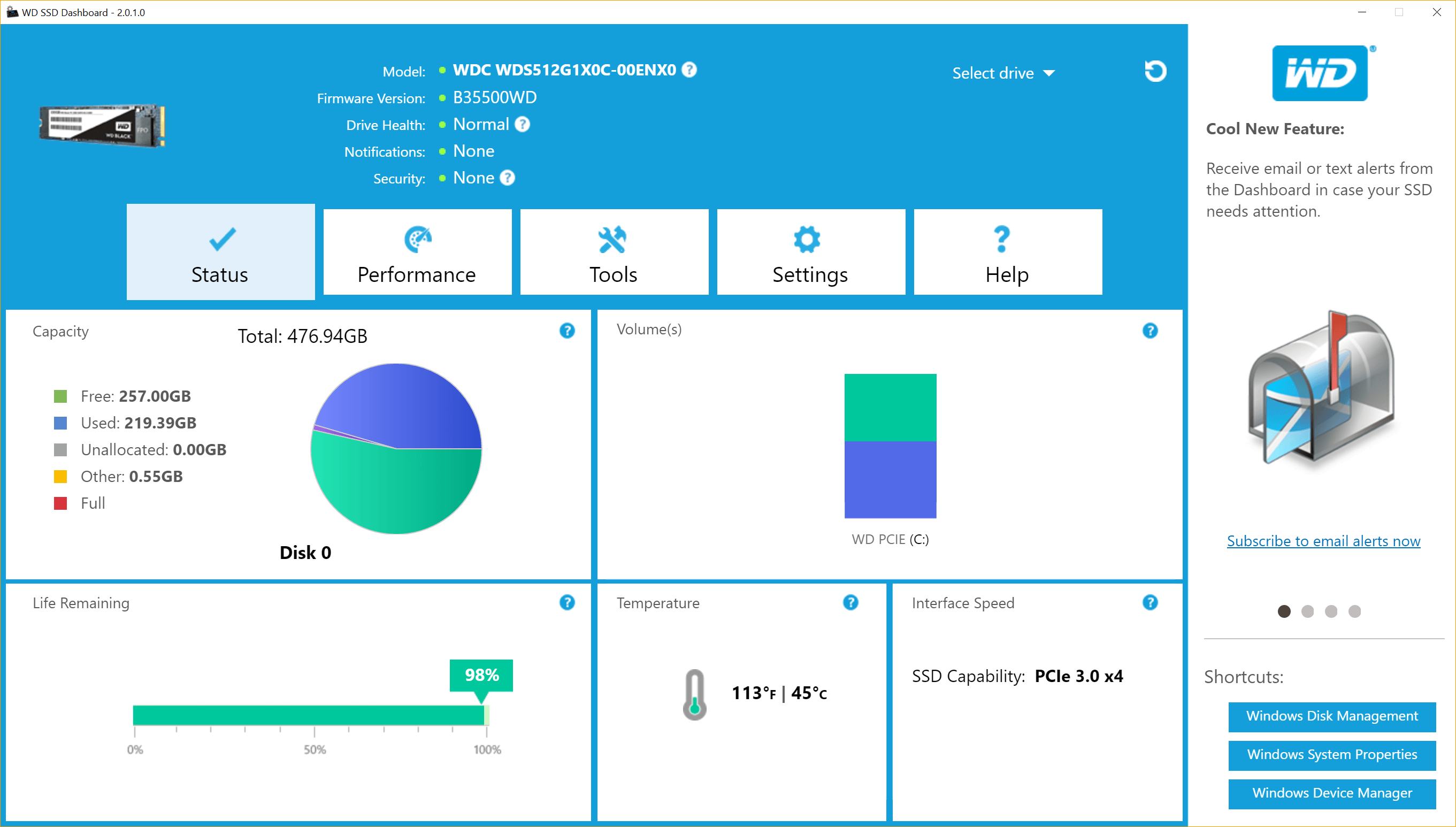 The WD SSD Dash board provides you with many tools and performance monitoring links to let you know how they are running.  They omitted something from this one that was in present in the version for the Blue drive and we will discuss that in a bit.
Status: The "Status" tab lets you know the capacity of your drive, how the volume looks like, remaining life, temperature, Interface Speed, Model #, Firmware version, Drive health, Notifications and security if being used.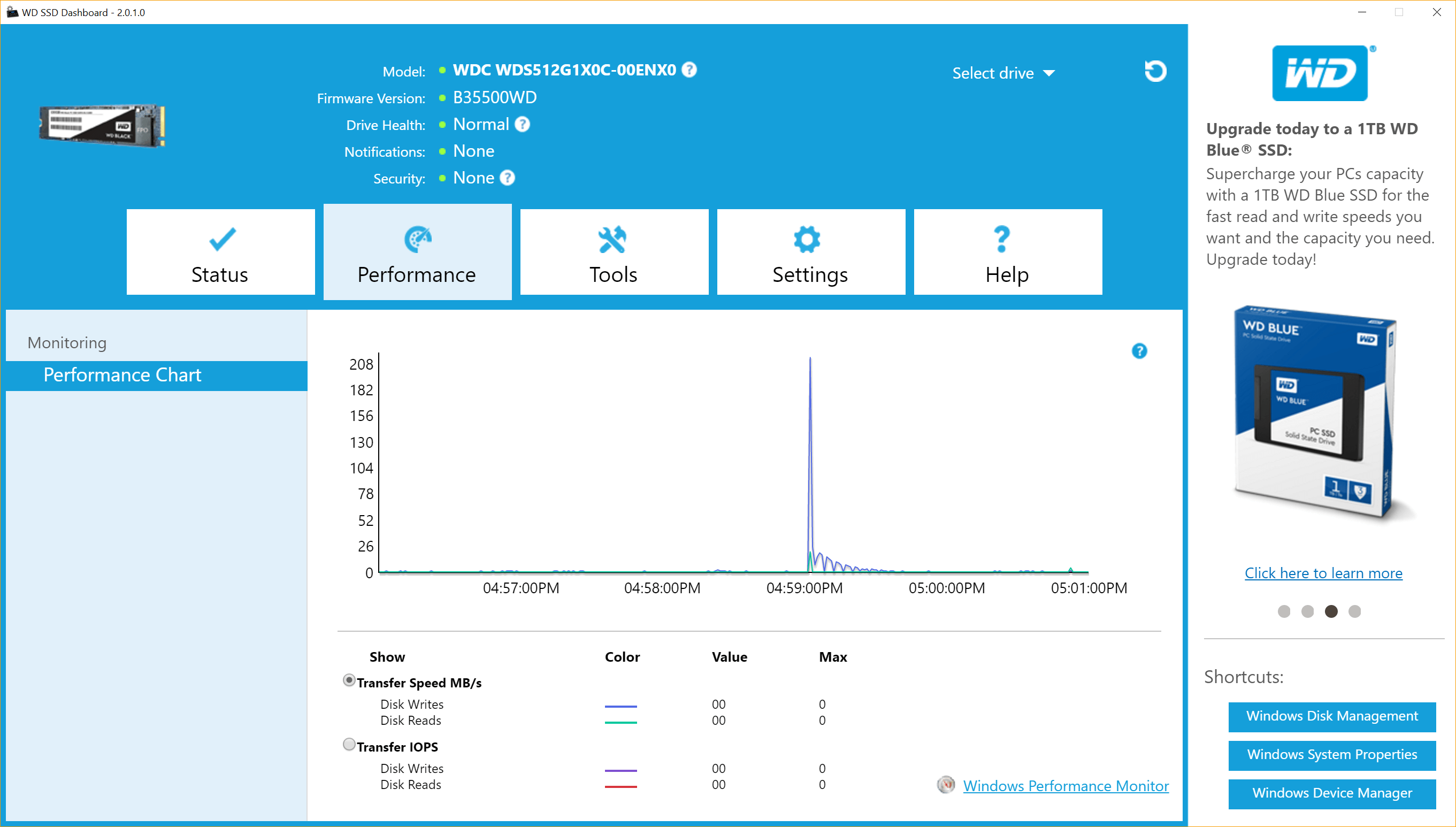 Performance: Let's you know in real time how the drive is performing and also gives you a shortcut to the Windows Performance Monitor.  One big this missing is the Optimization, "TRIM" support section that was in the Blue drive.  Since I have both connected, if I switch to the Blue drive, the feature is there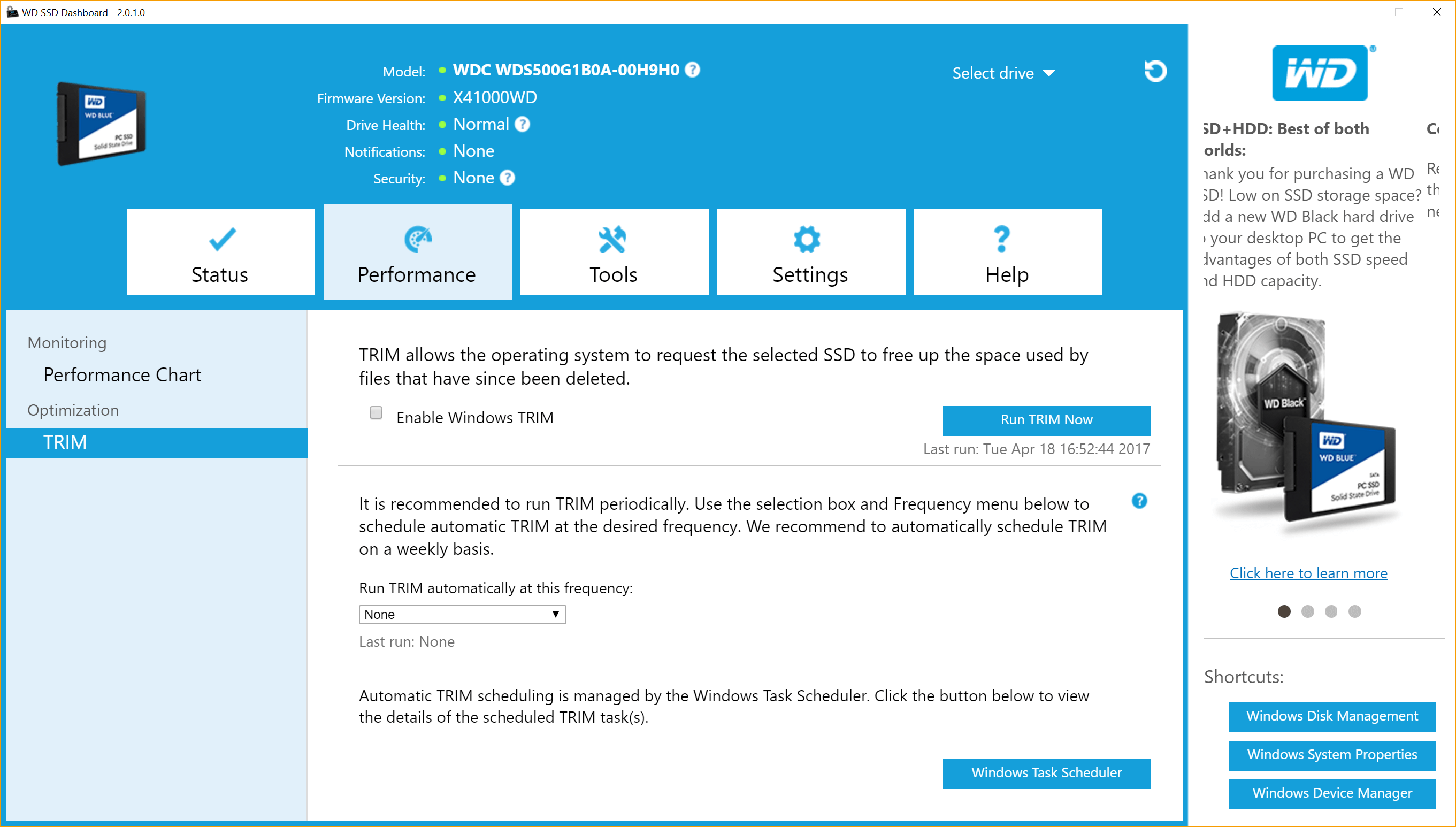 This feature allows you to enable TRIM on the drive, then also schedule the TRIM task.  You can check TRIM though within Windows by right clicking on the start button in Windows 10, and clicking on the "Windows PowerShell (Admin)" icon, or if you are not in the Creative Edition of Windows 10, you would click "Command Prompt (Admin)"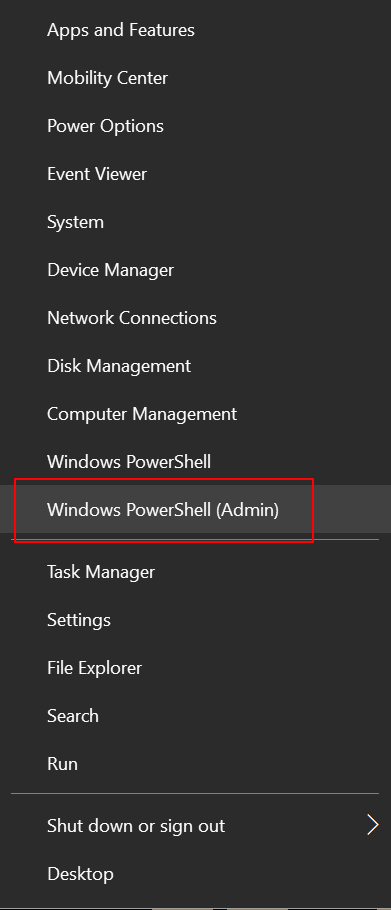 Within the PowerShell or Command Prompt, enter the following line of text and press enter
fsutil behavior query DisableDeleteNotify

If you receive a "NTFS DisableDeleteNotify = 0" message then everythign is working and you are running with TRIM supoprt enabled.
If you receive a 1, then you need to enable TRIM, and you can do that by entering the following in PowerShell or the Command Prompt
Fsutil behavior set DeisableDeleteNotify 0
That will enable TRIM for you.
The TRIM feature also had a so that you can "Run TRIM Now" allowing you to free up space used by files that have been deleted.  You can run Defrag in Windows 10 which performs TRIM as well.
Not sure why that option is not there though, I will find out and update the review.
Tools:  Under the "Tools" tab and "Firmware Update" allows you to check to see if there is a newer verison of the firmware or update if you have received a firmware from an alternative source.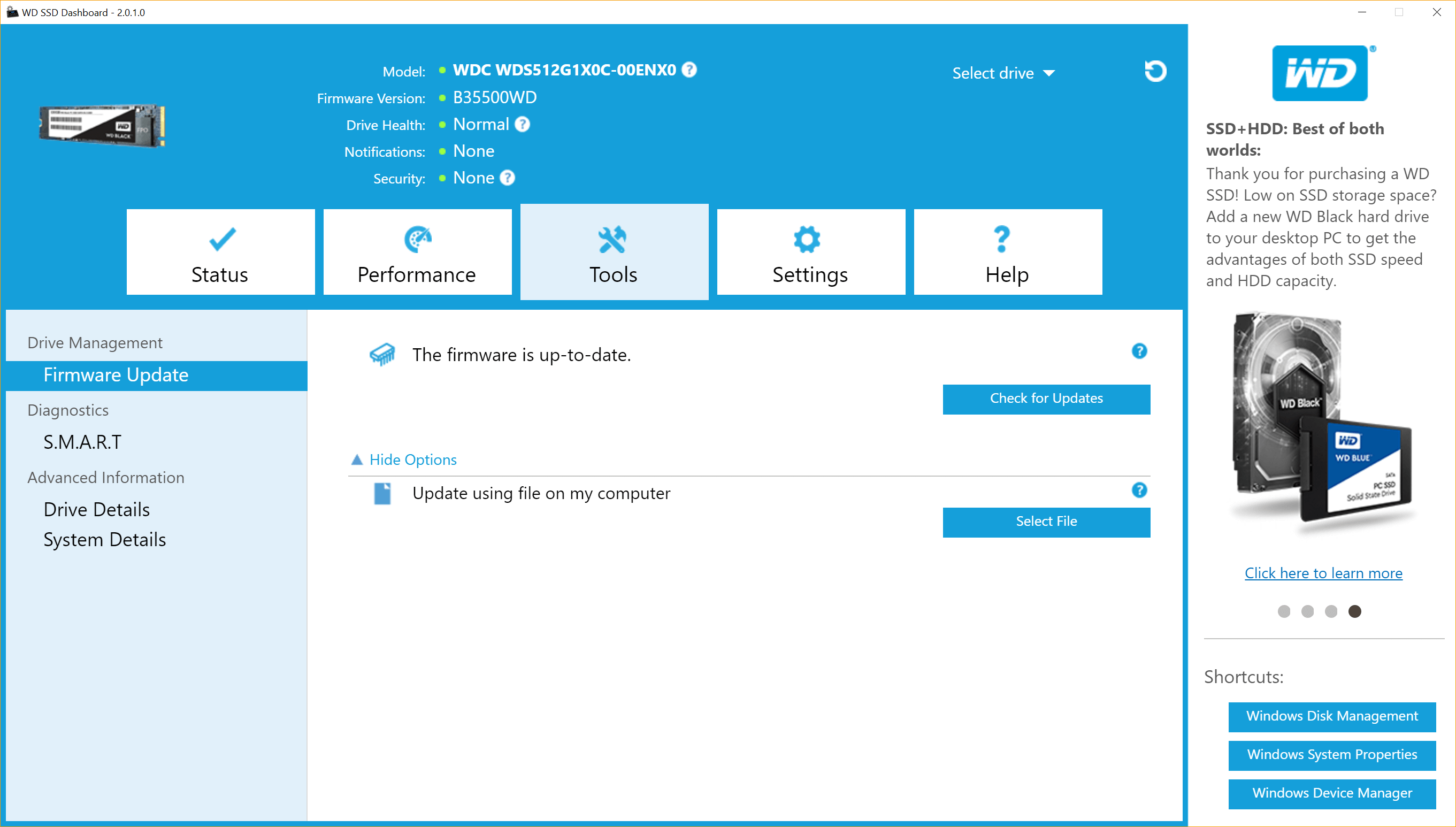 S.M.A.R.T:  The S.M.A.R.T tab allows you see diagnostic information of the drive, in case you feel something might be going on.  It not only lets you see the diagnostic information, but allows you to run diagnostic tests.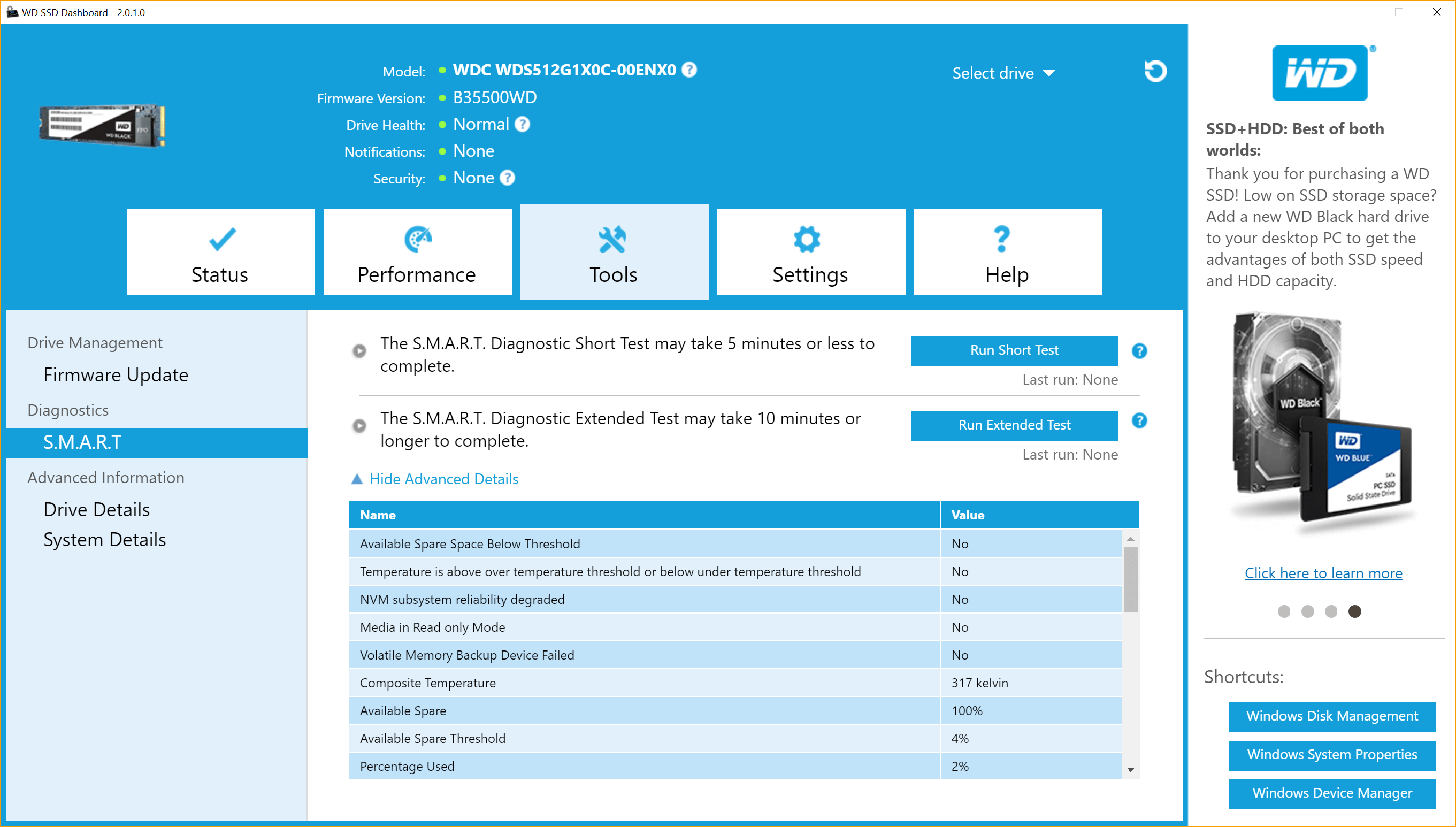 Drive Details: Allows you to see the details of your drive, including Serial Number, Model number, Firmware and more.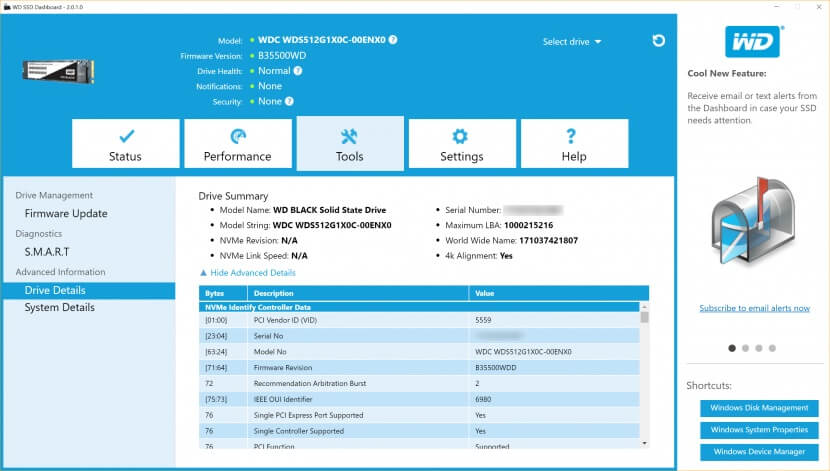 System Details: Allows you to see overall system information.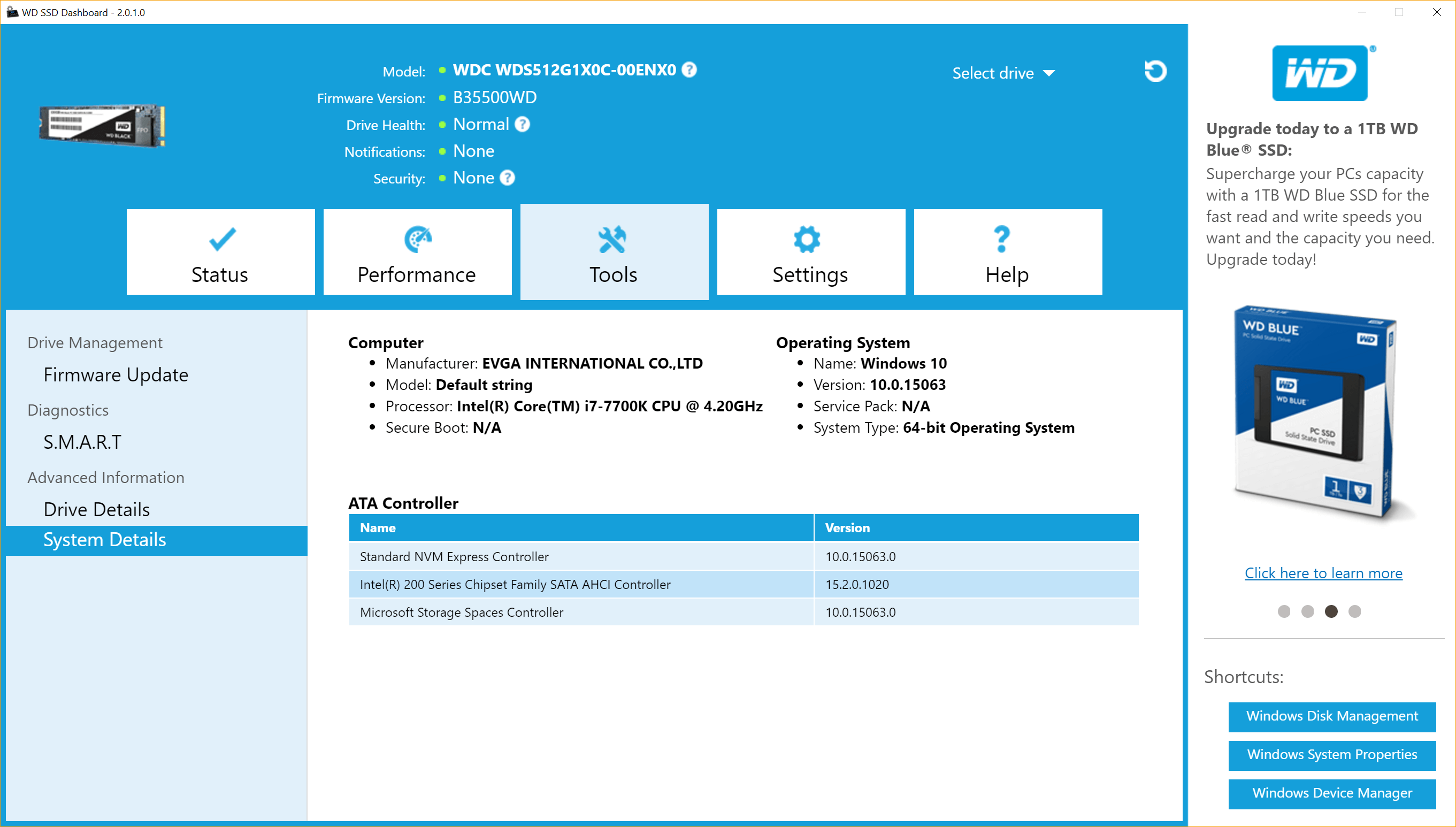 Settings: The Settings tab provides some software settings for the application.  Application Update allows you to check for updates to the WD SSD Dashboard.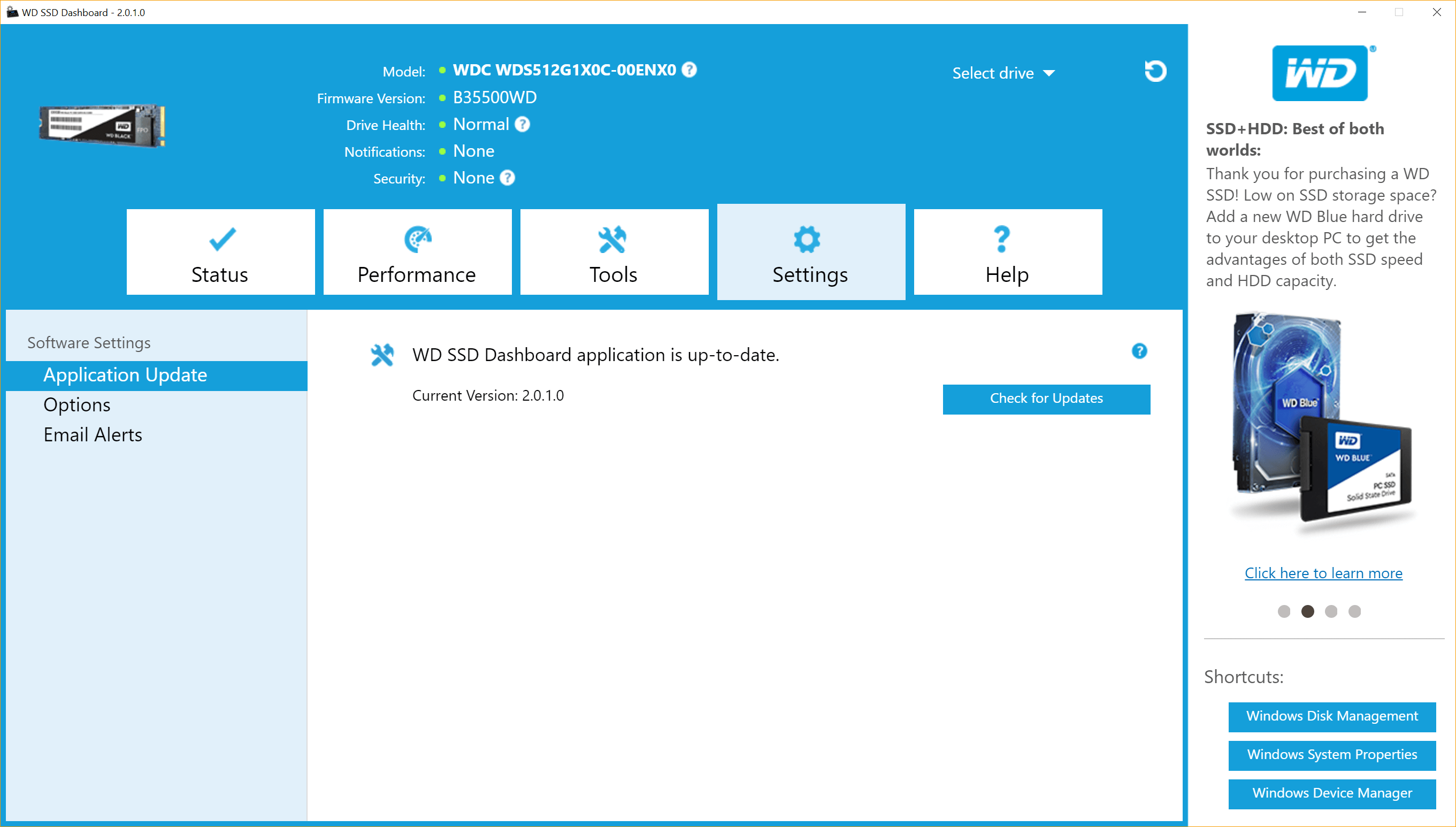 The Options tab, allows you to start the SSD Dashboard with Windows start up and then also to start it minimized once windows is loaded then you can also select your language.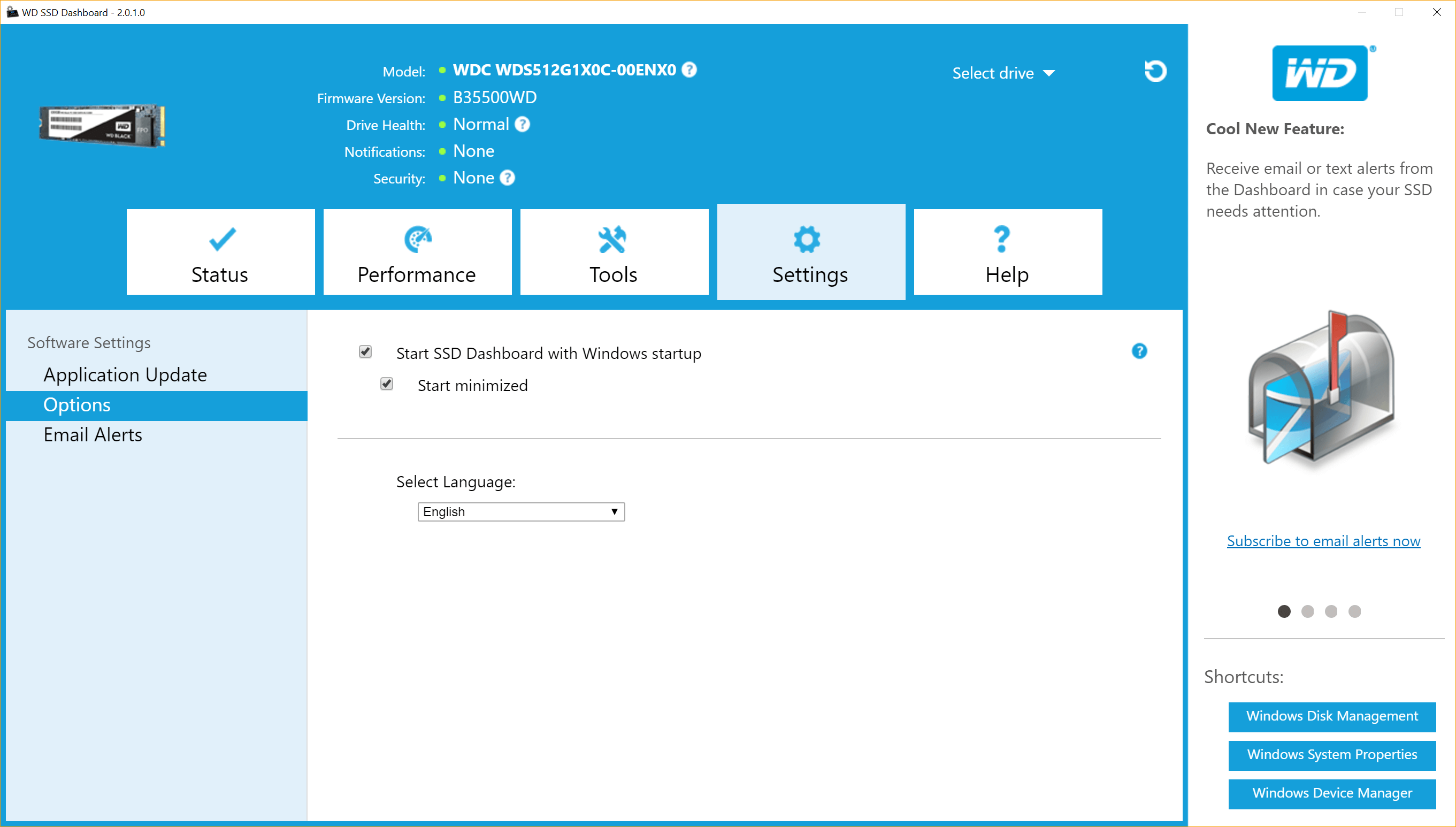 The Email Alerts subtab, allows you to send alerts to your email if something occurs, if you like leaving your PC on all the time.  A pretty handy feature.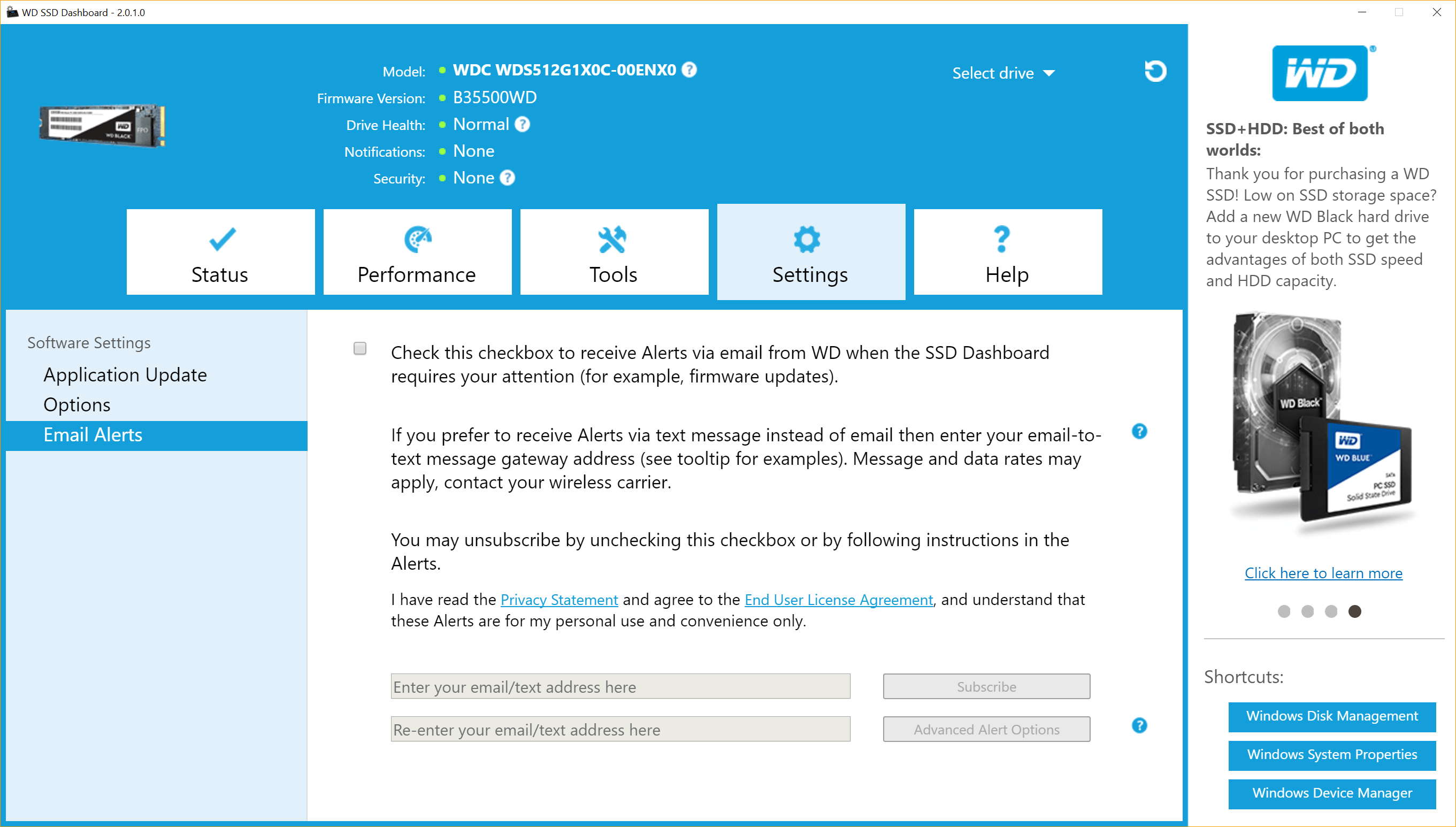 Help:  Provides various ways of getting help with your drive and or dashboard, be it the support page, user forums, user manual, Ask a Question or register your product.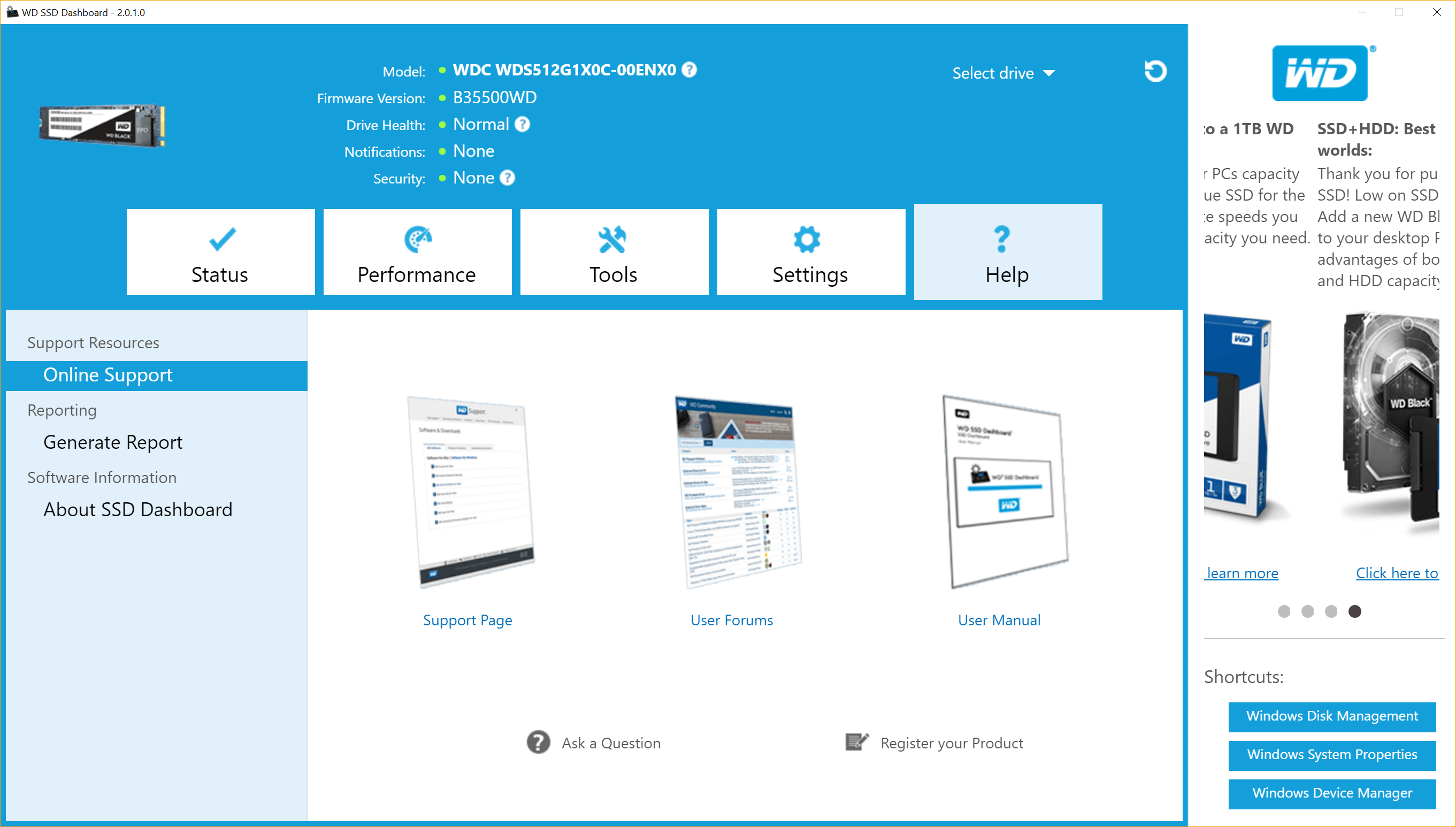 If you do contact support, you will need to provide a report on the drive, the "Generate Report" sub tab can help you there by saving a report file.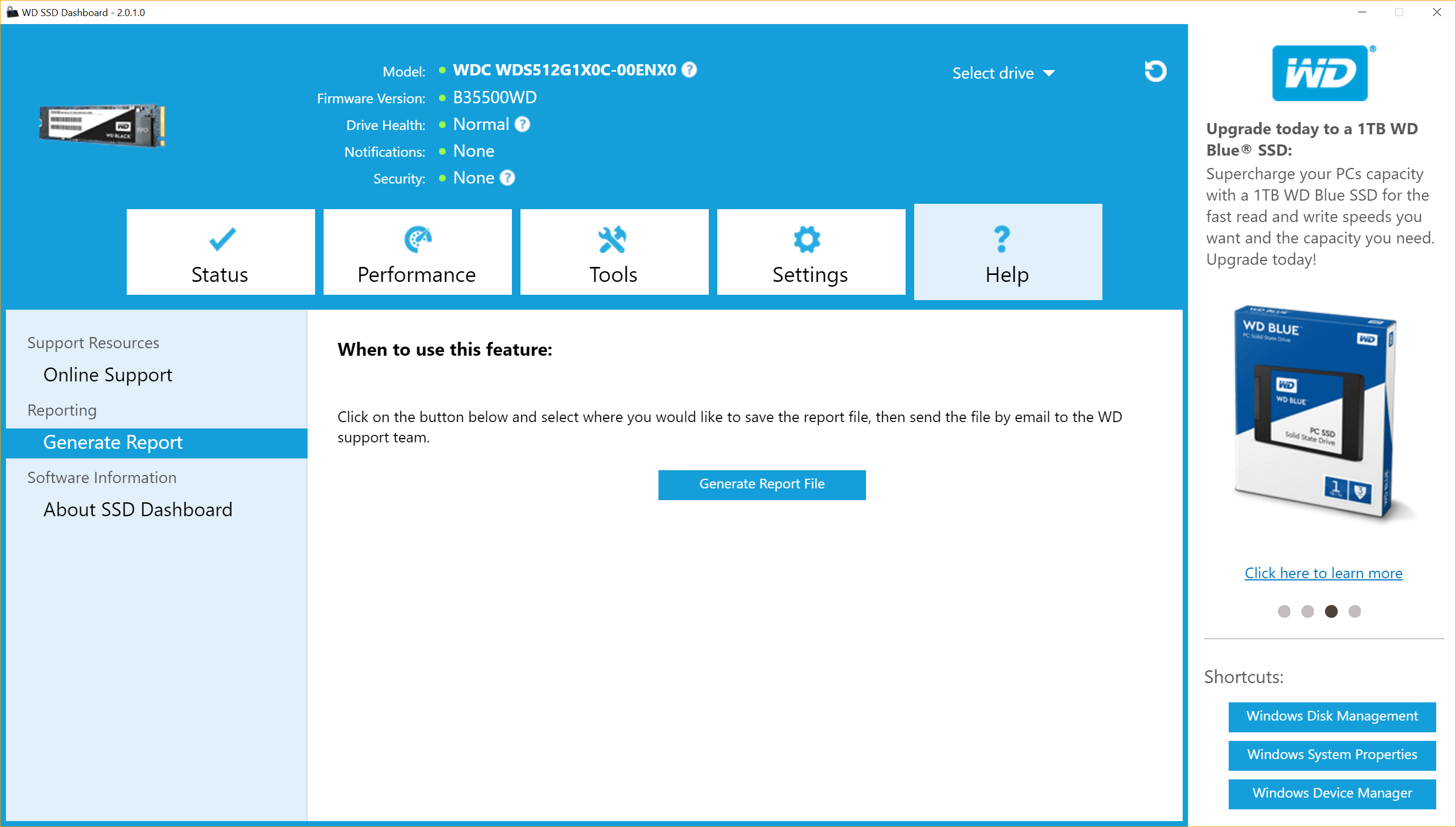 About SSD Dashboard, well,… its pretty useless, but it needs to be there I guess.  Provides legal disclaimers, third party notices and the privacy statement.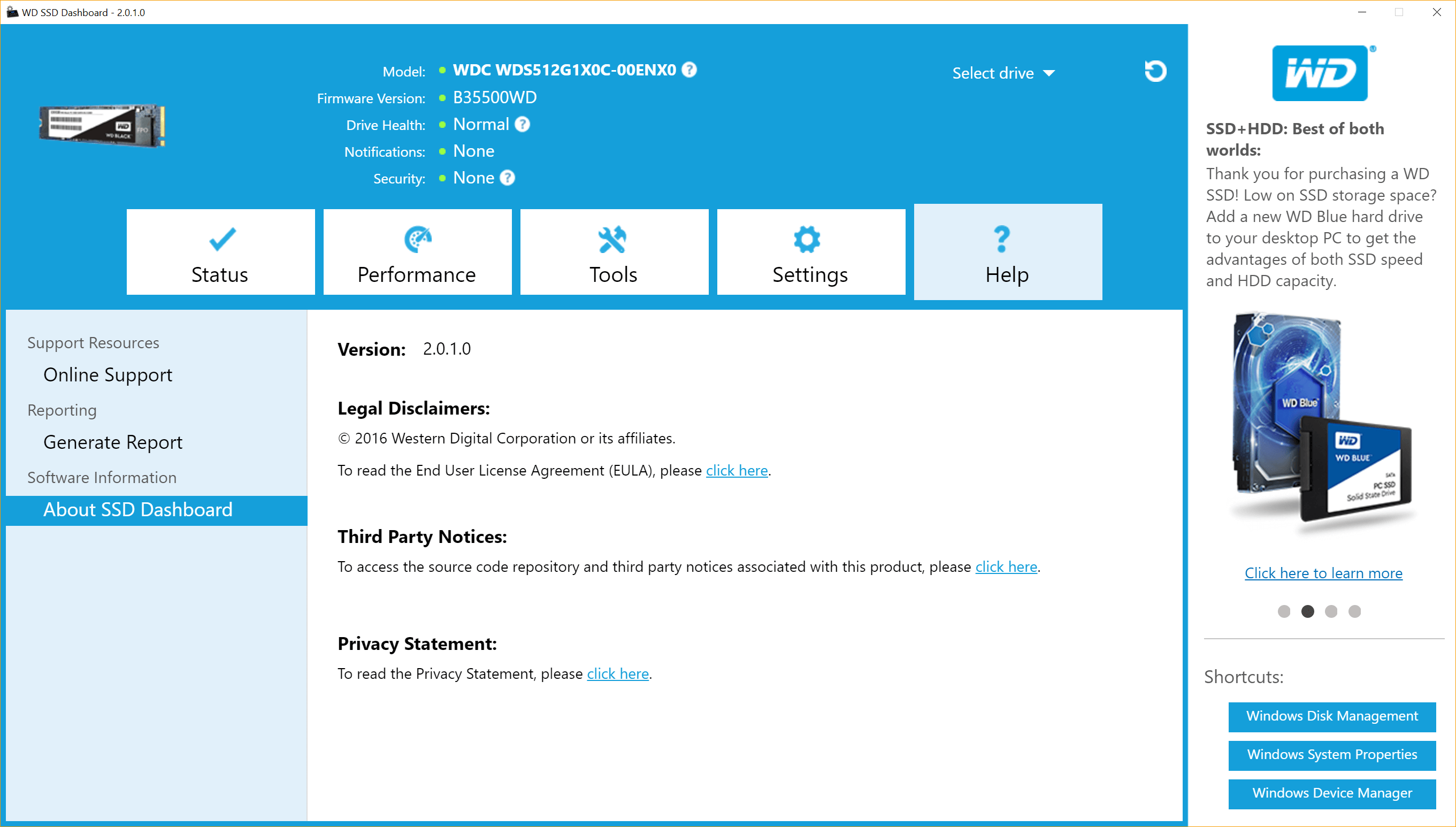 On the top of the program, you will find a "Select drive" drop down where if you have various WD drives you can change to point to the other drive and run similar scans and feature sets.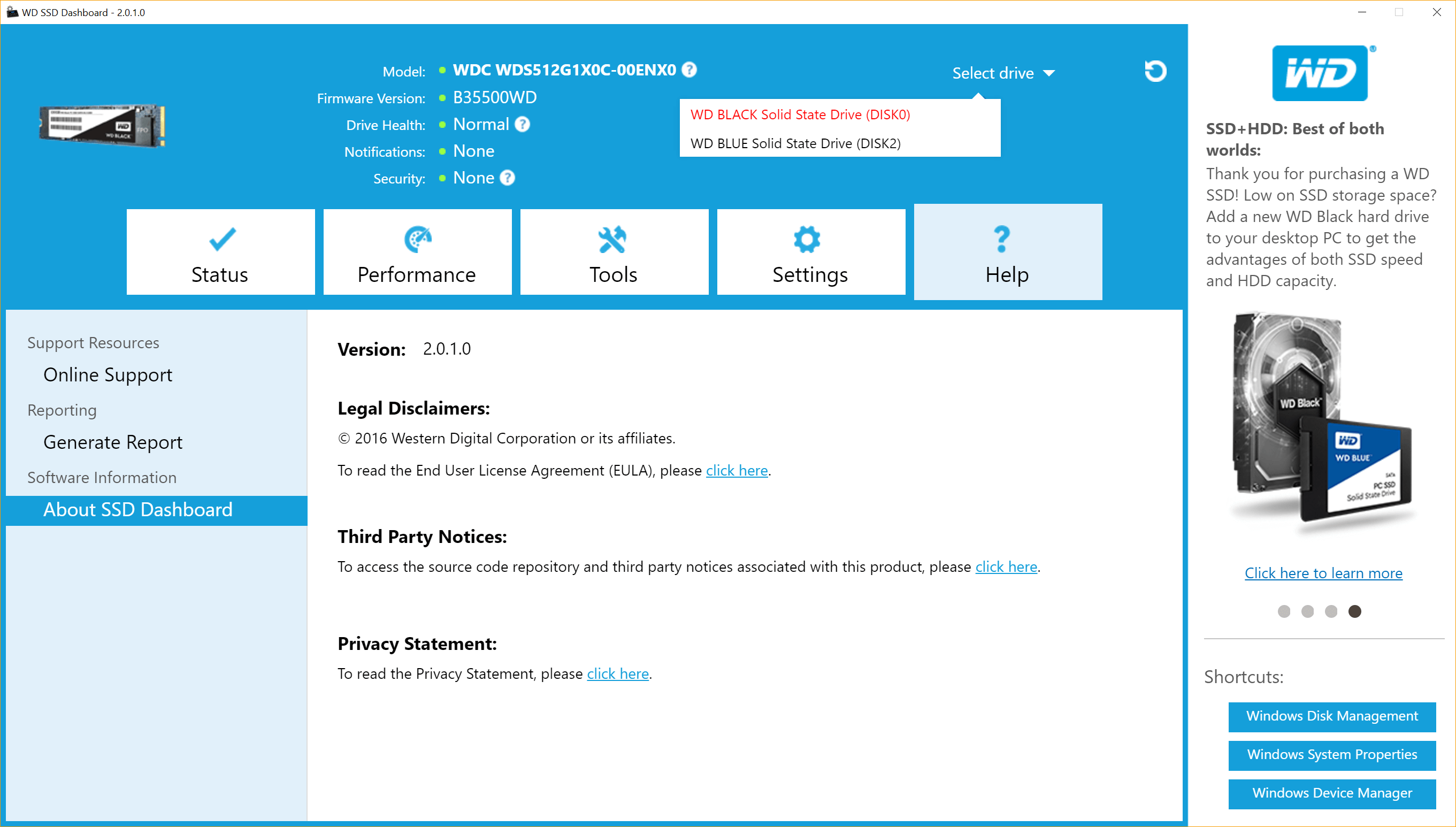 The program hides in your notification area if you want it to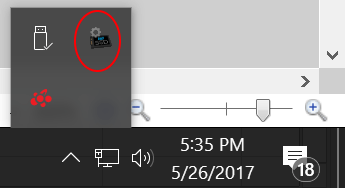 If you hover your mouse over it, it will let you know your selected drivers health and let you know if you have any notifications.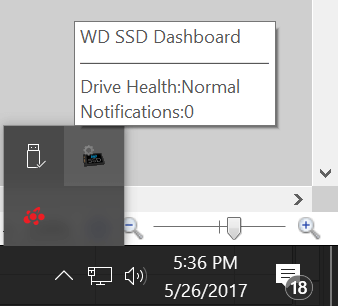 Also, on the right hand corner, you have shortcuts to "Windows Disk Management", "Windows System Properties" and "Windows Device Manager".
That's about it for WD SSD Dashboard, but you can also download "Acronis True Image WD Edition" which is free since you own this drive.
On the "Backup" tab, you can backup your entire PC and then select the destination.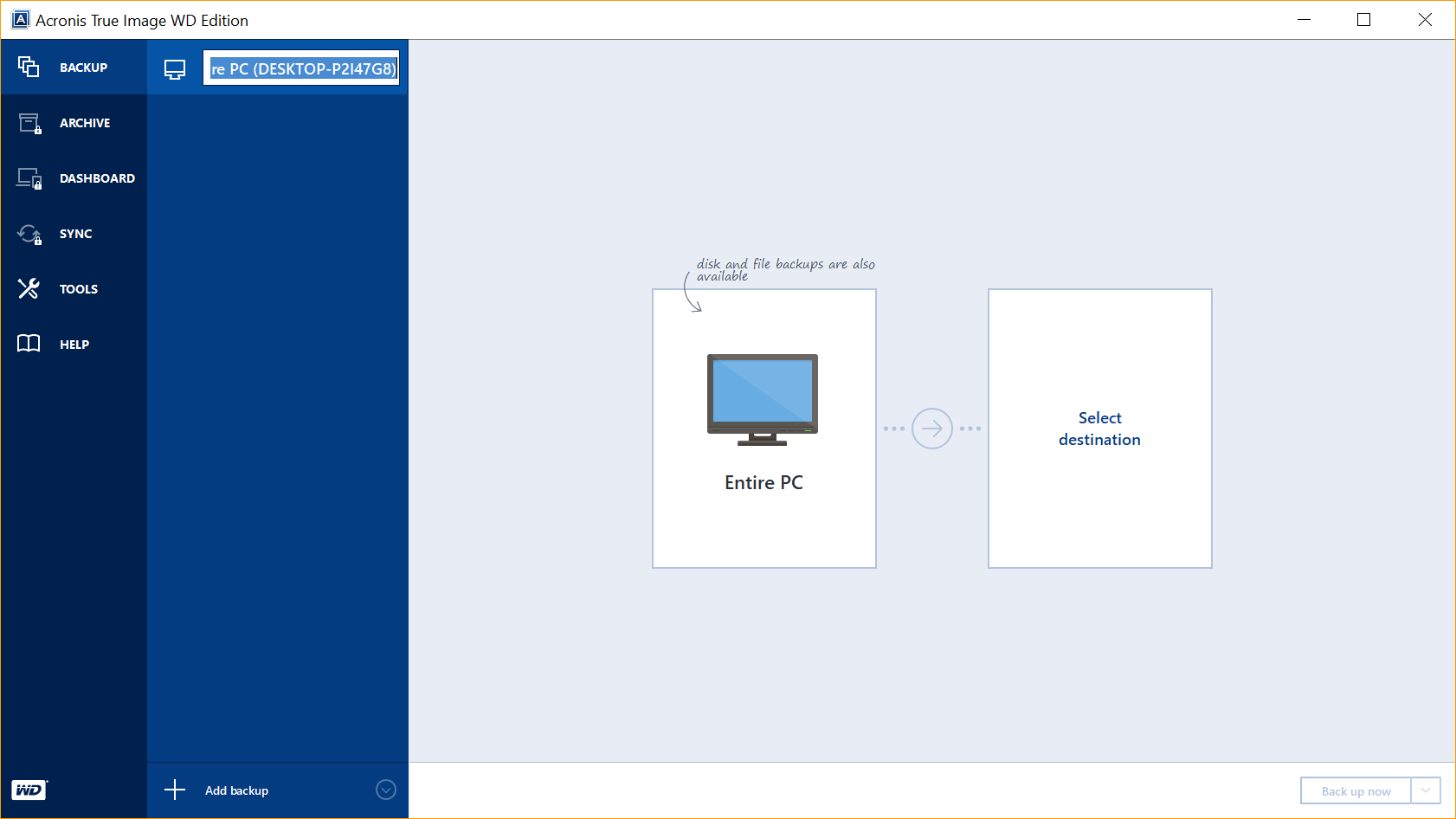 The "Archive", "Dashboard" and "Sync" tabs will get you to this screen.
And if you click the "Get Now" tab, you will be greeted with this screen where you can buy the full version for only $30 dollars, I don't really backup my machine, but if you do this would be great for you.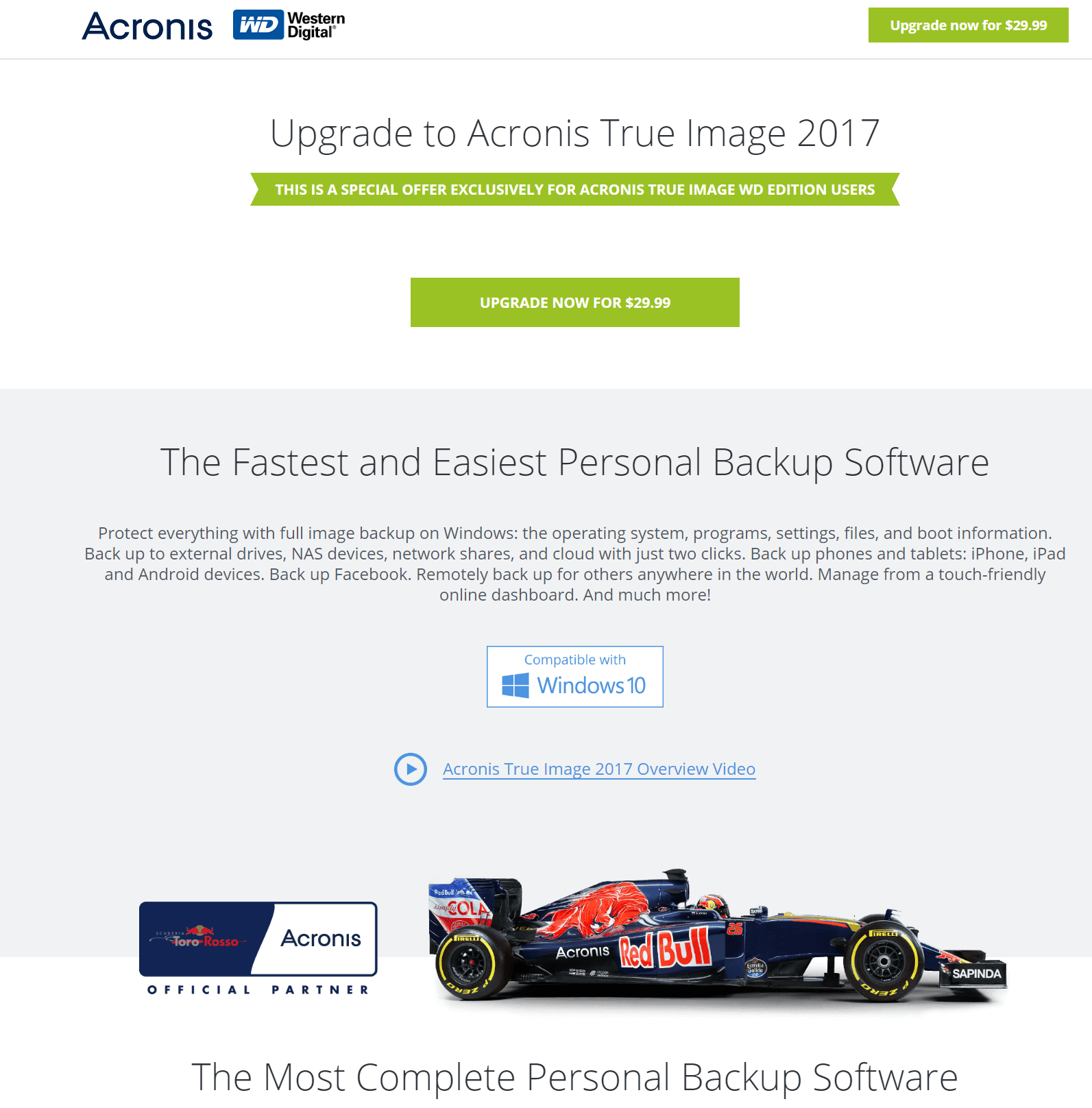 The "Tools" tab provides you with some nice features.  "Clone Disk, allows you to clone your Operating system disk to another disk, or any disk to any disk, this feature is included in this build.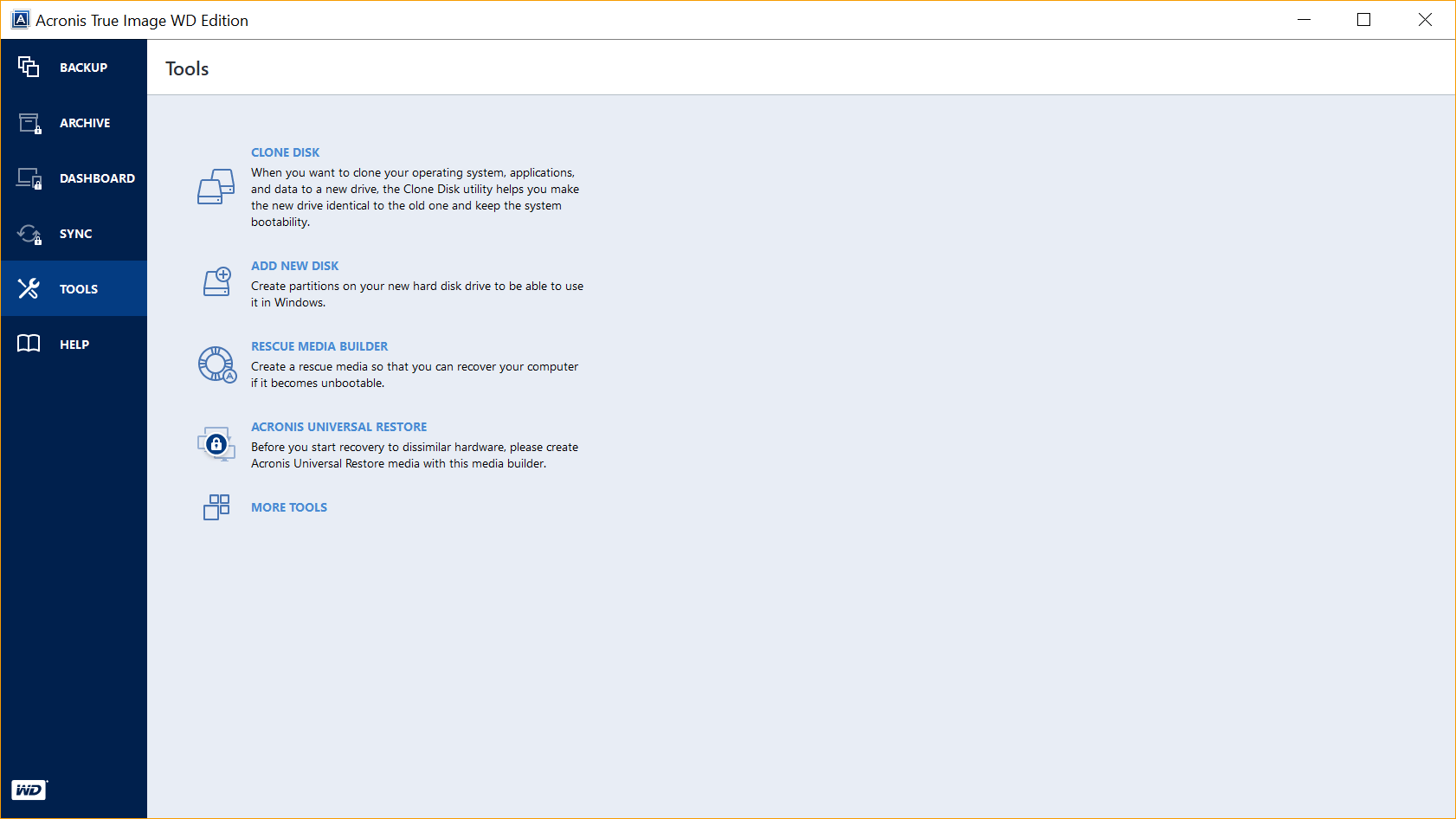 The "Add New Disk" is pretty useful.  It lets you partition your new drive to use it in Windows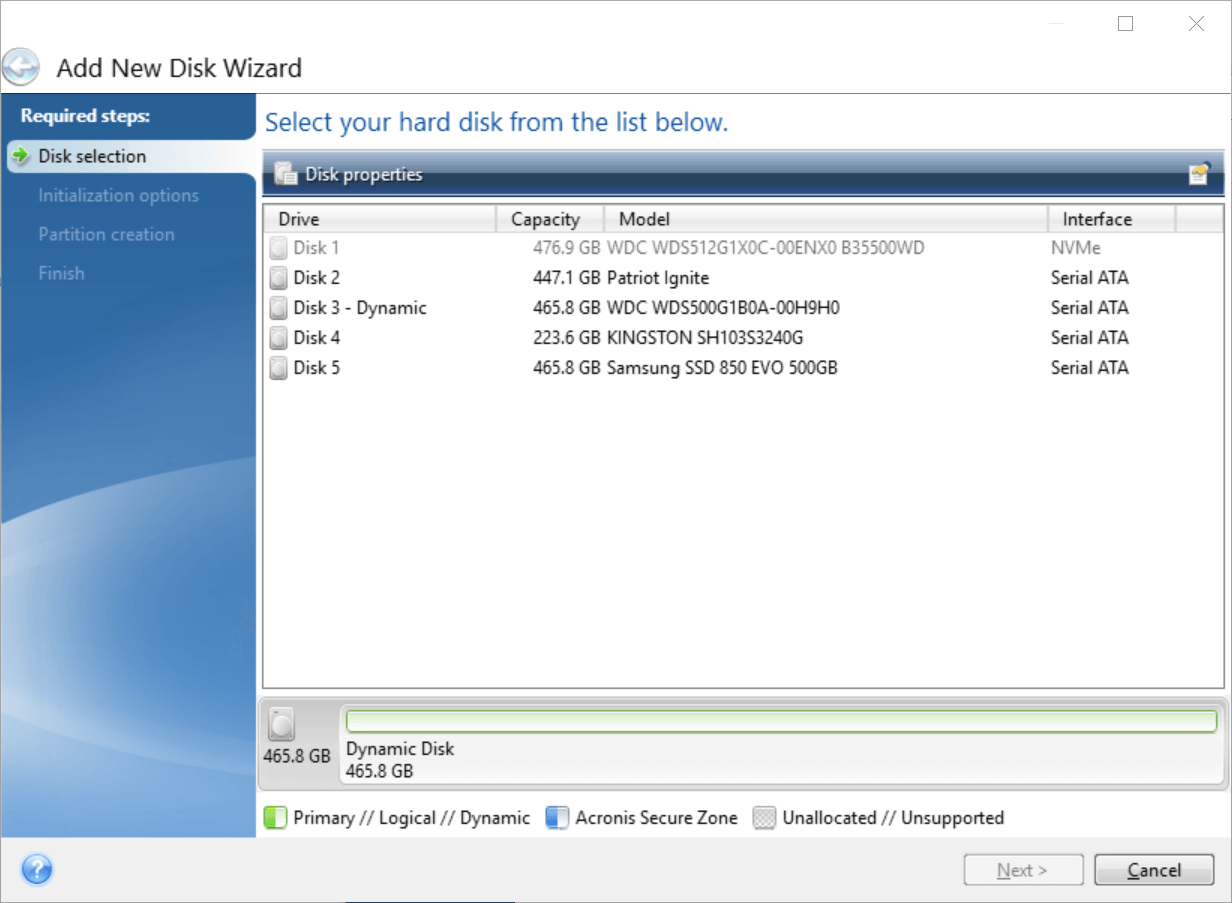 The "Rescue Media Builder" allows you to create a bootable rescue disk and WinPE fucntions for better compatibility.  While the Acronis bootable rescue media function is enabled in this version, the WinPE based media is not.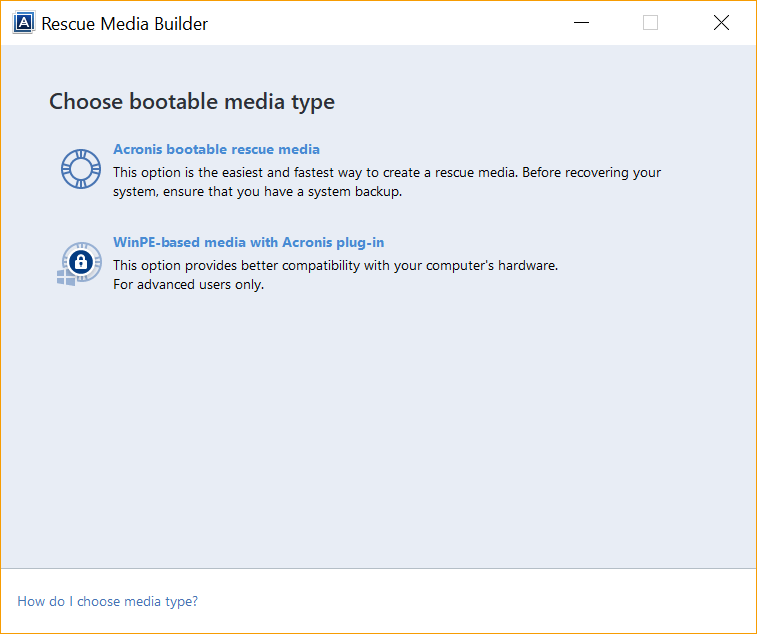 Acronis Universal Restore that allows you to recover your media to a different type of machine (different HAL) with a different type of CPU (AMD vs Intel) but this feature is not available in this free version.
More Tools throws you out to File Explorer where you can fine shortcuts to all of the tools.

Help, well helps you use all of this software if you don't know how to.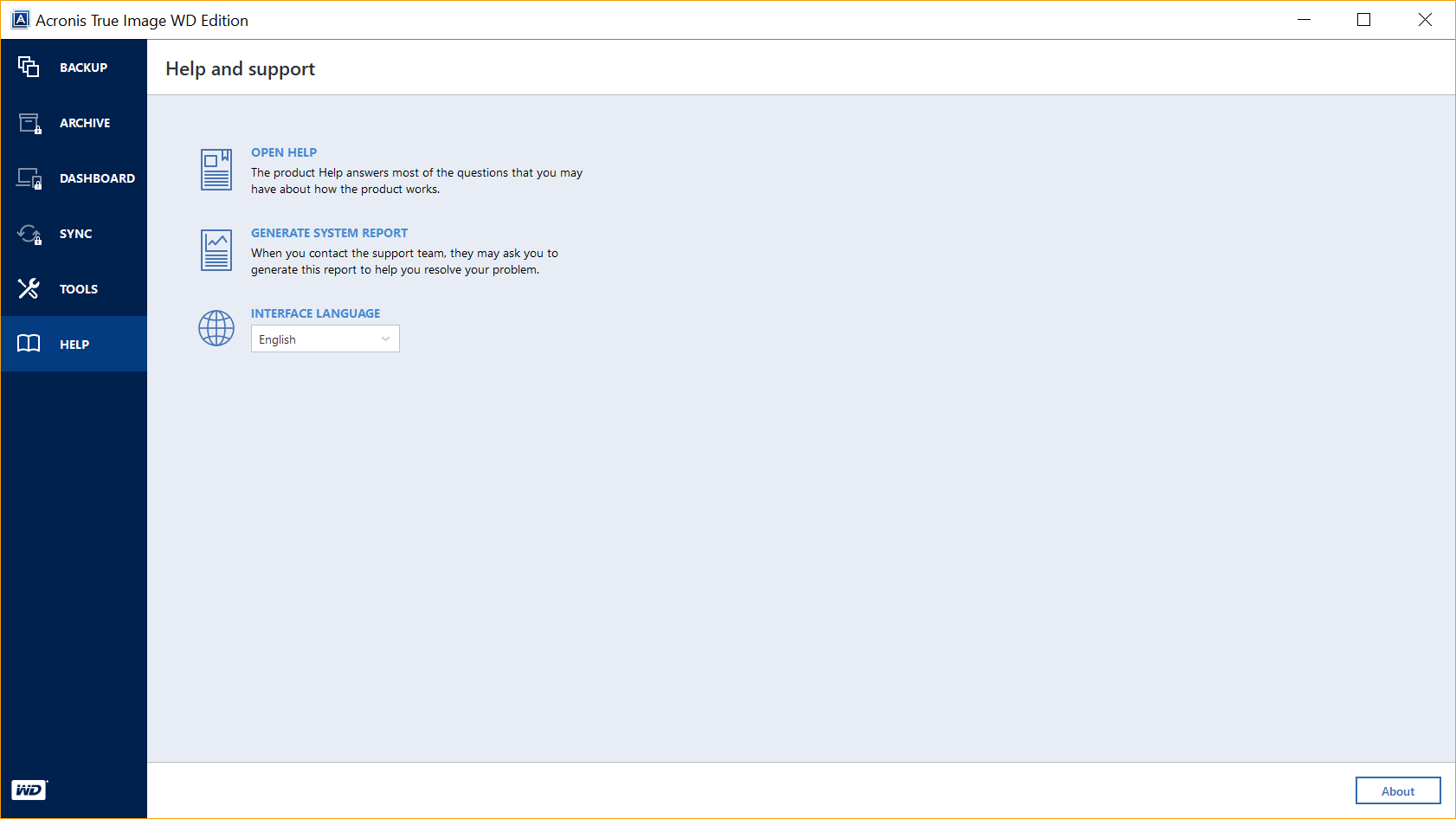 Very simple software and very useful in my opinion, I would not use the backup portion of it but the clone feature is nice for me at least.
Well that is about it, I hope I covered everything you can think of here, I covered everything I could think of.  What's left now?  Well, it's time to see what I thought about this drive and of course, if you can tell me what you thought, that would be awesome.  Click on over to the last page.
Continue on to: Final Thoughts and Conclusions
I have spent many years in the PC boutique name space as Product Development Engineer for Alienware and later Dell through Alienware's acquisition and finally Velocity Micro. During these years I spent my time developing new configurations, products and technologies with companies such as AMD, Asus, Intel, Microsoft, NVIDIA and more. The Arts, Gaming, New & Old technologies drive my interests and passion. Now as my day job, I am an IT Manager but doing reviews on my time and my dime.