How to build a PC inside of the Fractal Design DEFINE S2 Vision RGB and testing
We are influencers and brand affiliates.  This post contains affiliate links, most which go to Amazon and are Geo-Affiliate links to nearest Amazon store.
In this section, we go over building a complete gaming machine inside of the Fractal Design DEFINE S2 Vision RGB.  These videos will help you get a better feel for the case and help you in case you get stuck on a certain part in your own build.  Let me know what you think.
Before I get into though, here are the list of parts I am using in this system.
Alright, with that out of the way, let's get into building your dream machine.
In that video, I go over the hardware side of building the machine.  There you saw, when I replaced the glass on the top of the unit, I had to remove the frame that was holding the RGB strip, but its OK.  While it was glued, it is also magnetic so I can attach it to anywhere within the case.  Problem is you need to find where you can plug it into if the other RGB cables are too far since they are daisy chained.
From the ground up I build a PC, but now it needs cables to make it all work, so let's jump to the cabling.
The cabling video, we just go over connecting all of the cables, but I also show you how to connect the RGB cables.  The system includes the Adjust R1 cable/adapter for those of us that do not have an RGB header.  The EVGA Z390 Dark motherboard does not, so this came in incredibly handy.  Also, since this motherboard does have a USB-C header, I was able to connect the USB-C front panel to the motherboard.
Another great thing about this setup was the liquid cooling unit, the Celsius S36.  Since it has the controller onboard, I could connect all of the fans to that one header.  The header plugs into itself for power and the pump itself gets its power form the CPU Fan header, which powers the entire unit, a great idea.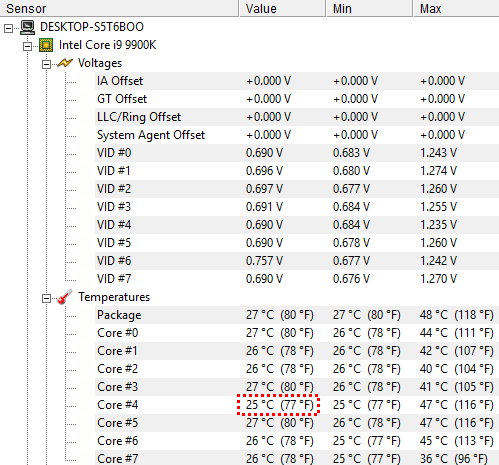 We can see the Intel Core i9 9900K is sitting idle at 27° which is great for this processor as it is known to get incredibly hot.  The coolest core here is 25°C, the hottest core during start and the time I took this screenshot was 47° on core #4 and #5.  I did not count the package itself but the package did go up to 48°C.

Here, the WD Black SN750 1TB M.2 PCI-e SSD which sits directly underneath the video card is at a cool 49°C.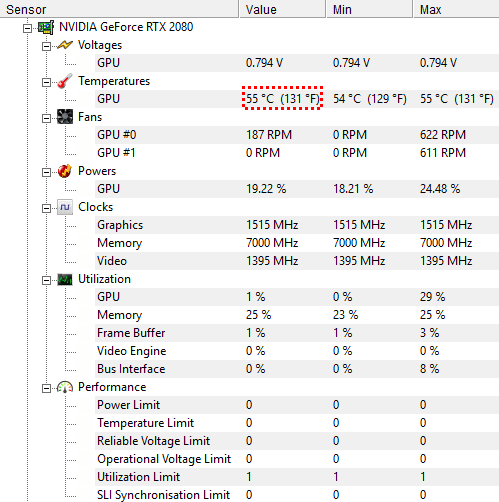 Here we can see the EVGA Geforce RTX 2080 XC Ultra Gaming card is running at 55°C on idle as well.
So that's idle, let's stress the system a little and see how well she performs in in this case.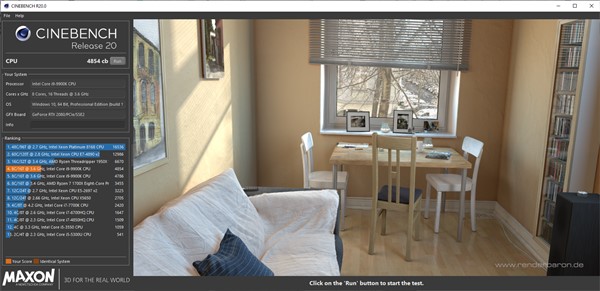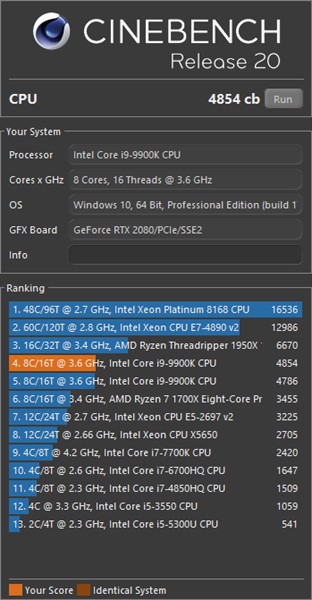 This is using the latest version of CINEBENCH, Release 20.  We get a CB score of 4854.

The Core i9 9900K burns up even stock, but we can see here the hottest temperature the package reach was 78°C and an individual core hit 77°C.  Not too bad.  These are all stock/auto settings, nothing has been overclocked.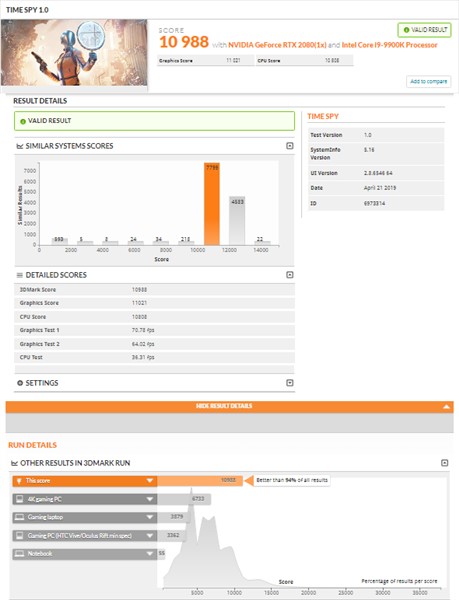 Running a pass of UL Benchmarks 3DMark Time Spy we reached 10,988.  Actually, a great score here, I usually get in the upper 9's but it broke 10K.

Aside from the score, we can see the hottest the GPU got was 70°C, not bad.   The case seems to be doing a good job in these hotter spring days keeping everything nice and cool.  I did not have the S2 case to compare it too, but I did come up from the R6 and I can see the differences in cooling, I however did not benchmark against it but you can find the original review here: https://www.dragonblogger.com/fractal-design-define-r6-blackout-tg-review
Another very important thing to check is the M.2 PCi-e drives.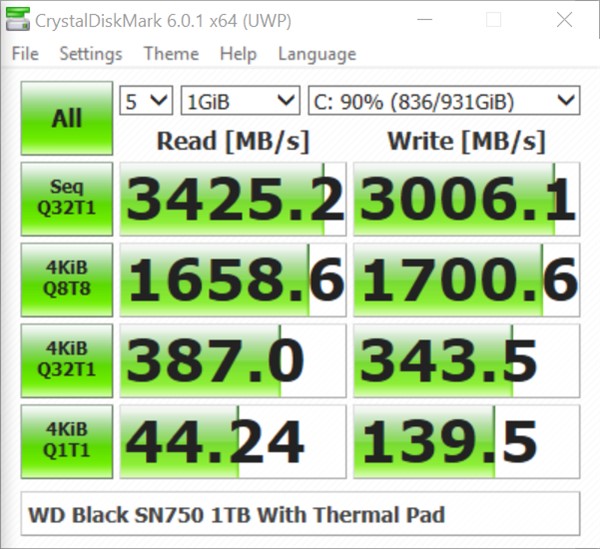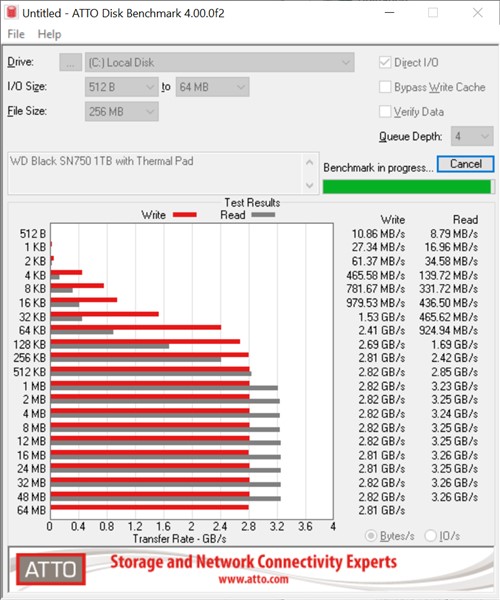 Benching the WD Black SN750, it gets some nice scores, one of the fastest drives I have seen.  I ran both to get them heated up a bit so that you can see its temperature.

Testing here with the thermal pads EVGA proves on their EVGA Z390 Dark board, we can see the temps are 69°C which is very good.  Not everyone though will have this board with these thermal pads so being that the drive is directly under the video card, I think its best to test it as well without the thermal pads.

Without the Thermal pad it did heat up a bit more, actually more than when I first reviewed this drive.  The temperature this drive throttles at is 83°C which is a bit concerning, I will have to get back to this.  A bit concerning not because the drove will fail, based on the NVMe Spec 1.3 this drive has, it will throttle to protect itself, much like a CPU, so it's only concerning for speed sake.  While this drive did get a bit hotter than my previous tests, this is the version without the heatsink, they sell one with a heatsink as well.
With these tests done, no let's see how loud the case is.  This is a bit subjective since the case does not come with a power supply, liquid cooling unit or CPU fan or a video card but still, it gives you an idea and a first glimpse of the case in action.
Alright, so there I show you all of the RGB and their effects as well as how to use the Adjustable R1 RGB controller even if you don't have an RGB header on your board, you won't be left out in the cold.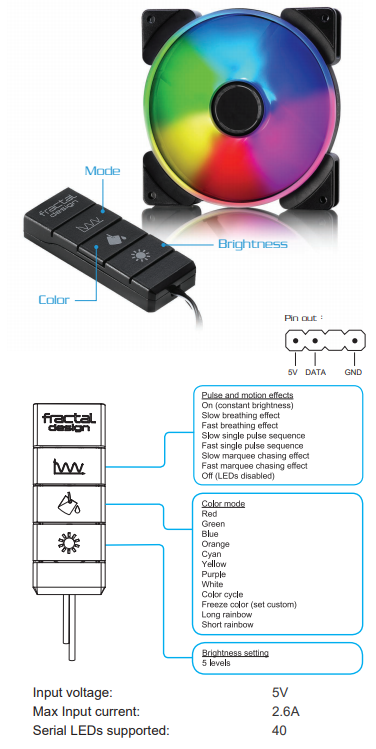 This controller is very handy and I have attached a diagram to show you how the buttons and effects work.
This is how the case itself would look like on the full RGB spectrum, but I think it might be best to show you it in action.
Lastly, though for many it would come first is how loud the case is and how it looks.  The day I recorded this, was a little louder than usual, I had to wait about 30 minutes and rush the recording till after my neighbors finished mowing their lawns and the planes stopped flying over header.  There are some ambient sounds, but is it ever dead quiet in your house, probably not.  Oh yeah, and for those 30 minutes, my neighbors dog was not barking… he might have been sick, not sure.
So check this video out.
The Fractal Design Celsius S36 liquid cooling unit does rev up a few times during boot but it idles down and sounds very quiet.  Please remember, this is cooling a Intel Core i9 9900K and it gets HOT.
So with all that said, let's jump to my Final Thoughts and Conclusion.
Continue to:  Final Thoughts and Conclusion
We are influencers and brand affiliates.  This post contains affiliate links, most which go to Amazon and are Geo-Affiliate links to nearest Amazon store.
I have spent many years in the PC boutique name space as Product Development Engineer for Alienware and later Dell through Alienware's acquisition and finally Velocity Micro. During these years I spent my time developing new configurations, products and technologies with companies such as AMD, Asus, Intel, Microsoft, NVIDIA and more. The Arts, Gaming, New & Old technologies drive my interests and passion. Now as my day job, I am an IT Manager but doing reviews on my time and my dime.