Intro
One of the biggest treats for your PC is an SSD, icing on the cake is an M.2 and to top it off and an NVMe M.2 PCIe SSD.  Nothing gets a PC boosting it's speed like a fast SSD, and maybe some RAM and a CPU as well, but that's a story for another review.  Capacity, Speed and Reliability are the most important, but what good are those if you can't afford the SSD?
Today's review will be of the Patriot Scorch 256GB PCIe 3.0×2 NVMe 1.2 M.2 SSD.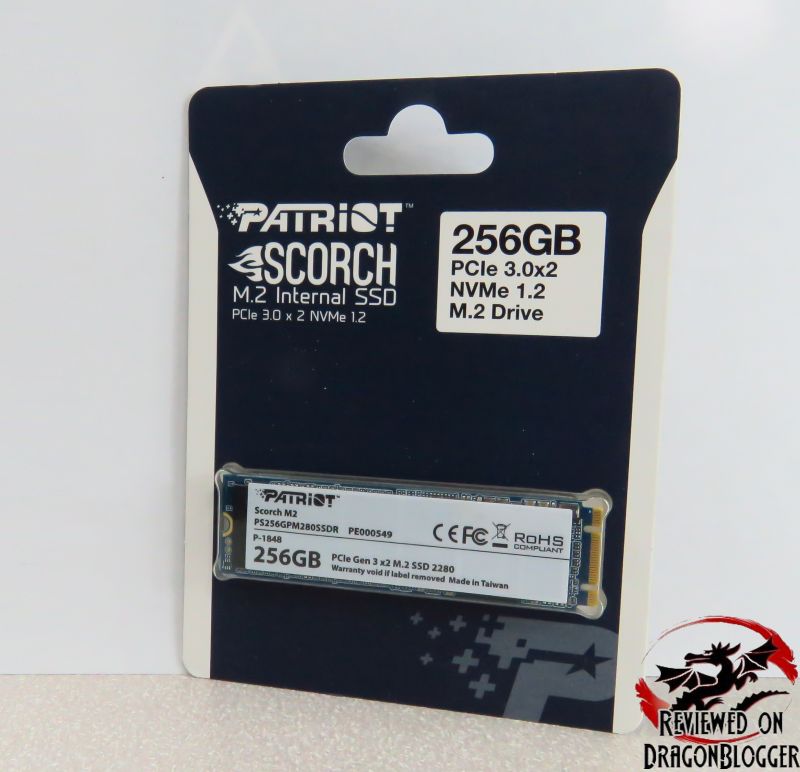 While it might look like a stick of RAM, it's not.  Like I will show you a little later in this review, this actually goes connected directly into the PCI-e lane, but not through a PCIe slot, don't worry I will show you.  Before we get into the speeds and how to connect it, let me walk you through the features and specifications.
Capacity: 256GB
Model Number: PS256GPM280SSDR
Interface: PCIe NVMe Gen3 x 2 Lanes
Form Factor: M.2 2280
Firmware: E8FK11.5
NVMe Standard 1.2
Controller: Phison 5008 E8 (PS5008-E8)
Flash Memory Type: Toshiba 64-Layer BiCS3 3D TLC
Sequential read: up to 1,700 MB/s
Sequential Write: up to 780MB/s
Random Read IOP's: up to 200K
Random Write IOP's: up to 90K
Meantime to Failure (MTBF): 2 Million hours
Endurance Rating 150TBW (Terabytes written)
3 Year limited warranty
Didn't mean to bore you with those details, but let's check out the unboxing so you can see what comes inside this package.
The package looks like something you can pick up at any retail store, plain an simple, though I had to use scissors to break the box open.  I like to reuse the packages, I could not here, not a huge deal.
There are no instruction manuals here, or pamphlets, which is good because people mostly throw those away and rarely look at them anyway.
So, when all is said and done with the unboxing, we have this: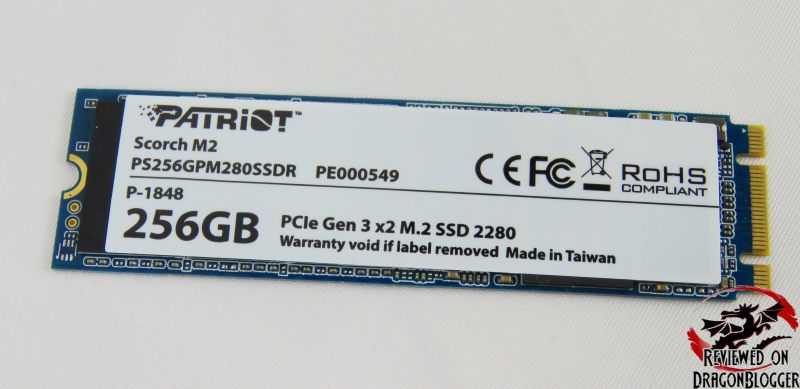 Now that we have the drive, let's take a closer look at it, see what makes it tick in the next section, Patriot Scorch 256GB SSD close up.
Continue: Patriot Scorch 256GB PCIe SSD close up