Intro
We are influencers and brand affiliates.  This post contains affiliate links, most which go to Amazon and are Geo-Affiliate links to nearest Amazon store.
CAD, Games, Google Chrome, Audio/Photo/Video Editing and your Operating system all together suck up lots of RAM and while you should control everything you have open, sometimes you need everything open.  Sometimes all you can do is get more RAM and that is not a bad thing.
When asking about what to look for in a gaming pc, RAM is one of the best things you can do to improve the performance of your PC or Mac and this is one of the most important things whether you are building your own, upgrading or buying one.  Not too long ago though, a newer option has been hitting RAM modules and that's RGB, and I was for one not incredibly impressed by this but I was open to the idea.  With all these options and requirements, you may not know what RAM to select and I will help you.
Today we are reviewing the Patriot Viper Gaming RGB DDR4 3200MHz 16GB Kit PVR416G320C6KW.  This might be your next kit, or maybe not but in this review, we will be going through some of the features and performance of this kit.  Before we get into the performance, let's take a look at some of the specifications of the Patriot Viper Gaming RGB DDR4 3200MHz 16GB Kit.
Specifications
Memory Type: DDR4 SDRAM 288-Pin
Capacity: 16Gig (2 x 8GB)
Speed: 3200Mhz

Base Frequency 2133Mhz
Tested Frequency 3200Mhz

Automatic Featured Overclock: XMP 2.0
Compatibility and performance tested across AMD and Intel Platforms
CAS Latency: 15

Base Timings: 15-15-15-36
Tested Timings 16-18-18-36

Voltage: 1.35
5 Customizable RGB Zones

Tested across lead motherboard RGB Sync applications for compatibility

ECC: Non-ECC
Pin-Out: 288-Pin
Multi-Channel Kit: Dual Channel Kit
Buffered/Registered: Unbuffered
Warranty: Limited Lifetime
RoHS certified
Now that this is out of the way, let's get into an unboxing.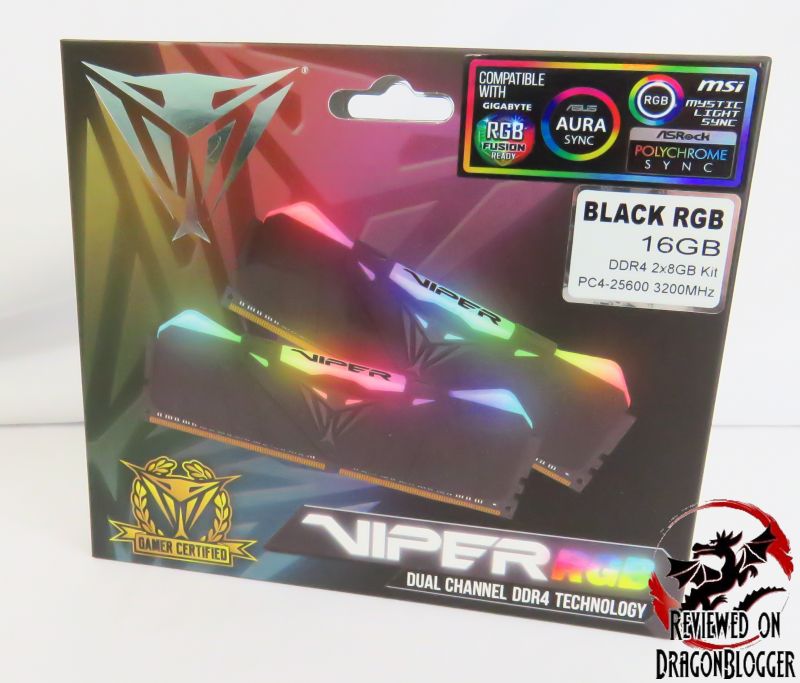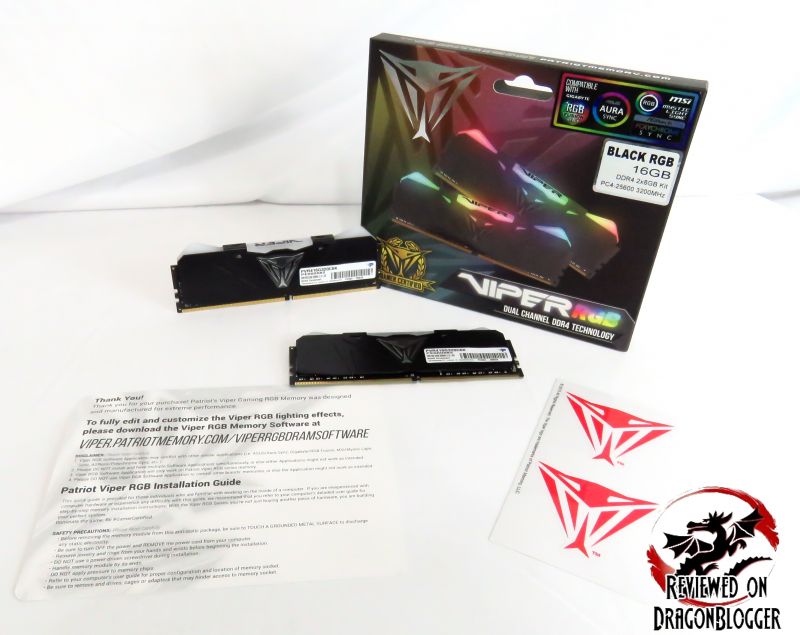 Now for a closer look at everything.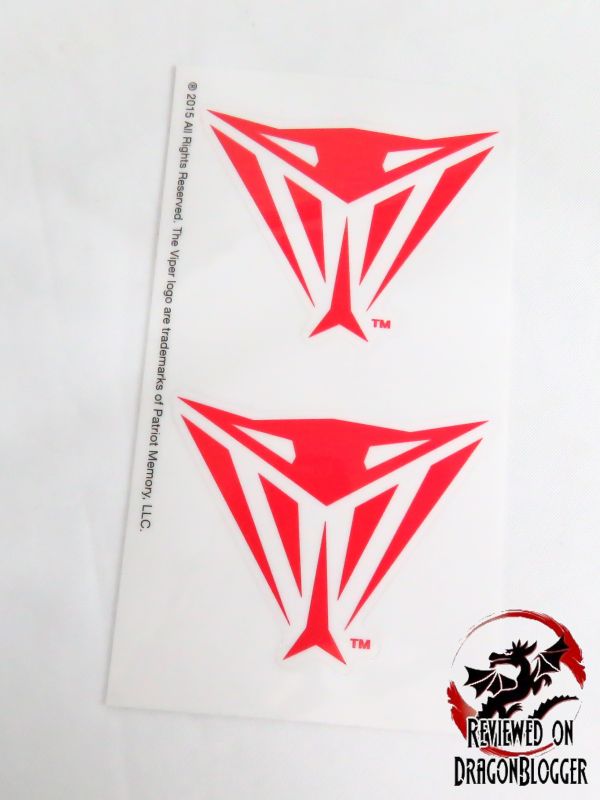 First off, Patriot includes 2 Viper stickers.  I like them, but I think they might have been a little better with the Patriot Viper label on them too, what do you think?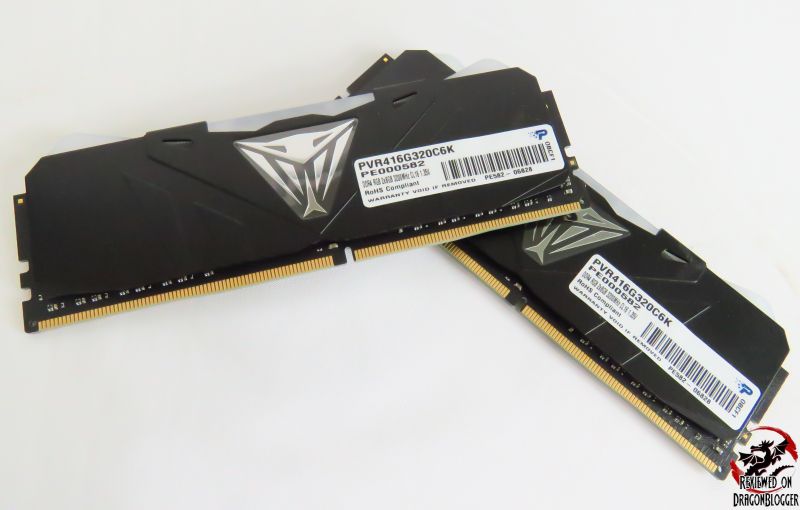 A little closer look at the Patriot Viper Gaming RGB DDR4 3200MHz 16GB modules themselves.  Each stick is 3200Mhz at 8Gigs.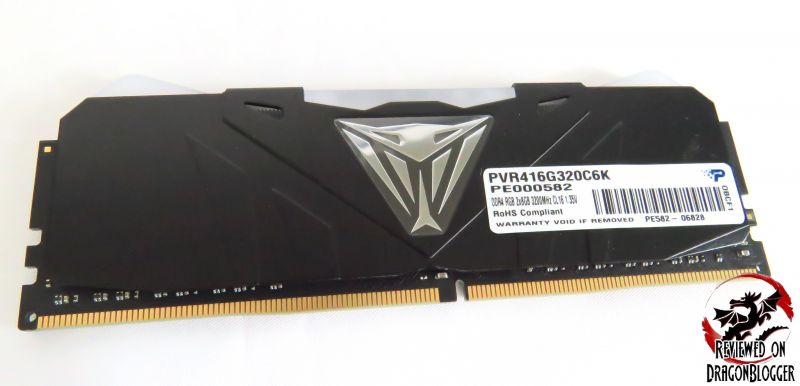 This kit being only 2 sticks of RAM allows you to select up to 32gigs.  Usually it's best to buy memory built at the same time to help make sure that they are all using the same IC's (memory chips) especially when overclocking.
The memory comes with a black heat spreader, with the Viper logo in the middle.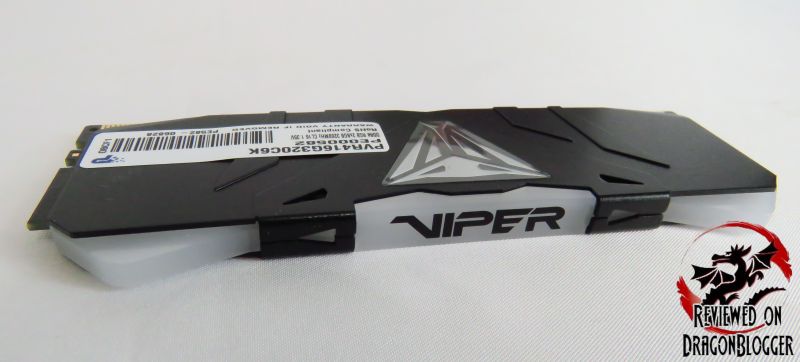 Shown on the initial picture a bit and now shown from the top we can see the white portion that is actually the RGB LED's.  I will go over this a little more later in the review.  We can see the center white portion has the brand name VIPER along the top.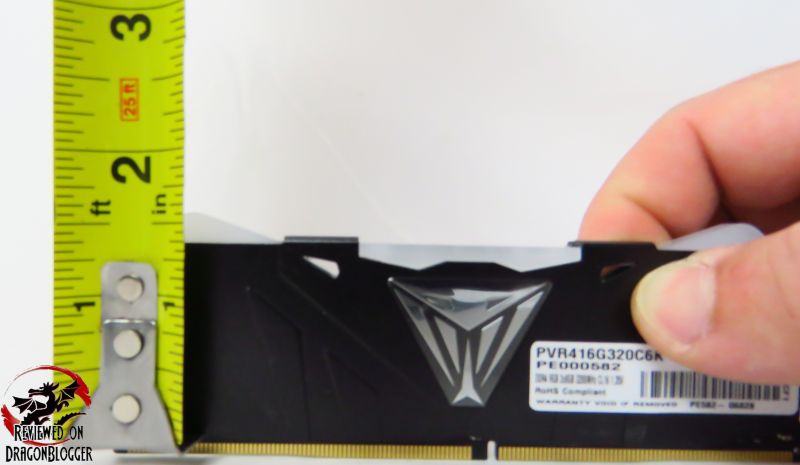 Here we can see that the memory from the heatshield is 1 inch and 9/16th.  This is so that you can measure to see if you have space in your system for this RAM.  I measured from the start of the heatsink (which usually starts right when you install the RAM) to the very top of the RGB LED.  This RAM is actually pretty short, great fit.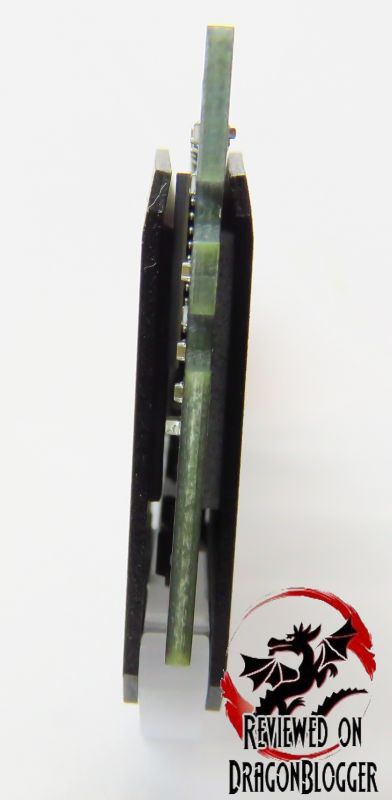 A little tilted to the side as I had the RAM stand itself, you can see how the memory is sandwiched between two pieces of aluminum and sticky pads to keep the heatsink attached to the memory.  You can also see how the RGB LED integrates into the RAM.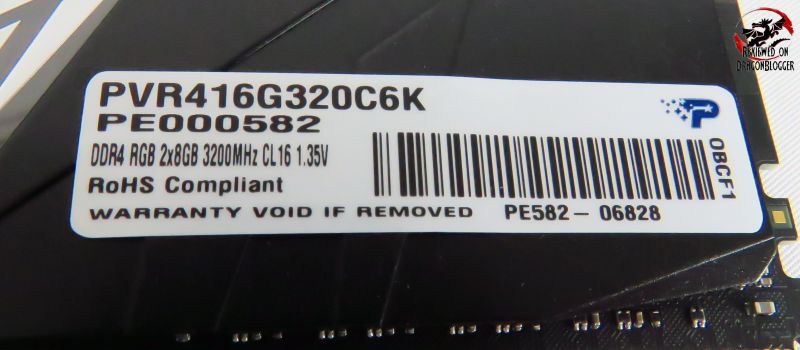 A closer look at the label, we can see the PVR416G320C6K model number.  We can also see it showing that it is DDR4 with RGB and the kit contains 2x8GB at 3200MHz at a CL of 16 running at 1.35V.  The memory is also RoHS compliant, which means the restriction of hazardous substances.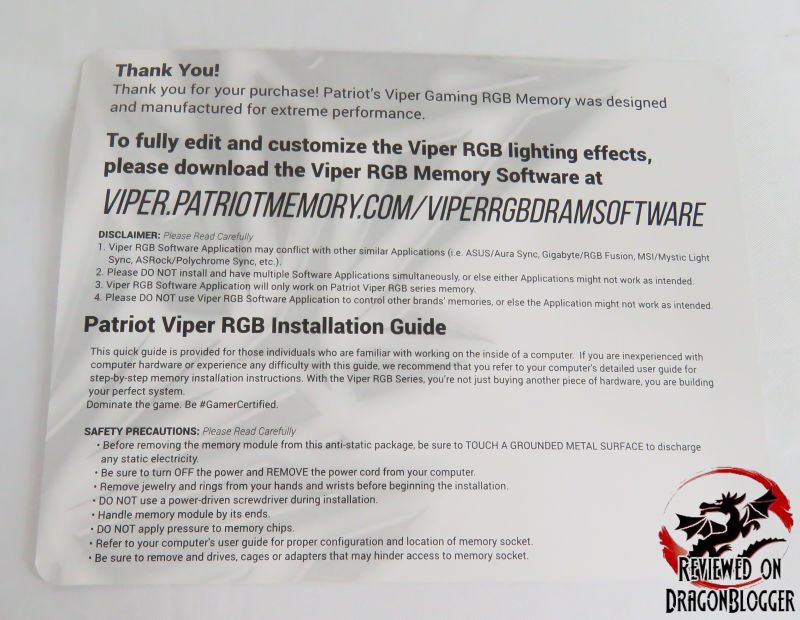 Last but not least, the "Thank you" card.  Not only does the card thank you but it shows you where you can download the software used to customize the LED lighting.  One word of caution this gives you though it to make sure you do not install this application if you have other pieces of software that control RGB pieces of hardware.  In my case, it is not an issue as the EVGA Z390 Dark motherboard does not have any sort of RGB header or application but not to fear as the Patriot Viper RGB software will take care of us.
The instructions go over how to install the RAM, but no worries I will show you how to do it here in this video.  So let's jump into the next section so that we can get a better idea on Installing and configuring.
Continue: Installing and Configuring
We are influencers and brand affiliates.  This post contains affiliate links, most which go to Amazon and are Geo-Affiliate links to nearest Amazon store.
I have spent many years in the PC boutique name space as Product Development Engineer for Alienware and later Dell through Alienware's acquisition and finally Velocity Micro. During these years I spent my time developing new configurations, products and technologies with companies such as AMD, Asus, Intel, Microsoft, NVIDIA and more. The Arts, Gaming, New & Old technologies drive my interests and passion. Now as my day job, I am an IT Manager but doing reviews on my time and my dime.