Benchmarking and comparing the WD SN750 1TB NVMe M.2 PCIe SSD
In this section, we will compare 4 different drives, the WD black 500GB PCIe SSD, Samsung EVO 850 500GB, Patriot Scorch 256GB PCIe 3.0×2 NVMe M.2 SSD and of course the WD Black SN750 1TB PCIe M.2 SSD.
I will be providing scores I have obtained in tested these drives and comparing them discussing the performance within the results.
Before I get into the numbers, I will provide system specs so that you can compare with your own specs.
To help level the playing field is turning off Windows write-cache buffer flushing.  I will show you below how I did it in case you would like to do it, but with a warning.  Doing this raises the potential for corrupting data on your drives if there is a power outage while you are using your system or if you have an error and you have to manually restart your computer (but pressing the reset button on the case or holding down the power button to shut it off).  Just a warning.
If you are interested in disabling this, if anything just for testing, right click on the start button in Windows 10, then select "Device Manager".  In the device manager, click to expand "Disk drivers" then right click on the drive you want to disable this on and click "Properties".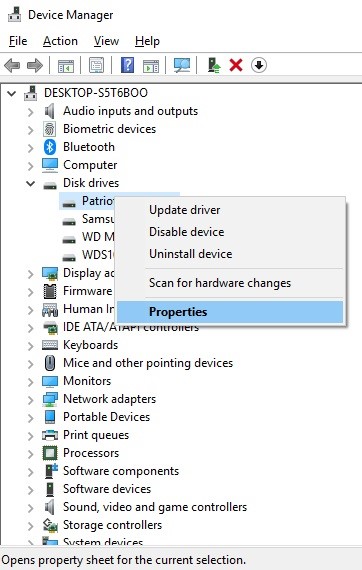 When you are on the drives Properties, click on the "Policies" tab and place a check in the box reading "Turn off Windows write-cache buffer flushing on the device and click OK.  You may need to restart your computer for this to be fully disabled, then that's it.
For testing, we will be using 5 pieces of software, ATTO Disk Benchmark, Boot Racer, CrystalDiskMark, HWMonitor and Western Digital's own SSD Dashboard.  I will mention why I had to use the Dashboard later in this review.

ATTO Disk Benchmark is used to help measure storage system performance, these tests performed are measured by transfer sizes and lengths for reads and write speeds.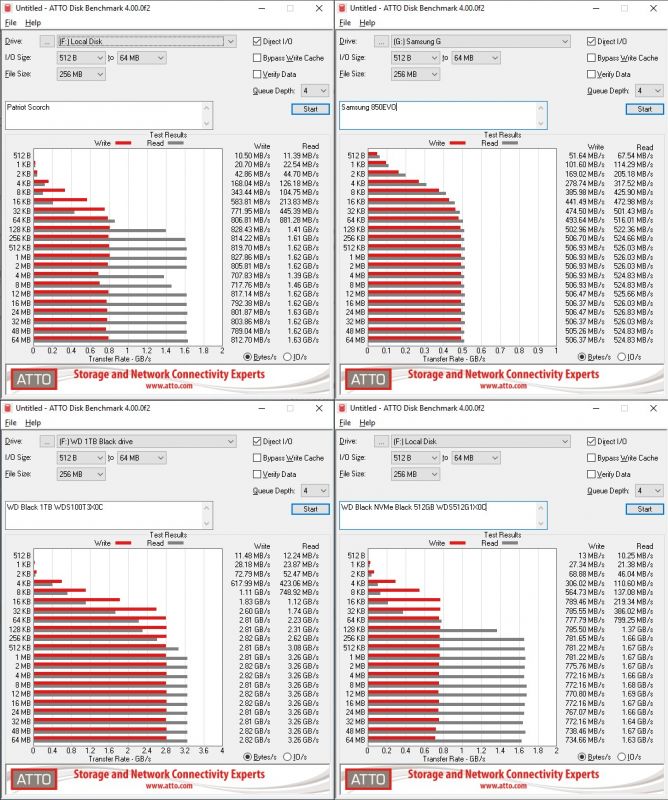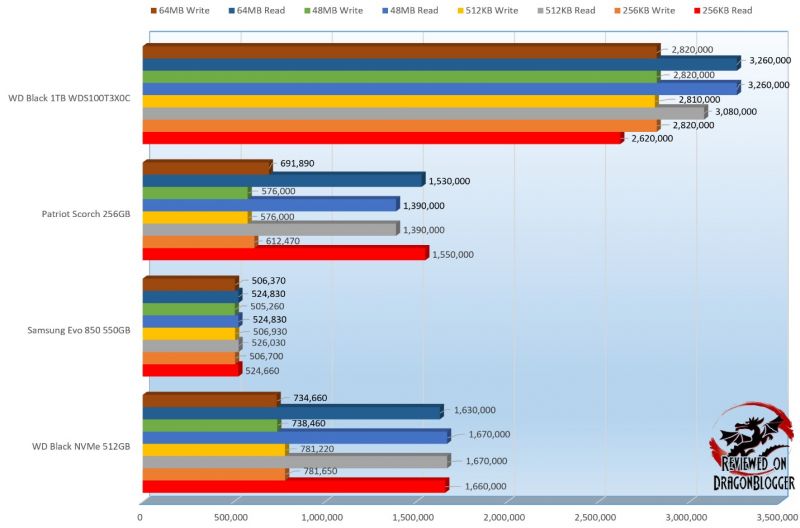 This is the definition of what I state in my first sentence of this review, SPEED, SPEED, SPEED!  This is mind blowingly fast.
It's pretty obvious that the performance of the SN750 is fast, but breaking it down a bit we can see here it more than doubled the speeds in Read of the WD Black 512GB, its older relative (I reviewed this drive back in March of 2017, you can read it here, but please remember the tests in that review were on a different board), the fastest of this review as you can see.
It also almost performed 4 times faster than the WD Black 512GB's Write performance.  So that's 117.33% faster in Write speeds and 66.67% faster in Reads, simply amazing.
Dropping down to the Scorch, which is actually a great drive for the price, it was 2.13 times faster in 64MB Read and over 4 times faster in 64MB Read.  121.20% faster in Writes and 72.23% faster in Reads.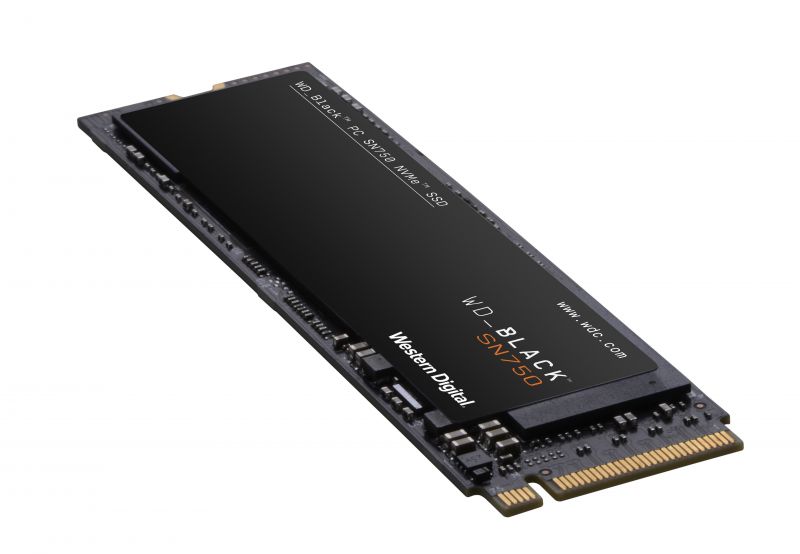 We can see that it dominated in all results, but dropping down to 256KB Read and Write, we can see it was only 1.6 times faster in Read than the WD Black 512GB and 1.7 times faster than the Patriot Scorch in Read.  In write, it was 3.61 times faster than the WD Black 512GB and 4.60 times faster than the Patriot Scorch.  113.19% in writes and 44.86% faster in reads than the WD Black 512GB and 128.63% in writes and 51.32% faster than the Patriot Scorch.
I have not forgotten about the Samsung 850 EVO, it did its thing but we can see that the SATA Port is being phased out like the IDE port in performance.  The Samsung came in 5.57 times slower in Write and 6.21 time slower in Read on the 64MB transfer tests.  On the 256KB Write, it came in 5.57 times slower and 4.99 times slower in Read speeds.  I don't think SATA will be going away soon, being that there are far more SATA ports than there are M.2 ports, but it's taking a back seat.
Another thing to note on the Scorch is that it is a x2 drive, meaning it will take up 2 PCIe lanes were as both the WD drives will take 4 lanes.  Patriot did this for costing purposes, so it is a great drive, but cannot keep up with the SN750, but it matches pretty well with the WD Black 512GB.
Ok, so now let's see what Crystal Disk Mark shows.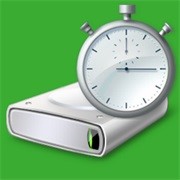 Crystal Disk Mark uses Microsoft's own DiskSpd test to calculate its results.  DiskSpd is a load storage generator and performance test tool from the Windows Server and Cloud Server infrastructure Engineering teams.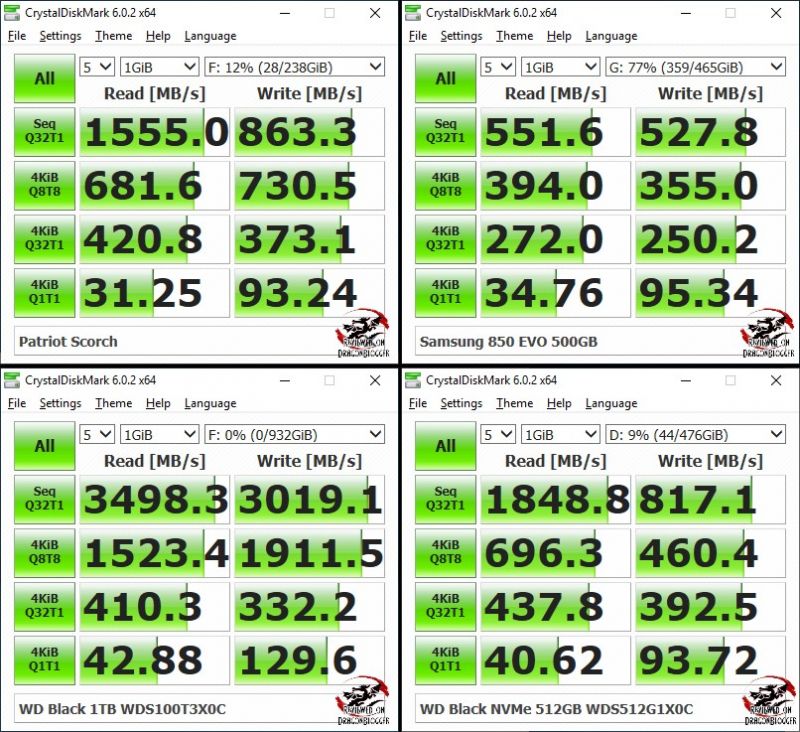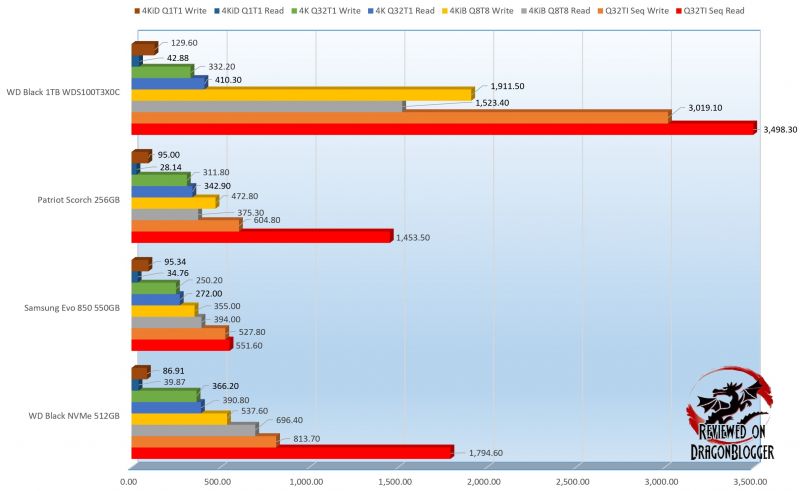 OK, this one is a little more eye opening on the performance differences.
We can see here the Sequential Read of Q32TI (Multi Queues & Threads) on the WD SN750 was 61.70% faster than the WD Black 512GB and 76.91% faster than the Patriot Scorch.  In writes, the SN750 came in at 111.05% faster than the Patriot Scorch and 114.80% faster than the WD Black 512GB, so the Scorch actually did come in faster than the 512GB variant of the WD, but still second to the SN750.
In the 4KiB Q8T8 (8 Queues/threads Rea/Writes). The SN750 came in only 74.52% faster than the WD Black 512GB and 76.35% faster than the Scorch.  In writes, the SN750 came up ahead 122.36% faster than the WD Black 512GB and 89.40% faster than the Scorch.  You can see how the Scorch and the WD Black 512GB trade off of reads and writes often.
Finally, on the Q4KiB Q1T1 (1 Queue & 1 thread) the SN750 took a smaller lead in Read performance coming in at only 5.41% faster than the WD Black 512GB and 31.37% faster than the Patriot Scorch.  Here though, the 3rd place spot was not held by the Scorch, it was held by the Samsung 850 EVO coming in 20.91% slower than the SN750.
In Writes, the SN750 again took the lead by 32.13% over the WD Black 512GB and 32.63% over the Scorch.  The Samsung 850 EVO again surprised but not by hitting the 3rd spot, but by hitting the second spot at only 30.46% slower than the SN750.
It is a bit sad that they were competing against the 2n place spot, but against this SN750, 2nd was considered 1st place because there was no competition.
Speed being speed, I wanted to explain what each of these oddly worded sequences are.
4KIB Q1T1 is the random read or write of a 4KB block with single queue and thread
4KiB Q8T8 is the random read or write of a 4KB block with multi queues (8) and threads (8)
Seq Q32T1 is Sequential Read or Write of multi queues and threads
4KiB Q32T1 is the random read or write of a 4KB block with multi queues (32) and threads (1)
Windows assumes that files and memory are handled in 4 kilobyte chunks, meaning that all transfers from a drive to memory are 4 kilobytes in size.
A queue, is a set of instructions, 1 queue is one set of instructions and multi queue or multiple queues are multiple sets of instructions or data and they are processed in order.  A thread, manages the queues processing their data, a thread handles 1 queue, multiple threads handle multiple queues to process data efficiently.
The one most pay attention to is the Seq Q32T1, as this is the reading that drive manufactures publish and are usually held accountable for.
Aside from performance, there is a 3rd factor we will be testing and that's boot speed and these might be a little surprising.  For this I will be using BootRacer by Greatis Software.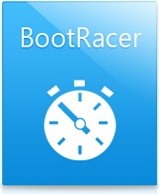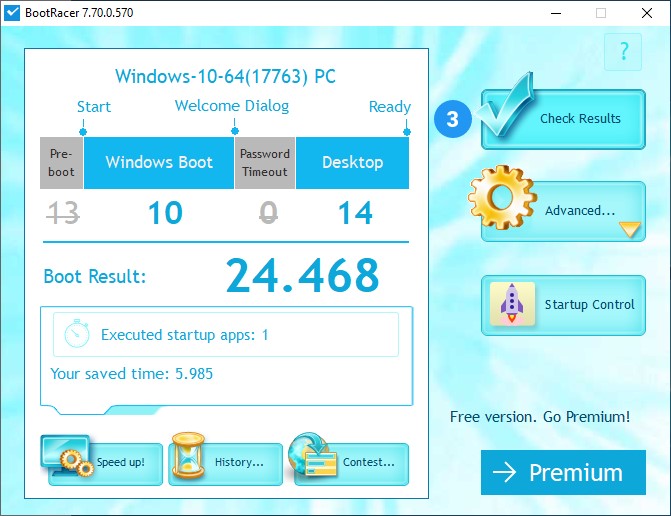 Here we can see that from a completely powered down status, this drives boots into Windows at 10 seconds but does not reach a perfectly idle state until 14 seconds for a total of 24.468 seconds.  Let's compare with the other drives.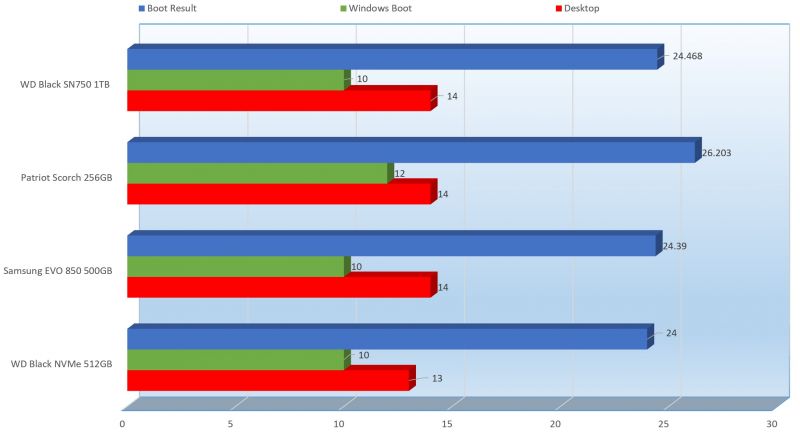 Did you see what happened here… The SN750 was dethroned, dethroned by none other than its sibling the WD Black 512GB, not by much but a win is a win.  Then in an interesting turn of events, the Samsung 850 EVO landed it self in 2nd place again, but above the SN750 coming in at a total boot time of 24.39, that's .078 seconds faster than the SN750… I am disappointed in you SN750… no, not really haha.
So the very last test was temperature, being underneath the video card, things can get a bit hot so I wanted to see just how hot but Western Digital has a kind of unfair advantage here and I will explain why.
While the Patriot Scorch and the WD Black 512gig are 1.2 NVMe spec drives, the WD SN750 is an NVMe 1.3 spec drive and that could potentially mean a lot.
The 1.3 spec or standard can deliver many different power states and in each of those powerstates a maximum power draw, latency and with those performance.  The standard also provides thermal management that can be controlled by the vendor, in this case Western Digital.  The Thermal management controls the throttling, which means that when it get's too hot the performance will drop to protect itself rather than melting the drive and damaging many other components.
I will use HWmonitor to provide you the temperatures the other drives hit, but for this drive, I have to use the WD SSD Dashboard of which I will go over in depth in a moment.
As you saw before, here is where the SSD is, directly underneath the video card.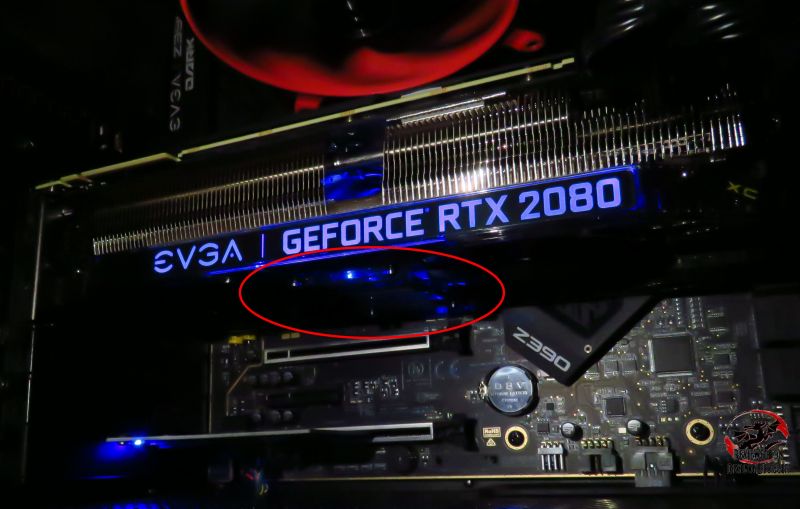 Things can get pretty toasty on a video card and with the SSD being right there, it is a bit scary, but WD has you covered.  To test the temperatures, I ran a pass of CrystalDiskMark and immediately when it finished ran ATTO.  ATTO pushes the drives but I wanted to prime the drives and get them hot with CrystalDiskMark and then bring that heat and push it further in ATOO.
Here are the results read from HWMonitor and the WD SSD Dashboard.



Here are the temperatures of the Samsung 850 EVO 500GB, Patriot Scorch and WD Black 512GB.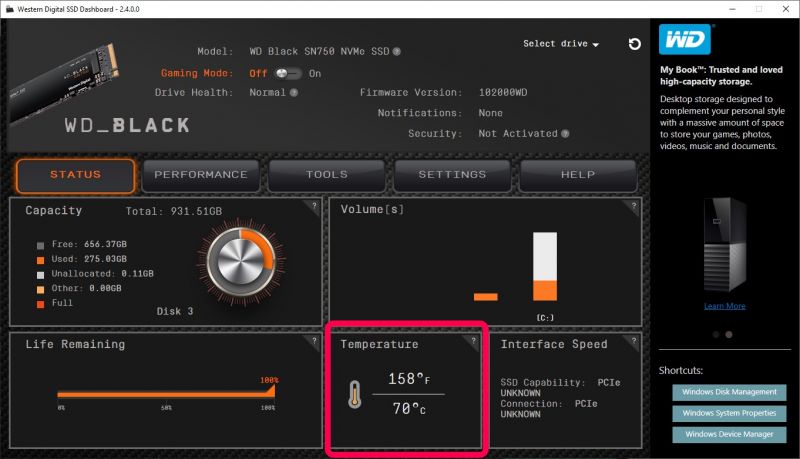 Then here we can see the WD Black SN750.  The hottest both of the WD drives got was 70°C which were the fastest drive.  After that was the Patriot Scorch coming in at 66°C and then the coolest drive was the Samsung 850 EVO 500Gig but that's not an M.2 drive so it's different.
I had to use the WD SSD Dashboard tool since HWmonitor was not reading the drive, it saw it but did not read the name of the temperature at all keeping the temperature at 32°C.  To give you an example.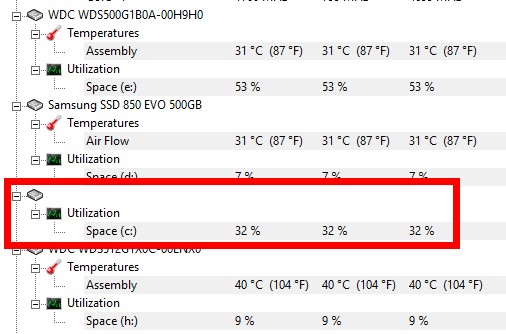 See what I mean?
Now that we have gone over the performance of the drive, let's jump on over the software this drive unlocks for you.
As I have already mentioned, you can download the WD SSD Dashboard, which has a host of features, let's go over them now.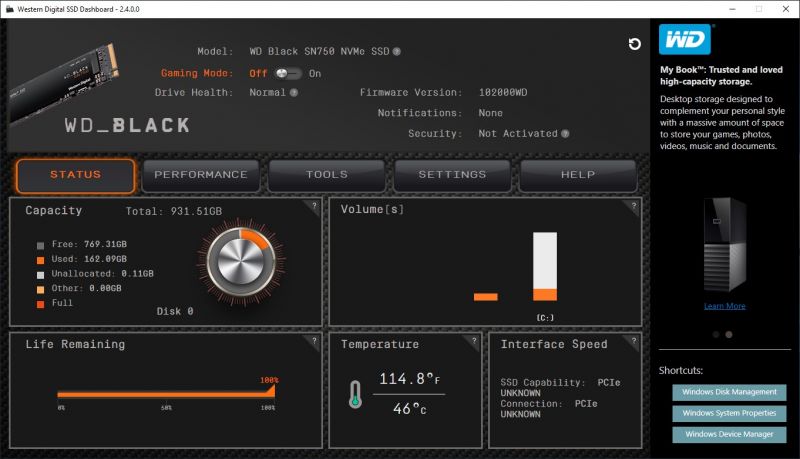 The first one in the WD SSD Dashboard is the Status pane.  Here you can see the capacity of the drive, the volumes of the drive (if you partition it you will see more, here you only see the C drive and the partition Windows creates), Life remaining of the drive (very handy), temperature of the drive, the Interface speed which does not seem to work.
Prior to testing, I checked for a firmware update, sadly there was none for this drive.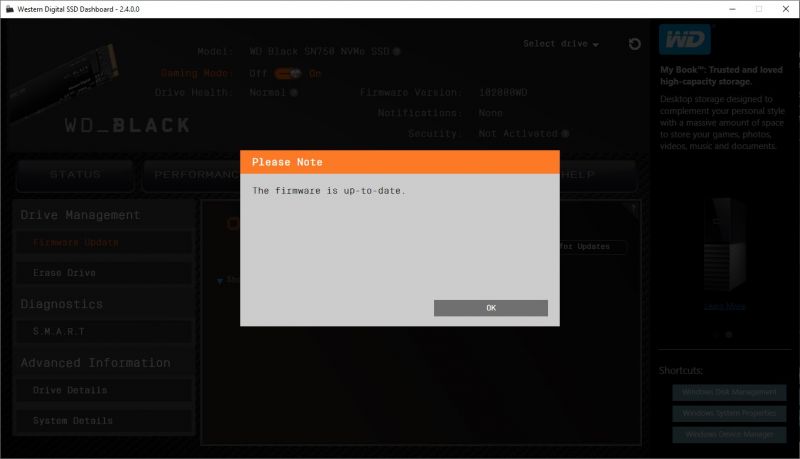 Actually, looking into this as I was writing the review, I saw the Western Digital Black 512GB had an update, so I flash it.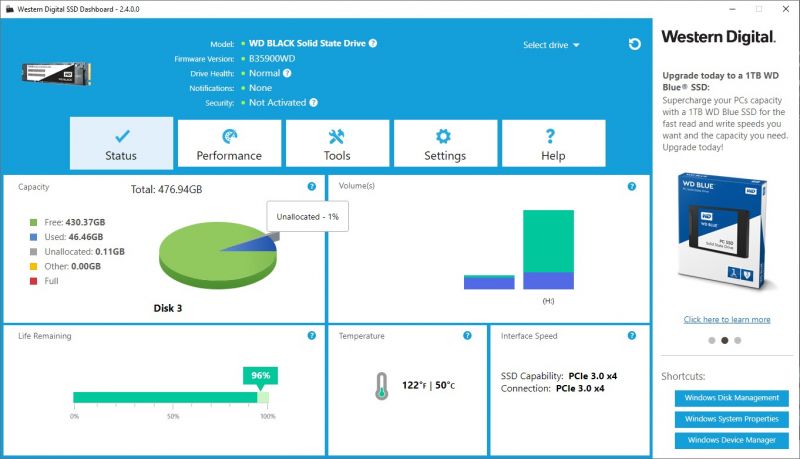 After flashing it, it took me to this page in the older-style Dashboard look and I find that this drive has 96% life remaining, an almost 2-year-old drive, that is pretty impressive.  The update only took about 10 seconds.
Let's check out performance.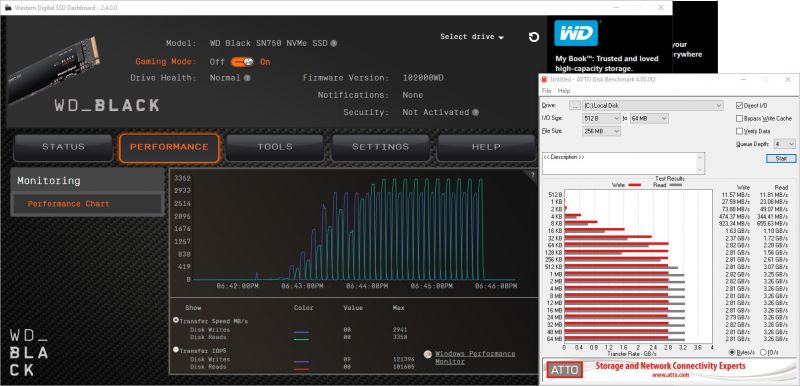 Performance, shows you a performance chart.  As you use the drive you can watch the transfer speeds in megabytes and transfer IOP's as well.  You have a shortcut as well to the Windows Performance Monitor.  What tool's does it offer?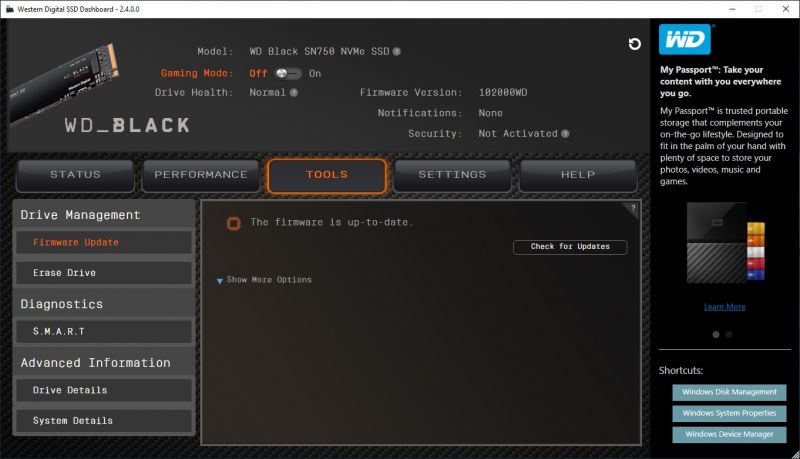 Under tools, we are able to check and update for a newer firmware for the drive.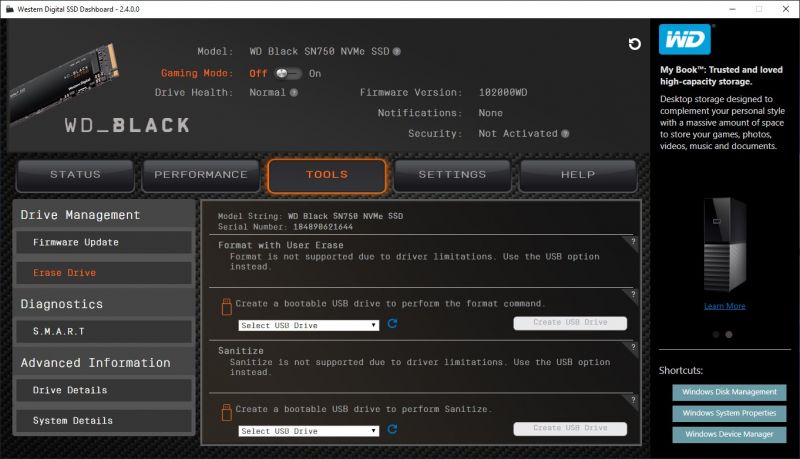 We can erase the drive by prepping a thumb drives to be able to boot to it and the erase the drive in the mode.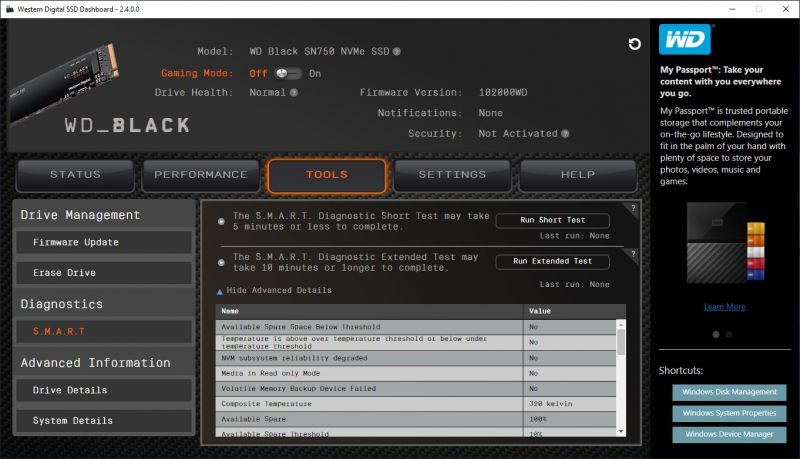 We then have diagnostics utilizing S.M.A.R.T (Self Monitoring Analysis and Reporting Technology) which is utilized in most drives and has been around for a very long time, but this actually lets you run test rather than just ready results later when/if your drive is failing.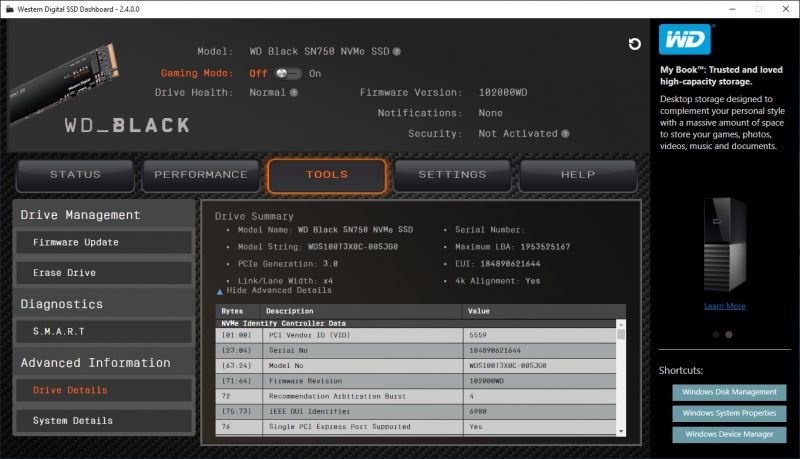 It provides you with Drive details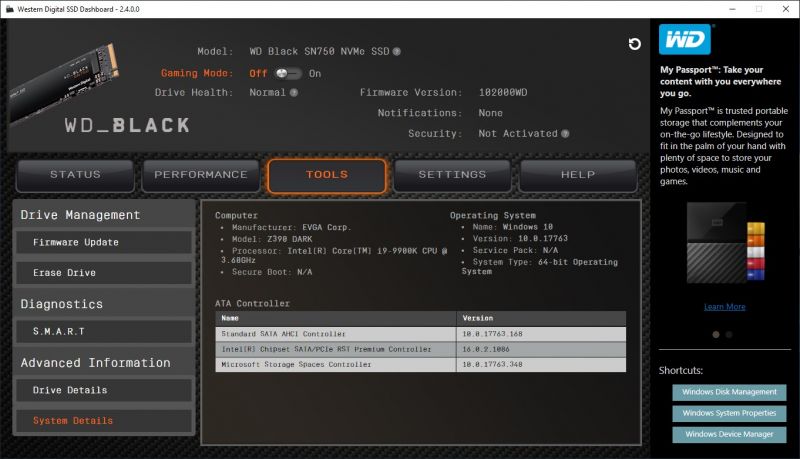 As well as system details.  So what is under Settings?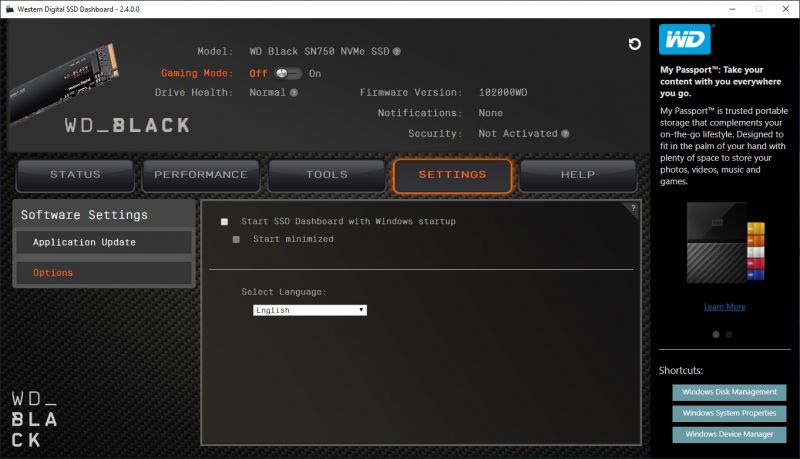 Under Settings, we can update this application itself and chose windows startup options.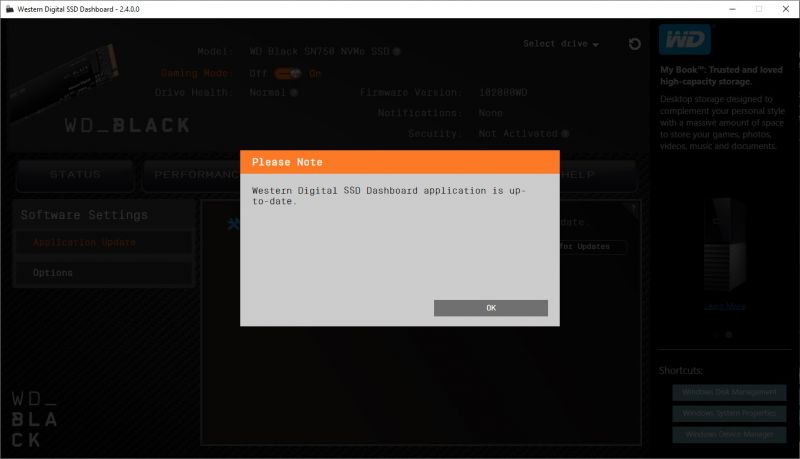 I also checked for application updates, none either.  What's under Help?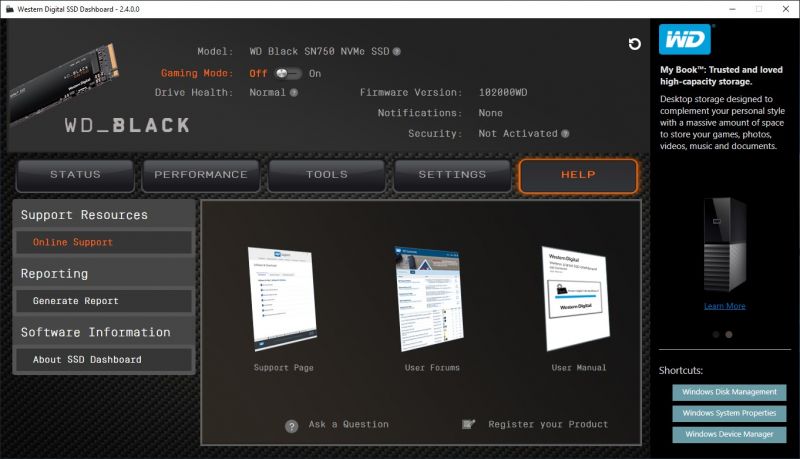 Under Help, we can see online resources, generate reports, perhaps in case something goes wrong you can send to Western Digital and then information about the SSD.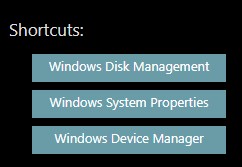 If you noticed, on all of the pages on the bottom right, Western Digital provided shortcuts to Windows Disk Management, Windows System Properties and Windows Device manager and a few more also.

Also on all pages, but on the top, Western Digital provides this information… and a switch, a Gaming Mode switch.  I was interested on this switch and I come to find that it lowers the latency of the drive and increases the max power to the drive, but I thought the NVMe 1.3 Standard did that too?  It looks like WD tapped into that resource.
I tested originally with it off and then I tested with it On but sadly there was little to no difference, actually some of the scores dropped, but only a very tiny bit.  One thing that did happen though is the temperatures did go up, but again not by much.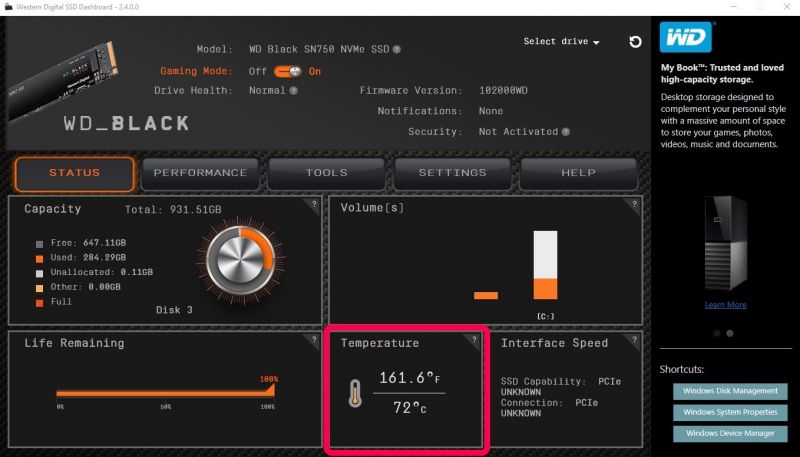 I tested again with the same method I used before and the drive only hit 72°C, only 2 degrees hotter than before.  This is an acceptable temperature but it did not provide any sort of improvement in speeds, so it's kinda worthless.
I asked Western Digital about this, as the spoke to me previously on other questions I had but I could not get an answer on this as they were prepping for PAX East 2019 (I can't believe I missed it this year).  If I do get some answers on this, I will surely let you all know in the results page.
That's about it for WD SSD Dashboard, but you can also download "Acronis True Image WD Edition" which is free since you own this drive.  So let's check that out.
Within Acronis, on the "Backup" tab, you can backup your entire PC and then select the destination.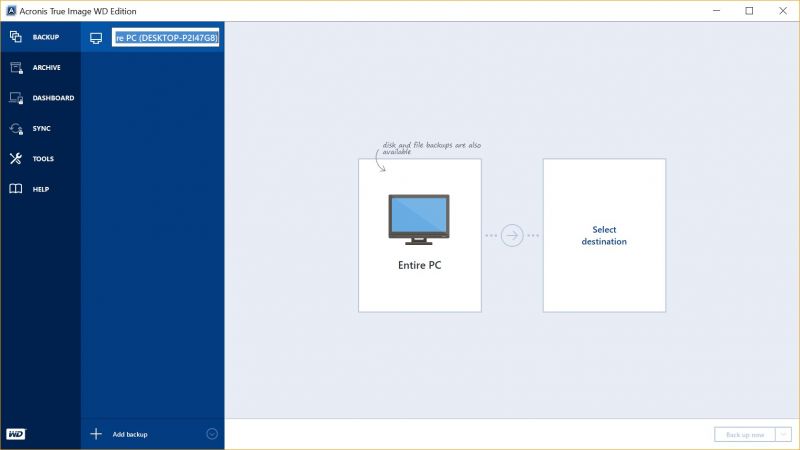 The "Archive", "Dashboard" and "Sync" tabs will get you to this screen.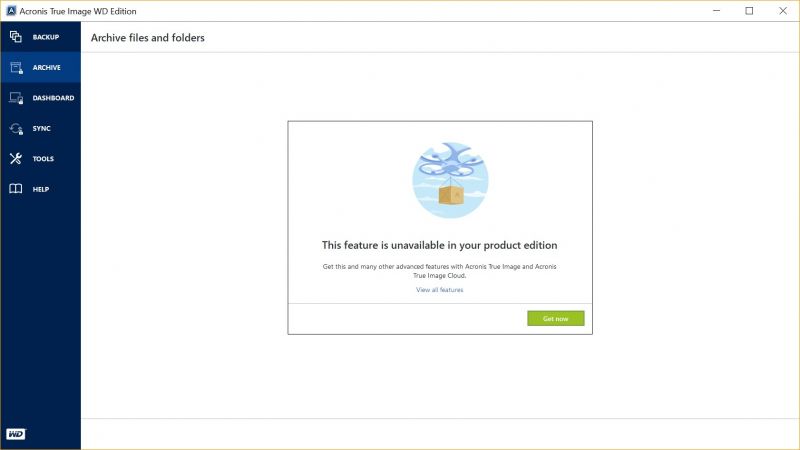 And if you click the "Get Now" tab, you will be greeted with this screen where you can buy the full version for only $30 dollars, I don't really backup my machine, but if you do this would be great for you.  You can find a copy of the 2019 Edition here on Amazon: https://geni.us/phPBQ4C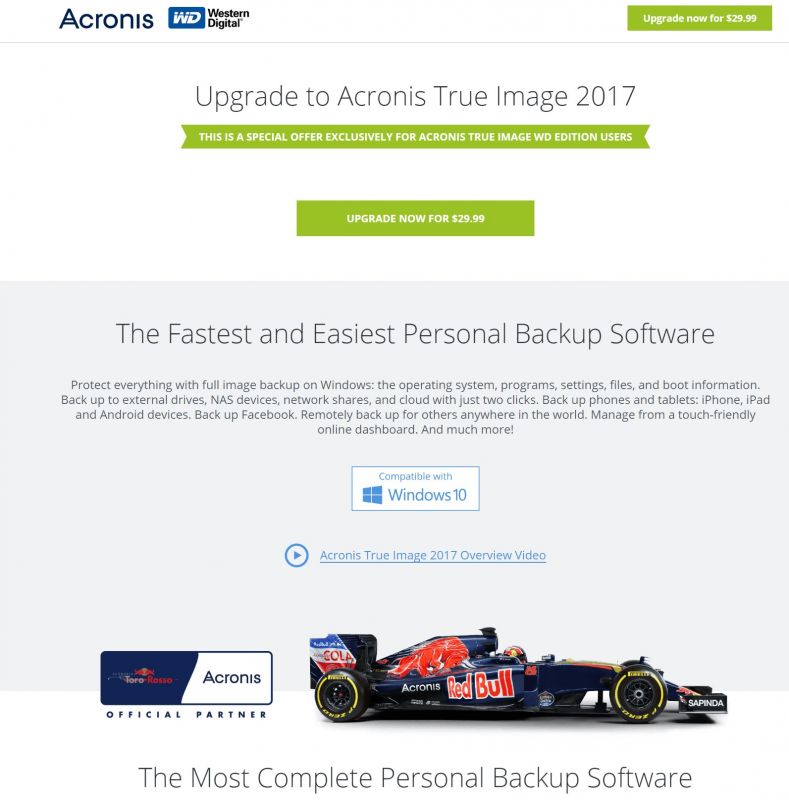 The "Tools" tab provides you with some nice features.  "Clone Disk, allows you to clone your Operating system disk to another disk, or any disk to any disk, this feature is included in this build.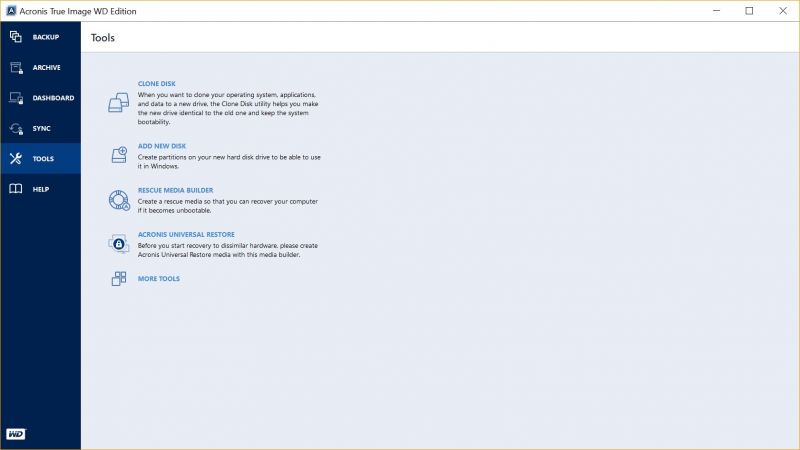 The "Add New Disk" is pretty useful.  It lets you partition your new drive to use it in Windows.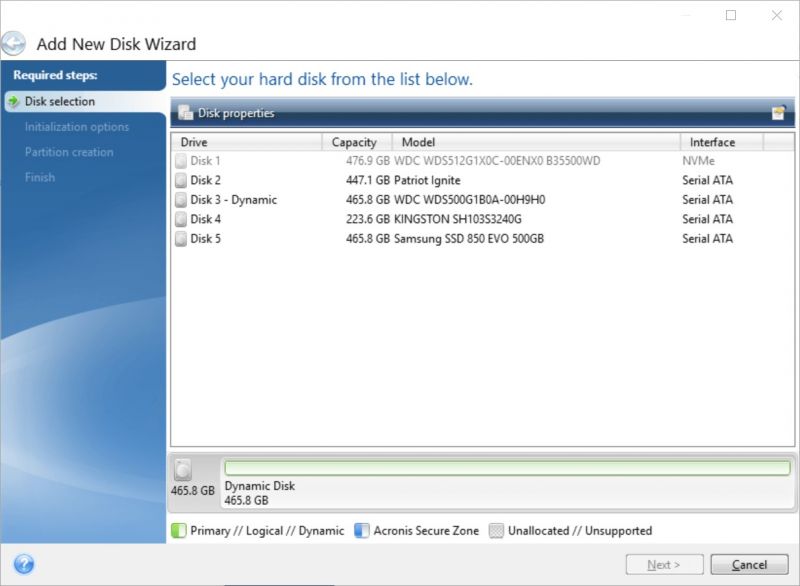 The "Rescue Media Builder" allows you to create a bootable rescue disk and WinPE functions for better compatibility.  While the Acronis bootable rescue media function is enabled in this version, the WinPE based media is not.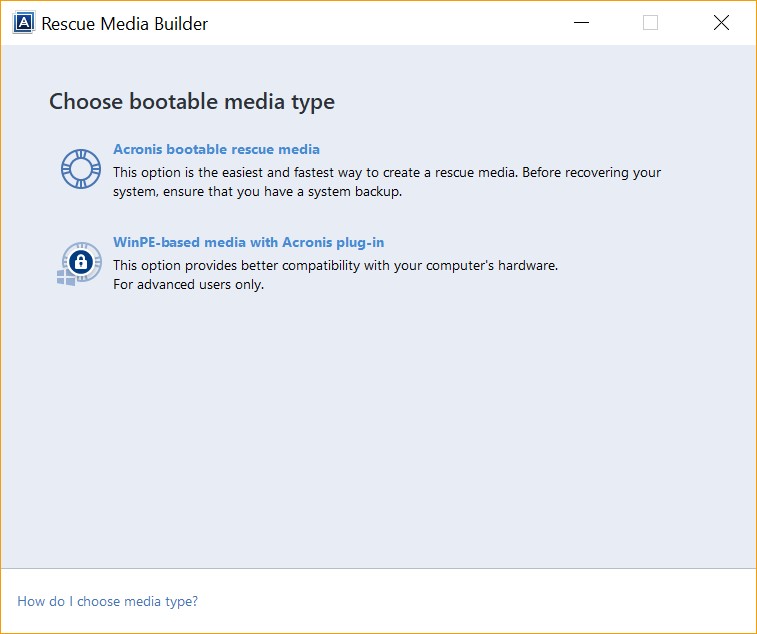 Acronis Universal Restore that allows you to recover your media to a different type of machine (different HAL) with a different type of CPU (AMD vs Intel) but this feature is not available in this free version.
More Tools throws you out to File Explorer where you can fine shortcuts to all of the tools.

Help, well helps you use all of this software if you don't know how to.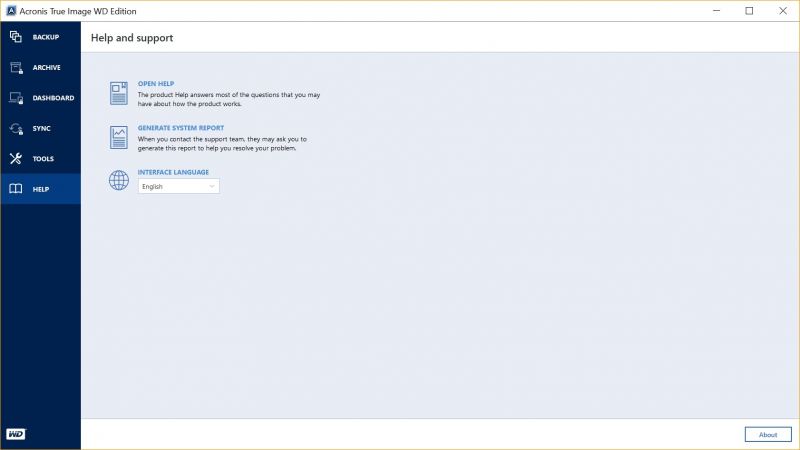 Very simple software and very useful in my opinion, I would not use the backup portion of it but the clone feature is nice for me at least.
With all of this out of the way, I think it's time to wrap this review up with my Final Thoughts and Conclusion.
Continue: Final Thoughts and Conclusion