Battery life testing
Aside from performance benchmarking, laptops/ultrabooks require another form of benchmarking, battery life span.  Battery life is incredibly important for laptops since they are mobile, you will be taking this on business trips, vacations and other long commutes, on the road or in the air and you don't always have a power outlet where you can plug these in so these things need a long battery life.
PCMark8 also provides a battery test that might measure a person's workload, a very high energy individual that only has minutes to get work done.  The test runs a gamut of web browsing, writing, photo editing, video chat, video encoding and gaming benchmarks to simulate real world use and while I would say it is not amazingly real world, it gives you a great example of how much this PC can handle.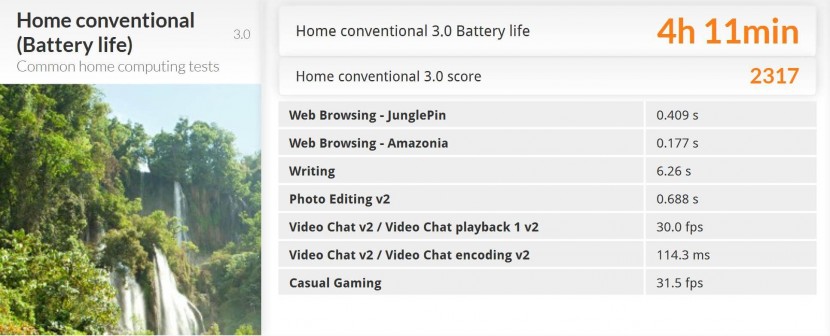 Here we can see on the "Home conventional (Battery life)" test it scored 4 hours and 11 minutes.  This is 4 hours of web browsing, mixed in with writing documents, photo editing, video chatting and encoding and gaming.  This is amazing, though a far cry from Dell's 18 hour claim and here's why.  Dell, like all other notebook manufacturers will claim a battery life, but those claims are not based on use, they are based on turning on a laptop and sitting on an idle screen, 18 hours is nice but it's also a long time to stare at a screen that is not doing anything.
To bring the testing to a more real word scenario, I will run a bunch of movies playing back to back to see how long the battery lasts.  I ripped these movies I own using Wondershare's Video Converter Ultimate; here are the movies I ripped.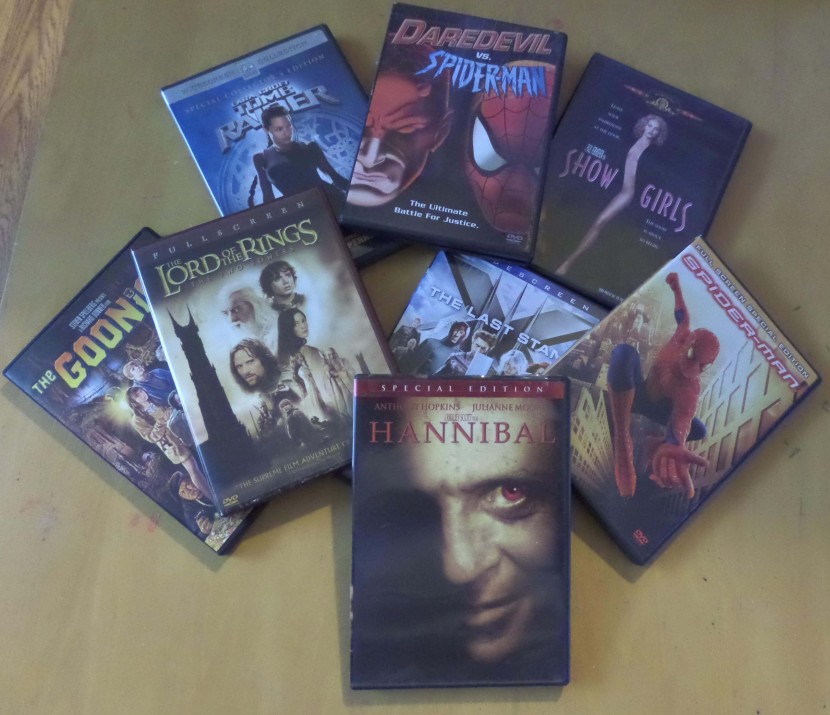 Lord of the Rings the Two Towers, Spider-Man, The Goonies, Tomb Raider, Daredevil VS. Spider-Man, Show Girls, X-Men, X-Men The Last Stand and Hannibal.
Click hold and drag order playlist
Hannibal: 2:11:32
Showgirls: 2:11:07
Spider-Man: 2:01:12
Spider-Man VS. Daredevil: 1:20:17
The Goonies: 1:53:57
Tomb Raider: 1:40:34
Lord of the Rings: The Two Towers: 2:59:22
X-Men The Last Stand: 1:44:06
X-Men: 1:44:17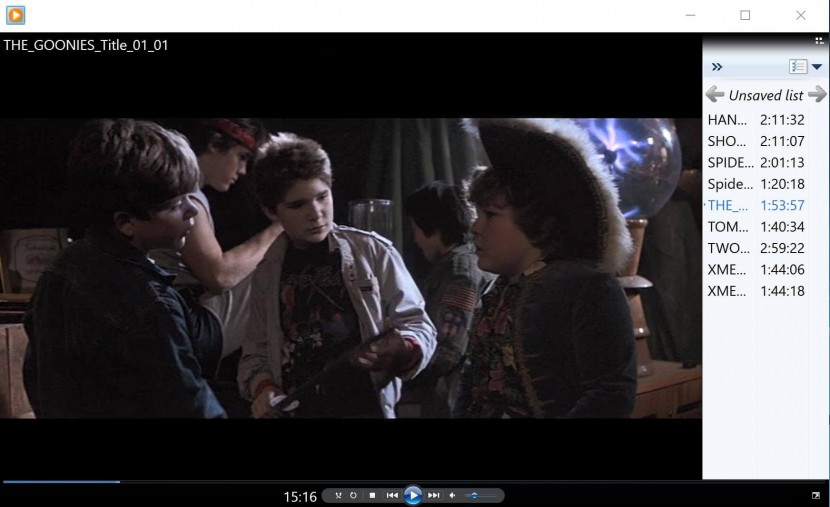 Mind you, I was playing the movies at full screen but this was the screen it booted back up to after I plugged the machine back in and turned it on.  It played a total of 7 hours, 59 minutes and 22 seconds, just shy of 8 hours of straight movies, that's not bad at all.   It got through Hannibal, Showgirls, Spier-Man, Spder-Man VS. Daredevil and 15 minutes and 16 seconds of The Goonies.
Once it died, I plugged it into the Dell Power Companion which holds up to 12,000mAh of power and even provides 2 additional USB ports to charge other devices.  You can charge it with the same cable used to charge the Dell XPS 13.  Before I go into the companion, I wanted to show you this.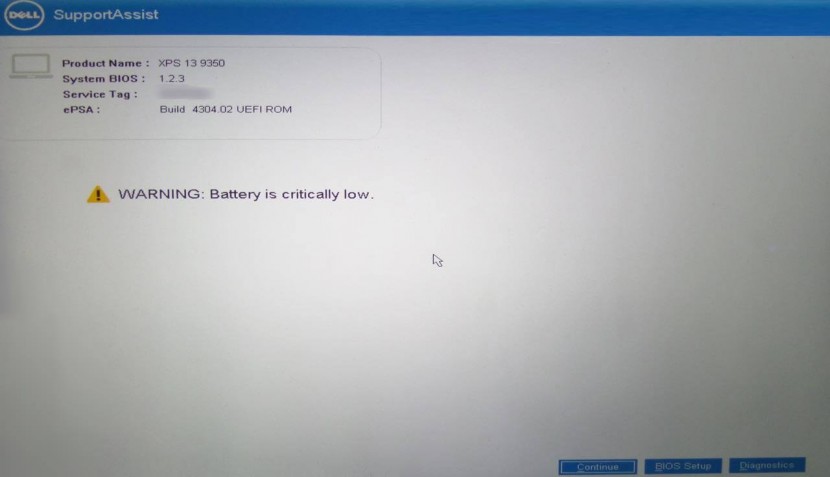 It didn't actually die though, they have protected it so that when the battery is near its end and turns off.  You can turn it back on and are greeted with a UEFI bios warning message letting you know that your battery is very close to dying.  You can choose to "Continue" to boot back into windows, but you have 6% battery and this is to allows you to not lose any data you were working on and even to not miss the part of the movie you left off at.  I totally drained it afterwards to show you this.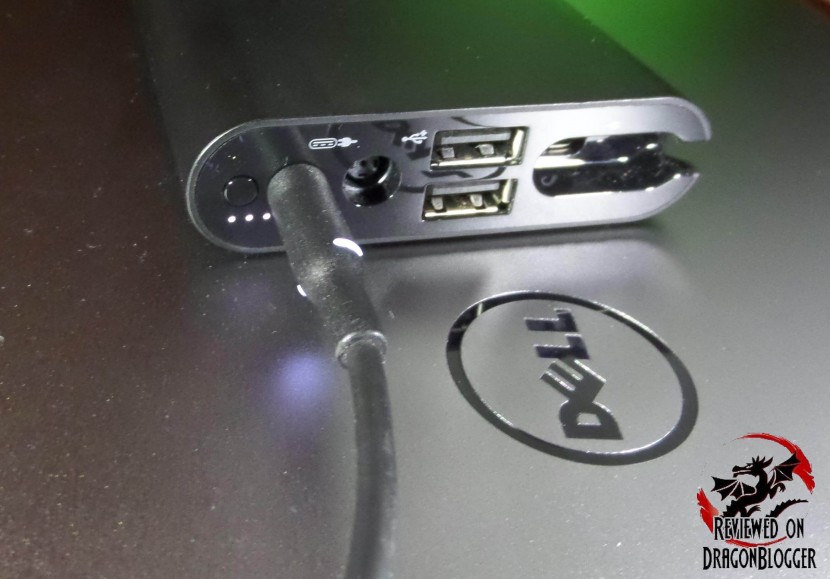 With this, I was able to get the battery on the Dell XPS 13 back up to 56% from being at 0%, totally devoid of any power.

The battery indicator on the side shows me I have 3 bars out of 5 of power after a full charge from this Companion.  This is very handy so that you don't have to keep booting the unit backup each time to check power.
With that extra power, I was able to get an hour into Lord of the Rings: The Two Towers, kind like real life….  So that's the remaining 1 hour, 38 minutes and 41 seconds of The Goonies, 1 hour, 40 minutes and 34 seconds of Tomb Raider and 1 hour of the Lord of the Rings: The Two Towers, for an addition 4 hours, 19minutes and 25 seconds.  Even though the system shut down to protect the battery, it had 4% left which is 29 minutes, so I could have seen an additional 29 minutes of Lord of the Rings: The Two Towers but I'm good.  To total it up, that's 12 and almost a half hours of movies, 8 with the built in battery and 4 hours and 20 minutes with the additional battery, even without the companion, that's very nice.
Since this unit does not come with an optical drive, you would have to rip them or use Netflix or some other form of movie service, but I chose MP4.  If you did want to buy an external media player, a Blu-Ray/DVD/CD player, you can get something along the lines of this