Comparing Performance
We know that the 5700 series has been a great series for AMD, but what does it mean for Sapphire and it's variant's.  Let's do some comparison running some of the benchmarks we have already run.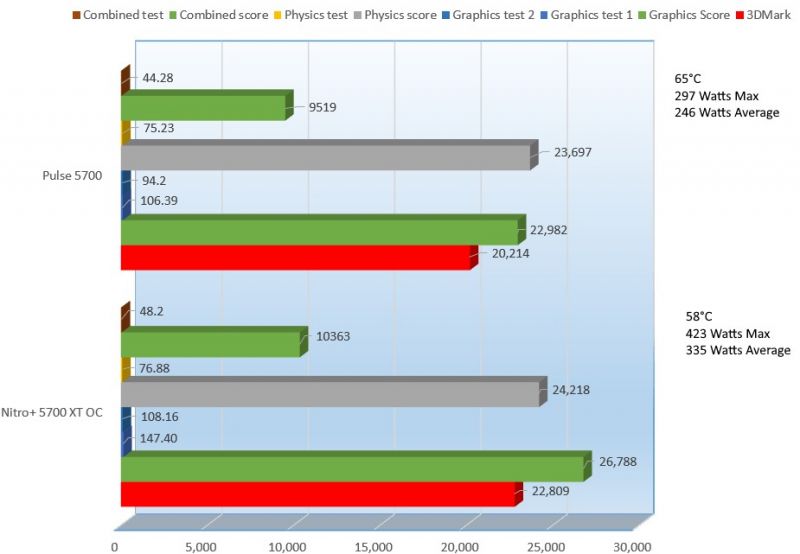 Rather than go through the entire story here on 3DMark, lots of individual scores, the main score is usually people refer to when taking about 3DMark score.  We can see the 5700 XT scored an impressive 22,809 while the Pulse 5700 scored 20,214 a 12.06% improvement.  The Nitro+ 5700 XT OC card was also 7°C cooler but consumed on average 89 Watts more.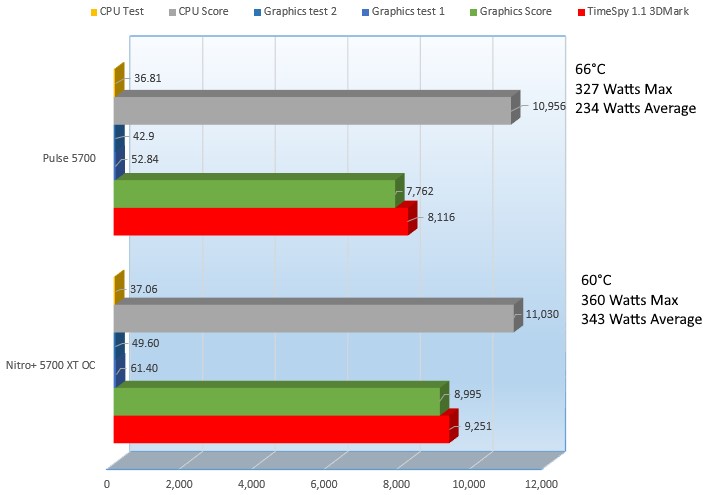 Again, we are reminded at the power of the 5700XT.  We can see on the overall TimeSpy 1.1 score, there was a 13.07% improvement over the Pulse 5700.  The Nitro+ 5700XT OC was 6° cooler than the Pulse 5700 though consumed 109Watts more on average.  It makes sense that it would consume more, but shows how much better the cooling was on the Nitro+ over the Pulse.
What kind of improvement can we expect on Metro Exodus.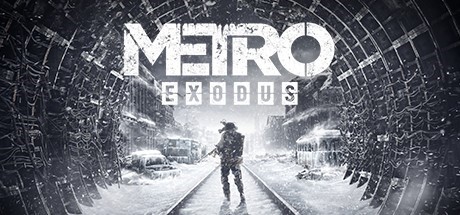 1920 x 1080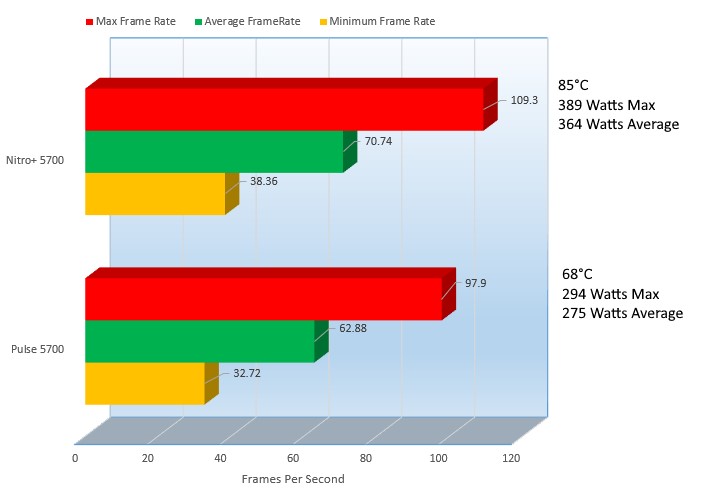 At 1920 x 1080, resolution most gamers play at, we can see the Nitro+ 5700 XT performed on average 11.76% better reaching 70.74 frames per second.   With that performance though, comes the trade off, the Nitro+ also came in at 27.86% higher than the Pulse from 275 Watts to 364 Watts respectively.  To continue with that trend, the temperature on the Nitro+ was also 22.22% higher from 68°C to 85°C.  With great performance comes great temperature.  Let's see what goes on at 2560 x 1440.
2560 x 1440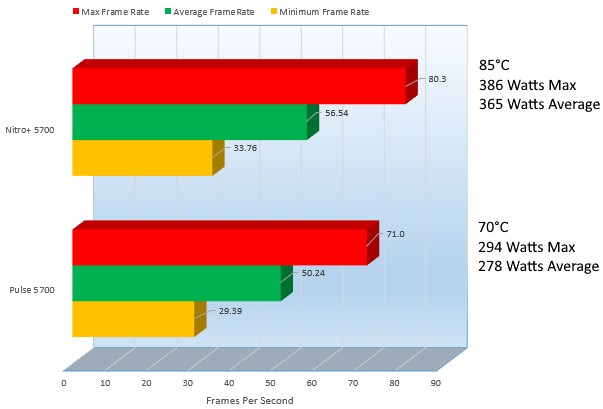 Metro is brutal, between the 2 cards, there is only a 11.8% increase in performance.  With that, a 15° difference and a 27.06% increase in the average power consumed.
11.8% is not huge, but 56FPS is a lot more playable and closer to 60FPS than 50.24.  Let's check out 4K.
3840 x 2160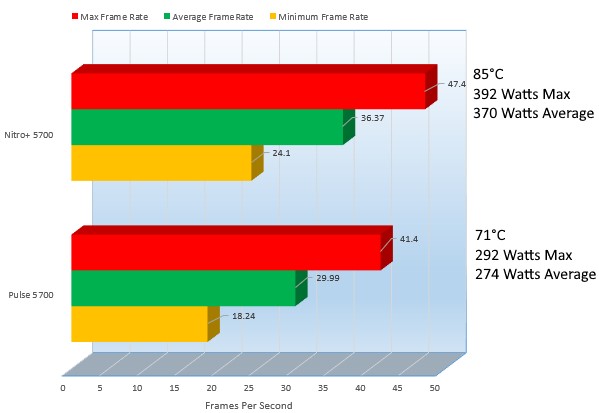 4K, is rough on its own and to add to that, it's 4K on Metro Exodus.  We can see here on average, the performance increased by 19.23% which is great, but being that the base average was 29.99FPS, don't expect too much here.  With the improvement, the temperature raised from 71° to 85° at a 17.95% increase, with that the average power consumption great to 370Watts on average, a 29.81% increase.  A bit painful no mater how you look at it.
OK, let's see what Shadows of the Tomb Raider performs like.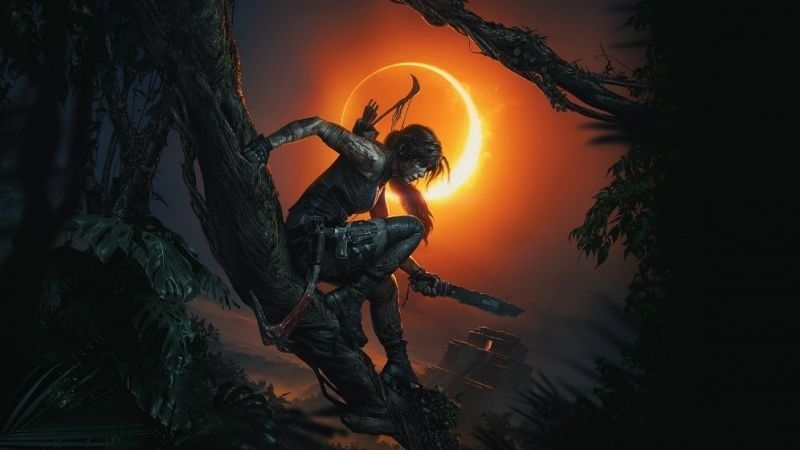 1920 x 1080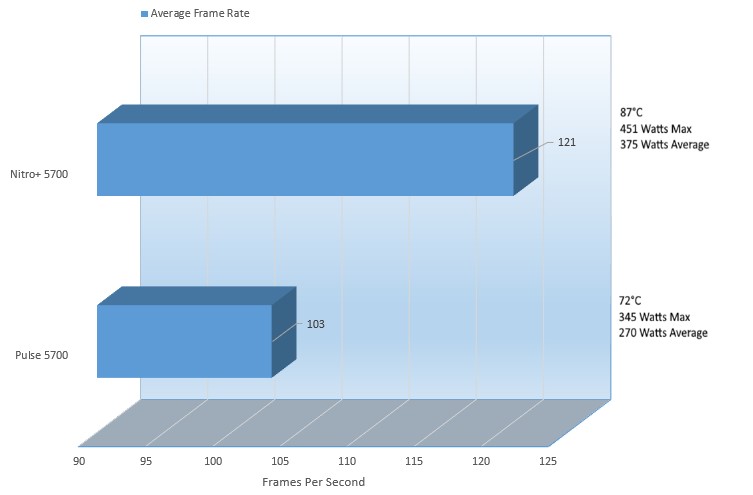 On Shadows of the Tomb Raider, can see performance has improved by 16.07% on the Nitro+ 5700.  Overkill of course at this resolution, but is there really such thing as overkill on an average… really?
With that bump in performance, we see a 32% increase in average power consumed and an increase in thermals, spiking up to 87°C, that's a 18.87% increase.  I think it's worth it, but that's just me what do you think?
2560 x 1080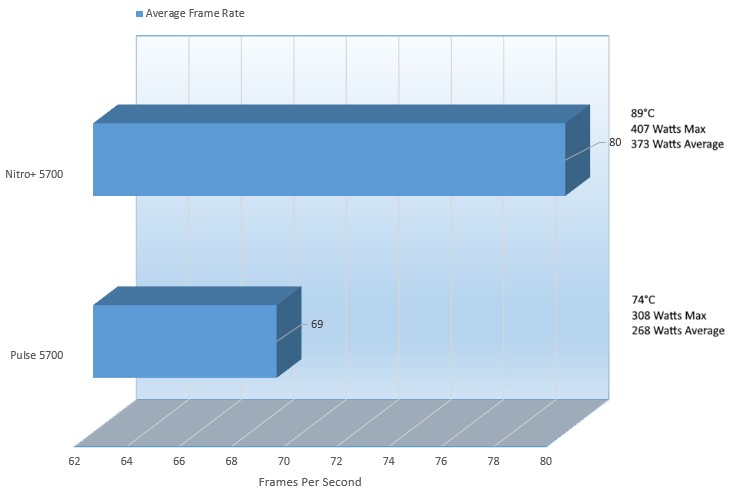 At 2560 x 1080, the trend continues with the Nitro+ coming in at 80FPS, a 18.40% increase over the Pulse 5700's 69FPS.  When you perform, you heat up, so we see the Nitro+ heated up to 89°C while the Pulse stayed at a cooler 74°C.  The Average Wattage consumed on the Nitro+ was almost doubles the Pulse's at 373Watts, 32.76% more power taken, that's a bit hit.  Do you think it's worth it?
3840 x 2160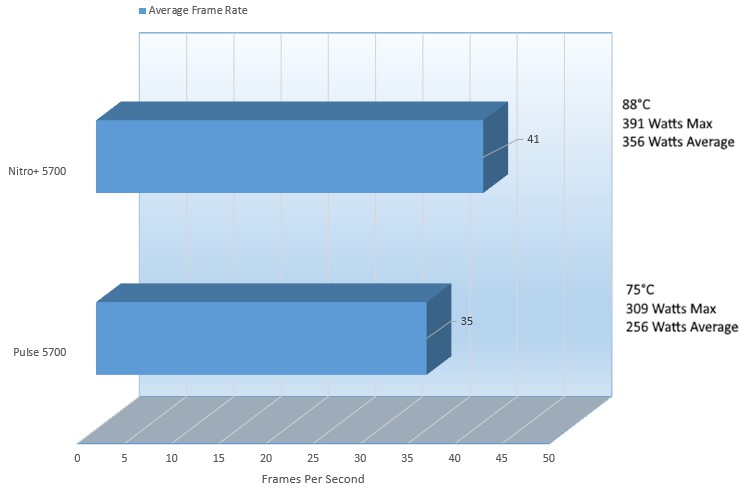 There is not much to say on this one, they kind of both failed but still the Nitro+ chugged up ahead at 41FPs, up 15.79% above the Pulse's 35FPS.  The heat this time was still hotter, but a little less hot at 32.68% but consumed 50% more power at 356Watts.
Not too impressed here, while the performance was higher on the Nitro+, I don't know if I could justify the cost difference but that is yet to be seen.  So let's go over to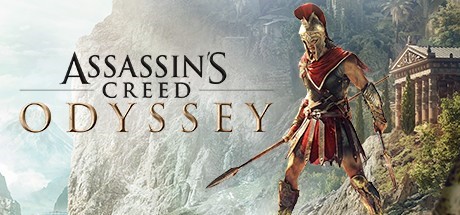 1920 x 1080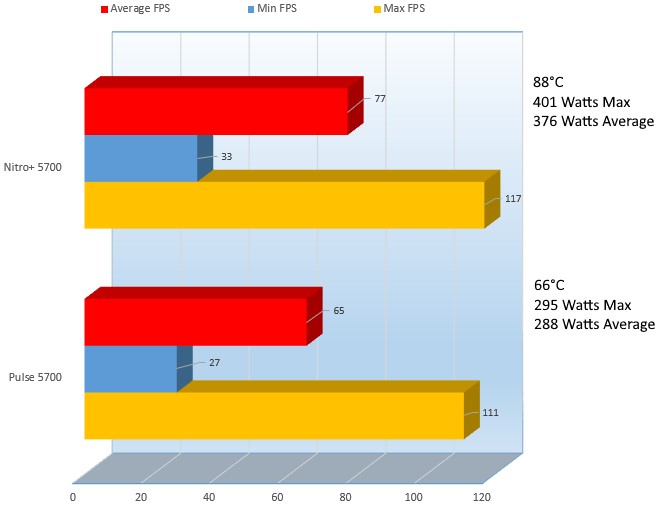 Killing it yet again, the Nitro+ 5700 trucks ahead at 77 frames per second, 16.90% faster than the Pulse 5700.  With that though, we can see the Nitro+ consumed 30.46% more power than the Pulse did and came in 28.57% hotter.
2560 x 1080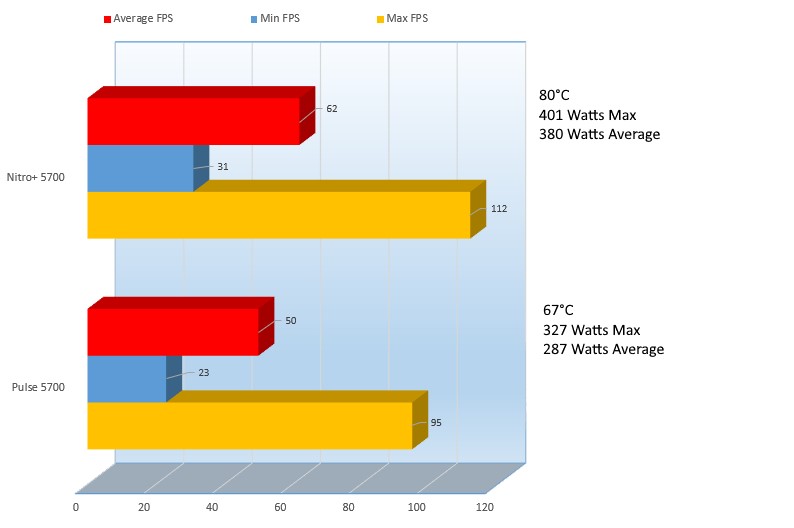 We are seeing one of the biggest gains on performance here, with the Nitro+ 5700 coming in at a 21% performance gain over the Pulse.  With that gain however we can see the Nitro+ 5700 is drawing 27.89% more power and generating 17.69% more heat than the Pulse.  I am hoping this means some great things for 4K?
3840 x 2160
The Nitro+ 5700 tried its hardest but could not reach that 4K award.  It scored slightly above its lower end counterpart, by 11.76%, that's only 4 FPS from 32FPS to 36FPS.  That tiny bump though heated up the card by 20.79% over the Pulse and consumed 29.11% more on average.
Would we see a higher performance increase out of the Nitro+ on FarCry 5?

1920 x 1080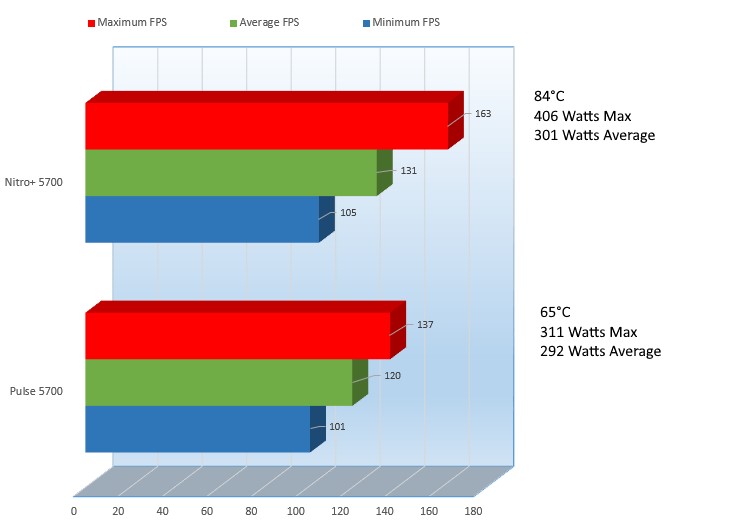 Well, a little surprising here, while the performance was higher, by an impressive 25.50% but the average power consumed was only 3.04% higher.  It did heat up a little more, from 65°C on the Pulse to 84°C on the Nitro.
2560 x 1440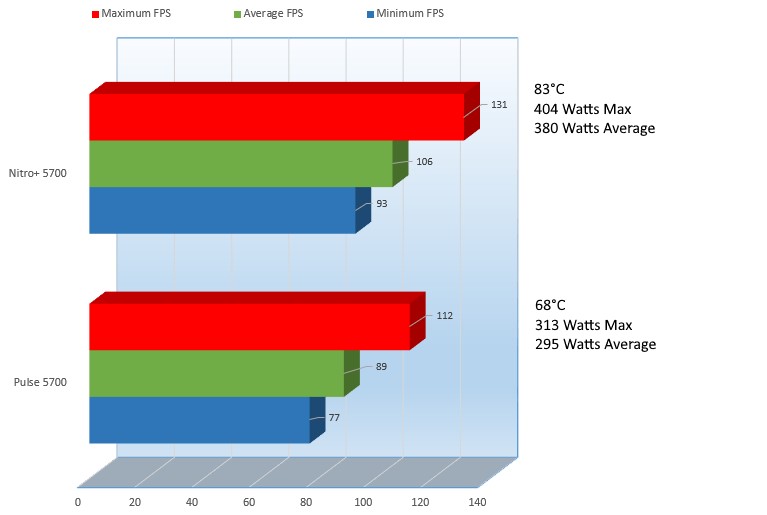 We have yet another decent performance improvement, 17.44% on the Nitro+ over the Pulse, but the very high temperature and wattage continue.  The Nitro+ was 19.87% hotter and consumed 25.19% more power on average than the Pulse.
3840 x 2160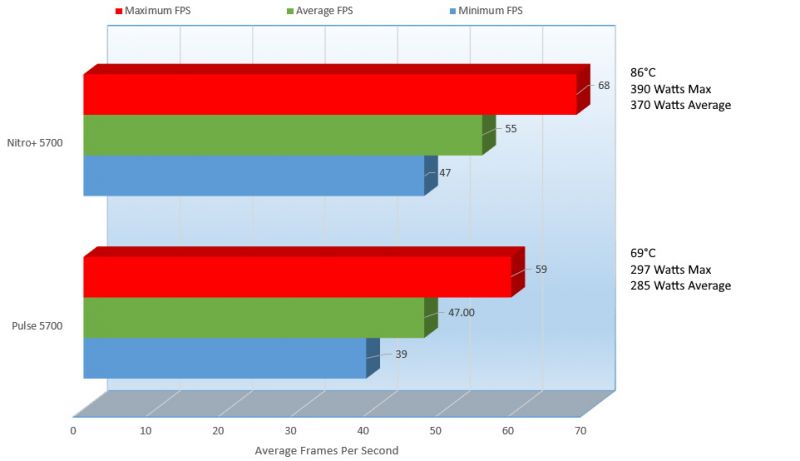 Here, the Nitro+ got so close to 60FPS, but it feel just shy.  Still playable at 55FPS but still not 60FPS.  The Pulse here struggle but it strayed behind at 47, still not too bad for the more budgeted version, but XT once again takes the lead.  Let's see what Tom can do here.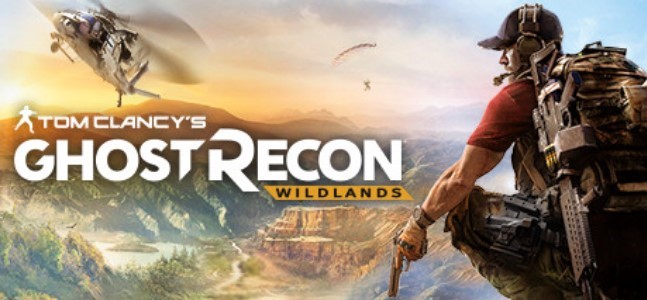 1920 x 1080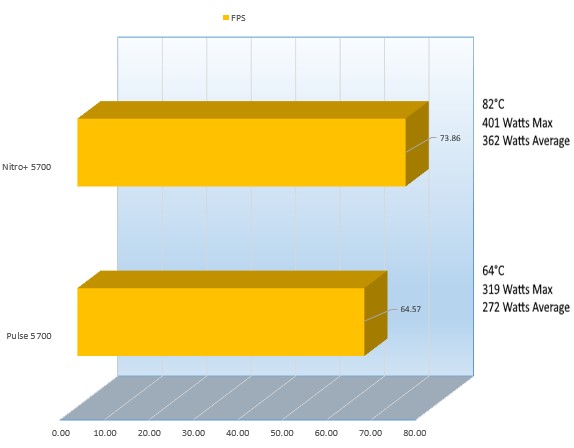 I apologize on this one, I was not able to capture the minimum and maximum frames per second on the Pulse.  I recorded them incorrectly on it's review, (click here for the review of the Sapphire PULSE Radeon RX 5700 8GB OC) so I do not want to include them for the Nitro+ on this comparison.  If I am able to obtain the Pulse again, I will update my scores though they did not impact the final results, even though minimum is a bit important.
Here, we can see  once again the Nitro+ takes the lead in performance, this time by 13.42%, 9 frames per second.  With that lead, the heat increases by 24.66% and wattage by 28.39%.  The Pulse almost hit below 60 frames per second, but the Nitro+ help keep it in the green.
2560 x 1440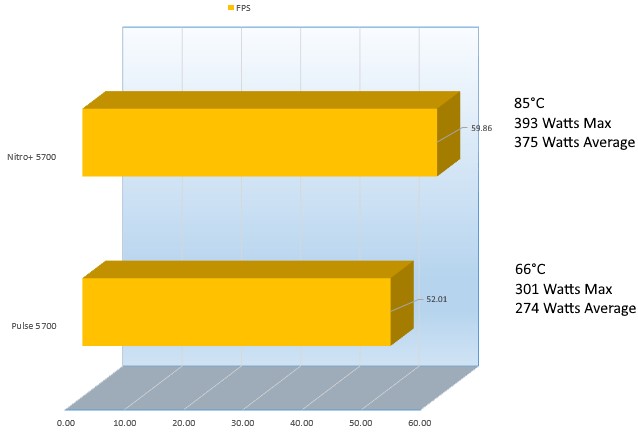 Now we get into the danger zone.  At 2560 x 1440,… on Ultra the Nitro+ gets us to 59.86, I would say totally playable but the Pulse lags behind at 52.01 frames per second.  Without a question, both would be better served with lower presets but I am reviewing them after all.  As usual though, the Nitro+ heats things up a bit, coming in at 25.17% hotter than the Pulse and consuming 31.12% more power, but you expected that didn't you?
3840 x 2160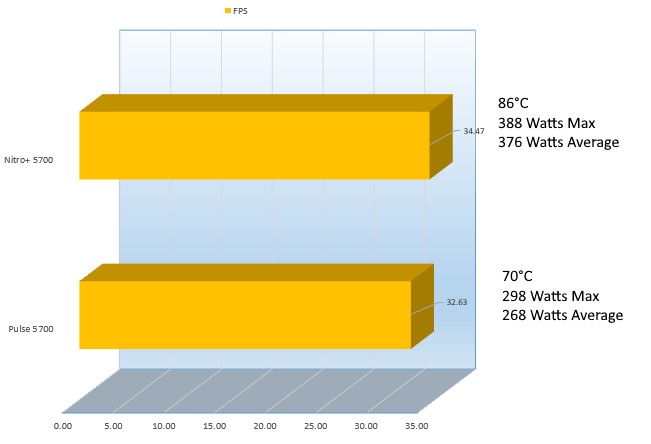 Well, on either card the results are of console status, slightly above 30 frames per second.  The Nitro+ comes in at 5.58% above the Pulse,  a measly 1.84 frames per second higher.  With the the card heated up to 86°C, 20.51% higher than the Pulse and consumed on average 33.54% more power.   I kinda felt guilty posting this one, but it wouldn't be right if I didn't.
If you remember earlier in this review, I mentioned more performance with TRIXX?  Well, in this next page I will show you what TRIXX can do, but only on games where we could not get to that magical 60FPS and then we will compare cards, but only their base clock scores, not using TRIXX.  I will leave the TRIXX part on the RX 5700 out of this one, but you can always check out that review here.
Continue on to:  Performance and more with TRIXX